FREE LANDING PAGE TEMPLATES
150+ DESIGNS AVAILABLE INSIDE THE LEADPAGES
LANDING PAGE CREATOR
Looking for free landing page templates to support your next lead generation campaign? Come and get 'em - right inside Leadpages! Inside our landing page creator, you'll find more than 100 professionally designed landing pages that have been scientifically structured to be high converting.
Whether it's a squeeze page, pop up, splash page, sales page, or thank you page - you'll find pre-designed, mobile responsive templates that you can quickly customize and publish without touching a speck of code. With the help of our drag and drop editor, every element on the page can be personalized to suit your unique business sand campaign type. Swap out the images, tweak the sales copy, add in a call to action, publish - and you're off to the races!
Isn't it time you stopped fussing with website builders and coding and start focusing on giving your audience the content they crave? We think so.
Discover our free Landing Page Template Library.
Sales Pages Landing Page Templates
Like an online sales force to pitch your key products 24/7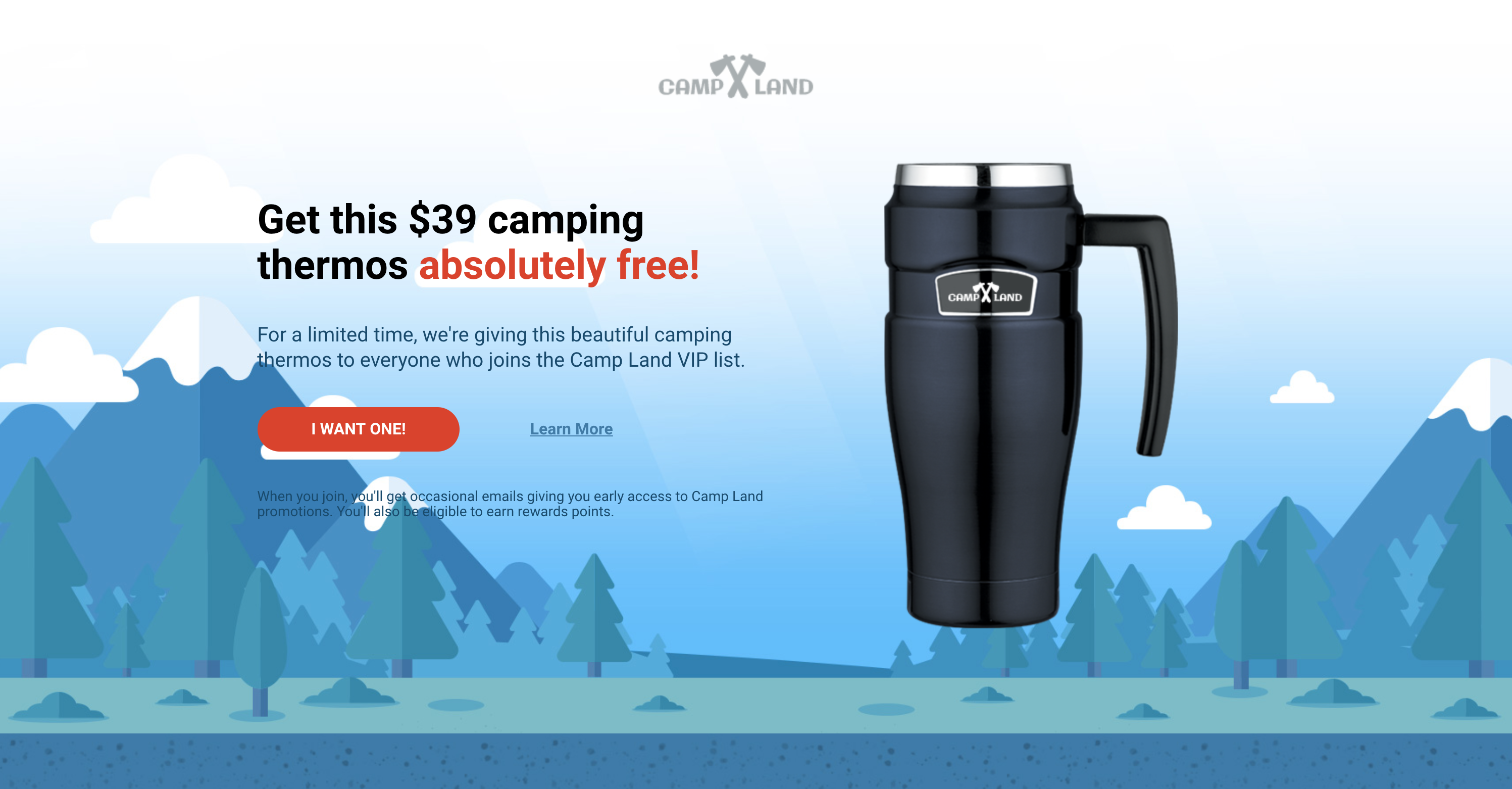 At Leadpages we've always been about design and professionalism, and this template does just that. This visually stunning, free landing page template was built from the ground up to increase conversion rates as well as boost your sales - whether you're targeting existing subscribers or cold traffic. By building this landing page you get the best of both worlds, a gorgeous, yet professional looking template that will ultimately boost your conversion rates.
If you're already using Leadpages, use a Leadpages integration to easily turn your landing page into a checkout page with a Stripe integration or ecommerce integration.
Discover more Product Sales Pages inside our Landing Page Library.
Sales Page Landing Page Best Practices:
Value-prop headline: Yes, you're promoting a product/ service, but it's critical that you stay customer-centric. Include a user-focused value proposition in your headline.
Create a sense of urgency: Encourage your audience to make a quick decision by adding in a (free) landing page countdown timer.
Scarcity: How many products remain? Is it available for a limited time only? If so, state that loud and clear! It's a persuasive sales technique for driving decision making.
Money-back guarantee: Reduce barriers to purchase and encourage new buyers to trust you by offering a money-back guarantee. (Something to consider.)
Landing page length: Tailor the length of your landing page to suit the level of education necessary to purchase your product. Higher ticket items, typically require more information than free giveaways.
eCourse / Online Training Landing Page
Stop students in their tracks and shuttle them through sign-up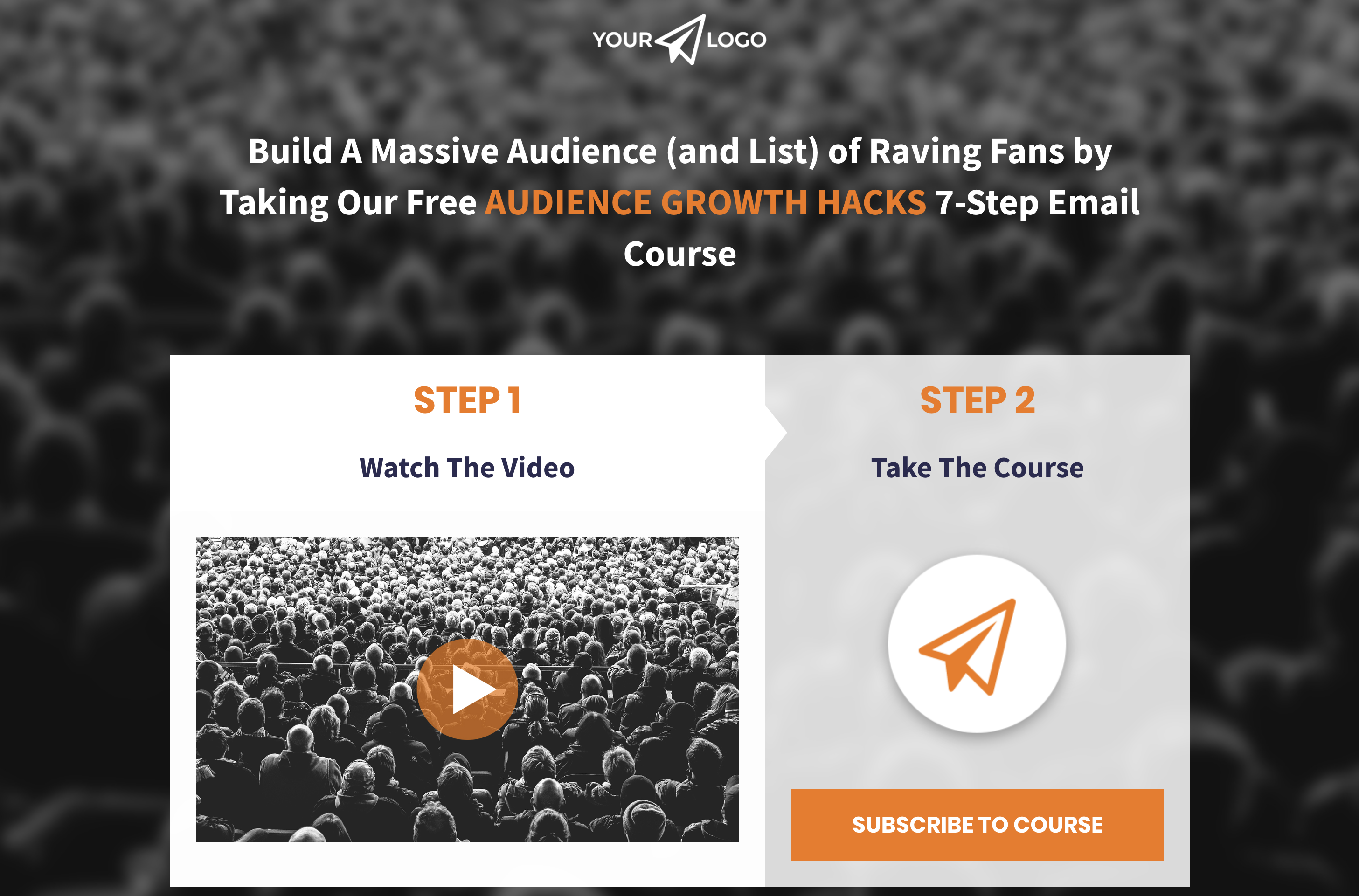 This landing page design is powerful. By using this template your audience will be focused on what is in front of them. This template design grains the attention of your audience by presenting them with your message and display button at the exact time you pitch your product or service in your video. But that's not all, it also swipes out all other distractions that you visitors- creating a distraction-free environment. Your audience will see your video, hear what you're saying, and will find your copy compelling, ultimately clicking that button at the exact time you desire.
Explore our Sales Landing Page Templates.
eCourse / Online Training Landing Page Best Practices:
Introductory video: Create a brief introductory video to host on your landing page that gives a taste of what users will experience inside the course.
Get specific: In your headline and sub-header, explain what format your e-course will take and what topics will be covered
Clear call-to-action: Keep your call-to-action button crystal clear in regards to what 'next step' you're inviting site visitors to take. It's ok to be clever, as long as you don't confuse anyone along the way.
Double opt-in confirmation landing page
Collecting consent for new email subscribers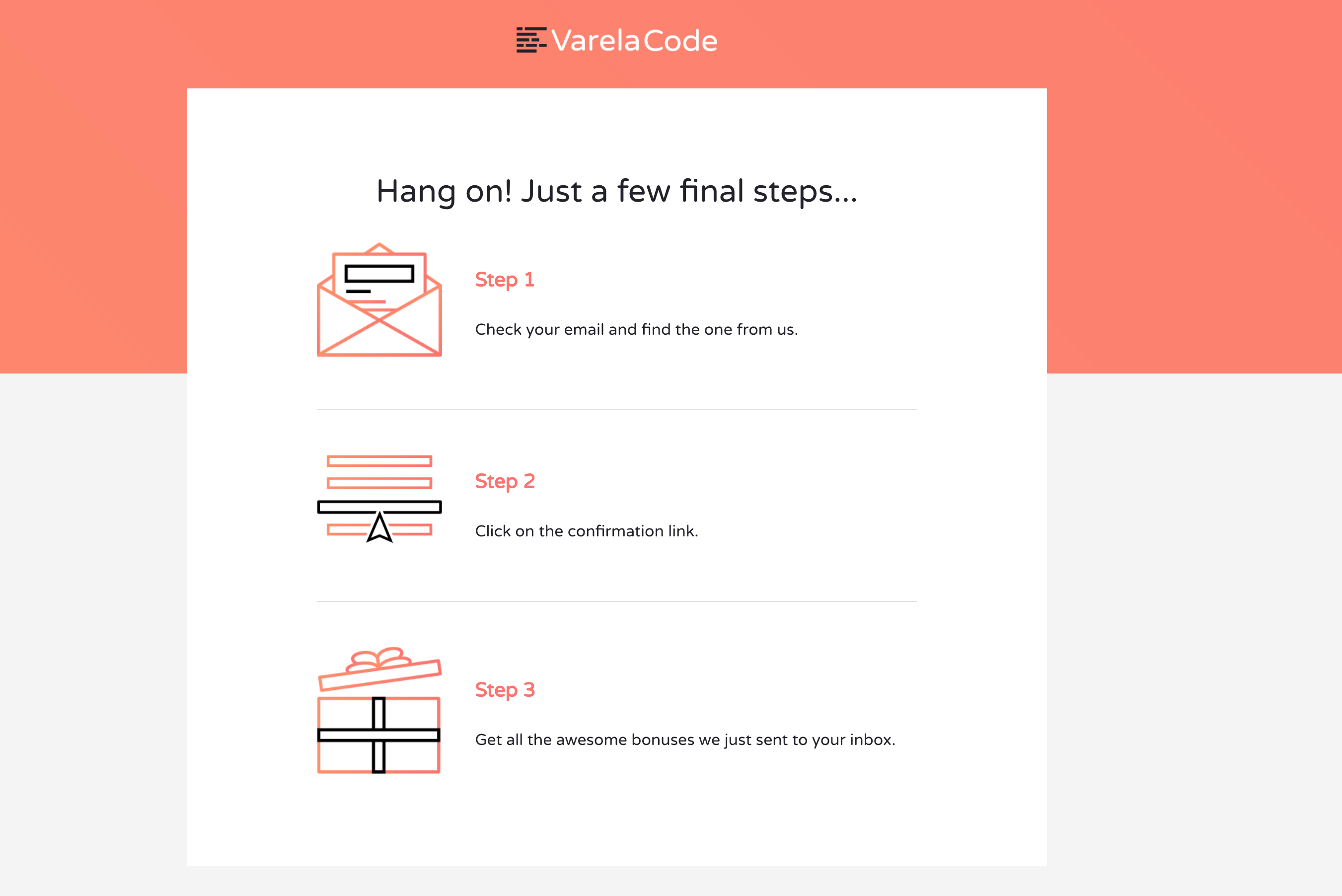 In many ways, landing page design is just as important as the copywriting on the page and this free template is proof of just that. Once someone opts into your email list, you can display a double opt-in confirmation page which tells people what to do in a few simple steps. Simple guides like an email link and an image of what the confirmation messages looks like etc. make for an easy step-by-step process. By using this sleek step-by-step design that gives your audience clear expectations, they won't miss a thing and both your engagement and conversion rates will benefit as a result.
Ready to find your opt-in landing page? Visit our free landing page template library.
Double Opt-in Confirmation Landing Page Best Practices:
Be human: Feel free to get a little creative with your headline and go beyond: 'subscription confirmed.' Welcome people to your list and let them know that they're in for a great ride.
Set expectations: Tell your new subscriber exactly what's coming down the pipeline for him or her and what actions are required next.
Minimalist design: Now is not the time to pummel your subscriber with different content and calls to action. Focus on the most important elements and strip everything else away.
Ebook Landing Page Opt-In
The Bestselling Ebook Launch Landing Template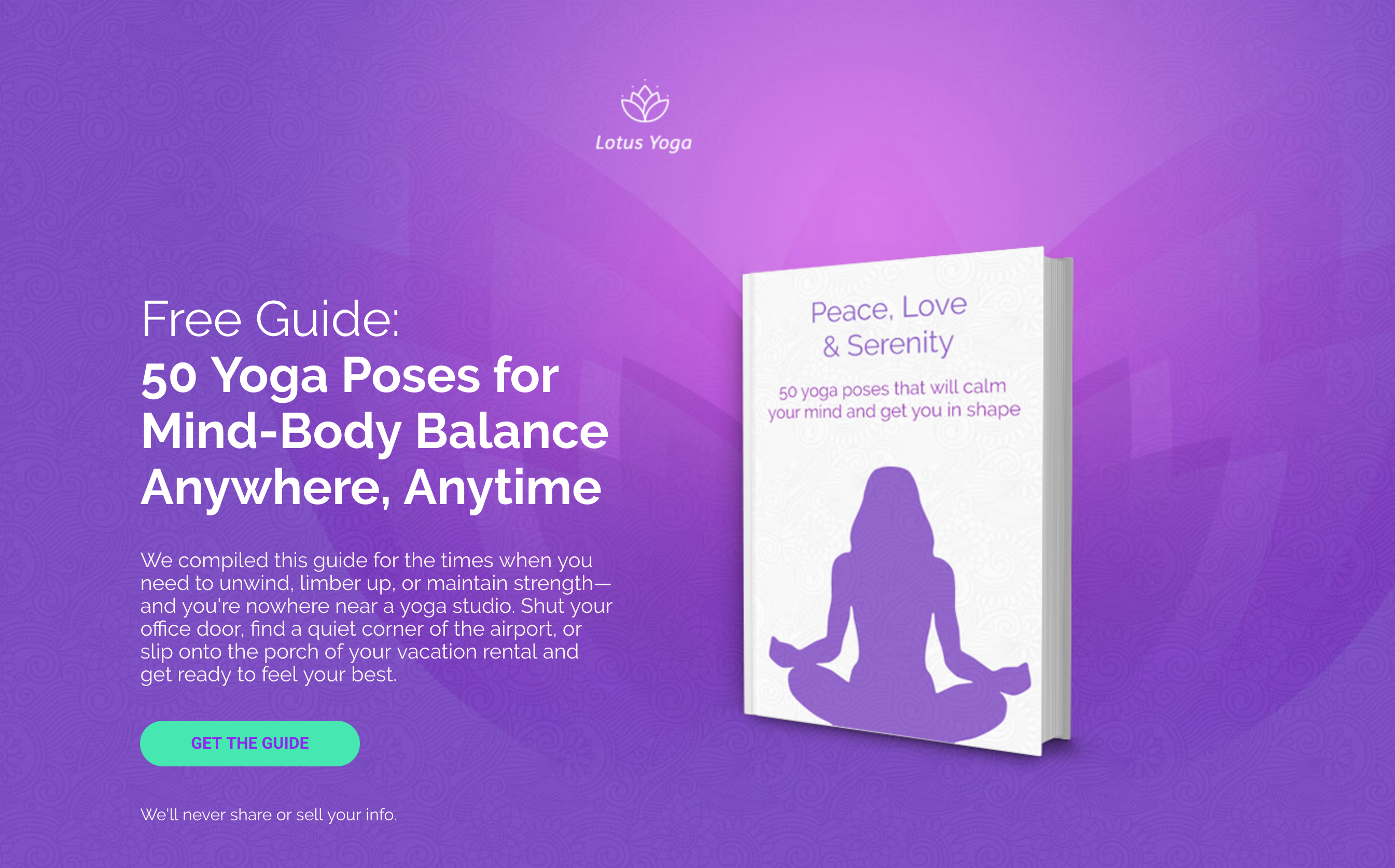 Are you a budding author eager to build an email subscriber list by giving away an ebook or guide?
With competition becoming more fierce in the ebook marketplace, it's more important than ever to create excitement about your book and increase your audience engagement. By choosing this template, you're already on the right track! This ebook landing page (which also functions as a minisite) helps you put your ebook, kindle book, or recent publication on display, provide a brief synopsis or sales pitch, and invite your audience to immediately take action and 'get it!' We've even made sure that this template gives you the ability to give away a free chapter of your book, so you can hook your readers right from the start.
Ready to find your ebook landing page? Visit our free landing page template library.
eBook Landing Page Best Practices:
Include a mock-up: Even digital products benefit from a visual representation because humans love to feel like they're receiving something tangible
Write a quick synopsis: In the body copy of the ebook landing page, include a brief description of the content. Write it out in a paragraph or bullet points (and A/B test the two landing page versions to discover which one is higher converting!)
Social media, testimonial, and video sections: A little social proof or personalized touch can help to create the excitement you need for a successful launch.
Thank You Landing Page
A Thank You Webinar Landing Page Template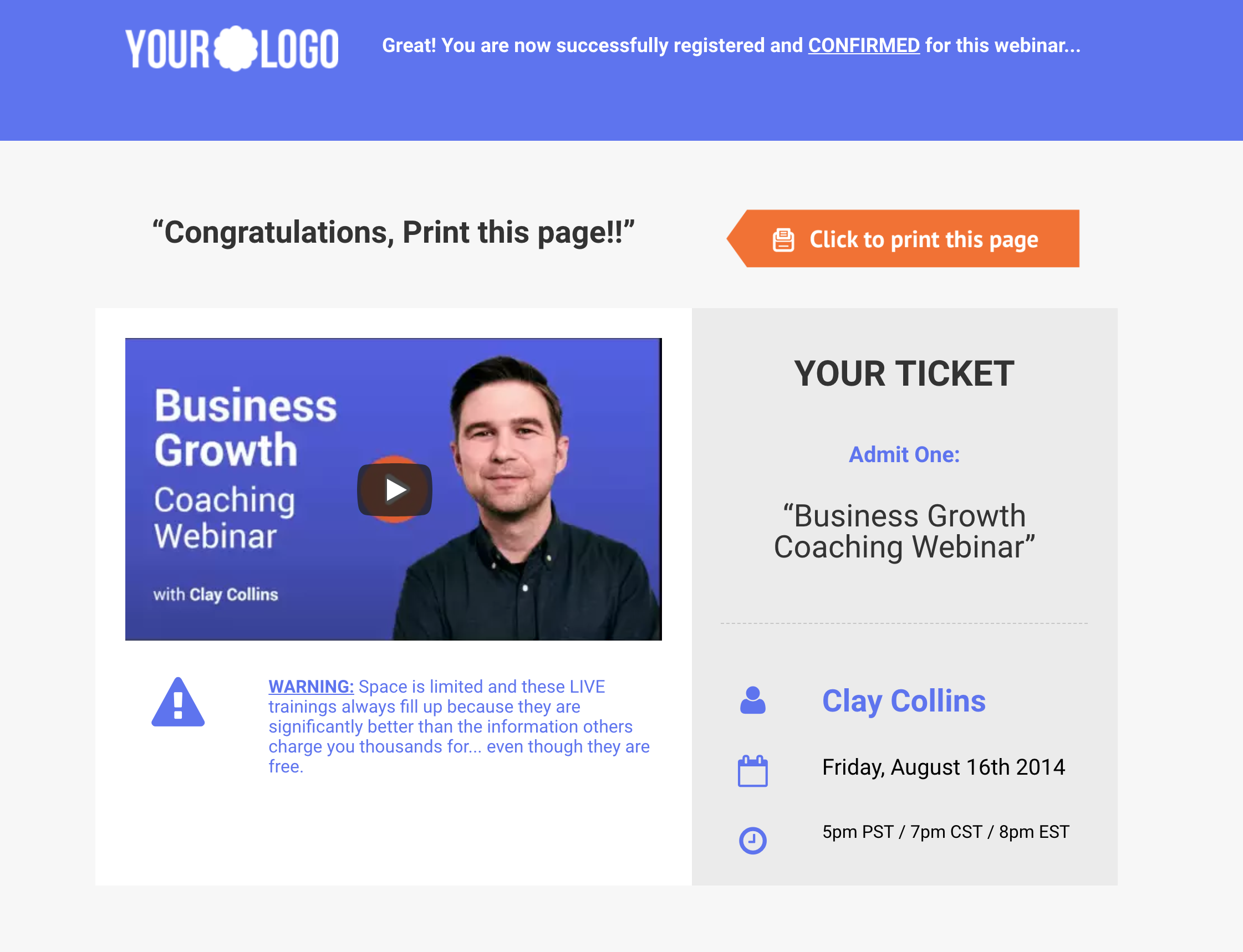 Hosting a webinar can be difficult especially once you know that you're lucky to get 20% of your registered attendees to show up for your event. All in all, that means 80% of the people who sign up won't hear or see your webinar, and that mean no new customers. This webinar registration thank you landing page was designed to get more attendees to show up for your next webinar. By using this template you'll not only be able to inspire attendees to show up, but you'll be able to turn attendees into customers!
Ready to find your thank you landing page? Visit our free landing page template library.
Thank You Landing Page Best Practices:
Include the "housekeeping details": Your thank you page serves a purpose and should confirm registration and restate when the webinar takes place and how to gain access.
Video Introductions: Display your personality and professionalism by including a brief video introduction to your webinar.
Short-form: Short form landing pages can work great to help funnel site visitors to take that next action. Deliver the key content and then call them to action.
Splash Page Landing Page
The Coming Soon Landing Page Template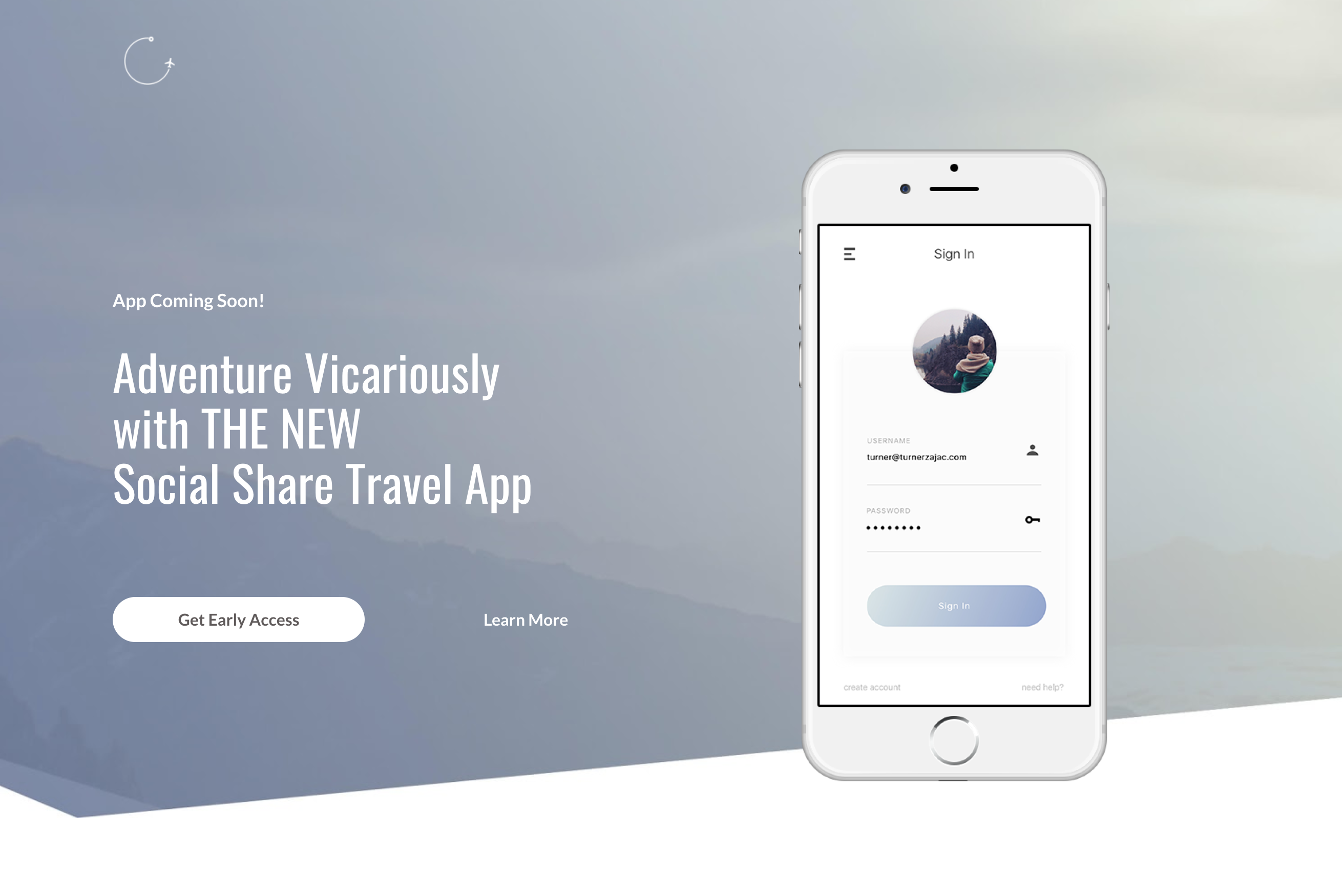 Splash pages are typically the page that a website visitor sees before being given the option to continue to the main content of the site, but they can also be used to pre-launch products and services and give away 'early access' or 'waiting list sign-ups.' Let your audience in on the secret of what's 'coming soon.' include a powerful headline that's driven by a clear value proposition, and include a link to more information.
Ready to find your splash page landing page template? Visit our free landing page template library.
Splash Page Best Practices:
Clever (clear) calls to action: Invite your traffic to 'get early access' or to step inside 'early-bird registration' and you'll create the sense of exclusivity.
Minimalist design: If you have stunning images or mockups of your product, service, or customers - use them! Keep things simple and let the design do the talking.
Button above the fold: Splash pages, in particular, have to achieve the whole pitch in a single screen view, so be sure to keep your CTA button above the fold.
Opt In Landing Page
Simple lead capture landing page and form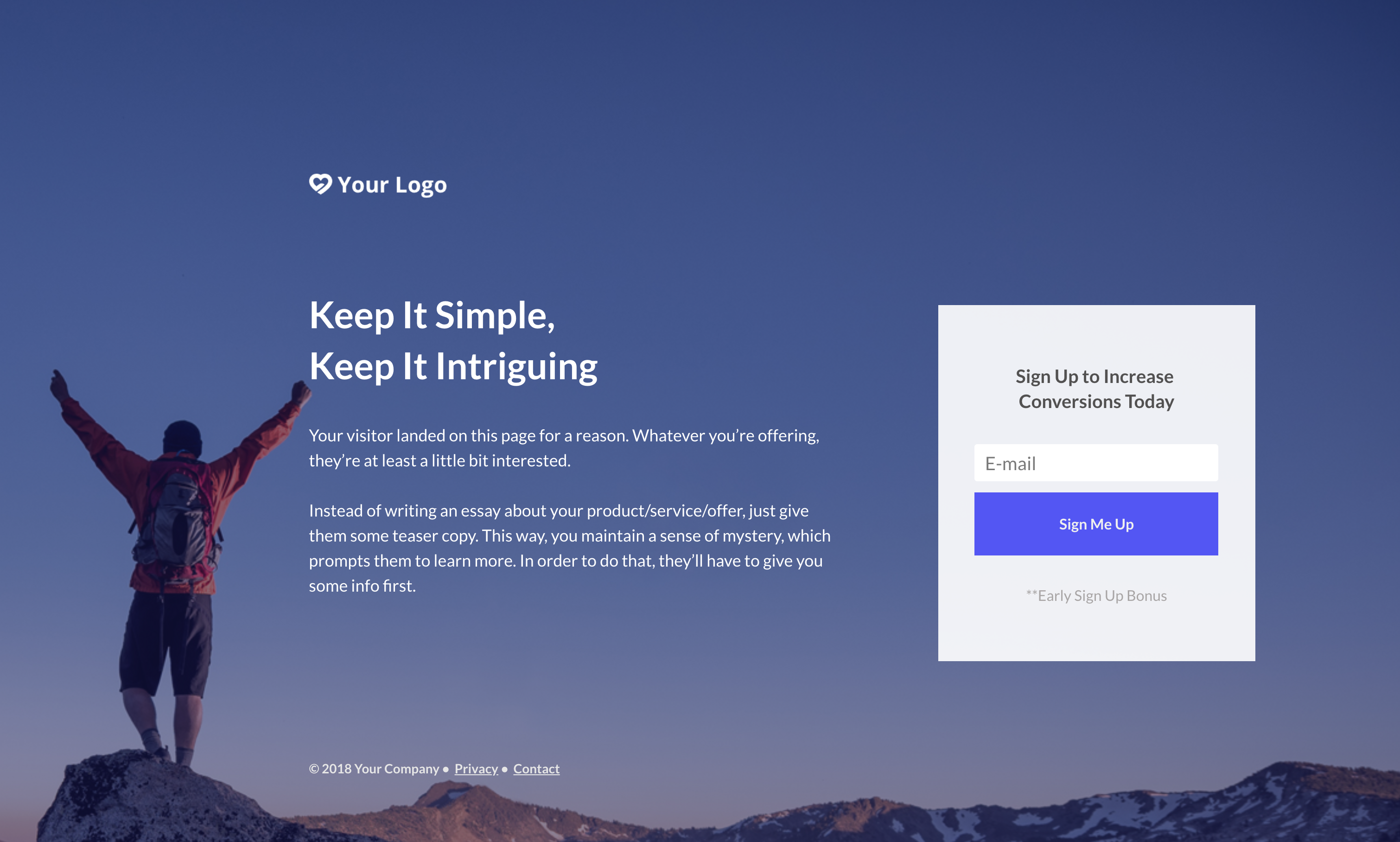 Opt-in landing pages are essential for collecting email addresses of qualified leads. You'll likely have dozens of opt-in landing pages across many different campaigns and locations, so it's worth it to learn what works best for your particular audience. Keep your written copy simple and compelling (on the righthand side if possible) and your form fields down to a minimum.
Opt-in Landing Page Best Practices:
Minimalist form fields: Simplify and reduce the information a visitor is required to enter into any lead capture form. The fewer barriers to entry, the more leads you'll let in through the door.
Stunning imagery: Studies show that visitors consume imagery before they read the written copy - so put extra effort into finding visuals that communicate the message and sentiment of your campaign.
Single call to action: Don't crowd your landing page with unnecessary links and multiple calls to action. You want to create a single-file line towards a single conversion event. That's what will make your conversion funnel truly irresistible.
Upsell Landing Page Template
The ideal way to boost your revenue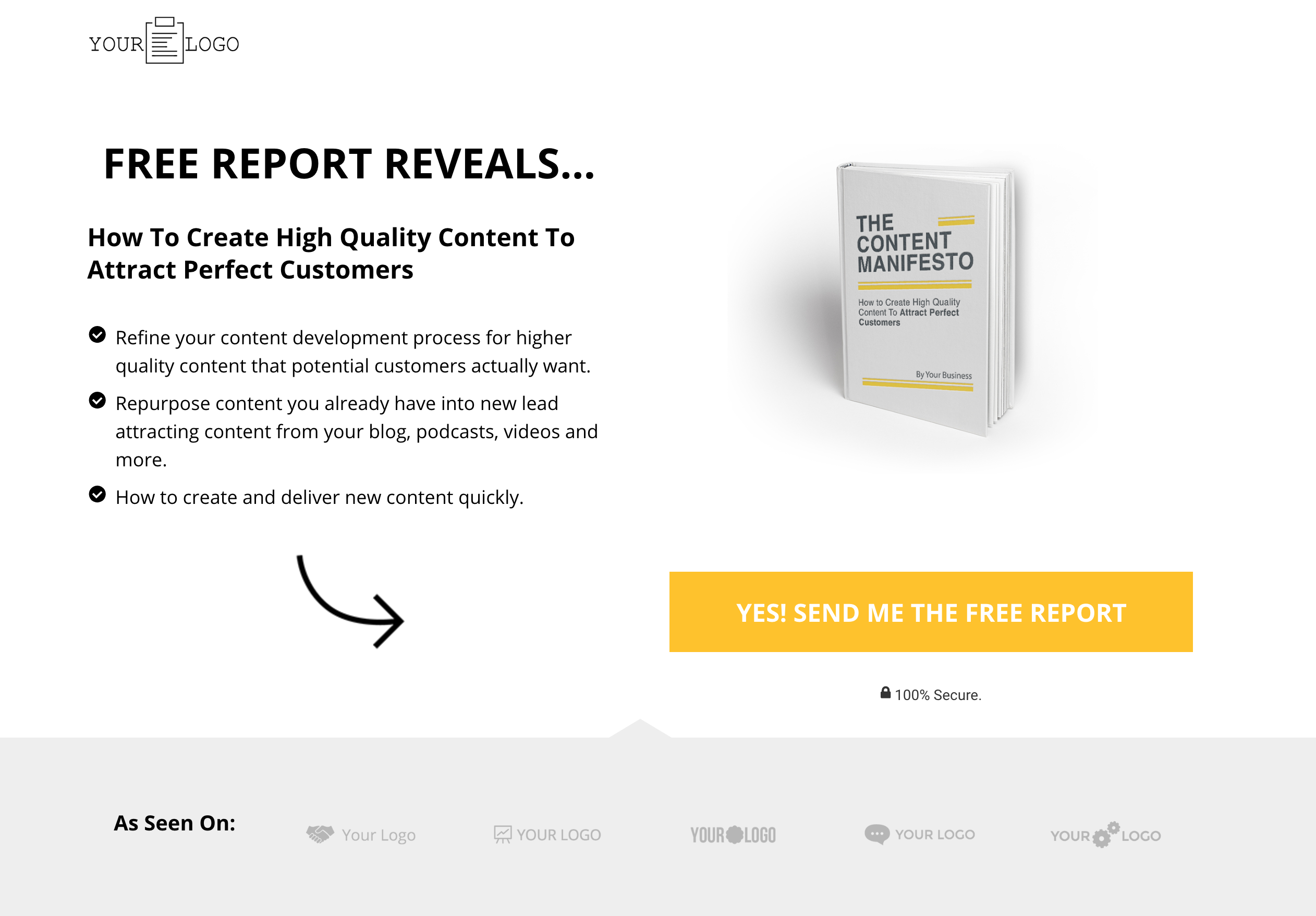 This Upsell Landing Page template will boost your sales- and help you stop losing them. This landing page design is different than most, making sure to give your visitors the most out of your download. By displaying a "click and find out more" button you give specific instructions to your customers on how they can learn more about your product or service. This process is quick and simple making sure that you and your customers know exactly what's going on. Plus, we made sure that this landing page template redirects customers to a sales page making sure that they stay on your site.
Interested in getting started? Discover more Upsell Landing Page Designs!
Opt-in Landing Page Best Practices:
Positivity pulls people in: Add in an affirmative 'yes!' to your opt-in form to help your leads lean into the offer.
Contrasting colors: Color psychology is an important part of your landing page design. Choose a button color that contrasts against the background.
Bold bullet points: Bullet points and lists are ideal for web readers who have notoriously short attention spans. Rather than hitting them with a giant paragraph of text, parse out your points into snackable phrases.
Video Landing Page Template
Attention-Getting Video Sales Landing Template
There's no better way for you to get your visitors attention than by displaying nothing other than your sales video landing page. Waiting to show it at the exact right times gives you the benefit of the doubt by engaging your visitors, having them hear the message, and getting value out of your presentation. Once this happens you're giving your pitch, and an opt-in box or buy button will automatically appear under the video. Perfect timing makes for a desired action, that way you don't have to ask anything of your customers. Want to improve your conversion rate for your product or service at the same time, then this is the landing page template for you. Learn how it works or check out our Video Landing Page Templates!
Opt-in Landing Page Best Practices:
Get on Camera: Across multiple channels, video content has fabulously high engagement rates. Find a way to communicate your message in this medium and you'll delight your audience.
Keep it quick: Aim for landing page videos of under 60 seconds (ideally 30).
Keep in mind: Using videos on landing pages can increase conversions by 86%.
Newsletter Landing Page Template
The Latest Newsletter Landing Page Template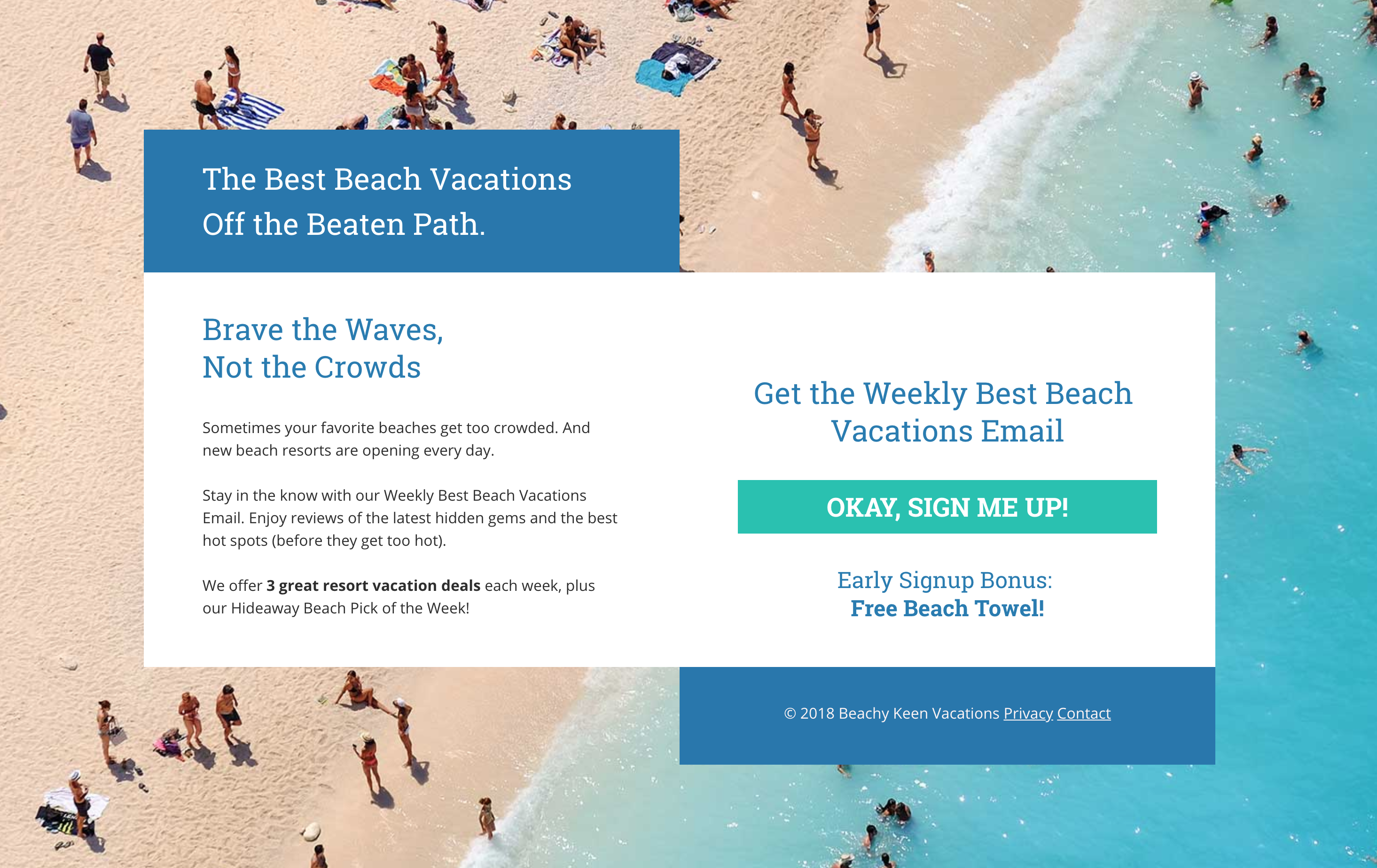 Are you using a regular email newsletter as part of your email marketing campaign? If so, well done! It's a great way to warm up your leads, nurture them with value-add content, and stay top-of-mind until they're ready to become paying customers. Use this free newsletter landing page template to showcase the value of your newsletter (answer the question: what's in it for them) and collect subscribers right on the spot!
Newsletter Landing Page Best Practices:
Copy & Design: Create a clean, crisp, and free of clutter (create white space) Newsletter, this way readers will actually read your content.
Content: Balance your newsletter to 90% educational and 10% promotional, doing so will keep your customers engaged.
Visual CTA's: Create CTA buttons that are images, then add alt text to them, ensuring that your subscribers can make a conversion.
Facebook Landing Page Template
The Best Rated Facebook Landing Page Design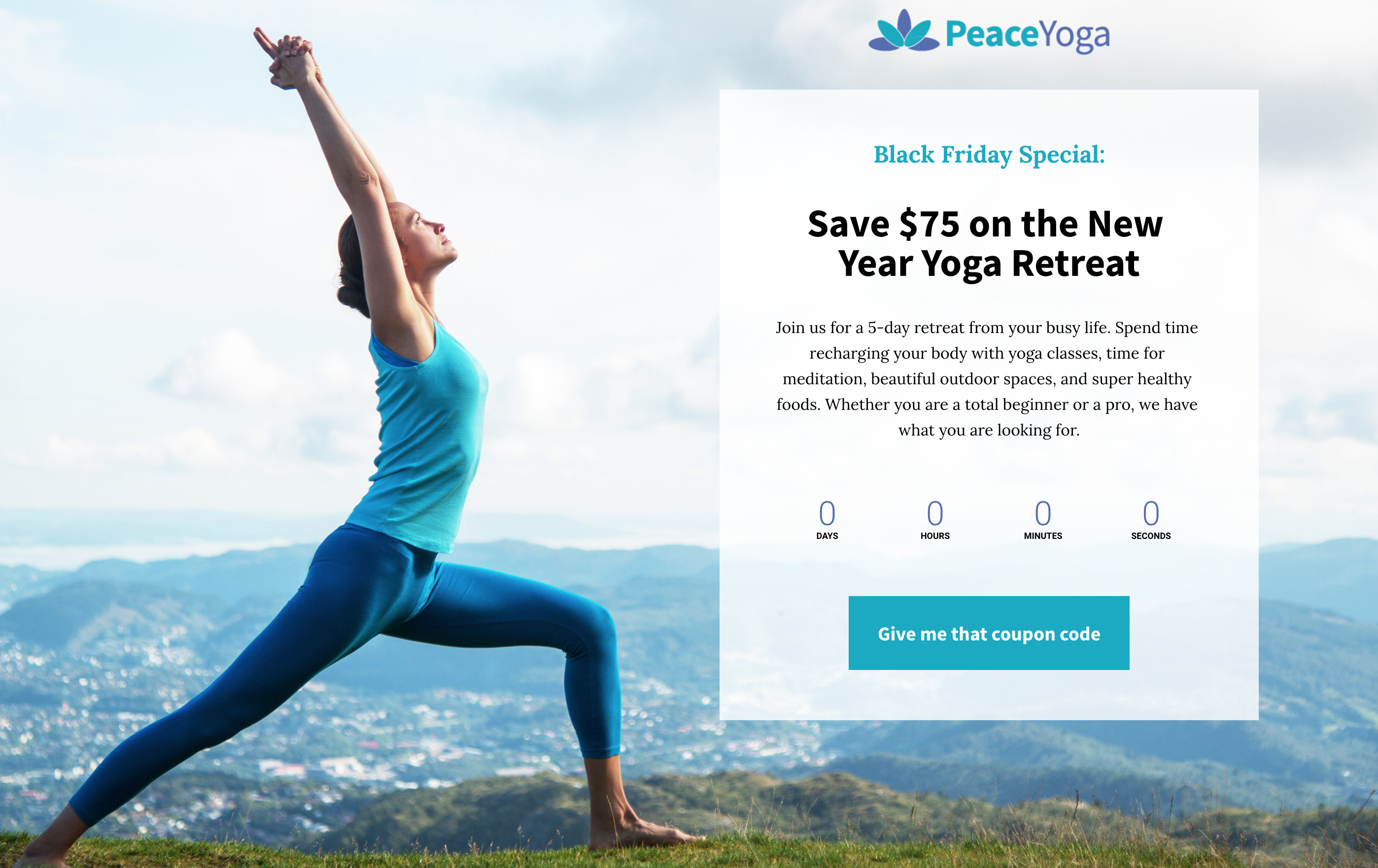 Want to capture your Facebook audience with an ad? Well you only have 10 seconds to make an impact! Engaging customers can be difficult, but we've made a landing page template that makes it easy. This template does the work for you, it provides an easy path for your final goal (conversion rates), that way the $$ you spent to get your campaign off the ground was worth it. Whether you're capturing leads with a free lead magnet, promoting a membership offer, or selling an e-commerce product/service, your landing page is your opportunity to close the deal – and if you don't do it well, you're letting leads (and money) slip through the cracks. The Facebook landing page is the page that your visitors are taken to after clicking on your ad. By creating a Facebook landing page that tracks them with the Facebook pixel and gets fans into your email list, your audience has the opportunity to experience your content beyond social media. You can send them personalized messages about product announcements, upcoming events, and cool giveaways—and add them to automated email sequences to ultimately turn them into customers. Want to see more Landing page designs? Click here.
Easy Tips & Tricks For Facebook Landing Pages:
Create interest: Create an incentive on your landing page and ads, displaying the need for your product or service.
Hero shot: Only include high-quality images that are relevant to the rest of your content.
Conversion: only include pieces of information that contribute to conversion, don't include irrelevant information.
Webinar Landing Page Template
Leadpages Highest-Converting Webinar Template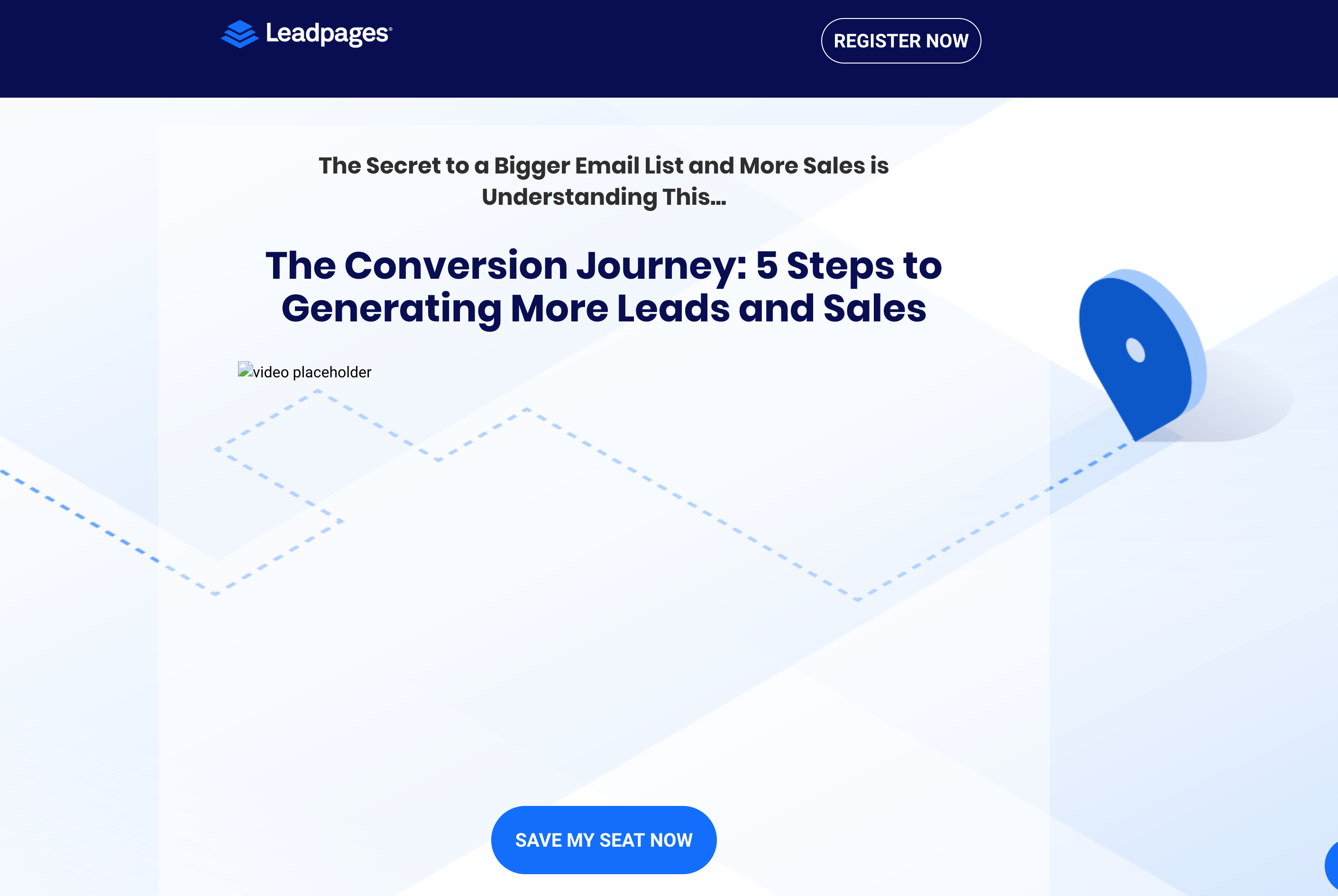 Leadpages has reinvented the webinar registration process with one thing in mind: conversion rate optimization. We're always improving our landing page design(s) to help you reach your conversion rate; we've done this by taking one of the highest converting webinar registration pages and updating the look and feel- and it's proven to be effective. This webinar registration page utilizes conversion design practices to be one of the most effective webinar registration landing pages in the Leadpages library of landing page templates. Want this template, click here.
Effective Webinar Landing Page Tips:
Visual hierarchy: include headlines, sub-headlines short paragraphs, and bullet points to make easy to follow content.
CTA: creating a distinct CTA button makes it easy for your visitors to see it and convert while on the form.
A/B testing: Use A/B Testing on images, paragraphs, hyperlinks etc. to see what needs to be changed or improved on the landing page.