Chapter 4
Top 6 Lead Generation Landing Page Examples
New customers come from carefully nurtured leads, which (often) come from lead generating landing pages. Lead generation pages are specifically designed to collect the contact information of your web traffic. This can come in the form of a name and email address, phone number, company size, etc.
Once you've collected your prospect's personal information, you can proactively market to and follow up with your new lead until he or she is convinced of your value and ready to buy.
Whether it's a squeeze page, pop up, splash page, sales page, or thank you page - you'll find pre-designed, mobile responsive templates that you can quickly customize and publish without touching a speck of code. With the help of our drag and drop editor, every element on the page can be personalized to suit your unique business and campaign type. Swap out the images, tweak the sales copy, add in a call to action, publish and you're off to the races!
Isn't it time you stopped fussing with website builders and coding and start focusing on giving your audience the content they crave? We think so.
Discover our free Landing Page Template Library.
E-book Landing Page Opt-In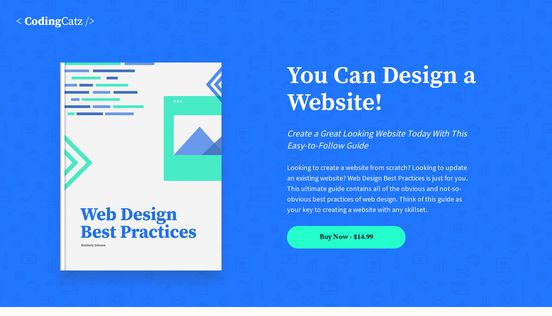 Are you a budding author eager to build an email subscriber list by giving away an ebook or guide?
With competition becoming more fierce in the ebook marketplace, it's more important than ever to create excitement about your book and increase your audience engagement. By choosing this template, you're already on the right track! This ebook landing page (which also functions as a minisite) helps you put your ebook, kindle book, or recent publication on display, provide a brief synopsis or sales pitch, and invite your audience to immediately take action and 'get it!' We've even made sure that this template gives you the ability to give away a free chapter of your book, so you can hook your readers right from the start.
Ready to find your ebook landing page? Visit our free landing page template library.
eBook Landing Page Best Practices:
Include a mock-up: Even digital products benefit from a visual representation because humans love to feel like they're receiving something tangible.
Write a quick synopsis: In the body copy of the ebook landing page, include a brief description of the content. Write it out in a paragraph or bullet points (and A/B test the two landing page versions to discover which one is higher converting!).
Social media, testimonial, and video sections: A little social proof or personalized touch can help to create the excitement you need for a successful launch.
Splash Page Landing Page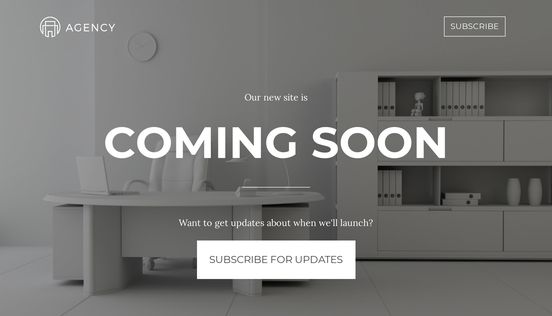 Splash pages are typically the page that a website visitor sees before being given the option to continue to the main content of the site, but they can also be used to pre-launch products and services and give away 'early access' or 'waiting list sign-ups.' Let your audience in on the secret of what's 'coming soon.' include a powerful headline that's driven by a clear value proposition, and include a link to more information.
Ready to find your splash page landing page template? Visit our free landing page template library.
Splash Page Best Practices:
Clever (clear) calls to action: Invite your traffic to 'get early access' or to step inside 'early-bird registration' and you'll create the sense of exclusivity.
Minimalist design: If you have stunning images or mockups of your product, service, or customers - use them! Keep things simple and let the design do the talking.
Button above the fold: Splash pages, in particular, have to achieve the whole pitch in a single screen view, so be sure to keep your CTA button above the fold.
Opt-In Landing Page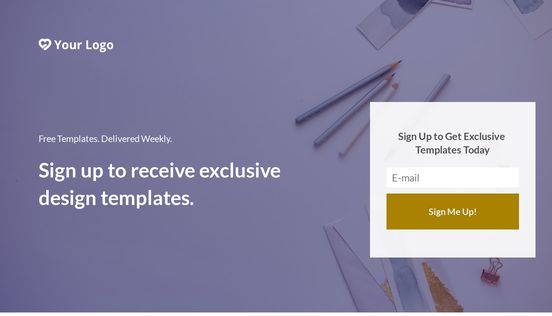 Opt-in landing pages are essential for collecting email addresses of qualified leads. You'll likely have dozens of opt-in landing pages across many different campaigns and locations, so it's worth it to learn what works best for your particular audience. Keep your written copy simple and compelling (on the righthand side if possible) and your form fields down to a minimum.
Check out our Landing Page Templates.
Opt-in Landing Page Best Practices:
Minimalist form fields: Simplify and reduce the information a visitor is required to enter into any lead capture form. The fewer barriers to entry, the more leads you'll let in through the door.
Stunning imagery: Studies show that visitors consume imagery before they read the written copy - so put extra effort into finding visuals that communicate the message and sentiment of your campaign.
Single call to action: Don't crowd your landing page with unnecessary links and multiple calls to action. You want to create a single-file line towards a single conversion event. That's what will make your conversion funnel truly irresistible.
Video Landing Page Template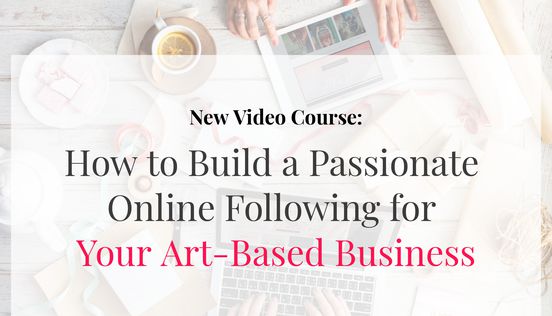 There's no better way for you to get your visitors attention than by displaying nothing other than your sales video landing page. Waiting to show it at the exact right times gives you the benefit of the doubt by engaging your visitors, having them hear the message, and getting value out of your presentation. Once this happens you're giving your pitch, and an opt-in box or buy button will automatically appear under the video. Perfect timing makes for a desired action, that way you don't have to ask anything of your customers. Want to improve your conversion rate for your product or service at the same time, then this is the landing page template for you.
Check out our Landing Page Templates.
Video Landing Page Best Practices:
Get on Camera: Across multiple channels, video content has fabulously high engagement rates. Find a way to communicate your message in this medium and you'll delight your audience.
Keep it quick: Aim for landing page videos of under 60 seconds (ideally 30).
Keep in mind: Using videos on landing pages can increase conversions by 86%.
Newsletter Landing Page Template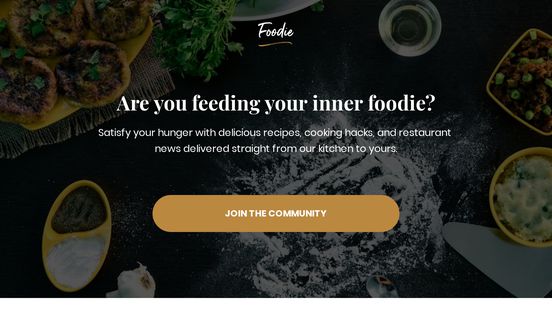 Are you using a regular email newsletter as part of your email marketing campaign? If so, well done! It's a great way to warm up your leads, nurture them with value-add content, and stay top-of-mind until they're ready to become paying customers. Use this free newsletter landing page template to showcase the value of your newsletter (answer the question: what's in it for them) and collect subscribers right on the spot!
Check out our Landing Page Templates.
Newsletter Landing Page Best Practices:
Copy & Design: Create a clean, crisp, and free of clutter (create white space) Newsletter, this way readers will actually read your content.
Content: Balance your newsletter to 90% educational and 10% promotional, doing so will keep your customers engaged.
Visual CTA's: Create CTA buttons that are images, then add alt text to them, ensuring that your subscribers can make a conversion.
Webinar Landing Page Template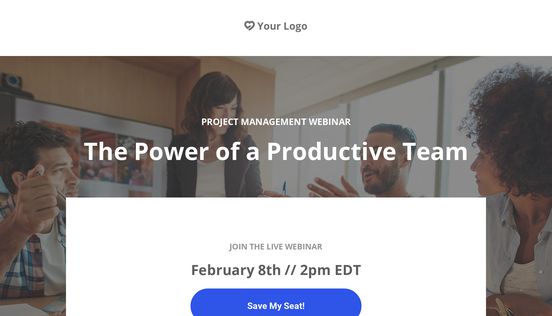 Leadpages has reinvented the webinar registration process with one thing in mind: conversion rate optimization. We're always improving our landing page design(s) to help you reach your conversion rate; we've done this by taking one of the highest converting webinar registration pages and updating the look and feel- and it's proven to be effective. This webinar registration page utilizes conversion design practices to be one of the most effective webinar registration landing pages in the Leadpages library of landing page templates.
Check out our Landing Page Templates.
Effective Webinar Landing Page Tips:
Visual hierarchy: Include headlines, sub-headlines short paragraphs, and bullet points to make easy to follow content.
CTA: Creating a distinct CTA button makes it easy for your visitors to see it and convert while on the form.
A/B testing: Use A/B Testing on images, paragraphs, hyperlinks etc. to see what needs to be changed or improved on the landing page.
Continue reading:
Chapter 5
Lead Generation Websites