When you begin dabbling in digital marketing—or moving beyond the two or three marketing strategies in your comfort zone—you might feel a little lost.
Hopelessly stuck, even.
I'm here to tell you that's totally normal. Part of the challenge is that digital marketing, like many disciplines, has its very own language. And it certainly doesn't help anyone out when different marketers speak different dialects.
Before landing at LeadPages, I worked for a marketing agency that exclusively represented law firms, and it took me awhile to learn both the Internet marketing vocabulary and the legal jargon. Soon enough, I caught on—and then I came to LeadPages where, of course, plenty of terms were Greek to me once again.
The good news is, you don't have to learn everything all at once. In this post, I am going to help you understand one of the most basic (and important) digital marketing concepts that you can use to grow your business online.
Let's talk squeeze pages.
Before we get started, I want to point you to a Digital Marketing Starter Kit we've created to help you master squeeze pages and other essential digital marketing concepts. It includes:
Our PDF glossary poster, "Digital Marketing Terms, Demystified: 75+ Words You Should Know"
Our four-step video tutorial, "How We Created Our Highest-Converting Landing Page in Minutes"
Click to download both of these free resources now:
Download Your Free Digital Marketing Starter Kit
If you have
LeadPages™
, you don't need to download this template – it's already available to you inside your LeadPages account. Just
log in
and you'll see how super easy it is to customize this page in seconds with no technical knowledge or skills, make it mobile responsive, integrate it with your email service provider or CRM, run A/B split tests, and publish it to Facebook, WordPress, or your own server.
What Puts the "Squeeze" in a Squeeze Page?
First things first: is a squeeze page the same thing as a landing page?
Yes and no.
A landing page is any web page you set up to:
a) Receive traffic from one or more sources (including paid or organic sources, including search engines, social media, and blogs)
b) Prompt visitors to take a specific action, such as sign up for an event, request a consultation, subscribe to your email list, make a purchase, or download an e-book
Not every landing page is a squeeze page. A squeeze page is a specific kind of landing page designed with one very important purpose—to get visitors to fill out the opt-in form, providing you with their email addresses.
Sometimes, squeeze pages are referred to as capture pages, because they capture leads' contact information, helping you build your pipeline.
So where does the "squeeze" come in?
Think of the opt-in form on your page as the entry door into the great party your business is hosting. However big the crowd milling around outside may be, this is where the truly interested people file in and join your actual audience (showing their IDs to the doorman on the way in).
Or, if you visualize your marketing campaign as a funnel, you can think of your squeeze page as the point where that funnel suddenly narrows. After marketing to a broader initial audience, you've captured the attention of the most interested prospects with this page. Now, your goal is to pull them through the other side of the funnel as a customer.
Squeeze pages work because they are hyper-focused. Each piece of design and content on the page is created strategically to encourage people to fill out the opt-in form.
For that reason, most squeeze pages you'll see are short and simple. That said, creating an effective one still takes some careful thought. Step by step, here's how to build a simple squeeze page that will reliably fill your pipeline with the customers you need.
Build a Complete Squeeze Page in 5 Steps
To go along with the steps you'll see here, we've included a short video tutorial on how to create and maximize a squeeze page in our free Digital Marketing Starter Kit contains. Download it here:
Download Your Free Digital Marketing Starter Kit
If you have
LeadPages™
, you don't need to download this template – it's already available to you inside your LeadPages account. Just
log in
and you'll see how super easy it is to customize this page in seconds with no technical knowledge or skills, make it mobile responsive, integrate it with your email service provider or CRM, run A/B split tests, and publish it to Facebook, WordPress, or your own server.
1. Start By Creating a Lead Magnet Your Audience Will Love
Your lead magnet is what you are going to give away for free in exchange for an email address. This is also known as the opt-in bribe, but I don't like to use the word "bribe" because that implies you're doing something dishonest—which isn't accurate. On the contrary, you're giving away valuable content your audience will love!
There are many ways to create high-value lead magnets without investing too much time. Here are just a few examples of lead magnets you can create in 30 minutes or less:
A how-to guide, do-it-yourself project, or list of resources to accomplish a specific goal, packaged as a simple PDF
A product teaser, such as a chapter of your book, a module of your course, or a resource guide
An FAQ one-sheet related to your industry
Regardless of the format you choose, a good lead magnet needs to:
Make sense for your audience. You probably have skills and expertise that could be useful for a wide variety of people, but at this point you only need to highlight the information that immediately impacts the lives of the audience you're marketing to.
Say you're trying to find new clients for your kitchen remodeling business. While a guide titled "4 Trendy Countertop Materials Homeowners Will Be Buying Next Year" might be relevant to your business and useful to other people in your industry, homeowners don't actually need to know about the trends—instead, they need to know what the best choice for them will be. You'd have better luck packaging that information as "Which Countertop Material Is Best for Your Kitchen? 8 Questions to Help You Decide."
Make sense for your business. On the flip side, it's easy to start brainstorming a list of topics your audience cares about, create a lead magnet they'll love … and wait (and wait) for any of the leads it attracts to turn into customers.
What's happened in a case like that? Usually, it's just that the lead magnet didn't clearly guide people down the path to your business. To continue the kitchen remodeling example, maybe you created a lead magnet called "8 DIY Fixes for Your Old Kitchen" that appealed to penny pinchers—but your business actually specializes in full-service, high-end remodels. The lead magnet failed to make working with you seem like the obvious next step.
Once you have an idea for content that your audience will devour and that serves your business goals, creating the lead magnet can be as simple as typing it up or turning content you already own into a PDF file.
2. Choose a Landing Page Builder That Will Make Things Easy For You
Now you have your lead magnet, and you need somewhere to advertise it and a way to deliver it to people who sign up. Make things easy on yourself by choosing a landing page builder that integrates well with your email autoresponder service and allows you to create an effective landing page without having to master new tech skills.
At LeadPages, we offer customizable squeeze page templates that are perfect for beginners. Our clean designs are proven to perform well, and you can sort them by conversion rate to see how they are working for other businesses.
In fact, if you're really just getting started, LeadPages lets you bypass an email service provider and send your lead magnet automatically with the built-in lead magnet delivery system. We'd still strongly recommend using a beginner-friendly email service provider so you can more easily follow up with your new leads—but if you haven't decided on one yet, you shouldn't let that hold you back.
Whatever tools you choose, start simple. You can always upgrade or branch out as you gain new skills.
3. Craft a Strong Message (But Don't Be a "Hero")
At this point, you know what your page is about and how you'll build it. Now you just need to know what to write on the page to entice readers.
This is surprisingly easy, because the key is simply not to overwhelm the reader.
All you need to do is tell the readers what to do and what's in it for them.
That's it. Nothing else. You don't need to prove anything about your business as a whole or tell visitors why they should work with you—you only need to get them interested in your lead magnet.
This sounds strange for some entrepreneurs at first. They've been hearing the advice to "promote their business" for ages. Why wouldn't you use your squeeze page to promote your business, too?
Starting a business is certainly something to be proud of. But if there's one thing you need to remember about crafting your squeeze page message, it's this:
You are not the hero of this story.
On this page, your potential customer is the hero. You are the trusted mentor, guiding the hero to the opt-in button so they can conquer a challenge (however small).
To guide them, you simply need to explain how opting in solves their problem or improves their situation. You can often do this in surprisingly few words. For example, a realtor might use this headline, and no other content, to pitch a lead magnet: "This Resource Guide Will Help You Find The 5 Best Neighborhoods To Raise Children."
If you find yourself writing several paragraphs to lay out that explanation, you probably need to go back to Step 1—it's a sign that your lead magnet isn't an obvious fit for your audience, your business, or both.
4. Find the Right Background Image
Many people suffer from decision fatigue when it comes to choosing an image to place on a squeeze page. Don't overthink it. Choose a main image that supports your message and is easy on the eyes—and be wary of making people work too hard to understand a photo.
In A/B tests, we've consistently found that a full-width photo background outperforms a plain page background—if that image is a good one.
What makes for a good squeeze page image? It's pretty simple:
It points visitors in the right direction. You don't need to have strong directional elements (such as an attentive face, a person's arm, or an architectural angle) in your background image, but if you do, make sure they all point toward your headline and call to action. Bold lines pointing away will subtly distract visitors from your message.
It works with your page colors. In fact, it can help you choose your page colors if you don't already have a predetermined color palette to work with (such as your logo colors). For instant design harmony, you can choose colors for your headline, text field, and button by using colors found in your background photo.
It's relatable, yet positive. We've seen many tests indicate relatable lifestyle shots perform better than studio photos and boring headshots. If your image features people, make sure those people resemble a slightly better—but achievable—version of your target audience. Inspiring images, whether they're showing people at their best or simply a beautiful vista, are also a good choice.
It reflects your audience's goals. On the other hand, we've seen completely gorgeous background photos flop in split tests. In almost every case, that happens because the photo doesn't relate to what the audience wants to achieve. You might think a luxurious beach scene would appeal to almost everyone, but if your messaging targets an audience that believes excellent work is its own reward, an image that suggests people should kick back and relax won't connect.
The squeeze page image below reflects all these principles, and the page itself only took about 10 minutes to create (including time spent searching for a royalty-free image).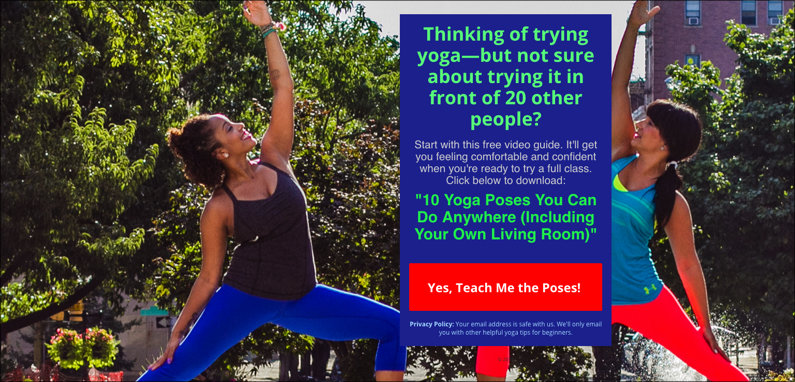 You can always run A/B split tests to learn whether one specific image drives better performance than another. For lots of options across a variety of industries, check out the free image gallery in the LeadPages Marketing Library.
You can also upload your own images. If you have a logo, consider adding it to build brand recognition without devoting extra copy to your company.
5. Add a Powerful Call To Action
Finally, you need to write a call to action (or CTA) that converts.
Remember, your squeeze page is short and simple, so visitors will only spend a moment—perhaps only a few seconds—deciding whether to opt in or click away. You don't have the luxury of presenting your call to action at multiple places as visitors scroll down the page, because there's probably no scrolling to be done.
A good call-to-action button tells people what to do and why, clearly and quickly. Try "Download Now," "Claim My Spot," or "Yes, I Want the Free Report," all of which indicate both an action and the end result of that action (implicitly or explicitly). Buttons that do both these things are typically more effective than ones that focus on just one, such as "Click Here" or "Free Report."
And if you can use the f-word—free—do so. We've seen conversion rates increase when people simply add "free" to their buttons and other copy.
On the design front, maximize visual contrast. If your background is red, consider a turquoise CTA button. Echoing a color in your background image can also point attention toward your button.
Finally, color and message aside, you'll want to make sure your button itself is large and obviously clickable.
These tips result in great LeadBoxes®, our two-step opt-in forms, but the principles of high clarity and contrast stand with any contact box or opt-in form.
Congratulations! Now you know how to make an effective squeeze page. To figure out how that page fits into your marketing as a whole, be sure to download our Digital Marketing Starter Kit below:
Download Your Free Digital Marketing Starter Kit
If you have
LeadPages™
, you don't need to download this template – it's already available to you inside your LeadPages account. Just
log in
and you'll see how super easy it is to customize this page in seconds with no technical knowledge or skills, make it mobile responsive, integrate it with your email service provider or CRM, run A/B split tests, and publish it to Facebook, WordPress, or your own server.
Your Turn: How Would You Improve This Squeeze Page?
I've got a challenge for you before you go. Applying the principles we've covered above, I want you to tell me what's wrong with this (fake) landing page below: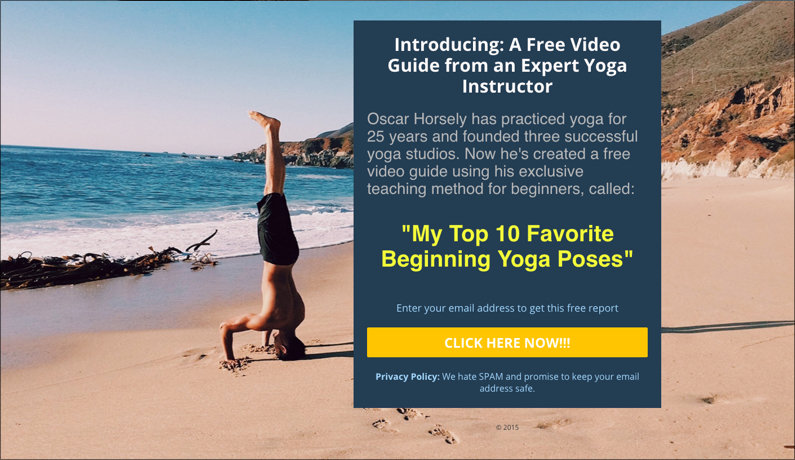 This isn't the worst landing page in the world, but it could definitely be improved. Tell me what you'd do to improve it in the comments below!