Note: To turn any type of popular blog into a true lead generator, we recommend you let people opt in for a content upgrade. Click below to get our free quick-start list of 25 different content upgrade ideas, along with the kinds of posts you should use them with:
Get the Guide: "25 Content Upgrades to Build Your Blog"
If you have
LeadPages™
, you don't need to download this template – it's already available to you inside your LeadPages account. Just
log in
and you'll see how super easy it is to customize this page in seconds with no technical knowledge or skills, make it mobile responsive, integrate it with your email service provider or CRM, run A/B split tests, and publish it to Facebook, WordPress, or your own server.
So you're going to start a blog, or kick the one you've neglected back into gear.
You've read all the information about why you should have a blog for your business — more traffic, more credibility, more leads, and, ultimately, more sales.
You have the name, a logo, and the page all ready to go. You even know what you're going to write about.
But you forgot to ask one critical blogging question. . .
What kind of blog are you going to have?
The answer to this question goes beyond identifying key topics. It gets to the heart of other questions like:
What kind of feeling do you want readers to get from your blog?
What will a typical post look like?
What kind of tone will it have?
Will your posts be short and uplifting? Thorough and helpful? Long and fascinating? Revealing? Authoritative?
And, most importantly, how will the blog help build your business?
In my experience, there are 10 types of blogs that succeed at turning leads into customers more than any others. This post will walk you through those 10 types and answer all the questions listed above about each one.
Blog Type #1: The Rogue
Rogues, quite simply, attract attention — both good and bad.
They're not afraid to bend the rules and go against the grain. They take bold stances on divisive issues. This wins them both admirers and detractors.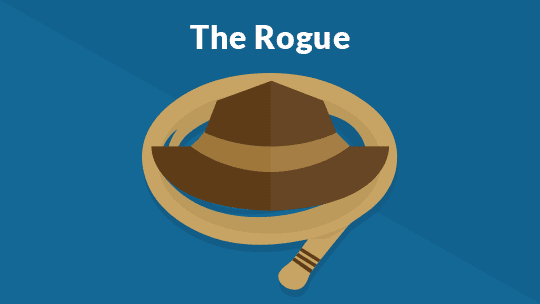 Advantages of the Rogue:
You get to tell everyone what you really think.
You polarize, which attracts attention.
You're cool like Indiana Jones.
Disadvantages of the Rogue:
You attract an above-average amount of haters.
It's really tough to pull off without feeling forced.
You can't physically fight your way out of tricky situations like Indiana Jones.
Key Example: ViperChill.com by Glen Allsop
Glen recently wrote a post called "How to Get a Footer Link from SoundCloud.com (And Why I'm Continuing with 'Dark SEO')."
The title alone lets you know this post might be a tad controversial. It makes a bold claim ("How to Get a Footer Link from SoundCloud.com," a website that's in the top 200 most popular sites in the entire world according to Alexa.com), and then delivers a curiosity-boosting / against-the-grain statement ("Why I'm Continuing with 'Dark SEO'").
I like to call this the "Whoa! Whaaat?" formula, because that's exactly what this title made me say when I read it.
This formula works in any industry. For example. . .
If you're a realtor: "How to Double Your Listings in the Next 7 Days (And Why the 'Big-Name' Realty Companies Hate This Strategy)"
If you're a golf instructor: "The Ball I Use to Add 50 Yards to My Drive (And Why the PGA Doesn't Want to Endorse It)"
If you're a landscaping company: "The 1 Product You Need to 'Drought-Proof' Your Lawn (And Why It's Not Sold in the U.S.)"
A quintessential Rogue post is more than just the title, of course. The most important aspect is that you have something worth going out on a limb for. You should never come up with a "Whoa! Whaaat?" title and then find a way to build a post around it. Rogue posts created that way will always fall flat.
The quintessential Rogue post comes from within. It's something that is screaming inside of you to get out. You will most likely feel apprehensive about writing it at first. You'll be worried about ruffling too many feathers, awakening the sleeping giant, or a number of other similar cliches.
But above it all, you'll know the post needs to be written because there are enough people out there who can benefit from reading it. That's the key detail that always stays at the forefront of a good Rogue's mind.

How to Nail a Quintessential Rogue Post
At the end of the day, remember one thing: you're being a Rogue in order to help people. Good Rogue bloggers take stances when they know a stance needs to be taken — not merely for the sake of taking a stance and creating controversy.
To nail a quintessential Rogue post, you need three ingredients:
Passion: This will prevent your post from sounding forced and manufactured.
Knowledge: This will give you the ability to craft an informed, intelligent argument.
Experience: This will qualify and reinforce your argument.
Before investing the time to write a Rogue post, always check for those three ingredients.
Blog Type #2: The Guest Host
The benefits of guest posting have been blogged about ad nauseam. But the benefits of hosting guest content have been written about much less.
That's what the Guest Host is all about — regularly hosting top-notch guest content.
Did you know that Neil Patel grew the KISSmetrics blog to over 400,000 visitors a month publishing posts that mainly came from guest authors? He also grew the Crazy Egg blog to over 100,000 visitors a month using the same strategy.
Although the Guest Host regularly features content from guest authors, the person (or people) behind the blog will also regularly step back into the spotlight and write posts of their own.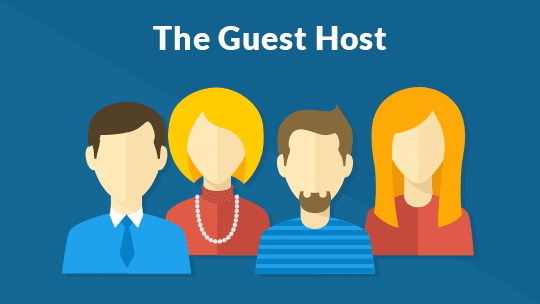 Advantages of the Guest Host:
You don't have to spend any time creating content.
You get help promoting every post.
You can piggyback on the brand awareness of the guest posters you host.
Disadvantages of the Guest Host:
Wooing guest posters requires a significant time investment.
Your platform needs to already have somewhat of a following to assure guest posters their content will be exposed to a new audience.
Key Example: OkDork.com by Noah Kagan, Founder of AppSumo
Although AppSumo Founder Noah Kagan has been personally blogging on OkDork.com for around seven years, he recently started regularly featuring some of the most epic, valuable guest content I've ever seen.
His blog is a great example of the typical Guest Host timeline. He put tons of his own time into creating great content that attracted visitors who, over time, became his OkDork audience. Because of that audience, OkDork has become a desirable platform for guest writers. Since it's so desirable, Noah can be picky and select guests who have valuable promotional channels of their own.
For example, some of the aforementioned epic, highly valuable content was written by folks at companies like BuzzSumo, ConversionXL, KISSmetrics, and Videofruit.
Additionally, Noah also regularly features his own readers who have achieved some type of outstanding result in their businesses as guests.
Large audiences or not, what these guests always have in common is that they've gained a bunch of valuable insights from specific techniques they've been implementing. And then they teach those techniques to Noah's readers.
It shows in the titles. Here are just a few:
"What You Can Learn from KISSmetrics' SEO Strategy" (plays off of a well-known brand's reputation as a great SaaS company and content marketing powerhouse)
"We Analyzed Nearly 1 Million Headlines. Here's What We Learned" by Garrett Moon, founder of CoSchedule (leverages an insane amount of insightful data very few people have access to)
"Why Content Goes Viral: What Analyzing 100 Million Articles Taught Us" by the BuzzSumo team (again, leverages tons of data to provide unique insights)
Not only does this expose OkDork.com to the audiences of Noah's guests, it also does three other things:
Gives the OkDork.com audience great content to consume
Gives Noah a break from constantly having to write epic, highly valuable posts himself (these kinds of posts take many people over 20 hours to write)
Makes the posts Noah writes himself even more special and anticipated
Becoming a Guest Host requires a ton of work upfront. It's critical that you already have an established platform in order to attract top-quality guest posters.
Once you've reached that level, however, it's a strategy that can pay off in a major way.
How to Nail a Quintessential Guest Host Post
The key to nailing this kind of post is not in the creation of the post, but the selection of the post.
You have to be picky. You have to have standards. You have to know how to promote the post. And, most of all, you have to know how to recognize great content.
My best advice to learn all of this? Check out the blogs that regularly feature top-notch guest content and read their guest posting guidelines. You'll notice some commonalities:
They only feature truly great guest content.
They're looking for in-depth, highly original content.
They put their audience's needs first.
They know how to promote the content.
Their guests must al know how to promote the content.
Additionally, you'll need to know how to attract guest posts that meet these standards. To do so, follow these steps:
Place your guest posting guidelines in a prominent place on your blog. Add a submission form or contact email address so potential writers know where to submit their ideas.
Put an ad about guest posting for your blog in your sidebar. Link it to the guest posting guidelines.
Go to other blogs in your industry and see who is guest posting on them. Create a spreadsheet of all the writers you think would be a good fit for your blog and then email them a personal invitation to write on your blog.
Once your platform is big enough, there's no reason not to fold at least some of the Guest Host into your blogging strategy.
Blog Type #3: The Crash-Test Dummy
The Crash-Test Dummy is best summed up using the words of the person who coined the term: Pat Flynn of SmartPassiveIncome.com.
As Pat says on his home page, "I'm the crash test dummy of online business, sharing what works (and what doesn't) so you know exactly how to build your business better."
The Crash Test Dummy tests different strategies, techniques, and tools, then shares what works (and what doesn't) so you can know what to implement and what to avoid.
Advantages of the Crash-Test Dummy:
You'll stay focused on consistently testing and monitoring different strategies and tools in your business.
People are drawn to detailed how-to style articles.
You'll gain new insights into your own business by regularly writing about it.
Disadvantages of the Crash-Test Dummy:
You need to be consistently achieving significant, observable results in your business.
You must be comfortable with occasionally chronicling your failures in addition to your successes.
Sometimes the strategies you reveal could potentially help your competitors.
Key Example: SmartPassiveIncome.com by Pat Flynn
Recently, the LeadPages copywriting team gave Pat Flynn's readers critiques on their headlines for lead magnets they wanted to give away on their websites. This was part of a contest Pat and LeadPages CEO Clay Collins came up with.
As we read through the 700+ comments containing headlines and lead magnet ideas, one thing stood out to my fellow copywriters and me above all else — Pat's audience was the smartest we had ever seen.
Why are they so smart? Because Pat has mastered the art of the Crash Test Dummy post — each post is hyper-relevant to his audience's needs and teaches them high-value strategies they can immediately apply to their businesses.
"The Mega Details Behind the New Design of The Smart Passive Income Blog" might be the most in-depth, helpful post of this kind I've ever read. The first paragraph, which details what was covered in his previous blog post, is a microcosm of the ideal Crash Test Dummy post:
"In my last post, I took you back in time and shared the history of themes and design updates for The Smart Passive Income Blog. It wasn't pretty and I did take a few steps backwards here and there, but it demonstrates that you don't need a perfectly designed website to make amazing things happen – you just need to get started."
There were successes. There were failures. There was a key lesson. And that's exactly what a Crash Test Dummy post should contain.
How to Nail a Quintessential Crash Test Dummy Post
It sounds simple, but it's not. In fact, I probably see more people whiffing on this type of blog post than any other.
The basic formula for a good Crash Test Dummy post is:
Step-by-Step Process + Results + Teaching = Good Crash Test Dummy Post
Most bad Crash Test Dummy posts either try to teach without providing actual results they achieved themselves, or they provide all the results but do a poor job actually teaching their readers how to get those results as well.
Great Crash Test Dummy posts take months (or at least weeks) to create. You have to give whatever strategy/tool/technique you're testing enough time to produce observable results from which you can draw solid conclusions.
You then need to go into exhaustive detail (while also holding your readers' attention) as you explain the process in your post and teach readers how they can set up something similar. Visuals are a must — think screenshots, animated GIFs, charts, etc.
To write this kind of post, ask yourself questions like. . .
What strategy/technique/tool have I recently tried out in my business?
What kind of results did I see?
What actions did those results cause me to take?
How does this information apply to my audience?
Haven't tested anything out in your business lately? Now's the best time to start.
Blog Type #4: The Niche
Rather than focusing on broad topics like leadership, marketing, or sales, niche blogs get hyper-specific.
How specific?
When Pat Flynn began his Niche Site Duel (in which he and Tyrone Shum each created niche sites from scratch), his list of potential niche ideas included things like writer's block, police training, and data loss — that's how specific.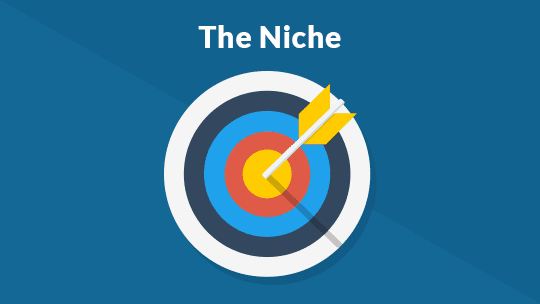 Advantages of the Niche:
You can narrow your focus to an ultra-specific topic
It's easier to define exactly who your readers are
You can use a Niche blog to transform virtually anything you're passionate about into a business
Disadvantages of the Niche:
It can feel limiting
It can be challenging to consistently come up with new, original ideas
It's harder to gain traction in some niches than others
Key Example: I Am a Food Blog by Stephanie Le
The premise of Stephanie Le's food blog is simple — she posts recipes you can make at home and pairs them with pro-quality photography (and sometimes an interesting anecdote).
She also keeps things fresh by mixing non-recipe posts like "What's in My Kitchen? Utensils Edition."
But it's the quality that makes Stephanie's blog such a great example of an outstanding niche blog. Think about all of the recipe blogs you've come across, and then take a look at hers.
Stephanie's blog does what so many of her competitors within the niche don't do — it features drool-worthy pictures, a clean, minimalistic layout, a simply formatted recipe, and good writing punctuated by relatable stories.
When analyzing your niche, ask yourself things like:
What can I do better than everyone else with some extra time and effort?
What real audience needs is everyone else ignoring?
What's working for others that could work for me?
These are the key questions to ask to dominate your niche, and I'm betting that Stephanie Le asked herself all of them at some point.
How to Nail a Quintessential Niche Post
The nature of niche blogs means that a quintessential niche post could vary dramatically depending on the niche.
Regardless, the one overarching principle with niche blogs is this:
Just because you have a narrow topic doesn't mean you should have a narrow mind.
You may have a blog that teaches new realtors how to make their first sale, but don't neglect to monitor your audience's interests as it grows over time. You may discover that a large percentage of your readers are also interested in DIY home upgrades, which could lead to a post like "9 Simple DIY Home Upgrades That Can Increase the Value of Your Listings."
This is still relevant to your niche (it shows them how to increase the value of their listings), but it also hits on that newly discovered area of interest, DIY home upgrades.
Monitoring interests will keep your content fresh, yourself engaged, and your audience delighted.
Blog Type #5: The Giver
The Giver gives away incredible free bonus content with every post.
These are called "content upgrades" — an additional piece of content created for a specific blog post and given away in exchange for an email address. On top of being a great way to deliver more value to your audience, they're also a great way to build your email list.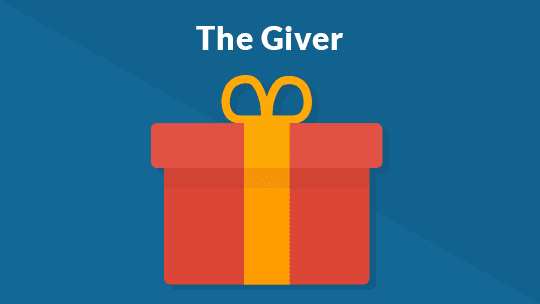 Advantages of the Giver:
You can collect more email opt-ins per blog post than ever before.
You can deliver even more value to your audience.
It makes you better at content creation.
Disadvantages of the Giver:
It takes additional time to create an additional unique piece of content for every blog post.
Key Example: Videofruit.com by Bryan Harris
Bryan Harris was one of the first bloggers I saw who implemented this strategy religiously.
He's given away everything from bonus videos to PDF walkthroughs to free coaching sessions.
Typically, he'll include an eye-catching call-to-action to download the content upgrade both the beginning and end of his posts. The call-to-action area links to a LeadBox that allows you to opt-in for the content upgrade. He regularly experiences conversion rates of 20-30% (and sometimes as high as 62%) with these LeadBoxes.
Bryan has embraced the Giver strategy more than anyone else I've seen, and it's part of the reason why his blog has experienced so much growth (in addition to a lot of hard work). Check out Videofruit to see how he's mastered this strategy for yourself.
How to Nail a Quintessential Giver Post
The key to nailing a Giver post is in giving away a content upgrade that is relevant to the specific post you've created.
Here's what usually happens — you write a blog and then offer the same downloadable piece of content in exchange for an email address that you offer at the end of every other post on your site.
Since you write about different things, that post of content isn't always going to be relevant to new visitors who come to your site to read a specific post. The Giver creates a new lead magnet that is relevant to each specific post.
For example, in a post on the LeadPages blog called "The Anatomy Behind Memorable Landing Page Videos," fellow writer Sean had one of our awesome designers, Sarah, create an infographic highlighting the elements of memorable landing page videos that were covered in the post.
Of course, you don't have to give away something that requires as much work as an infographic. It can be something as simple as a PDF checklist you create in Microsoft Word.
The easiest and highest converting way to set this up on your own blog is to use a LeadBox like you see in the example below. A LeadBox allows you to link any text, button, or image in your blog post to a popup window where your visitors can opt-in for your content upgrade.
Here's an example of not only a LeadBox, but an actual "content upgrade" of this very post your reading that I created in minutes:
Click Here to Get the "3-Minutes-or-Less" PDF Version of This Blog Post
Blog Type #6: The Guide
The Guide writes posts that help readers with their personal lives. Many bloggers utilizing this blog type discuss topics like personal development, life coaching, and/or spirituality.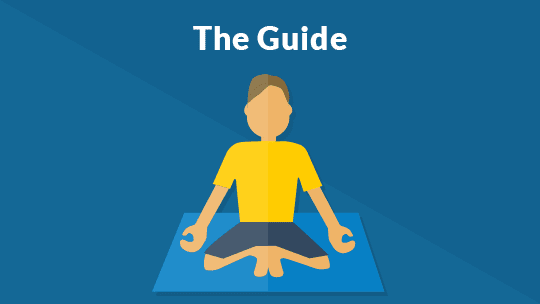 Advantages of the Guide:
Establish deeply personal connections with your readers.
Experience personal growth through your own writing.
Guiding others to significantly improved personal lives is fulfilling on a deep level.
Disadvantages of the Guide:
You can easily be lumped into the overly populated, distrusted category of personal growth/self help.
Dealing with sensitive topics requires a more delicate touch than most other blog types will demand.
Key Example: ZenHabits.net by Leo Baubata
Zen Habits isn't just one of the most popular Guide blogs — with over a million readers, it's one of the most popular blogs out there, period.
There are a variety of lessons it can teach us about building a popular Guide blog, but chief among them is the importance of the writing style. After reading a handful of Leo's posts, the words that will most likely enter your mind are adjectives like calming, profound, and wise.
Learning how to make your readers associate those words and feelings with your writing isn't something you can do overnight. As Leo himself says, it takes time and lots of practice. However, let's take a look at a few of the ingredients that make Leo's posts so effective. . .
How to Write a Quintessential Guide Post
Step 1: Give Your Audience More Than Just Words
The best Guide posts are those that explain multi-layered concepts that can take people years to learn in a simple, digestible fashion. These posts speak directly to pain points readers may have struggled with for years — think concepts like anger, lack of confidence, personal fulfillment, etc.
Just take a look at a few of Leo's post's titles (word count in parentheses):
"How to Believe in Yourself" (481 words)
"Pursuing Happiness When It's Already Within You" (270 words)
"The Essence of Fatherhood: 6 Simple Lessons" (1,213 words)
One of the main reasons Leo is able to teach such complex lessons in such digestible doses is because he often gives readers a way to continue the conversation with themselves after they're done reading the post.
For example, in "How to Believe in Yourself" he leaves readers with a checklist of of actions readers can take to increase their self confidence. In "Pursuing Happiness When It's Already Within You" he gives readers a simple mental exercise that it's necessary to continue pursuing something you already have.
Step 2: Never Neglect Your Own Struggle
Guide posts can often deal with sensitive subjects, and it's important to never talk down to readers or act like you're above the problem you're attempting to help them solve. An effective Guide post displays a masterful understanding of empathy.
In both of the Zen Habits examples I mentioned previously, Leo mentioned his own journey toward the results the posts were designed to teach.
Although honesty and transparency are always important regardless of the blog type, they're of paramount importance to the Guide.
Step 3: Empower Your Readers To Solve Their Own Problems
Effective Guide blogs don't promise or try to give all the answers. Instead, they help facilitate conversations readers need to have with themselves. They guide readers to their own personal "Aha" moments.
It's easier said than done, but (like Leo says) it can be accomplished with time and lots of practice.
Blog Type #7: The Homer
No, the Homer is not a label reserved for blogs about doughnuts, nuclear power, or Duff beer.
It's reserved for bloggers who write posts of epic proportions — posts that take readers on a 2,500+ word journey every time.
Though word count is one of the most noticeable aspects of the Homer, it doesn't define this type of blogger. Word count is simply a means to an end, and that end is a transformative journey. The Homer takes the reader from Point A to a vastly different Point B.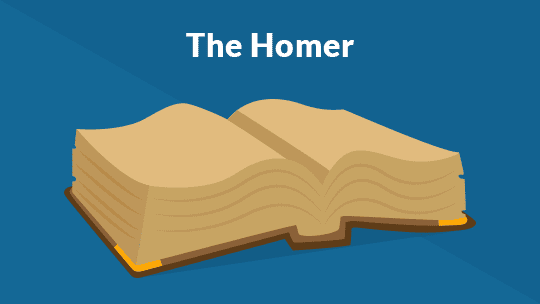 Advantages of the Homer:
Disadvantages of the Homer:
Each post is a major time investment and usually requires more research.
Your writing must be even more compelling than usual in order to hold readers' attention longer.
Typically, a lack of response/shares of a 2,500+ word blog post is more crushing than a lack of response/shares on a short post.
Key Example: Johnny B. Truant, originally at JohnnyBTruant.com and now at SterlingAndStone.net
Johnny B. Truant once wrote a post so epic he was able to turn it into a short ebook and sell it on Amazon.
It was called "The Universe Doesn't Give a Flying **** About You" (Warning: as you likely can tell by the censored title, this post contains a fair bit of NSFW language).
This post clocked in at just under 3,000 words, was shared over 7,000 times on Facebook, and shows why Johnny fits "The Homer" to a T — he doesn't just write a bunch of words to fill up space, he writes a bunch of words to radically shift your thinking.
He takes you from Point A (It's too scary to take risks and try to do something awesome with my life) to Point B (Wow, my life is actually pretty insignificant, so why not do something awesome with it?) in the span of a few thousand words.
How to Nail a Quintessential Homer Post
Part one of mastering this type of blog post is getting the length right.
One of the key insights from the aforementioned BuzzSumo study was that 2,000-3,000-word articles (in the top 10% of most-shared articles) averaged over 7,500 shares, a significant increase from the ~6,000 share average of articles in the 1,000-2,000-word range, and an even bigger increase from articles in the 0-1,000-word range (~4,750 shares).
However, when articles rose to the 3,000-10,000-word range, the average share amount barely increased. Just take a look at the original graph below.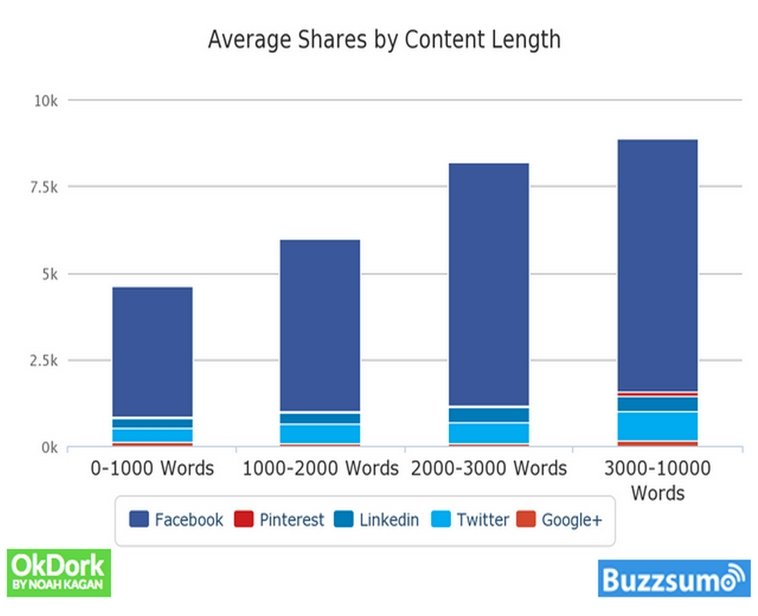 Most importantly, remember to have something worth writing that many words about. Like Boost Blog Traffic says in their guest posting length guidelines (they require 2,000-3,000 words), "Don't think of a 1,500-word post padded out. Think of a 5,000-word post trimmed down to its essence."
Blog Type #8: The Tell-All
Would you be comfortable swapping stories with the Most Interesting Man in the World from the Dos Equis commercials?
Have you been to the top of the mountain… and also walked through the shadow of the valley of death?
Have you learned a lot of valuable information the hard way?
If you answered "yes" to all three of those questions, the Tell-All might be the perfect fit for you.
To put it simply, the Tell-All frequently writes posts that feature both shockingly revealing details and highly valuable information/lessons learned.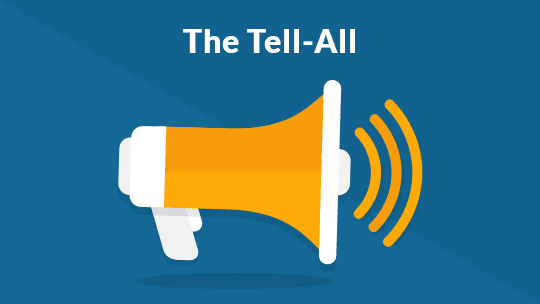 Advantages of the Tell-All:
You get to put the most compelling stories you've lived onto paper.
You can put a lot of personality into your writing.
It's great for building a personal brand.
Disadvantages of the Tell-All:
You tell. All.
Crazy experiences are a prerequisite.
It's a difficult writing style to pull off. Generally, more creativity and narrative ability is required than many other kinds of blogs.
Key Example: The Altucher Confidential by James Altucher
James Altucher's Twitter bio says it all:
"For some reason, I've turned myself inside out and all my guts have spilled onto my blog."
James holds absolutely nothing back. A few samples directly from his blog posts:
"Last week I had a two million dollar deal fall through. Meaning, two million dollars would go to me if the deal had happened. This seems like a "first world problem" and of course it is. But it sucks to not get two million dollars."
"I've had death threats, legal threats, I've lost friends, even family, over things I've written. I've lost the respect of many I still respect. Articles get written then people hate me even more."
"I gave the worst interview of my life yesterday. I'm humiliated and feeling awkward and embarrassed."
These are all compelling details that helped move their respective posts forward, while also keeping things interesting. They're not there simply to feed James' ego or need for attention.
The second example is part of a larger story that shows his readers how to deal with haters, and the third is part of a larger story that helps his readers understand how to be a great interviewer.
James has lived through enough compelling experiences (that yielded valuable lessons for his audience) to necessitate a Tell-All blog.
He's gone from millionaire to 100% broke more than once. He's written over 10 books, some which completely flopped and some that became bestsellers. He's a husband and a father to two daughters.
He has a knack for illuminating the valuable nuggets within the wild, revealing stories he tells — and that's exactly what makes his audience love him so much.
How to Nail a Quintessential Tell-All Post
The Tell-All has much in common with the Rogue. They both reveal surprising details that illuminate a larger lesson or problem. But while the Rogue is concerned with revealing external details, the Tell-All reveals internal details.
The quintessential Tell-All post centers around a compelling narrative that reveals a valuable lesson that's relevant to the audience. To put it simply, it tells a juicy story that teaches your audience something.
Important: just like the Rogue isn't controversial for the sake of controversy, the Tell-All isn't juicy for the sake of juiciness. It doesn't matter that you had just negotiated a million-dollar deal unless that detail is relevant to the story in some way.
If you're asking yourself whether or not you have a crazy enough stories to necessitate a Tell-All blog, the answer is "no." If you did, you wouldn't need to ask yourself.
Blog Type #9: The Personal Brand
Are you a major part of the brand you're trying to build?
Well, of course you are. You're building it, after all. But is your personality a cornerstone of the blog you're building? Is your name in the URL? Is your face all over the home page? Do you want to be known as you, or as the person who writes Blog XYZ?
Personal Brand blogs are ideal for those who are seeking to position themselves as experts. Why? Because when you're seen as an expert, people will want to:
Hire you as a consultant
Offer you a job
Book you as a speaker
Invite you to write on their blog or be interviewed on their podcast
And so on. . .
In a sense, any type of successful blog will help build your personal brand. The Personal Brand blog, however, makes that result the top priority.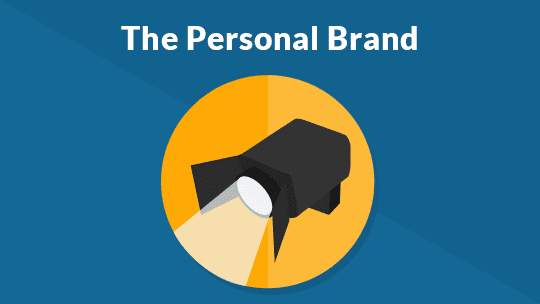 Advantages of the Personal Brand:
It's ideal for positioning yourself as a speaker/thought leader.
It can increase your name recognition within your industry.
Disadvantages of the Personal Brand:
You need to be comfortable putting yourself in the spotlight.
You have to treat yourself like a product, which is a unique challenge that requires brutal self-honesty.
Key Example: MarieForleo.com by Marie Forleo
Marie Forleo has one of the strongest personal brands at the intersection of personal and professional development, and her success is rooted in the strength of her blog at MarieForleo.com.
People don't buy into Marie just because they love her content (which is, in fact, excellent in its own right) — they also buy into her because they love her personality.
As you can see below, visuals can go a long way in helping establish your personal brand. Don't be afraid to show your face and use "I / Me" language.

I also wanted to feature Marie to illustrate an alternative blogging format to those who prefer not to write — video.
Although Marie has great written content, her bread and butter has always been "MarieTV," a video series consisting of helpful how-tos, interviews, and more. The YouTube channel she created for the series currently has over 114,000 subscribers.
Video can be a powerful medium for any type of blog (in fact, some of the best content we've produced here at LeadPages has been done through video), but it can be particularly powerful for the Personal Brand blog for two reasons:
It allows visitors to see more of you.
It forces you to become better at speaking and communicating in front of an audience.
Whether you plan on utilizing video or not, Marie's site offers a great template for Personal Brand blog builders:
High-Value Content + Unique Viewpoint Backed by Experience + Personal Brand-Heavy Packaging = An Ideal Personal Brand Blog
How to Nail a Quintessential Personal Brand Post
Regardless of format, the key aspect of the Personal Brand blog is in the name — it needs to have personality.This doesn't mean you need to be in-your-face, and it also doesn't mean the posts have to be all about you. It just means your posts should be framed with your personal views and qualified by your own experiences.
To accomplish this, try writing posts that detail things like. . .
Your own struggles and failures within your field and what you learned from them
Strategies and techniques you've personally created and used
The tools you've used to achieve results your audience desires
Your personal stance on divisive issues within your field
These topics can not only further your position as a thought leader in your industry, they can endear you to your readers.
Blog Type #10: The Enterprise
The Enterprise is a blog built for a company, not an individual. It's the type of blog companies like Buffer, HubSpot, and Coca-Cola feature on their websites.
Typically, a team of writers create content that is relevant and valuable to the type of people who fit the company's customer profile. That content then attracts those potential customers to the website, where they can learn more about the company's product(s).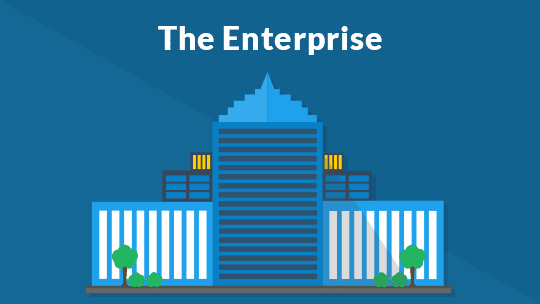 Advantages of the Enterprise:
It's a key ingredient to an effective content marketing strategy for your company.
A great Enterprise blog can dramatically impact your company's revenue.
You can feature a variety of writers and voices.
Disadvantages of the Enterprise:
You have to take the time to find great writers you can trust with the brand you've worked so hard to build.
Key Example: LeadPages
This is what we strive for on the LeadPages blog — content that's 100% valuable on its own (both to customers and non-customers) and also further qualifies visitors as leads.
Since our software has processed well over 20 million leads, we're able to see what's currently working in conversion optimization and bake those insights into content that's relevant to potential prospects.
But we're not only looking outward. We're also looking inward to determine what type of content could benefit our existing customers. That shows in the types of posts we publish:
Roundup Posts – These feature our favorite landing pages and LeadBoxes customers have created. They're designed to both inspire existing customers and to show prospects what our software is capable of.
Long-Form Posts – Like the post you're currently reading, these aim to provide pure value in order to attract prospects.
Podcast Episodes – ConversionCast, hosted by Tim Paige, provides conversion optimization insights through interviews with other businesses.
Free Landing Page Templates – We regularly give away free landing page templates and pair the giveaway with an educational video walkthrough that shows prospects how to use it and why it works well.
LeadPages Feature Updates – All major feature updates and launches are also chronicled on the blog.
As you can see, the Enterprise blog exists both to attract new leads and provide valuable content to existing customers. It's both an acquisition tool and a retention tool.
How to Nail a Quintessential Enterprise Post
A truly great Enterprise post not only attracts prospects with interesting, high-value content, it also converts them into customers. If you have a great product that's relevant to the needs of your readers, you can do this without hitting the prospects over the head with a sales pitch.
A mention of a product here, an interesting result a customer achieved with your product there, and your content can start generating more sales.
To see this in action, take a look at the video below.
The content is 100% valuable on its own — it teaches you the psychology behind a successful webinar replay page — but it also demos our own software and includes a call to action to become a customer at the end.
In addition to attracting leads for your business, a good Enterprise post also further positions your company as a thought leader within your industry. To accomplish this, you can do things like:
Use data from your business to provide unique insights others in your space can't offer.
Detail specific strategies you've learned from testing them in your business.
Take a stand on something people have different opinions about and share how your company arrived at that stance.
Consider each Enterprise post an opportunity to attract prospects, delight your customers, and add to your business's authority.
 What Kind of Blog Are You Building?
In all likelihood, your blog contains (or will contain) certain elements of more than one of the 10 types profiled in this post. In fact, almost all of the examples I included could be classified as others.
While OkDork.com is a great Guest Host example, it's also a good Homer example. There's probably a bit of Crash-Test Dummy, Tell-All, and Rogue in there as well.
However, every blog has a dominant type of post. And it's important that yours does too.
So tell me, which blog type do you think is the best fit for you, and why? If you have experience blogging, have you had success with any of these types of blogs before?
Leave a comment below and let me know.
Click Here to Get the "3-Minutes-or-Less" PDF Version of This Blog Post