As I began organizing recent free template giveaways, I literally shook my head in amazement because I remember the days when finding a high-converting landing page template was not this easy…
… and it certainly was not free.
The main reason I wanted to compile this list of free landing page templates was to supplement the current List Building Resource Guide, which has been getting rave reviews.
Here is a collection of the highest-converting landing page templates from LeadPages
Free Landing/Squeeze Page Templates: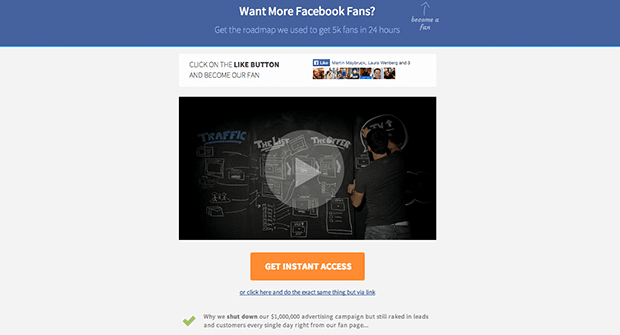 If you ever use Facebook for your business, you need to use this page. This new proven page is engineered to get you more Facebook fans, while you build your list at the same time. In fact, it's the exact layout of a page that LeadPages customer Brian Moran used to generate 350K Facebook fans, and 200K leads on Facebook. That number is huge! You've got to use this page if you're generating leads on Facebook! You can publish it on your Facebook fan page as a Facebook tab to start utilizing Facebook as a valid lead gen source.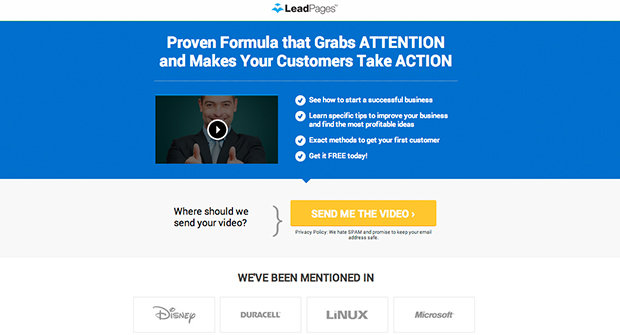 Classy. Elegant. Simple. High-converting. That's how we describe this beautiful template. We engineered this simple lead generation page to guide your visitors exactly where you want them to go — to opt-in for your list. This amazing lead gen page features unique design and subtle arrows to give your pages a sophisticated Web 3.0 look while pointing people to click and opt-in.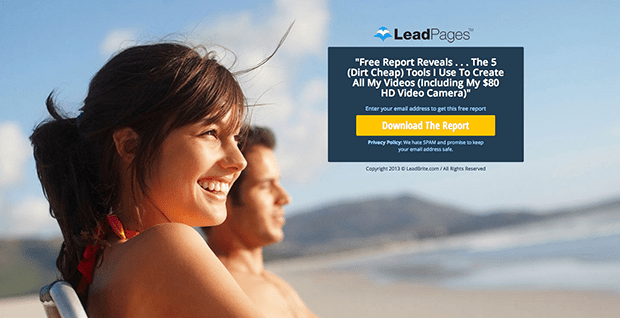 If you've got a lead magnet you're giving away like a report, info graphic, video, etc. this template works incredibly well for that. It's gotten us some of the highest opt in rates that we've seen in a long long time. It works incredibly well for several reasons.
It's clear and concise

Limited space means focused copy

Takes over-selling out of  the equation due to limited space

Image directs viewers eye to your opt in

Great Design
Those 5 things are what contribute to this being a massively effective landing page template that converts like crazy.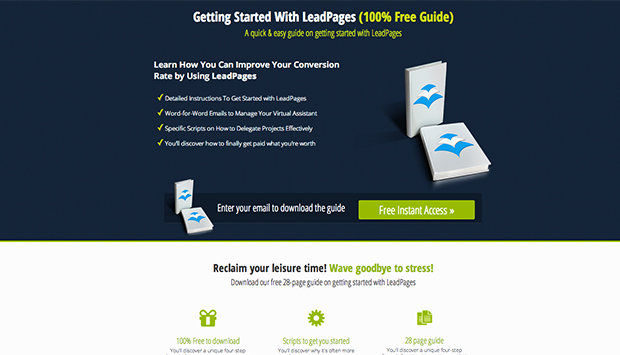 Sometimes you just need more copy on your opt-in pages. That's especially the case if you want your pages to rank higher on Google. We call it the "gorgeous lead gen page" because our designer really outdid herself on this new page. It's stunning. It looks exactly like a "Web 3.0" lead generation page should. This gorgeous new landing page is perfect for…
SEO and ranking higher in search engines

Selling to a B2B market

Surprising your audience with a different kind of opt-in page

Giving your business a Web 3.0 look and feel

Sharing more content on your page – and still getting the highest conversion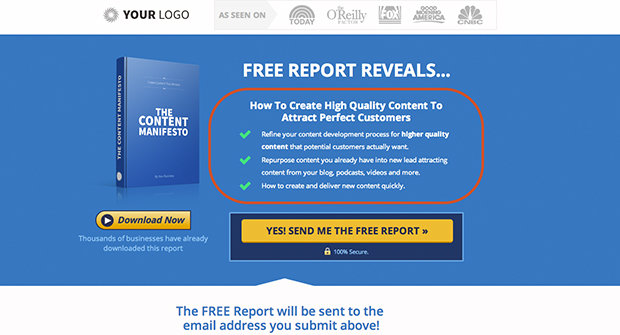 This page was originally sent to us by Justin Brooke. He systemically engineered this landing page to be the "perfect squeeze page." Our in-house LeadPages designers added our own unique twists to Justin's page — to optimize this "perfect page" even further. It's a fantastic looking page that offers a social proof section at the top for instant credibility with your visitors. The red circle around the benefits section helps draw attention to the biggest benefits of your product or service. Plus there are 2 different options available for visitors to download your lead magnet. This is a super simple, but super effective opt-in page.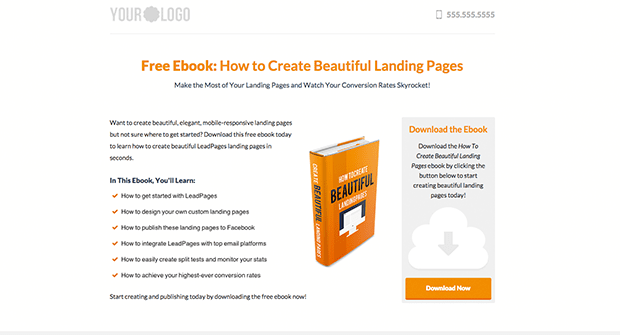 There's a design you've probably seen many big "Fortune 500" type companies use on their landing pages. It's clean, simple, and it's usually one of their best sources for quality online leads. That's why we took this "Fortune 500" look and optimized it with the latest high-converting design elements we've found work best based on the millions of conversions we're processing with our software every month. This page is designed to help you focus on what's most important to your prospects while eliminating things that aren't important. It's simple, to the point, and just plain effective.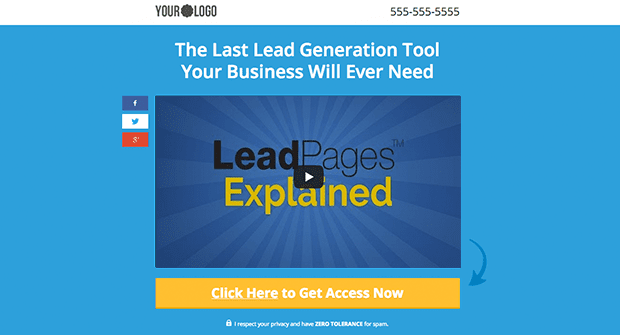 Leonardo da Vinci once said, "Simplicity is the ultimate sophistication." But what da Vinci forgot to mention is that simplicity can also dramatically boost your landing page's conversion rate. That's what we had in mind when we created our new Video Squeeze Page template. This page forces you to keep it simple, stop overthinking things, and get right to the point. Coupled with the magic buy button this simple page packs a mighty conversion rate punch.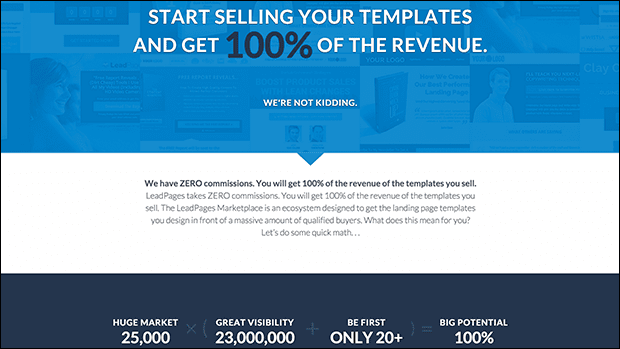 We built the landing page template you're about to see for our own use. Why? Because at LeadPages™ we eat our own dog food, as they say. That's why we're using this template to sign people up for a new platform we're opening soon. But once we saw how great it looked, we knew we couldn't keep it all to ourselves. That's why we're releasing it for you to use in your own business. Use it to inspire your audience to take massive action with amazing images, and by using the tested and proven copy that comes on the page.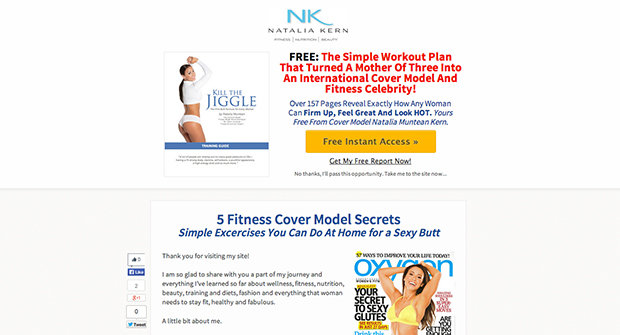 Fact: Google loves long copy. It's the reason why short and sweet landing pages don't rank as high in Google. It's also why Adwords often won't recognize shorter squeeze pages. But at the same time, your customers are more likely to respond to pages with as little text as possible. It's been proven time and time again that shorter copy gets the best results. See the problem here? Short copy works for humans. Long copy works for Google. The Long Form Squeeze Page is designed to grab both your customers' and Google's attention.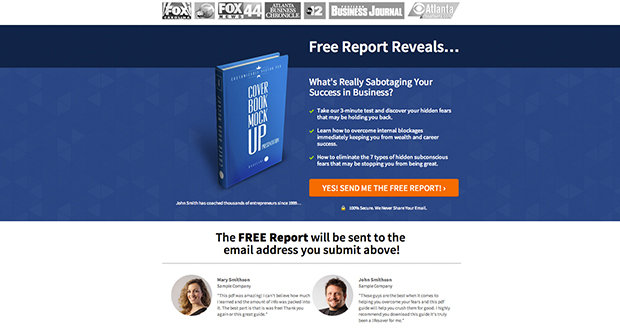 "As seen on ABC… Fox News… Atlanta Business Chronicle…" Countless split tests have shown that simply adding more social proof like this to your lead gen pages can boost your conversions. With that in mind, we have created this stunning new template that's engineered to give your business more credibility and more opt-ins — by marketing your own social proof. This new page is for you if…
You have great testimonials that show how your product or service works.
You (or your business) have been featured in publications or other media outlets.
You have a fantastic lead magnet to give away (like a free video or report) that already has testimonials of its own.
Your business needs more social proof — and you haven't leveraged customer comments or testimonials yet on your lead gen pages.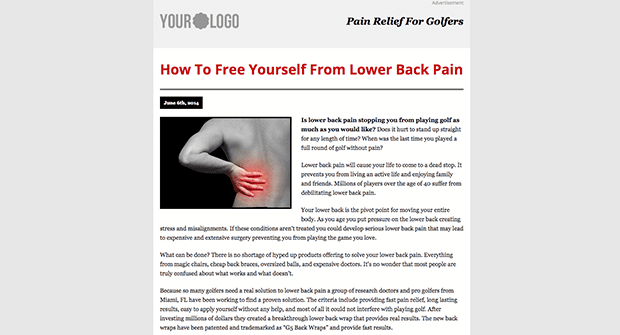 While there many ways to build trust after your prospects click your ad and reach your sales page, we want to introduce you to a landing page that allows you to build trust. . . before your prospects even see your sales page. This is the Native Ads Landing Page designed with the help of native ads expert, Charles Kirkland. Sometimes it can be more effective to send cold ad traffic to a page designed to warm them up to your product before sending them to a sales page. Using this Native Ads Landing Page you can do just that. This page is designed to mimmick the look and feel of news sites like Huffington Post. The idea is that people read an article, and then once they reach the bottom of the page they are referred to other articles similar to the one they just read. These articles, however, are actually native ads design to look like articles on Huffington post's website. It's a fantastic way increase your chances of traffic being open to your message before they get to your sales page.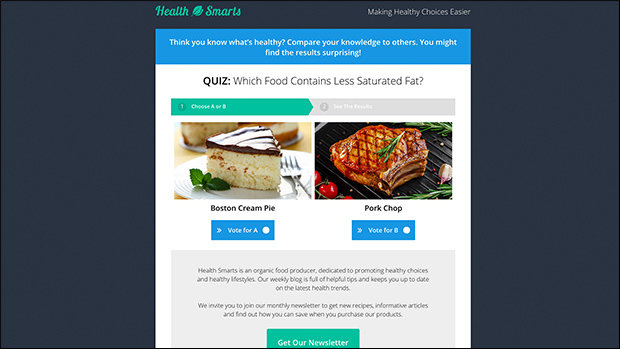 People love the opportunity to test their knowledge. At LeadPages, we have proven that asking a question — and giving people a chance to opt-into see the answer — can dramatically increase your conversions. Ever since we introduced this question-answer format in our own Split Test blog posts, customers have been asking for this function in a template. Your wish is our command. This template is actually a two-page system. The first page allows your readers to cast their votes for the correct answer to your question. The second page reveals the answer and gives your readers a chance to join your list. We've taken this question-answer function and turned it into a new landing page template, designed to engage your prospects, capture more leads and drive more sales.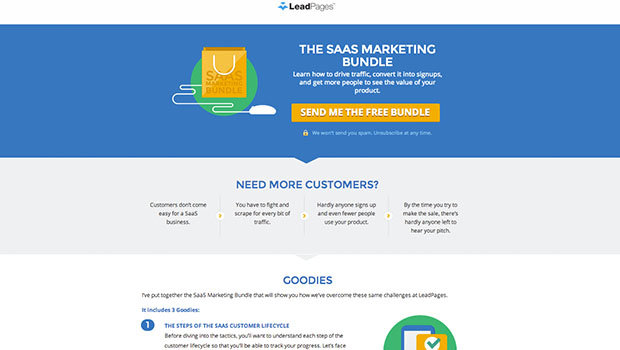 There are times when you might prefer to have more copy and images for branding or SEO purposes. That's why we created a beautiful long-form "free white paper" landing page template you can use when you need to write more copy about your lead magnet than usual. With the right design elements, you can still present lots of information about your lead magnet without scaring visitors away. This template was built to do exactly that.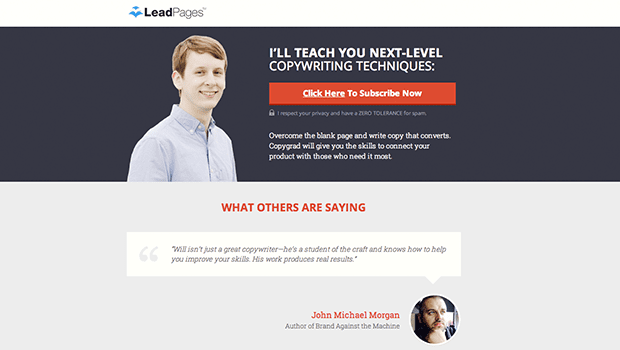 Half of 1%. That's the typical conversion rate for most blog home pages. Want the really bad news? Usually the blog home page is the most visited page on your entire blog. If your blog home page is like the vast majority online, it is not optimized to get you opt-ins. This means there are tons of lost leads. To remedy this, we created the Blog Home Page template — it'll turn those lost leads into your next subscribers (and potential customers). This page is built specifically to generate leads for your business, while still giving your blog readers a chance to check out your latest posts while still converting on a regular basis at 5-10%.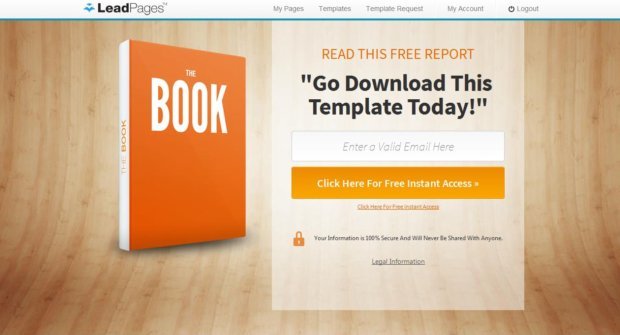 This template simply works! It has been shown to get a 3x increase in conversions. The reason this template converts so well is because it is completely simple and clear. There is no doubt what the user is getting, or what they should do. As internet users are becoming more aware of marketing tactics, in 2013 we are seeing tendencies leaning towards simplicity and beauty vs. complicated and ugly. It's beautifully designed, so it all comes together to give you a great boost in conversions.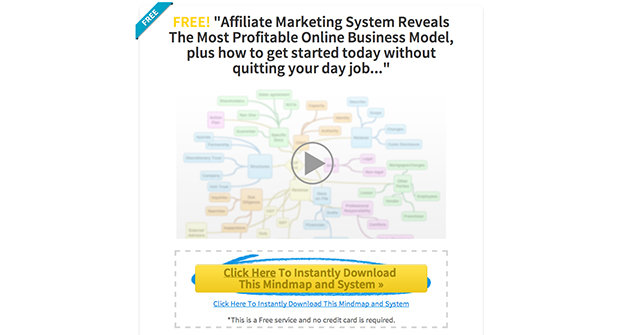 This pseudo video landing page template was originally created by top digital marketer Charles Kirkland. His testing showed a stunning 72% conversion rate.  This template works so well because it creates an insane amount of curiosity. The blurred out mind map intrigues by giving the viewer almost enough to read that they will opt in just to see what it says. We've coupled this with a 2 step opt-in process. With the 2 step opt-in process we have seen up to a 30% increase in conversion rate. On top of that the text fields are prepopulated which has shown another 5% increase in conversion rate. The numbers don't lie. This landing page template is very effective.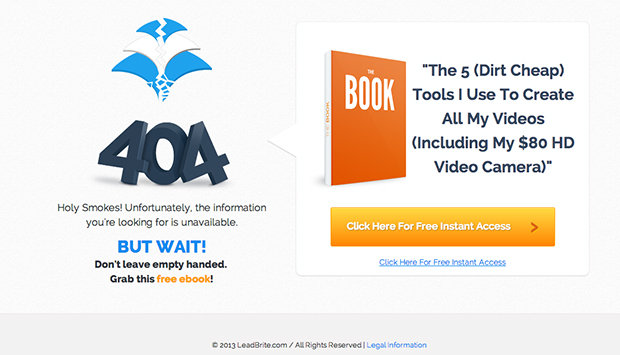 The 404 page is usually a page no one thinks about as being a huge opportunity to capture leads and to build your list. When people find themselves on your 404 page, generally that means that they are going to click off of your site and you'll never see them again. This template was designed to minimize traffic loss, and maximize list building. Instead of the visitor just clicking off of your site, here they're presented with an opt-in for whatever you decide to give away. The visitor's guard is lowered as he/she reads the page to find out why they got an error. As they continue reading, they read your offer and just like that you've reached them when they are open to hearing your offer and they opt-in to get what you have instead of just leaving your site never to return.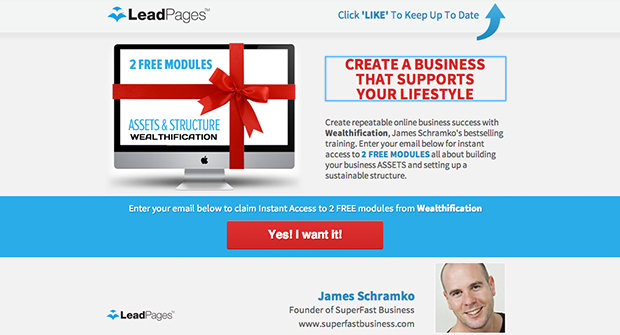 Get more 'likes' & build your list on Facebook by using this page. The Made For Facebook Giveaway Page was created from the ground up to do just that. This page allows you to give away killer free content on Facebook while getting Facebook users to opt-in to your list and to like your page. Your audience is already on Facebook, so it would stand to reason that you should be too. The design is simple, but beautiful which helps to make it VERY OBVIOUS what you want a visitor to do. Use this page to start creating two way interaction with your audience today.
Creating excitement is key to any launch. A lot of major companies use launching soon pages to create that anticipation and excitement to boost sales upon the product launch. Typically these types of pages have been extremely difficult to create,and have been proven to be fairly unreliable. However with this template, you can easily create that excitement for your launch. The count down timer is easily editable, and helps create anticipation for your launch date. It helps people get involved, and and stay engaged as they know the minute and second they can get your product. The design is also simplistic and beautiful. This helps to enduce the excitement you want for your product launch. If you're launching something, start counting down now.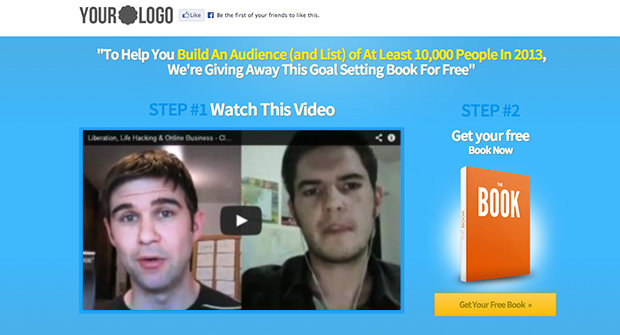 This template is also referred to as the "Squeeze Then Sell Page" because it does just that. There will be a low cost or free item the visitor adds to cart in order to get. The visitor must then opt-in before being taken to the cart to check out. This is incredibly powerful because whether they buy or not you've captured their email address and you know immediately who's a buyer and who's a non-buyer. This is important because knowing who is commercially responsive on your list will let you know who you need to immediately start engaging with. This also gets them in the habit using their credit card on your site which can be worth ten to twenty times more than your low cost item over time.

This landing page template was designed to boost your ranking on youtube by increasing your play count, increasing the amount of comments you get, and also the amount of subscriptions to your channel. The layout directs visitors in a step by step fashion to first subscribe, then leave a comment, then opt-in to your list thus not only increasing your youtube rankings, but also building your list. If you do any video marketing on youtube, using this page can drastically increase your rankings, and do wonders for your business.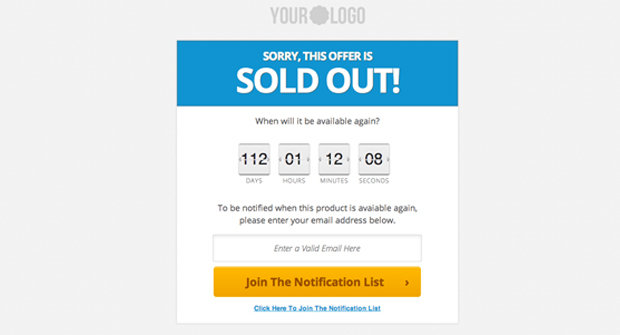 When webinars or launches are over, there is a huge missed opportunity for all the traffic that may be still coming to the expired page. With the Sold Out Landing Page you're able to capture that traffic and have them opt-in for notification about the next webinar or launch. In essence this builds anticipation for your next event and also let's you know what kind of interest there may be from your audience because if they opt-in you know they wanted to a) buy your product, or b) register for your webinar. This means that the resulting list is a list of buyers. You can never grow wrong with having that.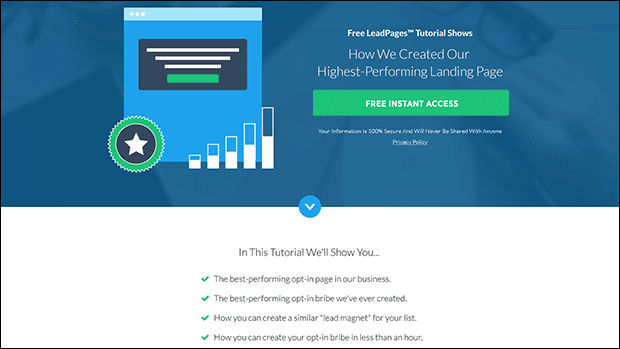 It's already been proven that advertising with Google AdWords can effectively grow businesses. But what if you could lower your cost-per-click, increase your AdWords Quality Score, and boost your overall conversion rate. . . all by sending your ad traffic to a certain landing page? Our new AdWords/PPC landing page template will do exactly that for you. Developed by LeadPages™ in house paid media manager, this paid media template is tested and proven to convert more traffic into sales for your business.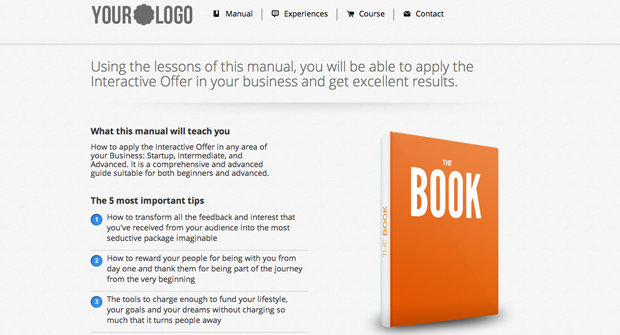 While a lot of pages are optimized for conversion, they are not optimized to run on ad networks like Google AdWords and a lot of times WILL NOT be approved to buy ads. If they are approved your costs are usually much higher than when you have an AdWords optimized page. Google loves:
Relevant, useful, and original content on the page
Information relating directly to your keywords
Clean and easy to navigate format
Transparency and trustworthiness
The AdWords/PPC Landing Page allow you to achieve all of these goals easily in order to get a better deal when buying ads.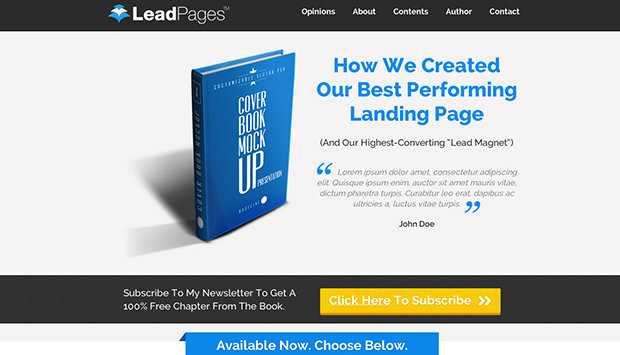 With competition becoming more fierce in the ebook marketplace, it's more important than ever to have some way to create excitement about your book, and engagement with your audience. Without it you're doomed to fail. This page (which also functions as a minisite) helps bolster that interaction that can drive sales for your ebook, kindle book, or even for your physical book. This landing page template has a section for you to give away a free chapter of your book so you can hook readers enough that they will then absolutely have to buy the rest of you book to find out what happens. Social media, testimonial and video sections all help to create the excitement you need for a successful launch.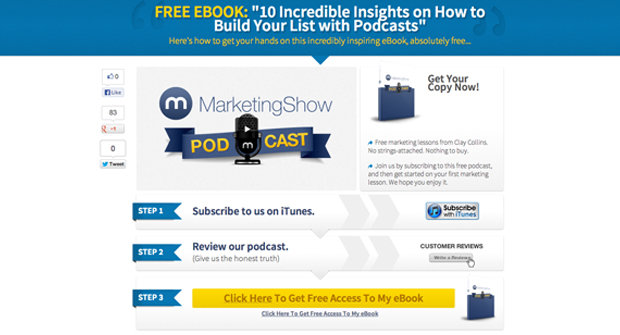 2 main factors that go into the success of podcast in iTunes is the number of reviews, and number of subscribers. This iTunes SEO Podcast Landing Page encourages people to 1. Subscribe to your podcast on iTunes as well as 2. Review your podcast on iTunes. In return you can offer something of value to your subscribers and reviewers. This is such a simple and powerful way to actively encourage your audience to help you get better rankings in the iTunes podcast categories.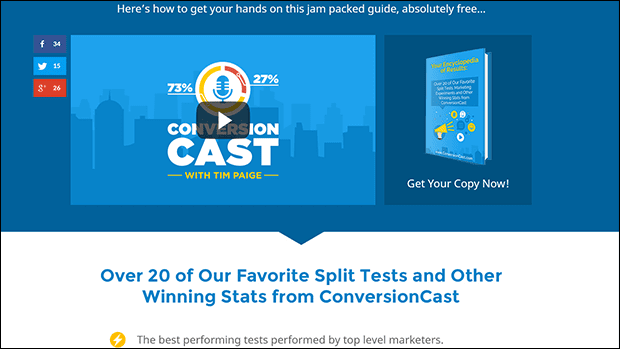 If you're a podcaster, there is one undeniable way to increase the size of your audience: Get your podcast to rank higher in iTunes. That's why we've just released an all-new version of our highly effective podcast landing page template that will simultaneously increase your ranking in iTunes AND build your email list. This page is designed to get subscribers and ratings on itunes by making it easy for your listeners to rate and subscribe. Ultimately driving both your itunes rankings as well as growing your email list.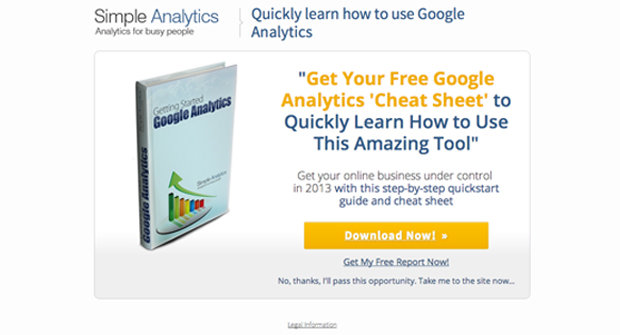 Want conversion rates to go through the roof? Try using The Welcome Gate 2.0. The Welcome Gate 2.0 works well because it isn't a pop-up and does not annoy people like pop-ups do. It's not keep anyone from the content they came to your site to see, but still allows you to capture emails of people who are coming to your website. The Welcome Gate appears only once when a visitor comes to your home page and will not appear if someone links to a page inside your website. This is a fantastic tool to use with a website full of great, useful content.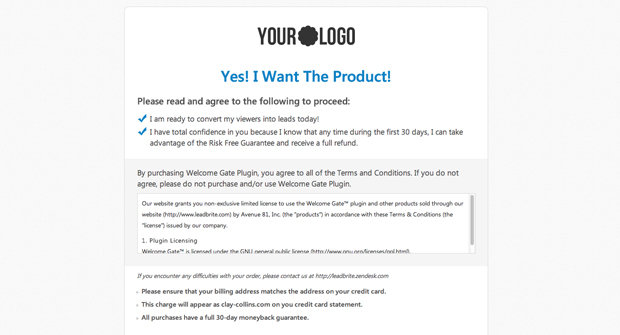 Reinforce the value of what you're giving away, and eliminate "tire kickers" with the Order Form Squeeze Page. This page is not actually an order form, but it looks like one to guide people through the ordering process in order to impart value on them. The only fields you're actually collecting are the first name, last name, and email address. The Order Form Squeeze Page is fantastic for giving away pre-launch content because it gets people used to filling out your order form to get the free content. As your launch ends generally there is something for sale, and since your audience is already used to filling out your order form for the free content, they'll be more likely to fill out your order form for your paid content. The Order Form Squeeze Page is a fantastic page to use to train your audience to buy from you.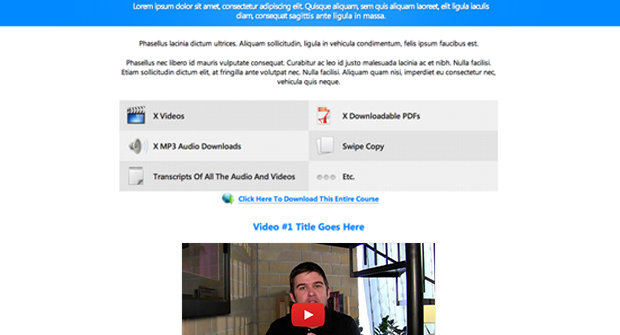 The Value Bomb Landing Page is for delivering just that go get insane opt-ins. With the Value Bomb Landing Page you're able to visually demonstrate MASSIVE value to your audience very clearly by displaying the videos they'll be getting right on the page. This easily shows the value just by looking at the page. Rather than 1 hour long video containing valuable content, the valuable content is split into several videos and displayed on the page so a visitor can quickly and easily see that the value is there. The immense value creates tension with the visitor because most likely they're not able to watch all the videos right on the spot. They want to watch them, but just don't have the time right now. In order to relieve the tension they can opt-in to download all the materials to consume at a later point. The Value Bomb Landing Page uses human psychology to drive up your conversions.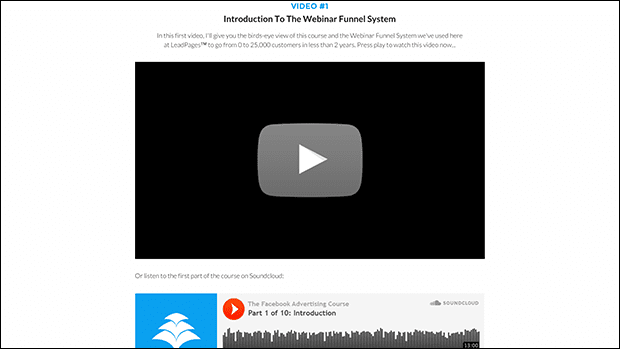 Giving away free content is nothing new in the digital marketing world. It's the main principle most digital marketers use to build our email lists. So if everyone is giving away free content, how do you stand out from the crowd and still get people to opt-in? One way big name marketers like Neil Patel from Kissmetrics and Crazy Egg have found to do this is by taking what everyone else is charging for and giving it away for free. This Free Course Page allows you to give away a massive value bomb to gain tons of email subscribers. Give it a try today.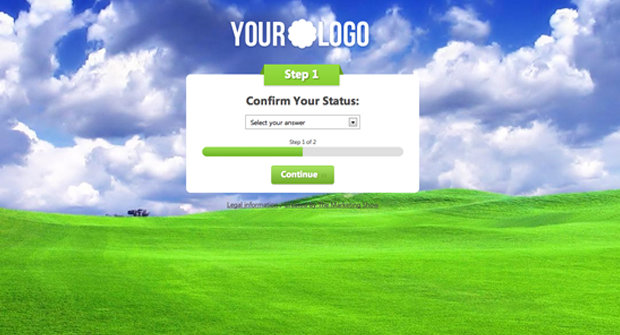 The Groupon Style Landing Page was inspired by…Groupon. They have pioneered the use of the two step opt-in process which leads the visitor to make several micro-commitments leading up to a major commitment…to purchase. The two step opt-in page is one of the best ways you can increase conversions for your product or service as it disarms the visitor immediately. When the visitor lands on your page and doesn't see the typical email opt-in box, but instead a beautifully designed page with a call to action button, it's intrigues them as they try to figure out what is going on with the page. When they click on the call to action button they make the first commitment. When the pop up window comes up for them to enter their email they make a second commitment by entering their email address. If they say yes once, they're more likely to say yes again. There is a reason Groupon is crushing it. This is definitely one of them!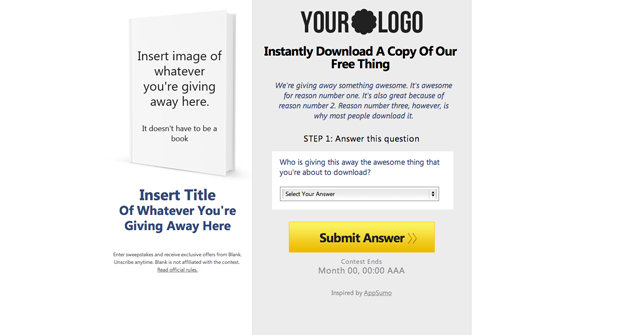 Back in 2012 AppSumo created one of the best landing pages we've seen. With their permission we modeled this landing page after the one that first caught our eye. It has a two step opt-in process that we love so much. This two step opt-in helps to put the visitor on a 'Yes Ladder' where if they say yes once, they're very likely to say yes again, moving them through the conversion process in a very disarming way. When you break the habit of what people are used to seeing when they get to landing pages by using things like a two step opt-in they are more likely to pay attention to see what is going on and less likely to think that this is just another page I need to put my email into. When you can grab their attention your conversions will always benefit.
Free Webinar Registration / Webinar Replay Page Templates: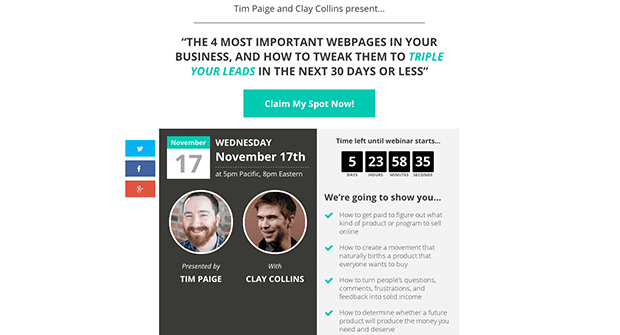 No one likes talking to an empty room. This page utilizes all of our best conversion design practices in order to make this page one of our most effective webinar registration pages. With a high call to action button, a count down timer, social share buttons, and great looking images of either a single host or co-hosts this page is designed from the beginning to do one thing…increase conversions.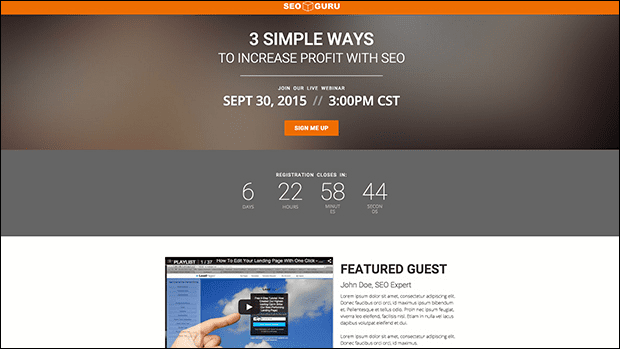 At LeadPages, we have a long history of building and releasing some of the highest-converting landing page templates you can find. But this represents a first for us: we've released a template we didn't actually build ourselves. Why? Because this webinar registration page template is so good that we bought it from the design agency that created it. . . just so we could give it away to you. This webinar registration page has all of the elements it takes to drive up anticipation for your event. For a modern looking webinar registration page, you won't find a better one than this.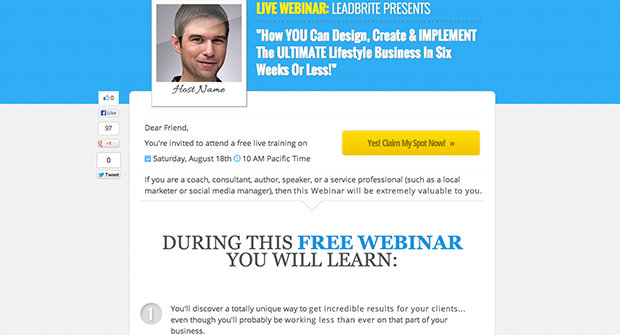 This Webinar 2.0 Registration Landing Page was built from the ground up to convert. The design is based on extensive knowledge of conversion design. Everything on the page was colored, located, or sized according to best conversion practices. It uses a two step optin process to add to the conversion rate.  Unlike most webinar registration pages, an email is all that is required for registration. This adds to the conversion rate as well. Finally, the template comes with prepopulated copy that is tested to convert. This template is a must use for any webinar registration page.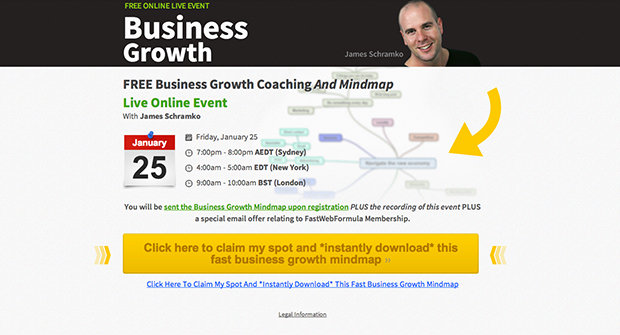 This webinar registration page template was created with the help of digital marketer James Schramko. This landing page template plays on peoples need for instant gratification. By showing the blurred out mind map, they can see enough to generate a need to see the rest . The proven two-step opt-in then creates behavioral momentum for them to make the decision to opt-in. Because LeadPages is integrated with GoToWebinar, only an email address is required to register which massively boosts conversions. If you're hosting a business event, this registration template is a tested winner.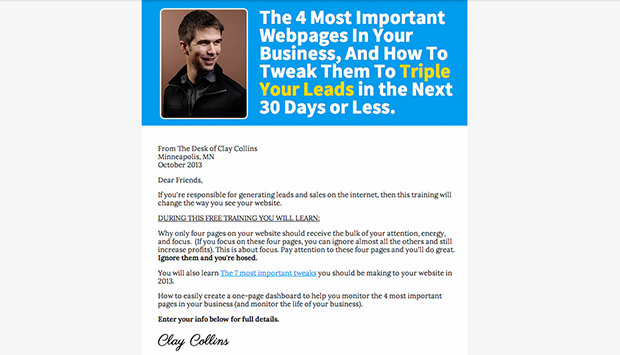 This new webinar page is the ideal pattern interrupt — to set you apart from everyone else who's hosting webinars online. Unlike traditional registration pages, this new page has plenty of space for longer compelling copy to encourage more attendees to register for your webinars. It also features several copywriting techniques to boost your webinar attendance even further.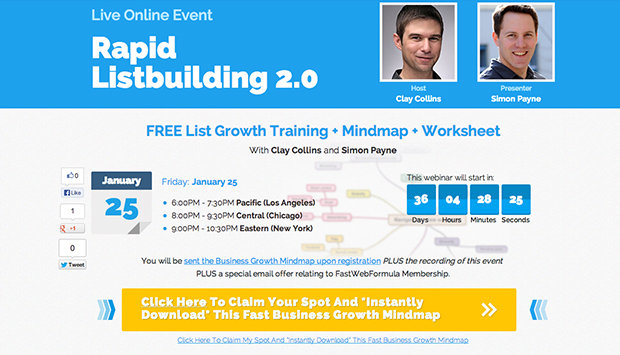 This Web 3.0 template was designed from the ground up to beat our best performing webinar registration pages. It takes all of the best elements from our highest converting webinar registration pages and works them into one uber webinar registration page. The blurred out mindmap creates curiosity. The higher call to action button increases click throughs, and the count down time creates the scarcity needed to drive conversions. This page can be used to host a single, or double presenter webinar, and we know this page is going to soon become one of our best converting pages.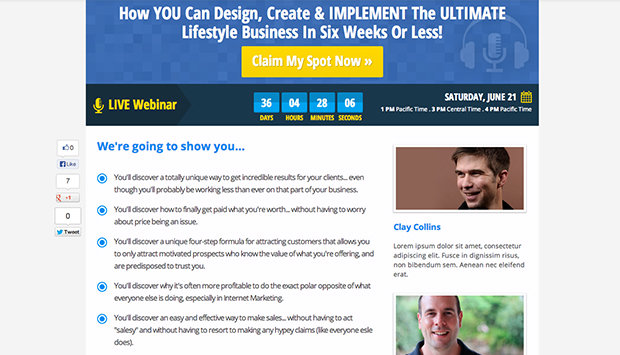 This Web 3.0 webinar registration page delivers a high call to action, which is shown to increase conversions for webinar registrations. We've pulled design elements from all of our highest converting pages to create this page. It was designed from the get go with conversions in mind. Not only does it have the high call to action which helps drive conversions, but the count down timer works in tandem to create the necessary pressure to get opt ins. This template can also be used as a single or double host webinar. We know you'll find that this will be one of your go to pages for webinar registration pages.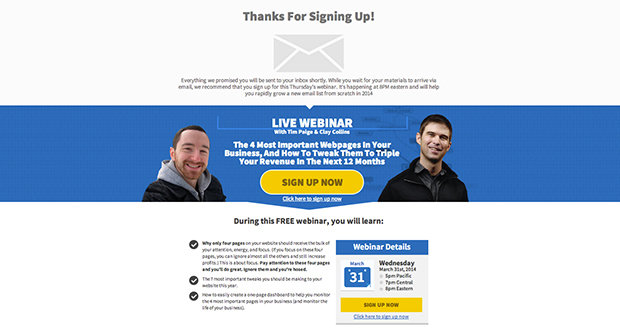 If you use webinars in your business, you should be implementing this "next generation" landing page now. We just released one of our most innovative pages yet; it's engineered to turn every new lead into a potential webinar attendee. At LeadPages, we have already used this new page to double our webinar registrations. This page can do the same for you. This new page is for you if…
You host webinars in your business, and you're looking to boost registrations for your next one. (Again, this new page already doubled our registrations.)
You have been meaning to set up a sales funnel to convert your leads into webinar attendees and clients. (This new page allows you to do that in one step.)
You currently have a quick thank you page setup, but it's not driving any sales to your business. (This new page can do that in minutes.)
Again, this is one of the most innovative pages we have created yet…check it out now.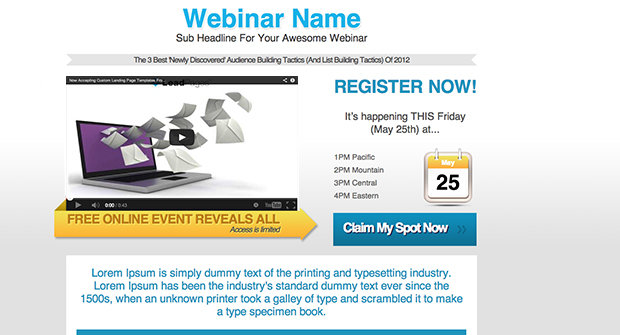 This is a very disarming Webinar Registration Page that helps increase registrations. The 2 step opt-in process deviates from the norm by not hitting the visitor in the face with an opt-in right on the page like they are used to seeing. They have to "claim their spot" then in the pop up window they opt-in to the webinar. What is really powerful is once they opt-in, they're registered for the webinar. Unlike the usual gotowebinar registration pages that require a first name, last name, and an email address, this page only requires an email address for registration. This fact alone will help boost registrations for your webinars.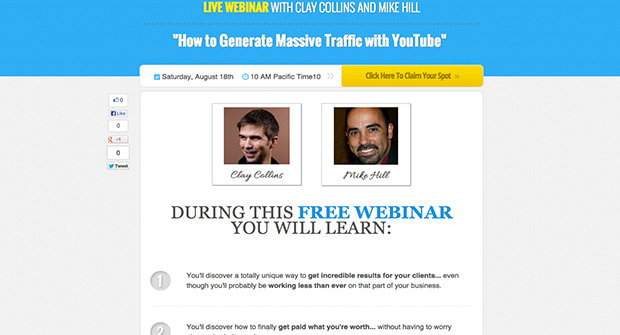 If you would like to approach a business associate about doing an affiliate webinar or a JV webinar the Co-Hosted Webinar Registration Page is the page to use. The 2 step opt-in process helps increase conversions by disarming the visitor due to lack of an opt-in form right on the page. When they "claim their spot" they are then taken to the opt-in form pop up window where they just have to enter their email address to opt-in and register for the webinar. The lack of steps the visitor has to take to register for the webinar drives conversions up as they don't have to enter their first name, last name, and email like normal gotowebinar registration pages.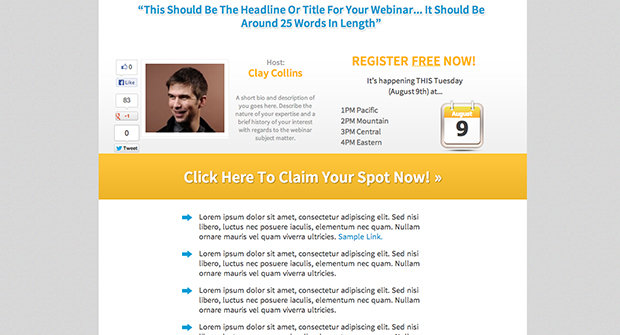 This Single Host Webinar Registration Page is a no B.S. webinar registration page. When you land on this page, there are none of the typical opt-in boxes or big red arrows screaming "SIGN UP!" This is very disarming to a visitor, which will help your conversion rate as the design and layout isn't something they've seen a million times so they'll pay closer attention. The 2 step opt-in process helps to increase conversions by having a huge "claim my spot" button just above the fold that is impossible to miss. Once they claim their spot the registration pop up window only requires a visitor to enter an email address to register for a webinar. This is a massive change from the normal registration page that requires a first name, last name, and email address. The lack of fields is always a great way to boost conversions.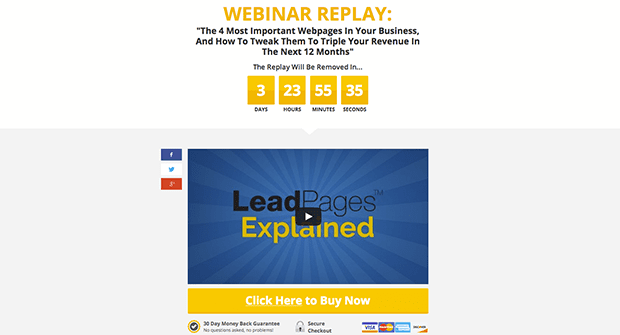 What if you could multiply your webinar conversions and sales without doing anything different during the webinar? Once a webinar is over, the host usually emails out a link for people to download a recording of the webinar in case they missed the webinar or they simply want to replay it. We've found, however, that this is an ineffective way to generate additional conversions and sales because there is no incentive for people to immediately view the replay. To help you get your registrants to watch your webinar replay in a way that actually drives sales, use this beautiful Webinar Replay 2.0 Page. This page displays your webinar video, but it will also display a countdown clock that shows visitors how much longer they have to view the replay. This creates a sense of urgency in your audience to actually watch the replay because there is only a finite amount of time they will have to access it, thus helping increase sales and conversions.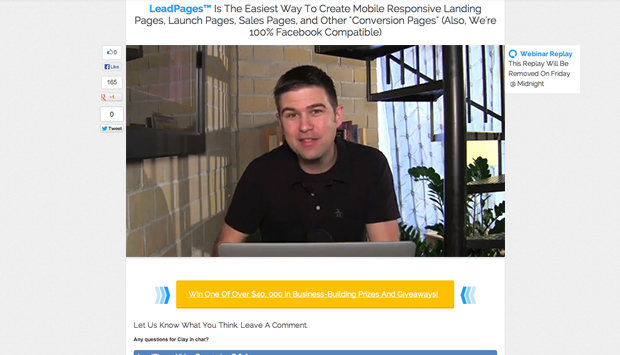 This 4-in-1 landing page template is one of our most versitile landing pages we've created. You can use it for Google+ Hangouts, Webinar Replays, Video Sales Pages, and Video Squeeze Pages. The flexibility of this page is pretty amazing. Almost any element can be turned on, or turned off which provides the ability to customize it for whatever your needs are. This page has a call to action button fade in option. This means that the call to action button will become visible at a pre-determined time so that it corresponds with the call to action in the video displayed on the screen. This has been shown to massively increase conversions when the call to action button appears at the same time you're talking about taking an action in your video. Use chatroll, chatango, facebook comments, discuss comments etc. to instigate discussion and interaction with your audience.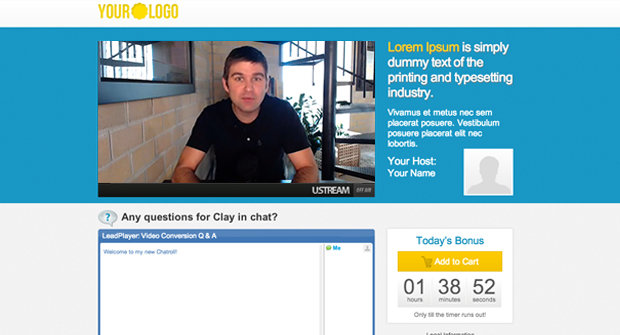 Increase your exposure and address objections people may have about an upcoming launch. The Livestream/UStream Template is a very versatile template. By getting the chance to interact with your market, you get direct insight into things your market likes about your product or service, and also things they might not like as much. This insight is very valuable for a successful campaign. This page can also be used to host free webinars using Google Hangouts. It's a very powerful, and useful template for any marketers arsenal.
Free Sales Pages Templates: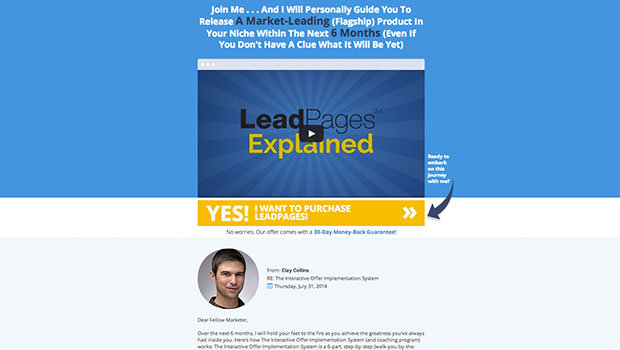 This new Web 3.0 sales page is our most customizable and flexible sales page template yet. It comes with everything you could want to sell your product or service including a proven conversion boosting "magic buy button", social media sharing buttons, and an amazing guarantee section. In a web 3.0 landscape this sales page is the one you need if you're selling a product or service.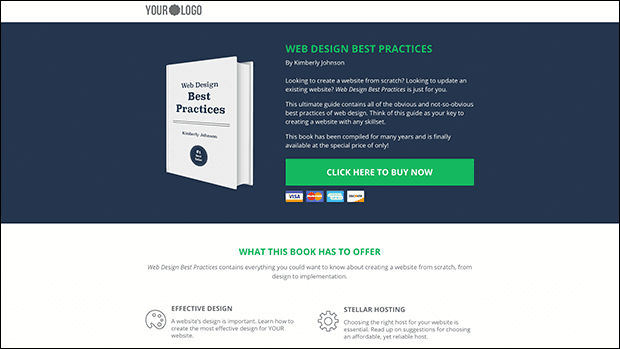 For a long time, you only had two choices. . . a) Use a sales page that looks good, but doesn't convert, or. . . b) Use a sales page that's ugly, but converts really well. At LeadPages, however, we've always strived to bring you sales page templates that offer the best of both worlds: gorgeous, professional-looking design and high conversion rates. We're excited to introduce you to the Smart Product Sales Page: our latest visually-stunning sales page template that's built from the ground up to drive higher conversions. This new page gives you everything you need to boost your sales to both existing subscribers and even cold traffic.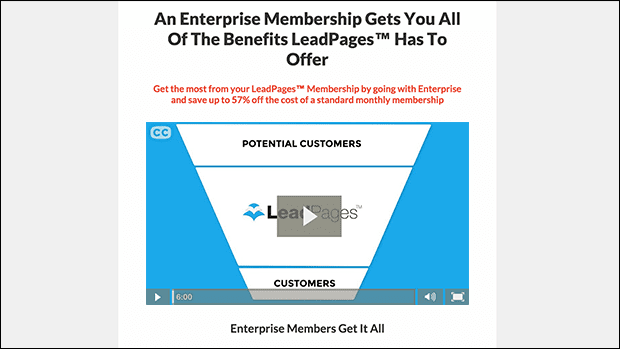 Recently template author Luke Thomas created a landing page template that caught our eye. It's called the Video Sales Letter Page. After much in-depth landing page research Luke compiled a list of elements found in the most successful VSL pages out there. He found the pages that featured video as well as description boxes for various elements of the offer and testimonial boxes for people who have used the product or service all contribute heavily to the pages effectiveness. When Luke published the page to the LeadPages Marketplace it was an instant hit. Luke generously agreed to sell us the page so we could release a tested and proven page to you.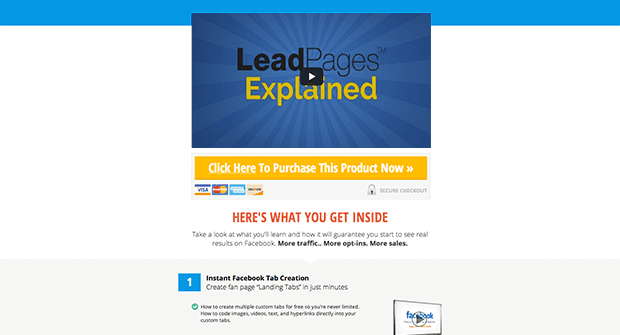 What if you could lower your customer acquisition cost by 90%? That's exactly what Facebook ads expert Brian Moran did by combining a strategy called "bonus stacking" with the best sales page we've seen in the last six months. This sales page is unlike any other sales page currently inside of LeadPages. It features conversion elements like a magic buy button and dedicated benefits sections that allow you to stack bonuses on your offer ultimately pushing a prospective customer over the fence.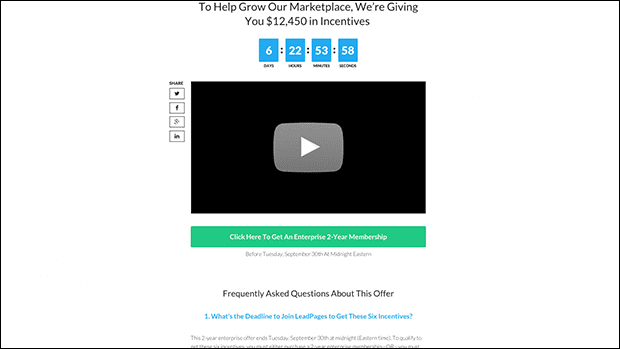 When you run a promotion, sale, or launch, you only get one shot. All of the time and effort you put into creating your product and crafting your offer depends on that one moment when your prospect hits the page. That's why we're giving you an all-new sales page template that ensures you'll make that one shot count. Best of all? This page is based on a consistently successful strategy we've spent over two years testing and fine-tuning in our own business. You can take advantage of our time, money, and testing spent on this baby to run your next promotion.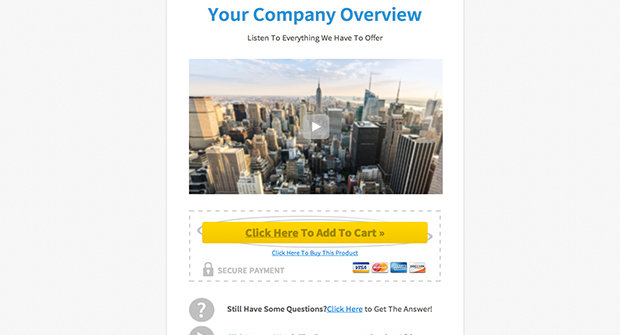 Think about all the marketing you already do to your audience. With every piece of free content, you're already pre-selling your fans and readers on buying your products and services. Now it's time to start selling. With that in mind, the super simple sales page is designed to turn all your casual prospects into buyers. This new incredibly simple sales template is perfect for bloggers, email writers, Facebook managers, and anyone else with a raving fanbase who's ready to start selling products.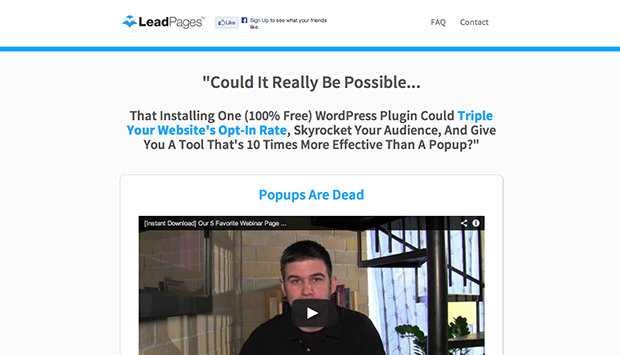 Requests have been coming in for quite a while now for extensive long form sales page templates. You asked, and we delivered. We've used this page quite extensively in our business, and if you need a long form sales page, this is the page to use. This is the first mobile responsive long form sales page (of this quality) that we've seen. It has all the typical areas such as a headline, testimonials, faq, etc. It can be used with or without a video. This page also features our most extensively tested buy now sections. Buy now sections like the one used on this page are the best converting buy now sections we know of. This page is optimized to help you increase your sales from the get go.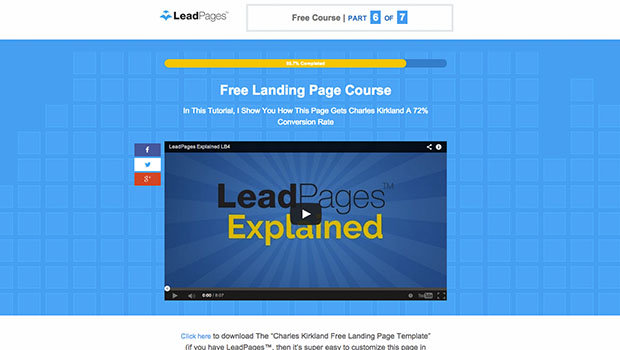 For over a year, we've used a Video Lesson Page in our autoresponder sequence that's been one of the highest grossing pages in our business. While it's worked incredibly well, our designers went back and made major Web 3.0 design upgrades to make it even more effective. This Video Lesson Page allows you to easily create an entire video lesson series you can drip out to your email list. Essentially putting your sales on autopilot.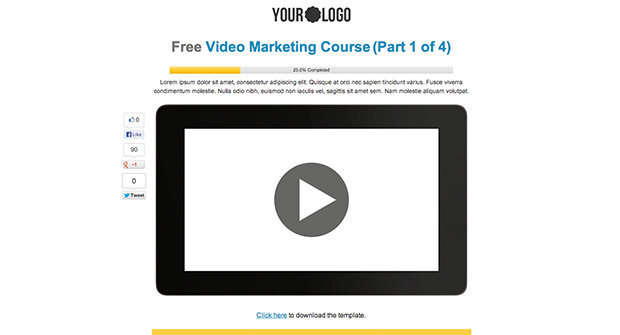 This sales page template works incredibly well for releasing free content to your list. There are several reasons why this engages people so well. This creates a controlled experience for delivering a valuable set of lessons that not everyone is going to receive. In essence creating a video "course" for how to do something. By bringing them through a course and letting them see the progress they are making in the progress bar it not only provides them with helpful information they can use, it also plays into a person's need to finish what they start. This helps to increase engagement and comfort in dealing with you. In turn making people more apt to buy whatever it is you're selling.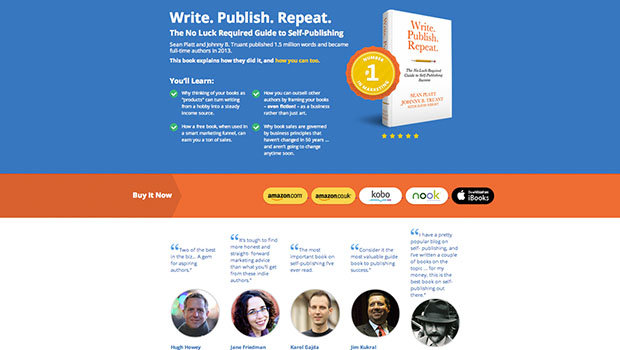 If you're an author or an aspiring author, you need to see this Book Sales Page. This new page is ideal for selling your next Kindle book. It's based on a design from three of the best-selling self-published authors in the business. This innovative page features five different call-to-action buttons so you can sell your book on multiple platforms like Nook or iBooks at once. If you're a Kindle author, we recommend you test this new page immediately to see how it impacts your sales.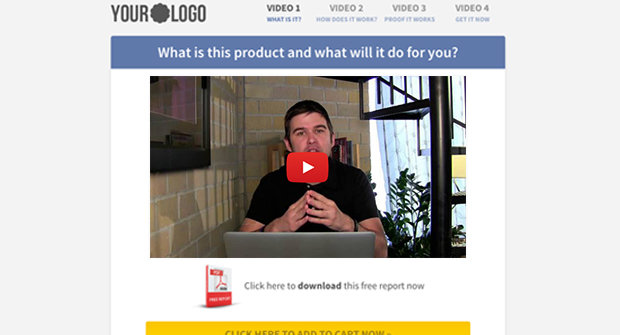 This sales page template works incredibly well for releasing free content to your list. There are several reasons why this engages people so well. This creates a controlled experience for delivering a valuable set of lessons that not everyone is going to receive. In essence creating a video "course" for how to do something. By bringing them through a course and letting them see the progress they are making in the progress bar it not only provides them with helpful information they can use, it also plays into a person's need to finish what they start. This helps to increase engagement and comfort in dealing with you. In turn making people more apt to buy whatever it is you're selling.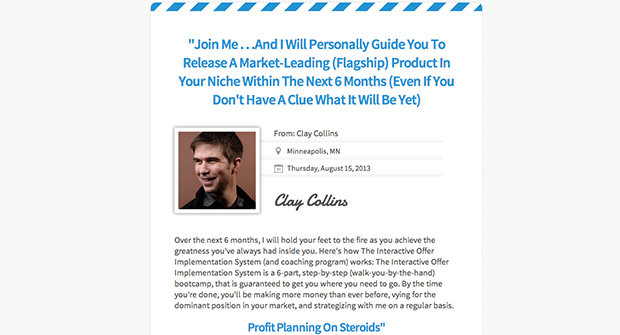 While trends tend to be for video marketing, the Long-form Sales Letter is a fantastically designed page for a more traditional sales letter. If you don't have authority with your audience, or you're still building it, the Long Form Sales Letter is a great tool to do that with. By giving visitors an option to read and/or view your video you're covering all the possible senses and increasing your probability that the visitor will convert. It's mobile responsive and easy to customize to make a great looking Long Form Sales Letter for your product or service.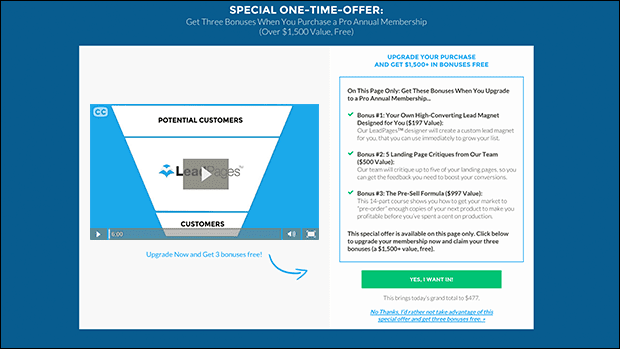 One technique we've found to be really effective is adding an upsell to the checkout process. We've seen customers double profits by implementing this one simple strategy. We wanted to make this technique as easy as possible for everyone to implement so we created this up-sell page you can add to your checkout process. We think this page works so well because it's simple and familiar. When you go to McDonald's, they ask you if you'd like to value-size your meal, or when you're at a store, and you buy a few bottles of wine, they'll let you know that you'll get a discount if you buy a full case. Pairing a valuable incentive with a friendly ask leads to an incremental increase in revenue. Put this page in your checkout process today.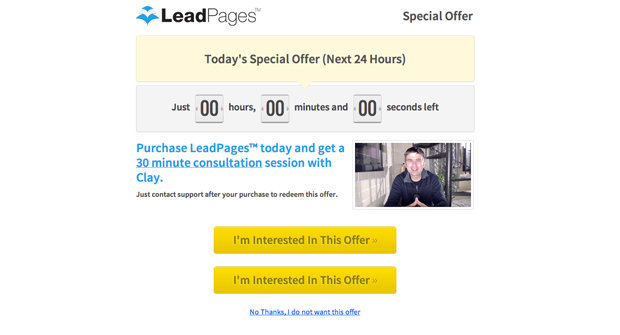 This page is a tasty way to increase conversions by offering a bonus between your sales page, and your checkout page. The Bonus Sandwich is a great page to use to push potential customers over the edge by offering a great bonus to them when they purchase in whatever time frame you specify. The Bonus Sandwich allows you to make Groupon style offers without killing your list. With the countdown timer on the page coupled with a great deal creates a MAJOR sense of urgency to get the deal & the original product they were thinking about purchasing. It nudges them through the sale to completion and avoids shopping cart abandonment.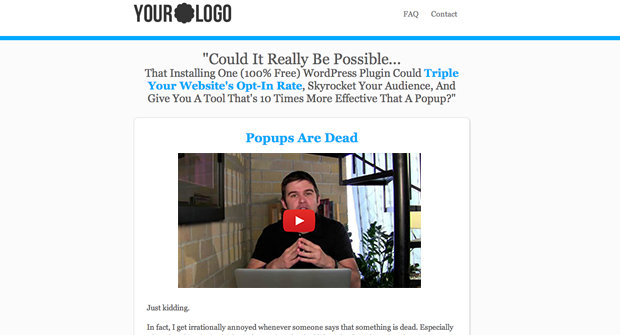 No sales page is ever PERFECT where things can't be improved, but this one is pretty close. Built in social media icons allow for social proof. Shady companies probably won't have a lot of social proof. Because an opt in is required to see the price of what you're selling it will eliminate the people that have no intention of buying and are only clicking the buy button to see how much it costs. When you require an opt-in before they get the price, you now have a way to follow up with your prospect instead of them just abandoning your shopping cart. Coupled with beautiful design, which has been shown to boost conversion rates, the Almost Perfect Sales Page is definitely a page to use if you're selling a product or service.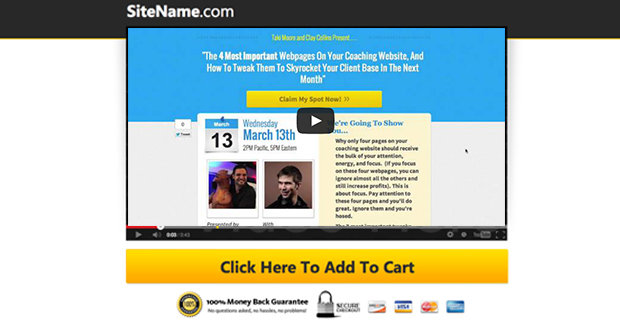 People's attention spans are shorter than ever. Battling that with sales copy can be really difficult. Generally visitors to a sales page will only read a very short amount of copy before skimming the page to find how much something costs. With video sales pages it's the same. They'll click the buy button just to see how much something costs without watching your video. If the price is too much, they'll say no way before you've even had a chance to show them why the need your product. With the Video Sales Page you're able to get them to pay attention to your message by disabling the buy button until the exact time you pitch your product or service in your video. This is so powerful as it wipes out all distractions visitors may have. They'll see your video, hear what you're saying, and assuming your copy is compelling, ultimately they'll click that buy button.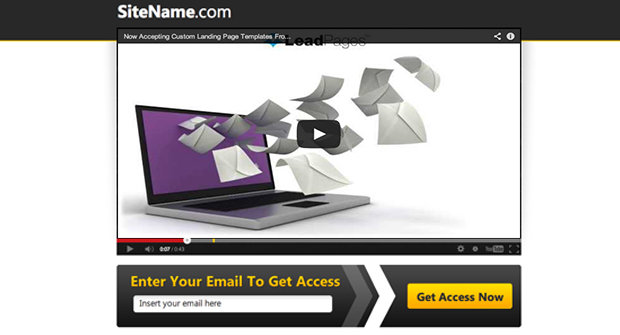 Timing is key. In most cases how and when you ask for something determine how successful you'll be. On a typical landing page a visitors come and are immediately put on the defensive because they see you're just trying to get something from them. It could be their email address, their precious time, or their hard earned money. It doesn't really matter what it is, but you typically are trying to get something. Without giving something in return first this is very arming. This Video Sales Page allows you to disarm your visitors by displaying nothing other than your sales video on the page until the exact right time. This forces them to watch your video, and (HOPEFULLY) get to know you, hear your message, and get some value out of your presentation. Once that happens and you're giving your pitch an opt-in box, or buy button appears under the video. Since it's timed exactly with your pitch visitors are more likely to take your desired action because they have gotten something out the interaction before you ask for something from them. This Video Sales Page is a very powerful tool to use when trying to boost your conversion rates for your product or service.
Free Thank You Page Templates: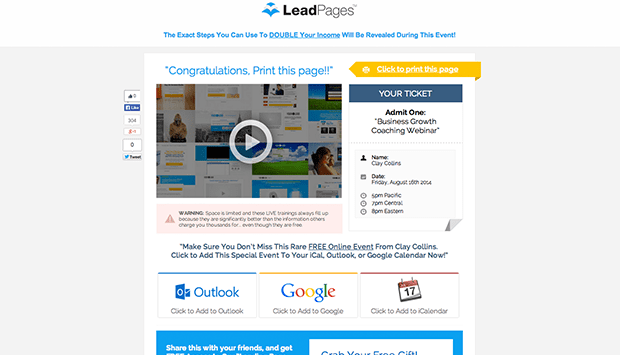 If you have ever hosted a webinar (or Google Hangout) before, then you know…You're lucky to get even 20% of your registered attendees to show up for your event. That means that an astounding 80% of the people who sign up for your next webinar will never see it. That means 80% won't hear your offer. It means 80% won't become your raving fans after seeing your webinar. Most importantly, it means 80% of your registered attendees won't turn into potential customers. You see the problem here. The Webinar Registration Thank You Page was engineered to get more attendees to actually show up for your next webinar. This one thank you page has four different mechanisms to inspire attendees to show up for your online events. That includes elements that are proven to boost attendance for any webinar.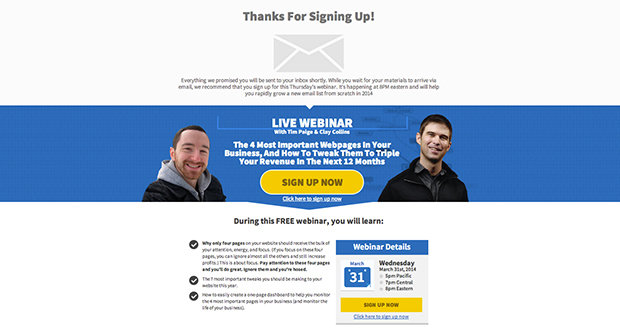 If you use webinars in your business, you should be implementing this "next generation" landing page now. We just released one of our most innovative pages yet; it's engineered to turn every new lead into a potential webinar attendee. At LeadPages, we have already used this new page to double our webinar registrations. This page can do the same for you. This new page is for you if…
You host webinars in your business, and you're looking to boost registrations for your next one. (Again, this new page already doubled our registrations.)
You have been meaning to set up a sales funnel to convert your leads into webinar attendees and clients. (This new page allows you to do that in one step.)
You currently have a quick thank you page setup, but it's not driving any sales to your business. (This new page can do that in minutes.)
Again, this is one of the most innovative pages we have created yet…check it out now.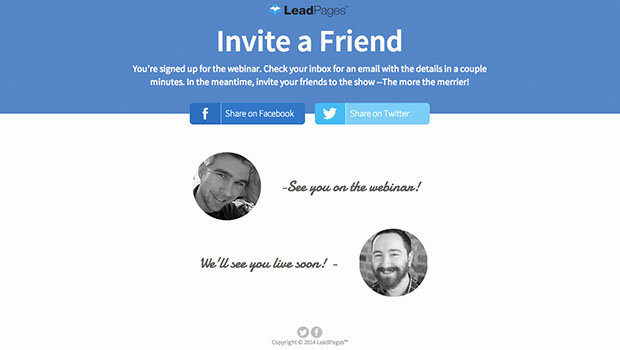 There's one page most businesses never get right. And when they don't get it right. . . they're squandering one of the best opportunities you can find online. I'm talking about the Thank You Page visitors see after opting in to your email list or registering for your webinar. The Invite A Friend Thank You Page will allow you to crush this often missed opportunity. This page allows your new subscribers to quickly share your business with their social networks with a click of a button instantly creating word of mouth marketing.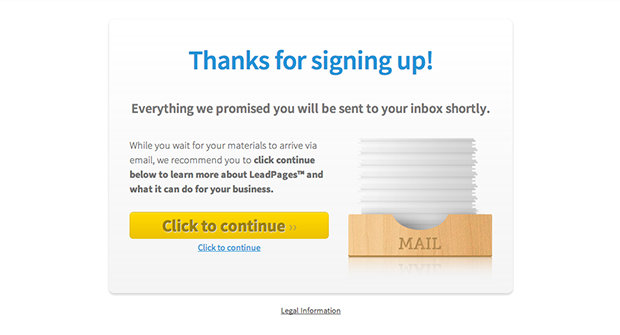 This thank you page template will not only help you drive sales, it will stop you from loosing sales. Normal thank you pages are boring and do nothing for your business. What makes this thank you page template stand out is pretty amazing. When someone opts-in to your list, instead of the useless thank you page where the user closes the browser and the opportunity vanishes, they are taken to this thank you page. But the why this works is because the thank you page explains to get the most out of your download they should click to continue and find out more about your product or service.  Linking everything all together in a way that makes sense. This helps boost sales by getting them to the sales page much earlier than you normally would be able to.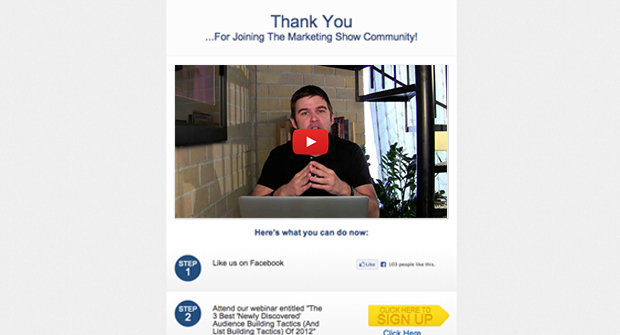 Increase the effectiveness of your Thank You Page by 1000%! The Thank You Page is one of the most under utilized web page on your website. Most times when someone opts-in to your list they are open to having a conversation with you, but when they come to your thank you page the conversation usually stops at Thank You. This page aims to keep that conversation going by saying more than just 'Thank You.' Having a call to action on your thank you page makes it much more likely that the person will actually take action. Whether it be Like us on Facebook, Register for our next webinar, Purchase our product, or Fill out our survey, people are already in action taking mode and they are much more likely to do it while they're in that mode and the action is right in front of them. This page is generally more effective than anything you send them that they have to leave the page, go to their inbox, get the mail, and THEN take action to do simply because the amount of work they have to take right from the Thank You Page is much less than taking action from an email you send. This page is a must for any marketer looking to move up to the next level.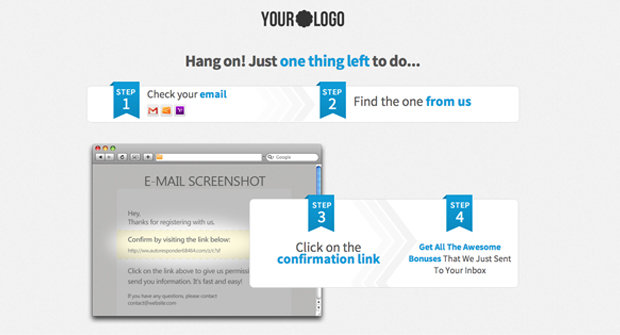 Design is the new copywriting. This page proves it! After someone opts-in to your list instead of showing a worthless page to the person, you can show this Double Opt-In Confirmation Page which tells the person exactly what to do in 4 easy steps. With links to check their email, an image of what the confirmation message looks like, etc. there is no doubt what to do, or how to do it. Conversions will go up when using a page like this as your confirmation page because generally people aren't used to seeing this type of page, so they'll look at it and read it to make sure they don't miss anything. Ultimately giving you a double opt-in to your list.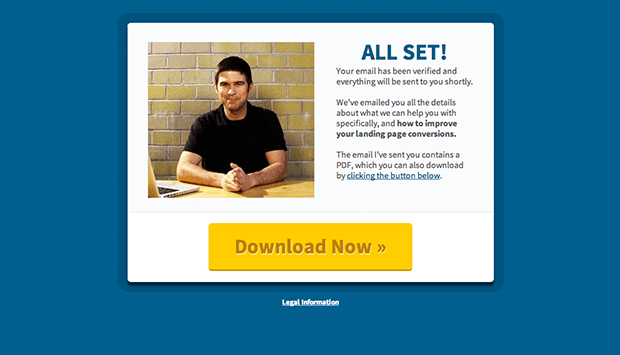 This "all-in-one" call to action page (and thank you page) is a simple but versatile template that you could use as a download page or thank you page. This call to action template is perfect for creating a quick thank you page — to thank your customers for signing up for your list, for opting into your webinars, or buying your latest product. Or if you need to create a fantastic looking download page — to send your audience to a webinar registration page, to give your prospects access to your iTunes podcast, to people to your company's app, and so much more. This is an extremely versatile template you should implement today.
Free Page Templates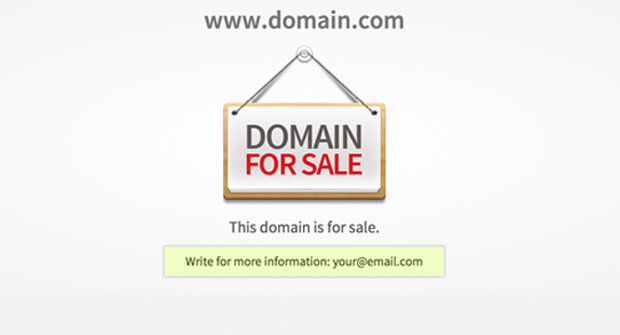 Money for nothing is something most people dream of but find out doesn't exist. Using this Domain For Sale Page on any domain you're not using is a great way to get as close to money for nothing as possible. Normally if someone when someone finds a domain that isn't in use there is a fair amount of leg work you have to do to track down the person who owns the domain. When someone stumbles upon a domain with this template on it, there is no doubt that the page is for sale, what they should do to contact you about it. All without you doing anything other than putting up this page template on your domain instead of letting it sit there empty. The easier you make it for people to buy your domains the more likely they you'll sell it. Clay sold an old domain he had this template on for $500. Had this page not been displayed that may not have happened.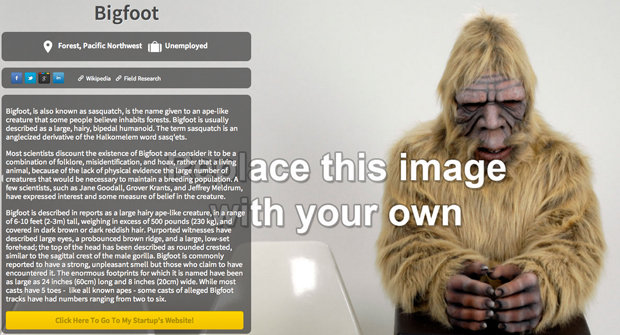 The 'About Me' Page is often one of the most visited pages on a site, and is usually overlooked as a powerful marketing tool. After being intrigued by a product or service the visitor usually wants to know more about the person or company. This page allows you to build a connection with your audience which leads to engagement with your audience, more sales, and more conversions. People don't want to do business with giant corporate entities, they want to do business with people. This page allows for that human connection.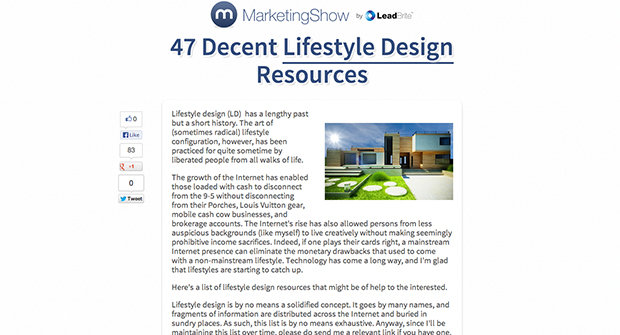 The SEO Blog Category Page has 2 purposes. 1. Rank in Google, and 2. Convert visitors into subscribers and it will do both of those really well. It's sleek layout and design avoid distracting visitors from wanting to do anything other than read the copy that is on your page, which should lead to them converting. Coupled with good copy, this page ranks and converts as high as any blog we've ever seen. This one is simple, and effective, but oh so powerful!
Additional Free Templates:
– [Download] – The World's Best "Double Opt-In" Confirmation Page Template – [Download] – The "Bonus Sandwich" Conversion Page Template – [Download] – The "Order Form" Squeeze Page Template – [Download] – The Welcome Gate 2.0 Landing Page   Please check back regularly as we update this list of free landing page templates.