Over the past two years, LeadPages™ has personally built over 85 landing page templates using our in-house team of world-class marketers, designers, and developers.
But today marks a first.
Today is the first time we're releasing a free landing page template that we didn't actually build ourselves — the Modern Webinar template.
Originally, this template was created by 8bitstudio (an independent web design agency) for the LeadPages™ Marketplace. However, we thought this was such an amazing template that we purchased the rights to it from 8bitstudio just so we could give it to you free of charge.
So, why are we so in love with this template? A few reasons…
1. It Gets High Conversion Rates
We already knew this template was one of the highest converting pages in the LeadPages™ Marketplace. However, we couldn't purchase this webinar page for you without testing it out ourselves.  
The brand new webinar we hosted at the end of December gave us the perfect opportunity to try out the Modern Webinar template. We created the following page to promote that webinar:  
The results? Over 1,300 registrations and a 73% conversion rate.

We also released a version of this page for LeadPages affiliates to promote, which brought total registrations over 2,400.
But it wasn't just the high conversion rate that sold us on this template, which brings us to point number two.
2. It's Easy to Create a Beautiful Page That Matches Your Brand
Even though the page we created using this template looks completely different, we were able to customize and publish it in just a few minutes using LeadPages™. All we had to do was:
1. Make a few color changes.
When you click the "Styles" tab inside the LeadPages™ editor, you'll see every color in every section of the template. All we had to do was change a handful of them (the header color, button color, and a few background sections) to match the LeadPages™ brand.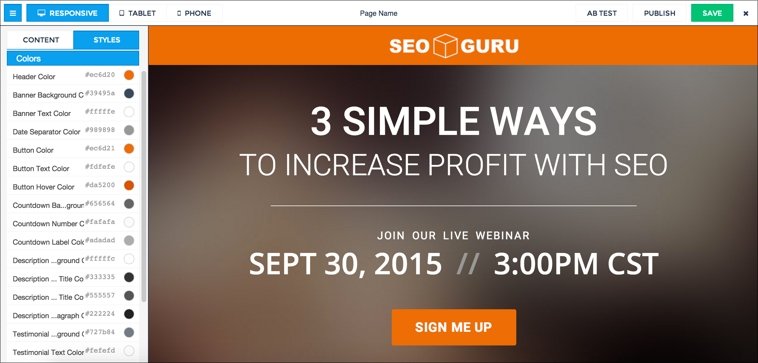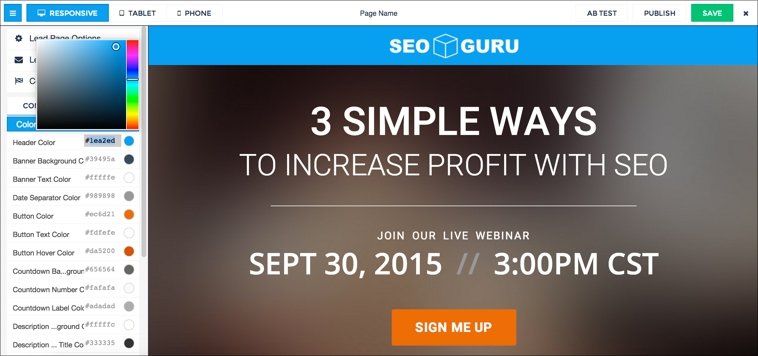 We then did the same thing to change the button color to green and a few of the sections further down the page to dark blue.
2. Swap out the page's default logo for the LeadPages™ logo.
This only took a couple of clicks.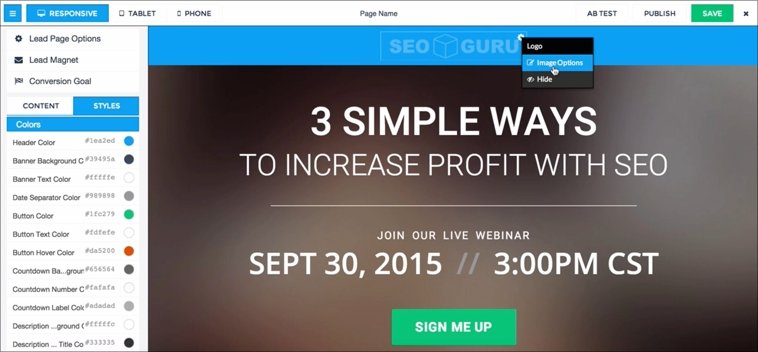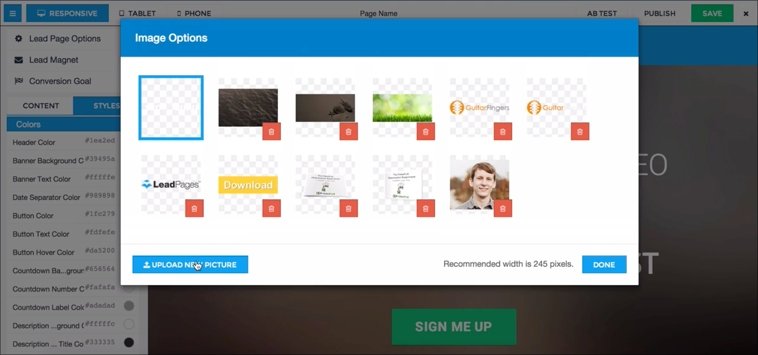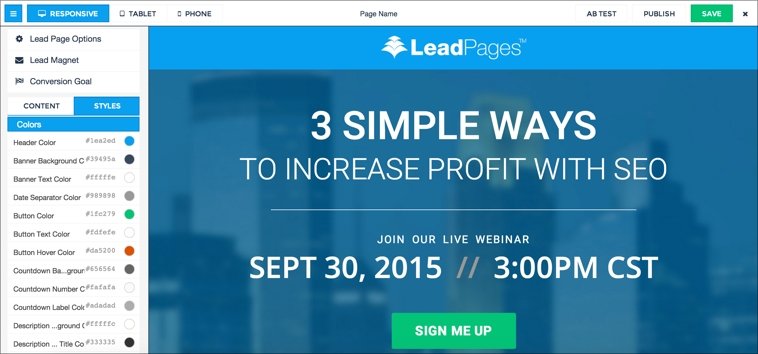 3. Add in the copy we wrote about our webinar.
Editing a template's default text is as simple as clicking and typing.  
Then, we simply pasted in the embed code from YouTube for the video we created for our webinar, and we dropped in a few testimonials.
Lastly, we used the LeadPages™-generated link (which is automatically generated and live on the Internet as soon as you save the page) to start promoting this webinar registration page right after we created it.
3. We've Already Seen Other LeadPages™ Users Create Awesome Pages with This Template
We're not the only ones who have customized this beautiful landing page template to match our brand. Check out the following three customizations from other LeadPages™ users so you can see how truly versatile this template is:  
Like all pages published in LeadPages™, all of these examples are mobile responsive:
How to Start Using the Modern Webinar Template Today
If you're a LeadPages™ customer, the Modern Webinar template is available for you to use inside your account right now.  
If you're not a LeadPages™ customer, you can click the button below to download all the HTML files for this template free of charge.
However, since you're not using LeadPages™, you will need to have some coding knowledge (or hire a coder) if you want to customize and publish a page with this template. We estimate that it can cost up to $300 to hire a designer or developer to customize and publish this page for you.
Or, as a LeadPages™ member, you can customize this new Modern Webinar page and have it published online later today. If you'd like to try this out, you can click the button below to try LeadPages™ right now risk-free for 30 days. (All our plans come with a 30-day money-back guarantee.)

Are You Using This Template? Share Your Pages with Us!
If you're already using this template, we'd love to see the pages you've created. Just drop a link in the comments section below.