Design is like the Swiss Army Knife of conversion rate optimization.
There are so many things design can address. A good landing page design can keep you scrolling down a page, shift your focus to a certain section and even subtly prime you to opt-in further down the sales pitch.
The point is, design can really dictate conversion success rates. And these five templates in our Marketplace Roundup have some of the cleanest, most noteworthy designs in the Marketplace.
As always, our editor has selected his new favorite templates so far based off design, features and a host of other criteria.
Feast your eyes upon these killer designs!
Paid Media Rule #1: Use a landing page. If you're running any sort of paid promotions or you're trying to drive traffic via paid media, you absolutely need to use a landing page. They're advantageous because:
You can create them for specific needs, as opposed to changing content on an established, ranking page
If visitors bounce from a landing page, it normally doesn't affect your overall site's SEO
You can create multiple variants of landing pages to test copy, imagery and other conversion optimization factors
That's why Scott Silvi's Paid Media Template Landing Page is so valuable. Check it out:

This template is, as the title indicates, perfect for paid media efforts centering around templates. If you have a website or landing page template to sell, you can use Scott's template to market your template in some sort of template Inception.
In all seriousness, this is huge if you've ever created a landing page template but didn't know how to market it. Not only is this a big solution to a real need, but its design and sales flow is one of the best we've ever seen in a template.
For starters, the first fold conveys so much valuable information. A text area in the middle of the fold gives an overview of your template, and the double call-to-action buttons accomplish two key things: viewing a live demo of the template (advancing them down the sales funnel) or buying the template outright. At the end of the first fold, there's a bar that displays conversion rate, total sales and number of template views. If you have a successful template, displaying these numbers will help establish your credibility through social proof.
Moving below the first fold puts you directly into the sales-heavy section of the template. This is a ⅔-to-⅓ style of template, where the main content takes up the left and middle sections of the template, while peripheral information is limited to the right side of the template.
The main ⅔ section is where you describe your template. This is the backbone of the template, as you'll need to have great copy that sells your template's advantages. There's ample space for multiple images to break up the copy, and you can even include videos in lieu of a few images.
In the ⅓ section, there's a host of useful features that tell your template's story with proven social triggers. Specifically, there's a reviews section where you can feature the best testimonials from your customers, and there's a "More Templates By (Author)" area where you can promote related products.
Even if you don't have a landing page template to market, this is still a phenomenal paid media template for any product. Everything is easily customizable to fit your needs, which is why we highly recommend this template as a top paid media page.
Tyler Zey just released his fourth installment of the Easy Agent Pro series with the Seller Lead & Home Valuation for Real Estate template. This is an extremely clean template and even incorporates a bit of faux-parallax design: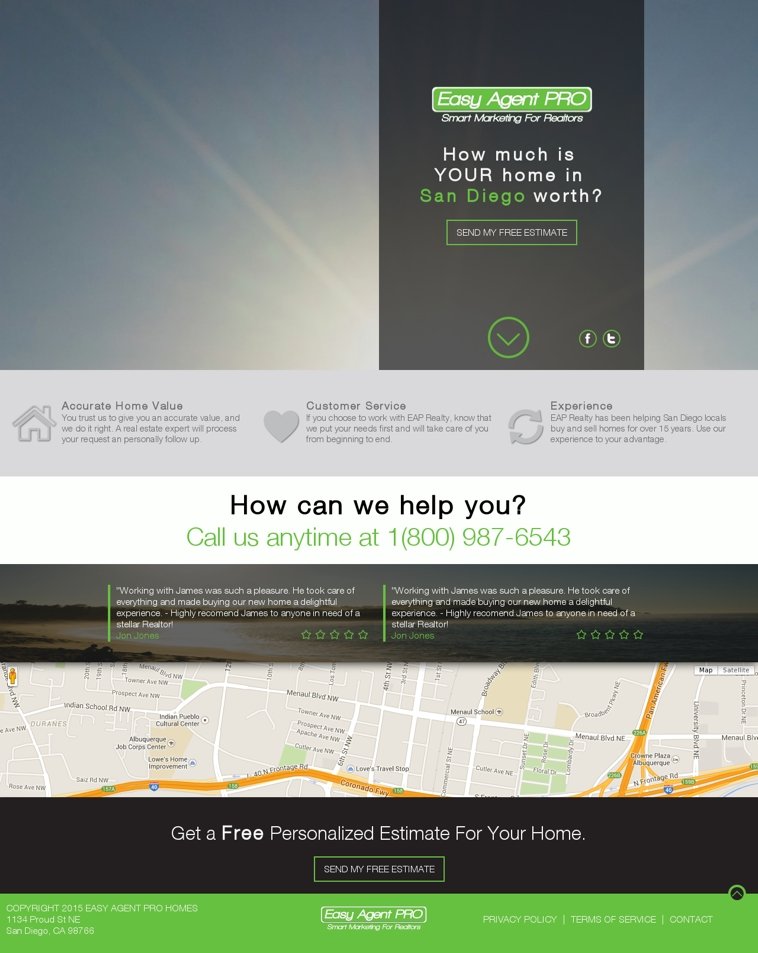 The opening hero image opportunity of this template is stunning. You can include your most captivating property photo in this area and set the tone that you offer premium products. As we've said before, images of the property you're selling are — in the consumer's mind — a reflection of your quality as a realtor. Visitors implicitly link a good property to a good realtor, so use this opportunity to display your best property.
Typically, template authors let this hero image eat up their first fold, which kills conversion rates due to a subpar opt-in area. Tyler paid great attention to his opt-in area, however, and you can see how the charcoal overlay really stands out in front of the hero image. Everything is easy to read in this space, and the thin, clean lines and font really add to the template's sharpness.
This template also features a testimonial section, a content area with an emphasis on a phone number, and a nice visual touch with a functioning map as a scrolling parallax content divide. This is another strong simple opt-in template from Tyler Zey, and one you definitely need to have if you're a realtor.
Jen Gordon knows a thing or two about conversion rate optimization. She's conducted over 3,000 split tests in her illustrious career, and she's used this knowledge to create some of the highest-converting general landing pages in the LeadPages Marketplace.
Now, she's shifted her template focus to serve specific industries. She already covered the personal coaching market, and now she's providing her invaluable expertise to the culinary industry with her new Restaurant Theme template:

This isn't just a template for listing a menu — this is a full-service minisite that restaurants can use as their main home page. The navigation bar at the top of the template allows visitors to freely and easily move between sections on this page.
Remember: every template in the LeadPages Marketplace is highly-customizable. That means you don't have to use every section of this template if you don't want to. You can simply hide any area, and it won't appear in your published page. So, if you want to use this page as nothing more than a short-form menu landing page, you certainly can.
But look at everything you'd be missing out on:
A reservations widget where visitors can book a table as they're viewing your landing page
An events section to update patrons on the latest and greatest
A beautiful testimonial section complete with an image background
An overview video
Robust reviews area
Awards and accolades section
There's a lot to this template, and you'll get the best results when you use it as a true minisite. Jen designed this page with an emphasis on interaction and engagement, and useful widgets like reserving a table and subscribing to specials will help you build your email list and fill tables.
This might very well be the best "design for direction" template in the Marketplace.
To review, designing for direction simply means positioning your design in such a way to subtly (and sometimes overtly) draw attention to your call-to-action. Whether that's through arrows, color contrast, sizing differences or anything else, the goal is to put emphasis on the area of your page that converts.

In Travis Moore's new "Impact" – Simple Step Email Opt-In/Download Page template, his design literally walks you through what you're supposed to do. The banners are key in this template, as you're greeted with a "Step 1" image followed by a call-to-action. In the box below the banner, you can include a product image or video, then give a brief text overview.
At the bottom of this box, an arrow juts out, prompting a visitor to move to the next box  (hence design for direction). This area looks the same as the previous one, but in this second step a large, hard-to-miss opt-in button appears. You have momentum going into this button due to the visitor "agreeing" with your sales pitch by scrolling down the page, so your odds of seeing conversions with this layout is high.
After this opt-in button, there's a third step, which is a confirmation and instructions on what to do next. There's great movement throughout this template, and the strength of the design alone will really help organize your ideal persuasion flow AND increase conversions.
If you've been marketing for a while, you most likely have a list of tools and resources you enjoy using (and are perhaps an affiliate for).
Compiling these resources in one place and making them available to people is a fantastic way to build credibility. Not only can you put this behind a gate and gather email addresses in exchange for access to this page, but you can also list products you're an affiliate of in order to receive more commissions through purchases.
Irving Rivera's Lead Magnet, Opt-In Bribe, Listicle Page (Tools, Resources, & Affiliates) template is the page you need to accomplish this: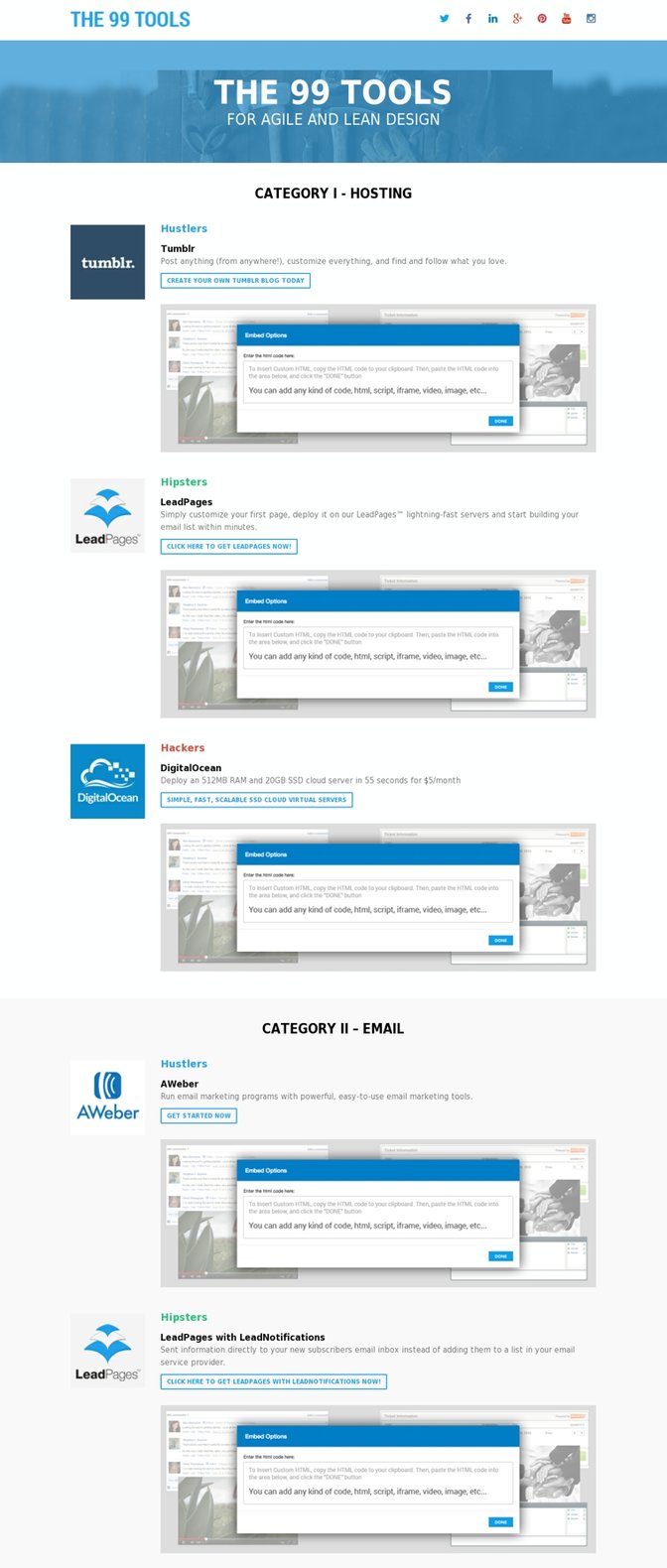 The page supports up to 99 total resources, and the formatting for each resource is the same throughout the template. You can upload a logo of the company or product to insert into a left-aligned image container that precedes each resource. You then provide one to two sentences about the resource, then upload an image the length of the middle ⅓ of the template. Above this image is a call-to-action button, where visitors can click to view the recommended resource.
The core design is simple, but it's the length of the template and how visually appealing it is that has us hooked. This is a straightforward page that nails minimalism in order to place precedence on a quality user experience.
Check Out the Marketplace
Template Authors are submitting new landing page templates like these to the Marketplace every single day, so be sure to head over and check out what's new on a regular basis.
But while you're here, tell us — which of the templates featured in this post do you like the most? Leave a comment below and let us know.