This might be the most historic post we've ever written about the Marketplace.
Why? In this post, we've got the first ever template for the law profession. We've got the first minisite template that changes the way you build credibility with potential customers.
And…we've got the first-ever drag and drop template EVER in LeadPages.
As always, our editor has selected his new favorite templates so far based off design, features and a host of other criteria.
Enjoy this historic post of firsts!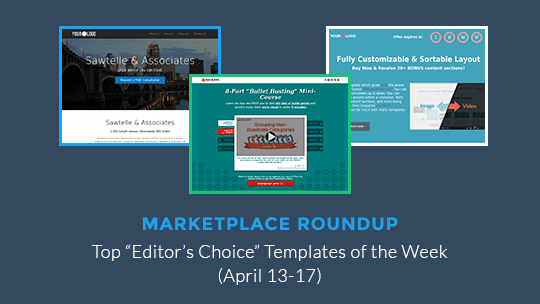 Here it is. This is quite simply the most revolutionary template we've seen in the Marketplace to date.
Just as the title indicates, Scott Silvi's Drag N' Drop Sortable Sales Template allows you to reorder entire sections and content blocks to your choosing. He achieves this by coding in an easy-to-use "Drag N' Drop" widget within the actual template.
To reorder a section, you need only select it, drag it to the intended order in your template and drop it in:
See how the video and text sections seamlessly switch places? You can do that with every container in the template (head on over and try it out).
Because this is such a customizable template with thousands of options, Scott has included a wide and diverse array of content layouts. This is one of the longest templates in the Marketplace, but that's because you can include more of the sections you want in your published LeadPage and hide the sections you don't want to use.
Among the possible sections are:
A hero-style header with a headline, video/image and text box
Varying testimonial layouts
Interactive image-based portfolio rows
Four, three and two-column content box sections
Two-column text and image container sections
Countdown timers and menu links
It's easy to get wrapped up in the game-changing functionality of this template, but it's worth noting how clean and beautiful the design is. This is more of a "bright and fun" template out-of-the-box with the rounded fonts and bold colors (though you can change the feel of it with different text and colors). Everything feels uniform and, even after we swapped section after section around, it always feels cohesive from section to section.
This template is a LeadPages first. You can truly make this template your own, and I highly recommend at the very least you visit the template and try out this drag and drop feature.
LeadPages designer extraordinaire Kayla Sawtelle is back at it, following up her Elegant Non Profit page with a new template titled Legal Landing Page.
This, too, is a first in the LeadPages Marketplace. Never before has there been a template dedicated to the legal industry, and Kayla really delivers big for this underserved market.
True to her designer roots, this is a gorgeous template from start to finish. It's a simple three-color palette that relies on well-imagined icons to guide the eye throughout the page. A simplistic hero-style intro is followed up by company overview, which melds into a strong visual "Benefits" section.
We really like the 1-2 combo of the "Benefits" section paired with the following "Services" section. Both areas are full of attention-grabbing icons that compliment the accompanying information. This combination of benefits and services so early in the template will keep customers engaged and wanting more information.
If you want to put a more personal touch on the template, Kayla also included an "About the Attorneys" section to help spotlight the people behind the business. We've seen customers use these types of areas to give more insight into who they are and humanize the conversion process (or provide more credibility).
Lawyers, this is the template you need to start generating more leads for your law practice. It's designed just for you, and it's hands-down the best looking professional law template we've ever seen.
It wouldn't be a roundup if we didn't include the latest and greatest from template mastermind Travis Moore. His newest template — Expert Marketing Service Minisite/ One Page – Markeazy — provides a smart way for marketers to integrate content bribes with an overall informational minisite.
This template starts out like many of Travis' successful templates with a hero image and big, bold text as a headline. The opt-in button stands out as the only color in this section, which helps pull focus to this critical spot. Beneath this area is a spot for logos in an "As Seen In" section, further helping to build credibility via social proof.
The next section is what really stands out to us. Instead of transitioning into the normal "About Us" or "Services" sections like most templates, Travis followed up with a "Resources" area. Here, you can give away up to four of your best pieces of content to visitors.
That's quite the interesting approach. Instead of proving credibility through talking about who you are, Travis' template makes you prove your expertise right away with resources that you've created. You're metaphorically "putting your money where your mouth is" right away, which is far more powerful than simply saying you're an expert. If your resources are strong, it makes it far easier to get that conversion or lead at the bottom of the page.
The rest of the template is designed beautifully and follows the successful formula of about us → services → testimonials, but it's that resources section that overwhelmingly stood out to us. Check out this template and try this unique sales approach out!
Online courses are big. Big in the sense that even the top universities in the world are offering free online courses to help further educational efforts. As a business, you should also have some sort of free online course to help educate viewers and convert them into customers.
Camille Holden created the 8 Part Video Course Lesson Page to help deliver that excellent course you have. Her template is one fold in length (like a simple opt-in page), but that's intentional. She wants to drive focus to the meat of the page, which is the video and lesson tabs.
This is one of the most intuitive lesson delivery templates in the Marketplace. The video is front and center, and the video "tabs" lining each side distinctly let you know what you've watched, what's coming up and how many more lessons are in the pipeline. This is a brilliant trickle marketing tool because you can "lock" future videos and keep people coming back to the page on your terms.
Again, this is an awesome tool not only for course delivery but also for generating opt-ins through your content. It's a great template that ends up being a powerful lead gen tool.
"What's up with all the beard stuff?"
Granted, that's not usually the first response a template receives. But it was for Scott Silvi's beard-centric Video Course Launchpad template. If you "comb" through this template (I promise the beard puns stop here), you'll see how unique each piece of the whole really is.
Where Camille's page is a shorter video course template designed to be part of a trickle marketing campaign, Scott's template is longer and relies on the urgency appeal of a countdown timer to drive views and opt-ins.
Speaking of the countdown timer, it's completely different than the traditional "number in a square count down" variety. Scott's timer uses circles that gradually shrink to display time passing, and it's a nice touch that stands out from most other countdown timers.
One other interesting thing of note. The zig-zag background behind the video is the permanent background for this template. HOWEVER, within the builder, you can change the color of the lines via a convenient color slider. It's another subtle feature, but it further personifies the craftsmanship behind Scott's series of templates.
Beneath the course video, you have options for either two vertical, side-by-side "Lesson Videos" and Facebook comments columns, or you can hide those and have two full-width columns depicting the same information. Either way, the course delivery customization this template offers is phenomenal. Enjoy it in all its bearded glory.
Check Out the Marketplace
Template Authors are submitting new landing page templates like these to the Marketplace every single day, so be sure to head over and check out what's new on a regular basis.
But while you're here, tell us — which of the templates featured in this post do you like the most? Leave a comment below and let us know.