My goodness, do we have a treat for you this month.
Not only are we featuring a landing page that a world-renowned chef created using LeadPages, but we're featuring some drop-dead beautiful designs and new templates that have been stretched to innovative and exciting places.
With that in mind, sit back and enjoy our ten favorite LeadPages landing pages for the past month — you just might get a few ideas to improve your own marketing efforts.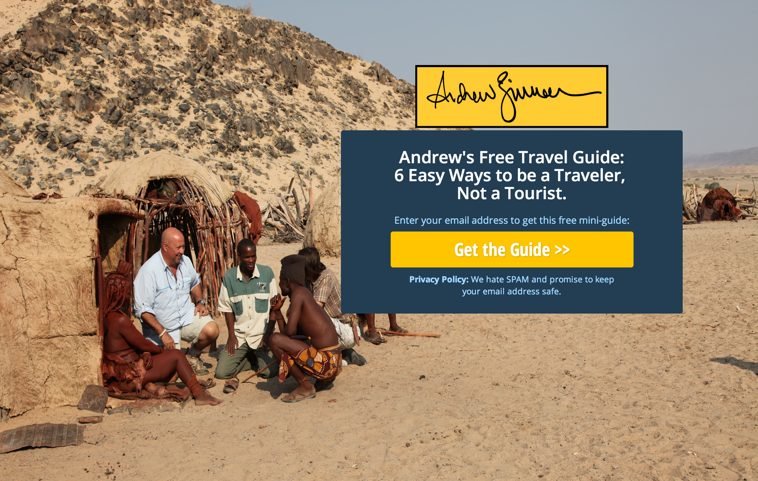 What Stands Out Here: Yes, that is THE Andrew Zimmern, he of Bizarre Foods fame, using our LeadPages New Basic Squeeze Page template.
But that's not the only reason why we're featuring it. No, it's the dynamic contrast he creates between the background and the opt-in form that really stands out here. This high-quality image is captivating in itself, but it's also the perfect foil to the blue opt-in section.
The box is positioned nicely in the dead space of the image, too, which ensures your focus won't waver between unnecessary imagery. This positioning and use of imagery with a striking opt-in section will surely increase conversion odds.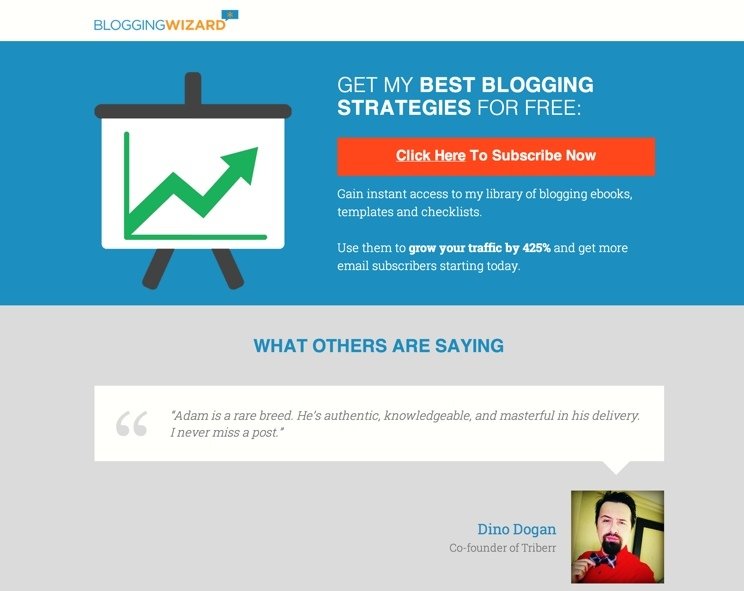 What Stands Out Here: The color scheme and simplicity of this page, just like the Andrew Zimmern example above, really pull focus in an effective way.
The default red button and blue background in the first fold are extremely eye-catching. These aren't Blogging Wizard's brand colors, so for them to leave these colors as-is shows just how effective this palette is at capturing attention.
What's usually hard to avoid with this color combo is oversaturation, which can lead to the text being overshadowed or swallowed completely. This template succeeds in making the text pop off the page, which is fantastic when you have compelling copy like Blogging Wizard does in this example.
Check out the full landing page here.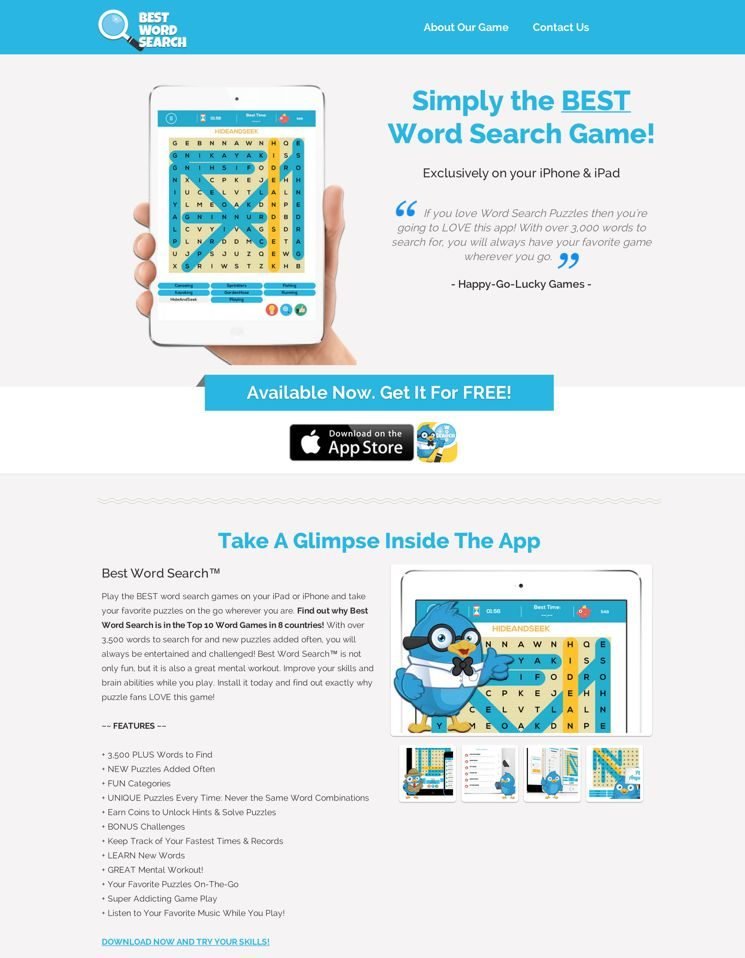 What Stands Out Here: This is true "thinking outside the box" mentality. Best Word Search saw our Ebook Landing Page template and thought, "This would be great to market our app." It goes to show that any template can be customized to fit your product needs.
This template worked beautifully for what Best Word Search needed. They required a page that showed off the app AND displayed the features in a concise, well laid-out way, and this template accomplished that with a clean design and plenty of content sections to utilize.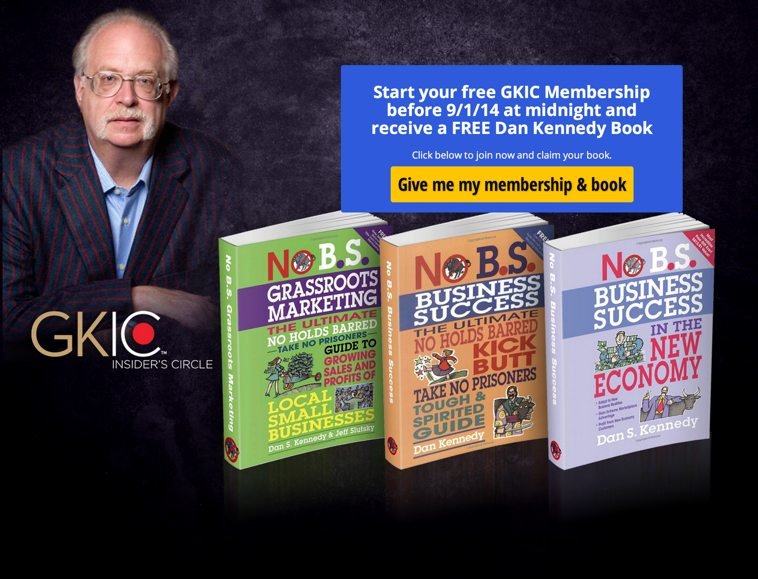 What Stands Out Here: This is a pristine example of getting the most out of minimal landing page copy.
This New Basic Squeeze Page template is effective because of its minimalistic design. There isn't a lot of copy on this template, but that's okay because we don't want to overwhelm visitors with too much information.
This example does a phenomenal job of making every word count. They add a deadline to create urgency, a Dan Kennedy book to sweeten the membership deal and the call to action on the button is straightforward. This is overall great copy that meshes well with the template.
Check out the full landing page here.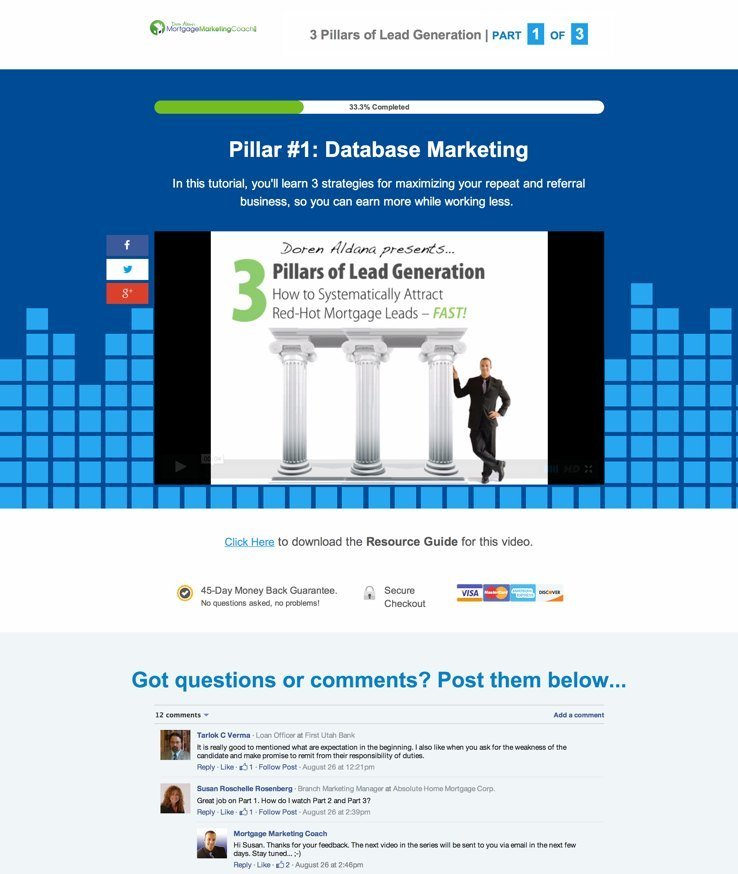 What Stands Out Here: Our need to complete an unfinished task is strong, which is why you'll see some subtle design cues in this New Video Lesson Page template that play off this need.
In the top right section of this page, you can see the first cue: a "Part 1 of 3" image. That's the first hint that there's more to come with this series.
Then, there's the load bar with the words "33.3% Completed," which is a powerful phrase and design combo. Now you're seeing firsthand that you aren't finished with this series, which creates a bit of cognitive dissonance and leads to a need to complete this task.
Check out the full landing page here.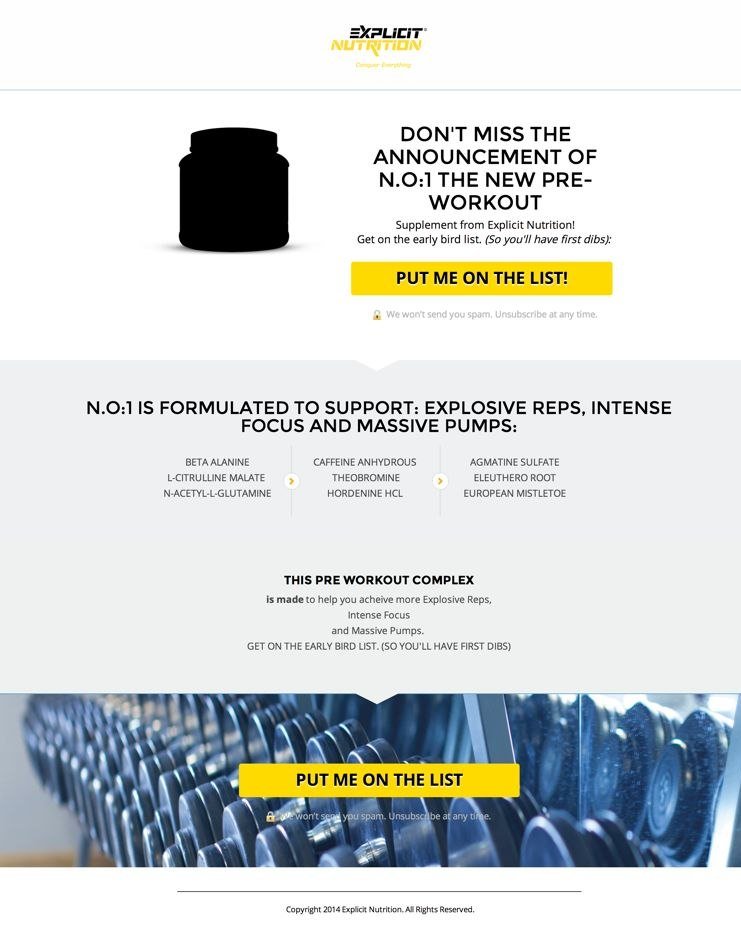 What Stands Out Here: People love the idea of being an early adopter. If they can be the first to get something with little to no trade-off cost then it's a win-win for you and the consumer.
This template is a strong lead generator for unreleased products like Explicit Nutrition's because it has a built-in sales pitch format. The first fold of the page builds up excitement and anticipation, promising that YOU can be on the early bird list for first dibs.
The second fold of the page describes the product, showing off ingredients and expectations for the product in order to address the "what" of the product. Finally, there's one more call to action in the last fold of the page.
To recap, the page is set up as interest in the first fold, specifics in the second fold and action in the final fold.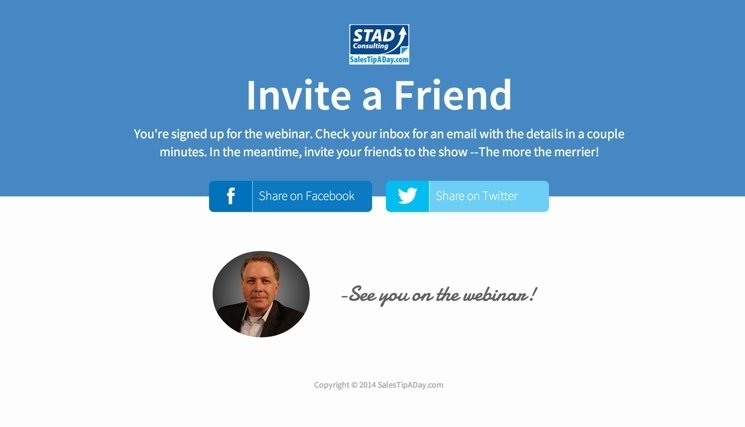 What Stands Out Here: You've already gained compliance if a visitor signs up for your webinar, so why not use that momentum to get them to take one more action?
That's exactly what Sales Tip A Day does with the Invite a Friend Thank You Page template. You're thanked for joining the webinar, but you're also presented with the opportunity to invite a friend to join in.
The Twitter and Facebook call to action buttons stand out in the middle of this design, making it easy to share the invitation on these social mediums.
Check out the full landing page here.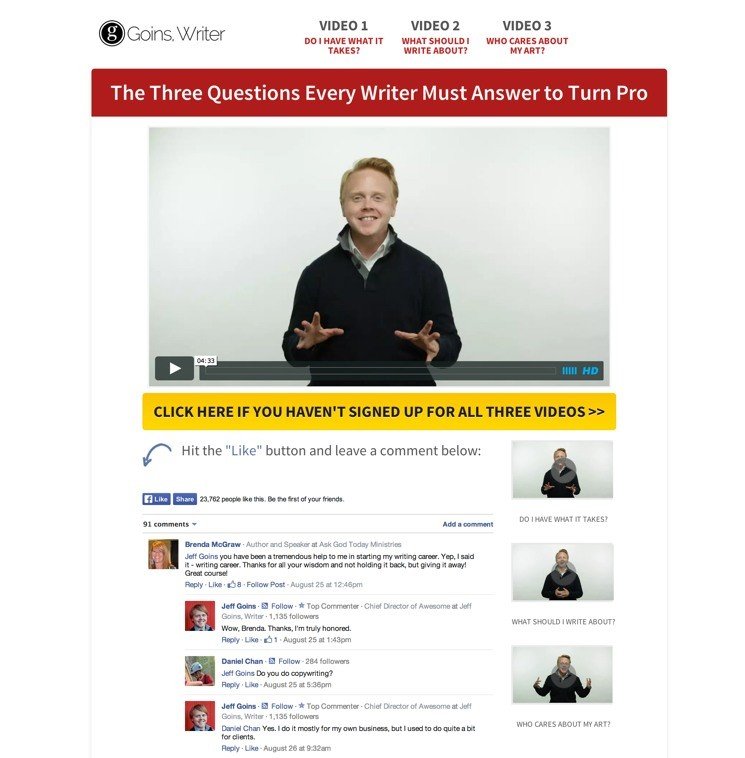 What Stands Out Here: The flowing dialogue on this page is killer, and the two strong calls to action help feed that conversation.
First, there's the call to action prompting visitors to sign up for all three excellent videos Jeff offers. The button is large, and the text is dynamic and to-the-point.
Second, there's the call to action that asks visitors to "Like" the built-in Facebook comment section below the video in order to comment. He designs for direction with an arrow that points directly to the like button, which optimizes this page for maximum engagement.
Check out the full landing page here.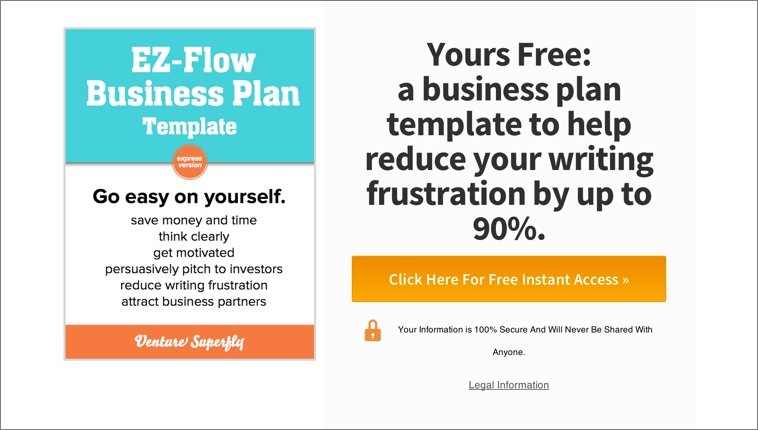 What Stands Out Here: Sometimes, changing a template's default background can make it look completely different.
That was the effect Venture Superfly achieved with the customizations they made to the Basic Squeeze Page template inside LeadPages.
Traditionally, this page features a large image as the background, but Vintage Superfly opted for a plain white background that makes this page incredibly clean. The headline and free report image contrast nicely with the background and pop right off the page.
This just goes to show how dramatically you can change a landing page with just a few clicks in LeadPages.
Check out the full landing page here.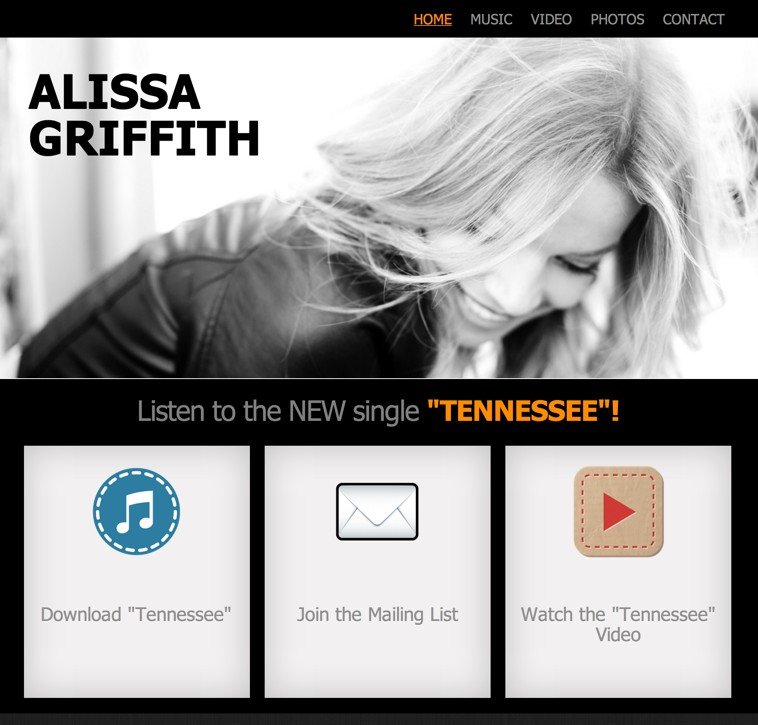 What Stands Out Here: Alissa does a masterful job of using a call to action backed by sub-calls to action in this template designed by Ryan Deiss for our template marketplace.
Her main call to action asking visitors to listen to her song "Tennessee" is located directly in the first fold. That's an important distinction, because it's seen before the three sub-calls to action. Once you scroll down to the second fold, you can see the three other calls to action — secondary to her main goal, yet still important to include.
This design and layout of the separate calls to action ensure that emphasis is placed on the main goal — downloading her song.
Check out the full landing page here.
Before You Go…
Congrats to all the marketers in this month's roundup. I appreciate you sharing your ideas and innovations with us.
That's it for this month's roundup. But before you go, I'd love to hear what you thought of these pages.
Which one was your favorite, and why? Let us know in the comments below. Or just click "share" to let us know these are useful to you.