Leadpages. Leadboxes. Leadlinks.
In the past year, we have thrown three powerful lead gen tools your way.
(And I do mean thrown. Our development team released these three major innovations all inside of 365 days. Not bad for a startup that sold its first membership in December 2012.)
Ever since, ecstatic marketers have reached out to tell us how one — or even all three — of these tools have dramatically increased their conversions across the board.
But for every glowing testimonial, we have also received dozens of questions about when to use these three "lead gems" in marketing.
So today, I'm setting the record straight for you.
Read on for a cheat sheet of when to use Leadpages, Leadboxes and Leadlinks to generate more leads and squash your competition.

"Lead… What?"
For clarity's sake, let's start with the basics — just in case you're not familiar with these tools.
Leadpages: A "Leadpage" is any one of the 70+ landing pages that you can customize and use for your business inside our membership area.
Leadboxes: Technically speaking, a "Leadbox" is a popup window that appears when potential subscribers click on a designated link, image, button or text on a site.
Once potential subscribers click on this designated area, a "Leadbox" window appears, and your would-be subscribers can use this Leadbox to opt-in for your list.
Actually, it's easier to show you a Leadbox than tell you about one. Click here to see a Leadbox in action.
Leadlinks: A Leadlink allows your subscribers to join your lists, sub-lists, or sign up for webinars with one click. No need for them to opt-in again. Just one click and they're in. (Click here to see a live demo of Leadlinks.)
Keep in mind: All three of these tools are designed to generate leads for you. But at the same time, our developers created these three "lead gems" so you could use them in very different places in your marketing.
If you can master a few basic principles on how to use all three, you'll be on your way to dramatically boosting your leads. That's where I come in. So let's get started.
1. Leadboxes: Boost Your Opt-ins By 30% or More
I'm starting with Leadboxes because I have a recommendation for you…
If you do nothing else after reading this post, test out at least one Leadbox on your site.
Why do I say that? Simple. Leadboxes have been killing it for marketers since we first introduced Leadboxes in December.
In fact, we're finding that Leadboxes boost opt-in rates by an average of 30%. Here on our blog, we just increased opt-ins by 32% by switching from a regular opt-in box to a Leadbox.

It's easy to see why Leadboxes work so well. First, Leadboxes are based on the idea of a two-step opt-in process. We have written extensively about why two-step opt-in processes work like gangbusters, so I won't go into a long explanation again here.
But I will offer another practical reason why Leadboxes are so effective.
A Leadbox pop-up window forces your subscribers to make a decision about whether to opt-in for your list or not.
Think about it. Once a person clicks on your Leadbox, they have no choice but to look at your opt-in box. They either have to opt-in or exit your Leadbox. They must make a decision.
Simply asking people to make this choice is enough to inspire some percentage of people to opt-in your list.
Compare that to a standard one-step opt-in box on your site that your would-be subscribers can simply ignore forever — and you'll understand why I want you to start testing Leadboxes.

Now you understand why Leadboxes are important, let's talk about how to use them.
Linking a Webpage to a Landing Page? Use a Leadbox Instead
Remember those "basic principles" I said you need to master to use these lead gen tools? Well, this is one of them.
As we all know, marketers often link their homepages, blogs or other pages on their site to landing pages to capture as many leads as possible.
Over the last few months, we have discovered that sending people from a webpage to a landing page is NOT the most effective strategy to boost your opt-ins. Instead, we found that sending people from a webpage to a Leadbox can increase your conversions.
Keep in mind: It only takes a single line of code to create a Leadbox on any html site. So it's actually easier to create a Leadbox than your standard landing page.
Rule of thumb: If you're currently sending people from a webpage A to a landing page B, test out sending people to a Leadbox instead of "landing page B."
Let me give you three real-live examples of how this works, so you can test out this principle on your own audience.
Leadboxes: Link Them to Your Sidebars or Images
I'm willing to bet that you have a sidebar on your homepage. Your sidebar may even include a simple one-step email form to entice visitors to opt-in for your list.
If that's the case, you can easily test out this Leadbox principle by:
Either linking your sidebar to a Leadbox.
Or trading your current one-step opt-in form for a Leadbox.
As an example of what this looks like, check out this Leadbox in the sidebar below.
Think like a potential subscriber for just a moment. This "best of the web" news aggregate makes it extremely easy for you to opt-in for their list.
Simply click the "Love Harry?" sidebar, fill in your email on the Leadbox — and you're in!
Beyond sidebars, you can also link any other images on your site to a quick Leadbox. Recently, I've seen marketers link images of their ebooks, videos or other lead magnets to Leadboxes.
That's an incredibly innovative technique because as consumers, we tend to click on the images that we want to know more about — particularly in books, ebooks and other information pieces. (Think of how often you click on the books on Amazon for a preview. Same concept here.)
Quick tip: Test linking an image of your lead magnet to a Leadbox on your site.
Leadboxes: Link Them to Text or Buttons
With Leadboxes, you can essentially link every piece of copy or button on your website to an opt-in box to generate leads.
So for example, let's say you're a nutritionist. You might add a small button to your homepage that says: "Get my latest recipes under 500 calories every day." Then you could simply link that button to a Leadbox.
Or even better: You might borrow this same technique that Sewickley Academy is using below. Right now, Sewickley Academy is linking every "register now" line of text on their webinar page to a Leadbox.
Notice: Sewickley Academy is using multiple form fields on this Leadbox so they can collect more information than just a person's name and email.
Leadboxes: Link Them To Your Blog Posts or Guests Posts
I saved the best for last. As a writer, I absolutely love that you can link practically anything inside a blog post to a Leadbox.
More importantly, you should link a blog post to a Leadbox, rather than a landing page. (Back to the basic principle: When going from webpage A — test using a Leadbox instead of a landing page.)
Quick tip: When you're blogging: Don't bother linking to a Leadpage or Leadlink. Instead, use a Leadbox to collect leads.
That goes for guest blogging too. When you're submitting guest posts to another blog, you can easily include a Leadbox in your guest post or your bio to generate leads for your list.
From a practical standpoint: It's as easy as submitting the html for your guest blog post, when you send in your post. That way, you can include a line of code for your Leadbox inside the html version of your story.
You can also optimize your own blog with Leadboxes sprinkled throughout your own blog posts. For example…
(Shameless Leadpages Plug: Join Over 65,000 Who Love Seeing These Posts First.)
As another example, check out The Murray Group's blog post below. It's a great blog post. Once you scroll to the bottom, you'll see a quick call to action to join their list.
I could keep going all day about when you can use Leadboxes to grow your list. So instead, I've put together a quick cheat-sheet for you below of when and when NOT to use Leadboxes.
Notice: This list says "Facebook, Twitter, and Google+." Yes, it's true you can link a Leadbox in social media. However, it will open as a standalone page — just like any other link in social media.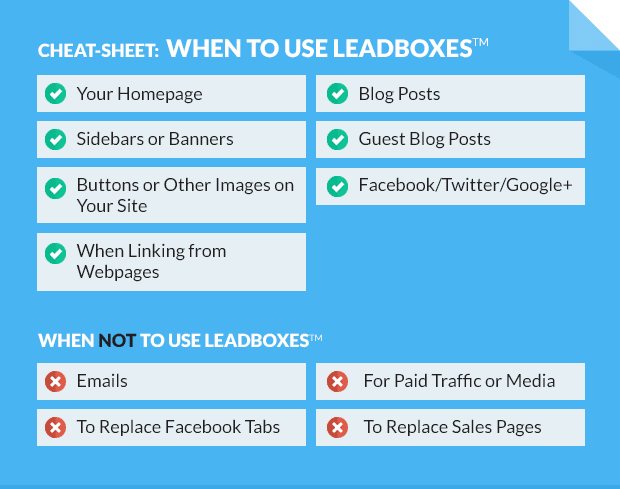 With that, let's move on to Leadlinks.
2. Leadlinks: Get 'Em On Your List with One Click
Leadlinks are the most recent addition here at Leadpages.
We just introduced this third lead-gen tool to our pro members in late January. At this point, I'd say that Leadlinks are the least understood of the three "lead gems" here. (So let's do what we can to change that, shall we?)
As I mentioned in the beginning, Leadlinks allow you to register subscribers for your launch lists, sub-lists, or webinars with a single click.
So for example, let's say you're a martial arts expert and you're using a Leadlink to register people for your next kickboxing webinar.
To market your webinar, you send me (and every other martial arts enthusiast on your list) an email asking me to register for your webinar with a Leadlink.
If I clicked your Leadlink in this email, I would instantly be registered for your kickboxing webinar. No need for me for opt-in again or give you additional information.
Not only does this make it insanely simple for me to join your webinar — it also allows you to knock down the barrier of entry between me and registering for your online event.
Pretty sweet, huh?
Emailing Your List about a Launch or Webinar? Use a Leadlink
Now let's talk about when you to use Leadlinks, as opposed to Leadboxes or Leadpages.
What's important to understand is Leadlinks only work in environments where you can pre-populate the email field variable.
What does that mean exactly?

It means that you must already have a person's contact information on file so this person can signup for your list with a single click. That's the only way a person can register for your lists or webinars without opting in first.
So for example, you can't use Leadlinks in places like Facebook, Twitter or Google+ because you can't pre-populate the emails of your fans or followers.
However, you can always use Leadlinks when you mail your own list.
Every time you email your list — you have every single person's contact information on file. So if you're emailing your list, you can always use a Leadlink as your call to action link.
This is another basic principle to remember.
Rule of thumb: If you're mailing your list to ask readers to opt-in for a launch list, sub-list or webinar, you should test using a Leadlink — instead of a Leadpage or Leadbox.
I know what you're thinking. "How are Leadlinks a lead gen tool if I'm only collecting names that I already have on my own list?"
Well hold on, I'm getting there…
Leadlinks: Generate Leads from Affiliate's Lists
You're not the only one who has email addresses for your target audience.
Right now, your joint venture partners and affiliates (or potential JV partners and affiliates) are building similar email lists as yours — with similar people who may be interested in your products or services.
Using Leadlinks, you can actually generate these leads from your affiliates' lists.
From a practical standpoint, it's as easy as asking an affiliate to mail their list for you. As their partner, you can create a special Leadlink for that particular email.
Once your affiliates' subscribers click on your call-to-action Leadlink, your affiliates' subscribers become your subscribers.
To make this happen: Simply create a Leadlink for your affiliate for the email service provider that they will use to broadcast your email.
Once your affiliate drops this unique Leadlink in the email that they will send their list, your affiliates' subscribers can sign-up for your lists.
Oh and just a reminder: Leadlinks allow your potential subscribers to register for lists with a single click.
This means your affiliates' subscribers don't even have to opt-in to join your list.
Note: To act in the best possible interest of these subscribers: You should explain in your affiliate email that subscribers will join your list when they click your link. Otherwise, your affiliates' subscribers may not understand they're opting in for your list when they click.
Leadlinks: Boost Your Webinar Registrations
When you're hosting a webinar, you want to make it as easy as possible for potential attendees to register. The easier you make it to sign-up, the more likely you are to boost your registrations.
For this reason alone, the "one click sign-up" Leadlinks are ideal for registering both your affiliates' subscribers and your own subscribers for your next webinar.
I already mentioned that you can easily build a list for your next webinar by dropping a Leadlink into either yours or an affiliates' email (to mail on your behalf).
Now I want to give you a real-life example of how it's being done.
Earlier this year, Amy Porterfield reported here on our blog that she used Leadlinks to dominate in her recent webinar.
Here's a copy of the email Amy used to register her list for this webinar — using Leadlinks.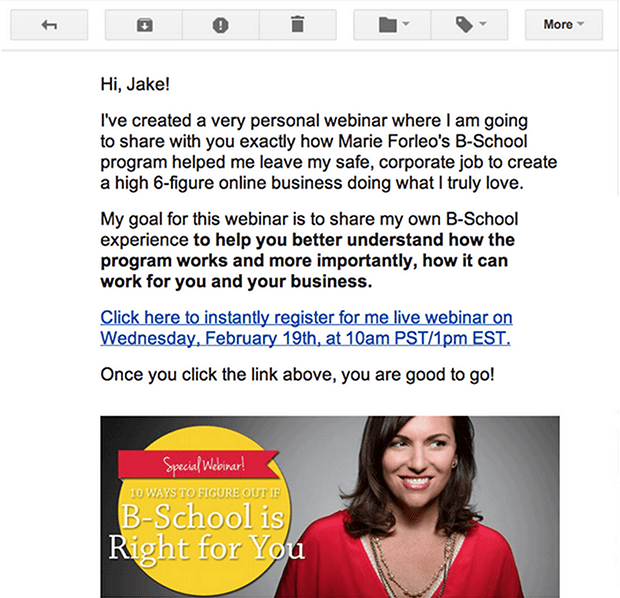 Notice: Amy wrote in this email: "Once you click the link above, you are good to go!" She's telling her subscribers that they don't have to opt-in again to join the webinar.
You should always add a line of copy like this to your emails to make it obvious that your subscribers only have to click your link to join your webinar.
Leadlinks: Build Your Launch or Sub-Lists
Your subscribers only want to hear about certain niche topics that appeal to them.
For this reason, marketers often create sub-lists inside their regular email lists so they can target certain groups on their lists with different interests.
Same thing with a launch. Any marketer hosting a product launch generally asks their subscribers to opt-in to receive their launch video series. They want subscribers saying "yes" to their launch content — and making a conscious decision to participate.
Rather than linking to a Leadbox or Leadpage, you should use a Leadlink in your emails to allow your subscribers to join your sub-lists or launch lists with one click.
To get a real-life example of this, here's a quick email you might see for a launch. (Like the copy? Feel free to borrow it for your own launch.)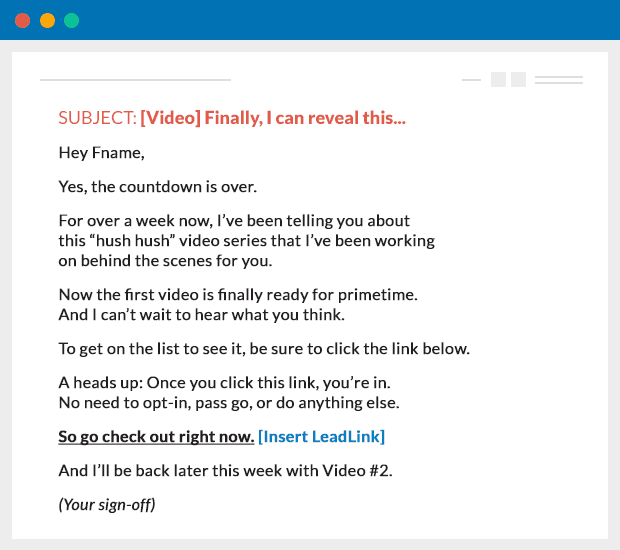 Leadlinks: Use Them for Membership Sites
Remember: You can only use Leadlinks where you can pre-populate the email variable. In many cases, that includes membership sites.
If you have members logged into your membership site, you can use Leadlinks to register your members for webinars, events, special sub-lists or launch lists through inside your site — with a single click.
This opens up the possibilities for this mainly email lead gen tool.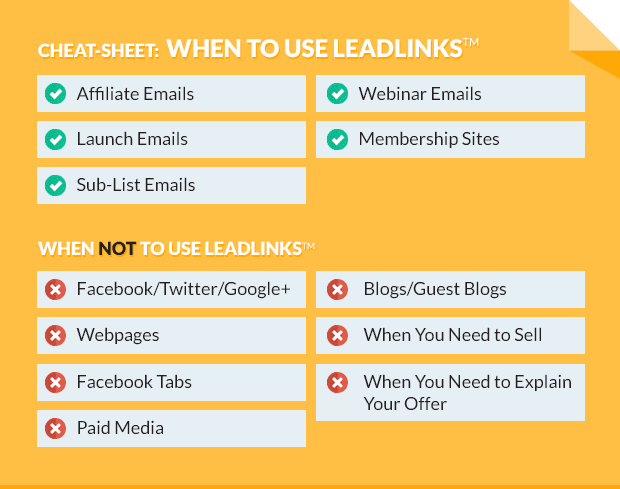 Again, as of right now, Leadlinks are only available to Pro Members. However, Leadboxes and all our 70+ Leadpages are available to all Leadpages customers.
Speaking of landing pages, let's move on to Leadpages — the original lead gen tool that started it all.
3. Leadpages: Dominate with 70+ Landing Pages
If you've been reading our blog for a while, I'm going to assume that you're already familiar with our landing page templates.
So we're going to move fast here.

If by chance, you're not familiar with Leadpages, you need to know there are different kinds of Leadpages. Beyond opt-in pages, there are also…
Sales Leadpages
Webinar Leadpages
Thank you Leadpages
Upsell Leadpages
Launch Leadpages
Pre-Cart Leadpages
Plus "other" Leadpages.
Every month, marketers create more than 30,000 Leadpages inside our platform based on these 70+ templates. So as you can imagine, there are plenty of options of what you could do with these multi-purpose pages.
But for now, I will dive into how we recommend you use these templates.
Leadpages: Use to Sell or Explain Your Offer
Copywriters like to say: "long copy sells."
While that's not always the case, it's an easy way to remember when to use a Leadpage, as opposed to a Leadbox or Leadlink.
As a rule, you always want to choose a Leadpage when you need to…
Sell your product or service.
Or, give a detailed explanation of what you're offering.
It's fairly easy to see why. When you're selling a product or service, you need space to explain why the value of your product or service is worth more than the cost your customers will pay for it. That means using longer copy than a Leadbox or Leadlink will provide.
Rule of thumb: If you're selling anything or need more space to explain your offer, always use a Leadpage, as opposed to a Leadbox or Leadlink.
Here's a real-world example below from author, Stefan Pylarinos.
As you can see, Stefan is using a Leadpage as both a lead generation tool and a sales vehicle. His "Available Now on Amazon" button links through to Amazon.com to so you can buy his book.
It's a great technique. It's something that you could never do with a Leadbox or Leadlink.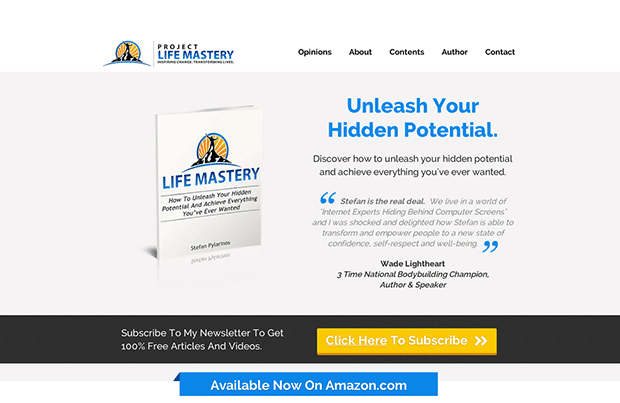 Leadpages: Need More than an Email to Market Your Webinar? Use a Leadpage
As I mentioned, Leadlinks can be ideal for signing up your best fans on your list for your next webinar. But Leadlinks isn't the only tool you can and should use to market your webinar.
For example, let's say you're hosting a webinar to market your latest coaching product. You have big plans for this webinar, and you need more space than an email will provide to explain what's coming for your attendees in this action-packed two hours.
In that case, you may want to test linking your emails through to a Leadpage like the one below, so you have enough space to sell potential attendees on registering for your webinar.
Rule of thumb: If you need more than an email to explain your offer, then you should be linking through to a Leadpage — not a Leadlink.
Also, even if you are using Leadlinks to sign up your own list for your webinar — you may want to create a webinar page like this one below anyway to market your webinar in other places (like Facebook, Twitter, to paid media etc.).
Take a look at another real-world example below from Irene Lyon.
Irene is making a case for why you should attend her webinar. Notice: She's using all the space to explain what she's offering. That's not something you can do in a Leadbox or with a Leadlink.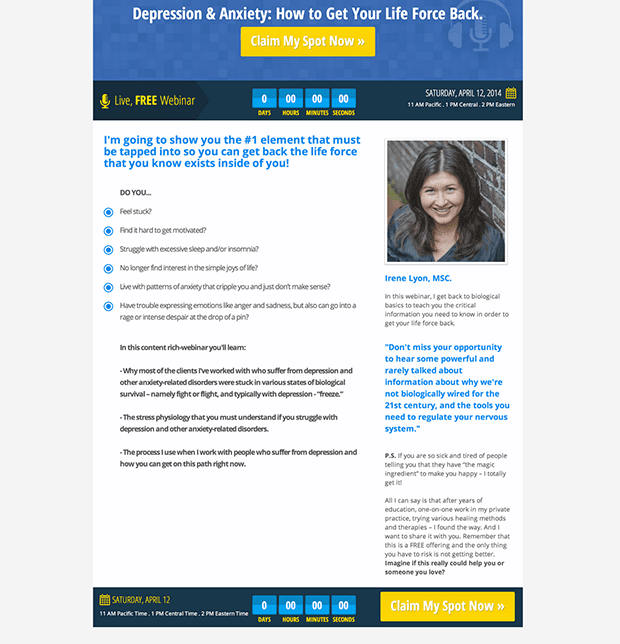 Leadpages: Replace Whole Web Pages on Your Site
This is another marketing strategy that's impossible to do with a Leadbox or Leadlink.
With the right Leadpage, you can replace entire sections of your site.
Why would you want to do that? Several reasons…
Coming soon pages: You might use a "launching soon" page to market a new blog or section of your website that's not ready yet.
Sold out pages: If you're currently not selling your product, the best thing you can do is add a "sold out" Leadpage to your website to build intrigue for when you offer it again.
Evergreen webinar pages: Once you host a webinar, you might add an evergreen webinar process to your website using a Leadpage.
404 pages: Even when your customers hit an error page on your site, you can use a Leadpage to collect opt-ins — so you essentially turn a mistake to your advantage.
For example, here's the 404 page that we're currently using on our blog here at Leadpages. This is a prime example of replacing a page on our site with a lead generation opportunity.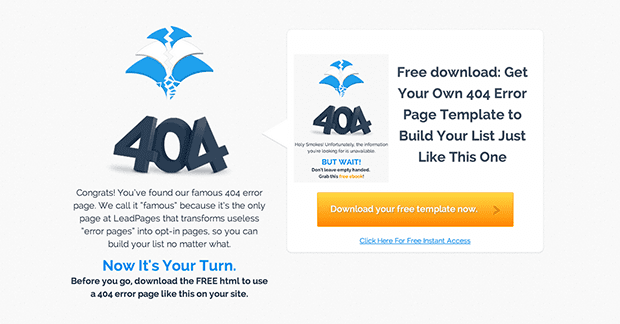 Leadpages: Use for Paid Media & Facebook Tabs
Again, if you have a lot of information to convey in your marketing, then you should use a Leadpage. That's even more important when you're speaking to people who have never heard of you before.
For example, let's say you're doing a retargeting campaign to drive traffic to your upcoming launch. Since you're speaking to cold traffic — people who may have never heard of you before — you should link to a Leadpage where you can show the benefits of what you have to offer.
Rule of thumb: The less your audience knows you, the more you should consider using a Leadpage in your marketing. (The one exception? Emailing affiliates with Leadlinks.)
However, if you're using paid media to drive cold traffic to your marketing, then it's a good idea to use a Leadpage to capture their attention.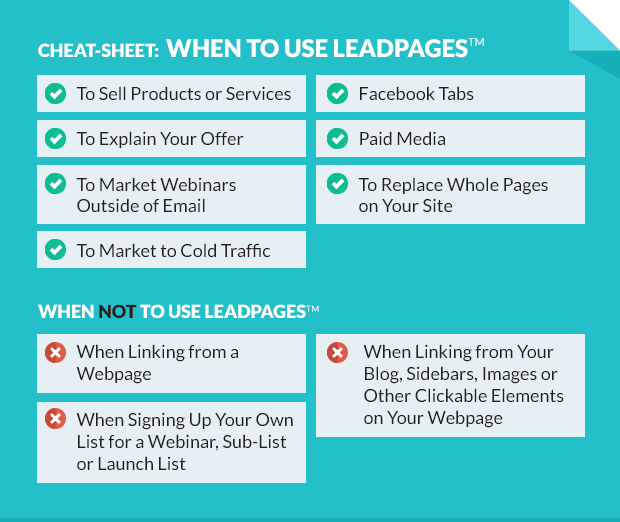 Another place you should always use a Leadpage is for Facebook tabs. Using our Leadpages app, you can publish any Leadpage as a Facebook tab in just four clicks. Once you have it up, you'll understand why a Leadbox or Leadlink simply wouldn't work as a tab on Facebook.
Rule of thumb: Always use a Leadpage for your Facebook tabs.
Take a look below for one last real-world Leadpage example from our clients at Dojo Muscle Marketing on Facebook.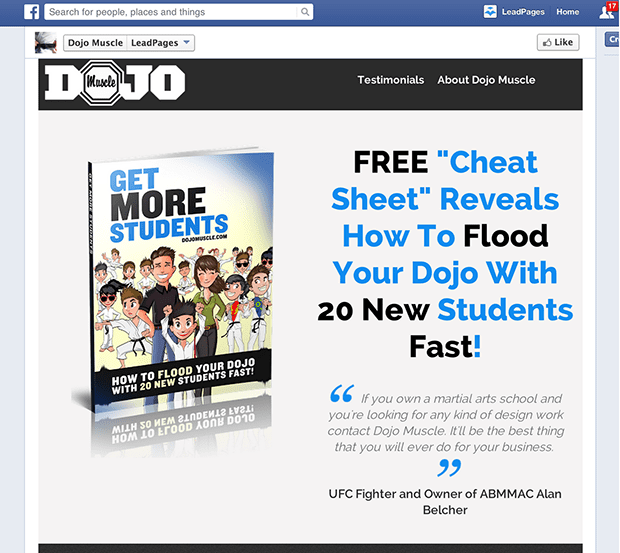 Check Out This Quick Cheat Sheet Before You Go
There are literally dozens of different applications for Leadpages, so I could keep going. But you get the idea.
Leadpages, Leadboxes and Leadlinks may all generate leads — but they are all completely different marketing tools. When you treat them that way, you can see some dramatic improvement in not just your conversions, but your sales.
That's all for today's tutorial. I know we covered a lot here, so to make this easier I've dropped in a quick cheat sheet below so you can review everything we covered.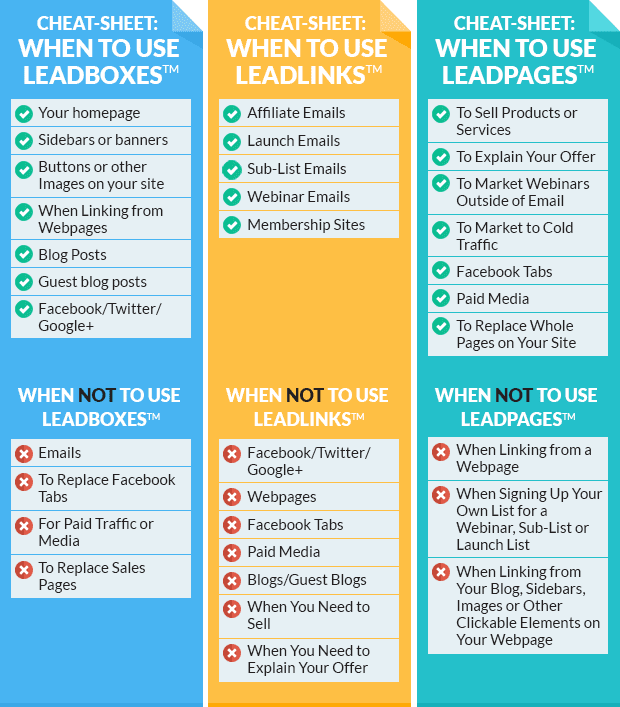 Before you go, what did you think of today's tutorial? Would you like to see more tutorials like this in the future?
Let us know in the comments below. Or simply click "share" if you would like to see more tutorials like this one throughout 2014.