[powerpress url="https://www.leadpages.net/blog/wp-content/uploads/2014/01/ClayCollinsForLeadLinks.mp3″]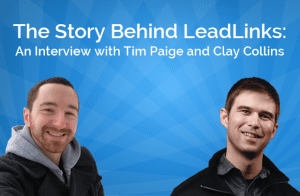 In Today's Interview…
LeadPages Co-founder, Clay Collins and Tim Page will show you:
The inspiration behind our latest lead-gen tool: LeadLinks.
3 scenarios where you would want to use LeadLinks in your business, instead of a regular landing page or LeadBox.
The "affiliate effect:" How to use LeadLinks when affiliates mail on your behalf.
Why LeadPages was built on the back of two-step opt-in processes, and why LeadLinks is the first "zero-step opt-in."
Examples of Two-Step Opt-ins
Do You Have Other Ideas for How to Use LeadLinks?
As Clay said in this interview, you'll likely come up with more innovative ways to use LeadLinks for lead generation.
If you have any ideas on how to use LeadLinks, feel free to drop them into the comments below. Also, let us know if you have any questions on how to start using LeadLinks to build your list.
For more details on how to create your first LeadLink, see our tutorial video.