Transformation: that's what the month of August was all about for LeadBoxes.
We released a cleaner layout that allows you to customize LeadBoxes in more ways than ever before — and it didn't take long to see these fresh new LeadBoxes popping up all over the web.
In this post, we're going to show you our favorite customer LeadBoxes from the month of August. These examples will demonstrate just how flexible the new layout is, and what makes this next evolution of LeadBoxes special.
1. Angela Artemis: Intuition Webinar LeadBox
What Stands Out: Here it is — the new LeadBoxes layout. The red "download" arrow and progress bar at the top are the default images built into the new layout. You can keep them, remove them, or replace them with your own images.
Angela chose to keep the default images, along with the default button color, which you also have the option to change.
Get a closer look at this LeadBox here.
2. Fluxe Digital Marketing: Blog Post Content Upgrade LeadBox
What Stands Out: As you can see, Joel utilized the customizability of the new LeadBoxes layout to match the look and feel of the LeadBox to his brand.
He replaced the default arrow image with a beautiful 3D image of his content upgrade, and then changed the default yellow button color to the exact shade of blue featured throughout his website.
Joel chose to keep the progress bar image at the top of his LeadBox (which plays off of our brain's natural desire to complete things).
This is a great example of using a LeadBox to offer an "opt-in bribe" (or lead magnet) that's specifically related to the content of the blog post.
This "content upgrade" strategy has been getting many LeadPages customers much higher blog post opt-in rates than the traditional strategy of offering the same piece of bonus content on every single page. In fact, LeadPages customer Brian Dean at Backlinko reported a 785% increase in site-wide conversions after implementing content upgrades on his most popular blog posts.
Get a closer look at this LeadBox here.
3. Benecia Ponder: Business Plan Webinar LeadBox
What Stands Out: "Clean." That's the first word I thought of when I came across this LeadBox.
Unlike the previous two examples, this LeadBox has no images. Without the images, the opt-in form is placed squarely in the middle of the LeadBox.
Although we've found that images on LeadBoxes can increase conversion rates, we know that every situation is unique, which is why you have the option to easily hide any images on the new LeadBoxes layout.
This new layout looks great with or without images, so I encourage you to try a split test next time you create a LeadBox (one with images and one without, like Benecia's) and see which version performs better for your business.
4. Watertight Marketing: Home Page LeadBox
What Stands Out: I chose this fourth example for two reasons. . .
1. It Shows You the Biggest Differences Between the Previous LeadBoxes Layout and the New One: When the new LeadBoxes layout went live, we wanted to make sure none of your existing LeadBoxes were affected — that's why the layout is only active on newly created LeadBoxes.
As you can see, compared to the previous layout, the new one features a cleaner, Web 3.0 look, and feel. The edges are sharper, the fields are flat and white, the button is cleaner, and you're allowed a second image at the top for extra customizability: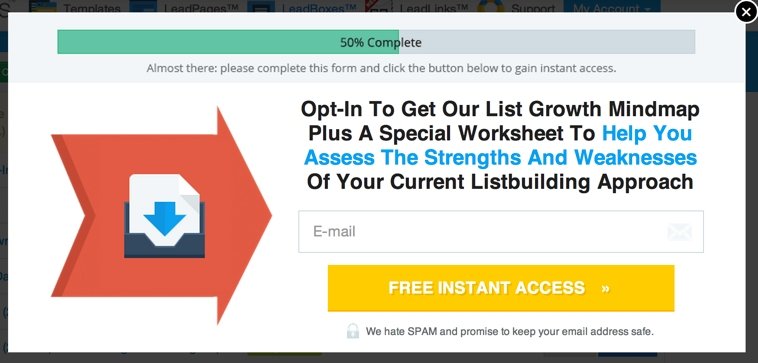 2. It Answers One of Our Most Frequently-Asked Questions: "Can I add a drop-down menu to a LeadBox?"
As you can see from this example, the answer is yes. Any element you can add to the form you integrate with the LeadBox can be added to the LeadBox as a custom field.
Get a closer look at this LeadBox here.
5. LeadPages: Blog Sidebar LeadBox
What Stands Out: In addition to drop-down menus, you can also add radial buttons to any LeadBox. These can be helpful if you need to get more information from your prospects before adding them to your list.
In this case, we wanted to give visitors the choice of receiving every new post from the LeadPages blog via email, or a weekly blog email containing links to all of the posts published that week.
To reduce friction, the first option is already selected by default.
While we're on the subject, if you would like to make sure you're emailed every post or a weekly update, click here to use this LeadBox and let us know.
6. Debbie Turner: Vacation Info LeadBox
What Stands Out: In some businesses, prospect phone numbers are incredibly valuable. However, since extensive testing has shown that opt-in rates tend to decrease as the number of signup fields increases, sometimes it's smart to make those additional fields optional.
Debbie clearly communicates that the third "Phone" field is optional with the placeholder copy that reads "Phone: If You Want."
Since it's incredibly easy to customize field text inside LeadPages (just click on it then edit), it's worth trying out different copy to see what works best in your business, particularly on extra fields that are optional for your prospects.
7. National Financial Advisors Week: Free Admission LeadBox
What Stands Out: In the previous example, we discussed the value of phone numbers to some businesses. To others (businesses that invest in direct mail, for example), a physical mailing address is just as valuable.
That's why you have the ability to add as many fields as you'd like to any LeadBox — for the times when it makes sense to collect more information. In this example from National Financial Advisors Week, it makes sense for a couple of reasons:
1. They're Giving Away Something Highly Valuable: Admission to an event is something people are used to paying for — sometimes in the thousands of dollars. Since high-dollar cost is associated with their lead magnet, NFAW can ask for more information than usual.
2. They're Only Going After Highly Qualified Leads: NFAW is prioritizing quality over quantity. Their goal isn't to get as many people as possible to the event. It's to get as many of the right kind of people to the event as possible. Check out this section before the second and final LeadBox on the page: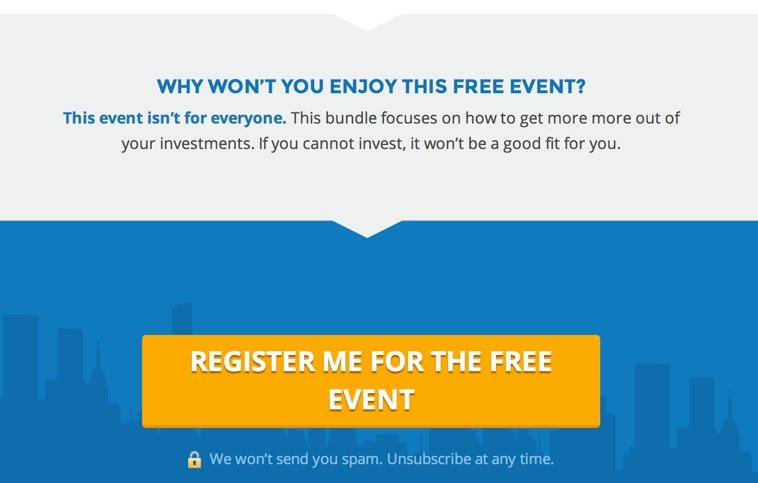 NFAW is only interested in attracting serious prospects — the kind who are ready to invest and who won't mind filling out a little more information than usual.
8. Connect Social Media: Home Page LeadBox
What Stands Out: The role an image or line of text plays in LeadBox success is often overlooked. Just as you want the LeadBox itself to have a high conversion rate, you also want a high percentage of visitors to actually click on that image or text.
That's why it's important to design an image worth clicking on. And that's exactly what Connect Social Media did.
By leveraging something that visitors have already been trained to click on (a video play button), Connect Social Media has created a highly clickable homepage LeadBox.
Get a closer look at this LeadBox here.
9. Digital Triggers: Podcast Giveaway LeadBox
What Stands Out: I'd seen LeadBoxes used for contest giveaway entries before, but this LeadBox contained an element I had not seen. . .
In addition to letting visitors enter the giveaway, this LeadBox also lets them select one of three prizes they are most interested in winning from a dropdown menu.
I can't speak for everyone, but that's an additional form field I'd actually be excited to complete.
Get a closer look at this LeadBox here.
10. Authority Hacker: Content Upgrade LeadBox
What Stands Out: If you're thinking of adding a content upgrade to your next blog post, consider this example from Authority Hacker a great template to follow. It contains two critical elements:
1. Multiple LeadBoxes: In addition to the end of the post, it's important to include a LeadBox that readers who don't make it to the end of the post will see. As you can see, Authority Hacker included one at the beginning, highlighted by a yellow text box.
2. A Stand-Out Download Button: It's hard to miss the download button at the end of the post, and that's what you should take away from this example. Use a button that will stand out. Don't let readers miss their opt-in opportunity.
Get a closer look at these LeadBoxes here.
Feeling Inspired? Let Us Know
Before you go, I'd love to know. . .
Did any of these month's picks give you an idea for your own business? If so, drop a quick "yes" in the comments below. And if you have a minute to spare, it would be great to know which example inspired you.