It must have been my first or second day at Leadpages.
We were having a standup meeting and my colleagues kept talking about "lead magnets" and "content upgrades."
I was trying to keep up, but finally I seized a break in the conversation to ask:
"Wait a minute—what exactly is a content upgrade? Is it the same as a lead magnet, or …?"
Though I wasn't new to marketing, I was pretty new to this terminology, and this way of looking at generating leads.
Maybe you're in the same boat (or were until recently). After hearing a cluster of questions from folks in the Leadpages community about lead magnets, I figured it was time to slow down and break it all down.
If you're familiar with lead magnets as a concept but aren't 100% sure you know how to create a successful lead magnet for your own audience, this post has ideas for you too.
What Is a Lead Magnet?
We put it this way in our digital marketing FAQ, and I think the definition still holds up:
A lead magnet is anything you give away in exchange for someone's contact information. (Getting someone's contact information is what converts them from a prospect into a "lead," since you now have a way of staying in touch.) It's also called an opt-in bribe.

A lead magnet most often works like this:

You set up a landing page offering a valuable information resource (the lead magnet), such as a free PDF guide or an instructional video. This resource may mention your products or services, but it is not primarily an advertisement.
People who visit your landing page enter their email address in order to access the lead magnet.
When they submit their email address, they automatically receive an email containing the lead magnet.
You now can contact them with (appropriate, non-overwhelming) future offers and information.
Why do this?
Well, for one thing, it beats the heck out of the standard "subscribe to our newsletter" or "subscribe to get updates" pitches you see on many websites.
Unless you've done the legwork to sell your email newsletter as a valuable information product in its own right, when you add opt-in points like these to your site, your visitors are likely to look at them and see:

I know I do (as if people would generally pay for the privilege of receiving marketing emails).
Instead, offer a bonus that gets people excited to subscribe, then immediately delivers info they'll devour.
As a side benefit, this strategy can often help establish you as an authority in your industry (or even a just a place to turn for cool stuff).
What's the Best (and Easiest) Way to Create a Lead Magnet?
There's no single easy lead magnet format that works best for everyone, but many entrepreneurs find success offering a PDF download of highly useful content, such as an e-book or a single-sheet resource guide.
There are tons of other ways to make a great lead magnet if ebooks aren't up your alley, though—and you don't need any special skills to do it. Check out this post for 15 ideas you can produce inside of 30 minutes:
15 Ways to Create a High-Value Lead Magnet in 30 Minutes or Less (No Tech Skills Required)
How Should I Deliver My Lead Magnet?
You want to be able to promise instant gratification when you offer a lead magnet, so you need to make sure it's delivered automatically when someone opts in.
If you use Leadpages, this is incredibly easy. You can use our built-in Lead Magnet Delivery system to upload your lead magnet files and link them to your Leadbox opt-in forms. Then, when someone opts in, they'll get what you promised right away.
If you don't use Leadpages, you'll want to set up an autoresponder email in your email service provider. Have the first email that goes out when someone submits the proper form in your email service contain a link to or attachment of your lead magnet file.
Either way, of course, you'll also want to make sure the opt-in form is connected to an email followup sequence of your choosing.
What Else Should I Think About When I'm Creating My Lead Magnet?
A great lead magnet is just what your audience needs to get started down the road that ends with a purchase. It complements your paid products or services, but it doesn't replace them. And it's inherently extremely valuable to your audience; its benefits are obvious.
Depending on your particular business, it can be pretty tricky to figure out a lead magnet that meets these conditions. Last year, as he was preparing to speak at our first Converted conference, we grilled Leadpages Head Conversion Educator Tim Paige on some of the more difficult cases that can crop up when you're creating a lead magnet.
See how Tim assesses some of these sticky situations here:
Tim Paige Reveals How to Create the Perfect Lead Magnet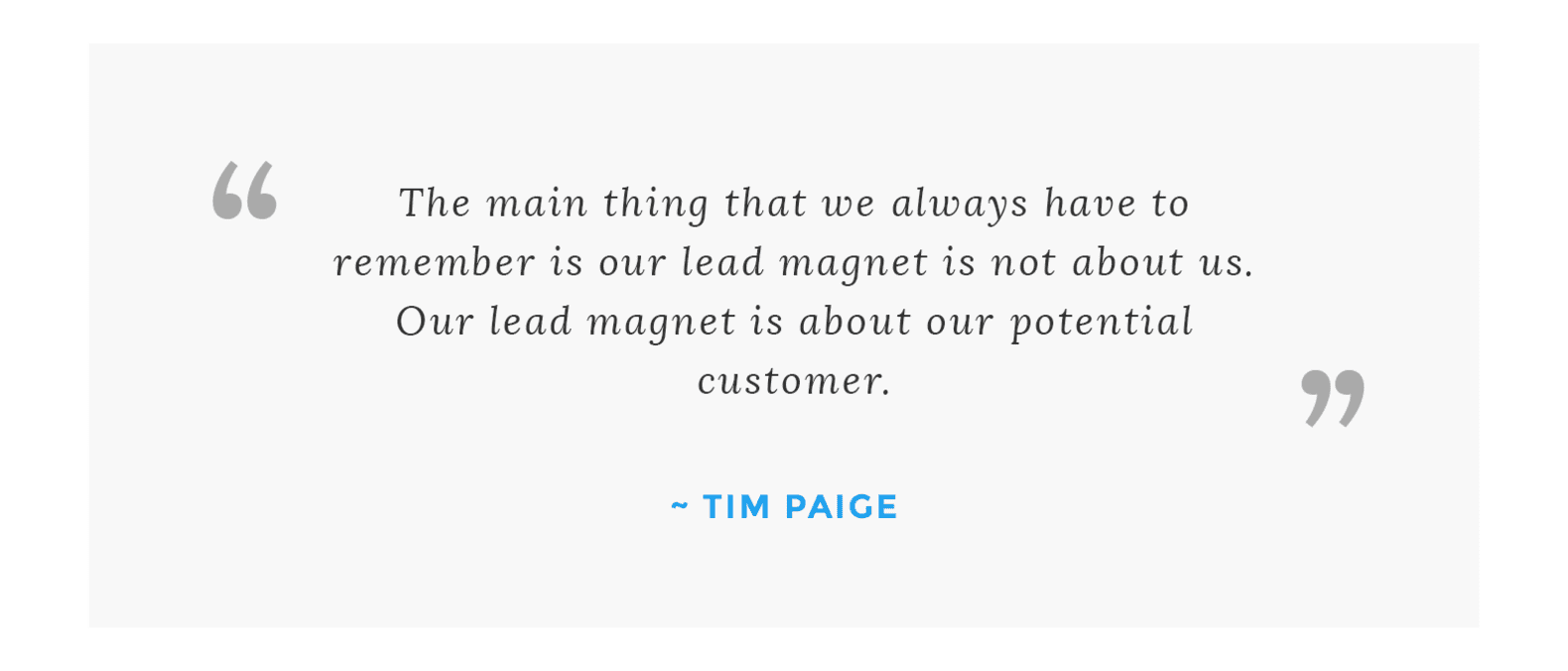 Does a Lead Magnet Have to Be a Digital Product?
No, not necessarily! If you're a retailer or a brick-and-mortar business, you can have great success giving away a coupon, free pass, or discount code in exchange for someone's email address.
Check out how this Australian shoe shop does this. (It totally worked on me, and the next time I need some fancier-than-my-Chuck-Taylors footwear I'm likely to become a customer. If they'll ship internationally.)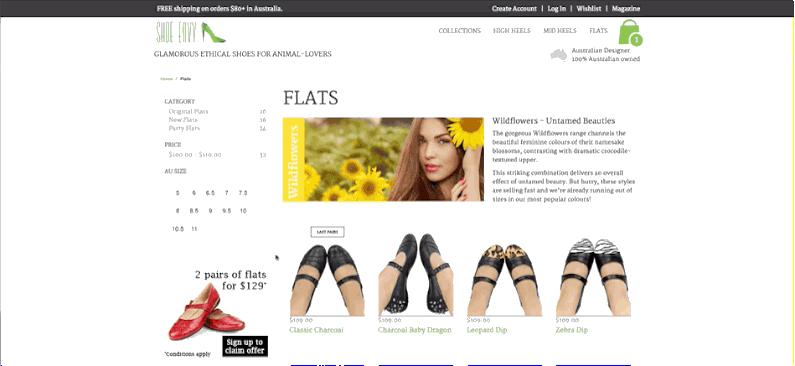 If you're not a Leadpages customer, you can download the coupon template seen here from this post.
What's a Content Upgrade—and How Can I Make One?
A content upgrade is a specific kind of lead magnet designed especially to offer on one particular blog post. You can think of it as the milk to your blog post's cookie, or the wine flight designed to pair with a good meal. It enhances the information you've learned in the post, and perhaps makes it easier for you to implement in your life.
Leadpages helped popularize this strategy back in 2014, when the first savvy bloggers who'd happened upon it were seeing massively improved lead generation results. In this post, we broke down the essentials of the content upgrade for the first time and collected 21 excellent examples from around the web:
The Content Upgrade: 21 Examples of the Strategy That's Changing Blogging
There's still plenty of inspiration to be found in that batch of successful content upgrades, though some of the visuals may be a little dated. To explore what bloggers had come up with in the year since we first heralded this strategy, we more recently published an update. Check it out here:
12 Irresistible Content Upgrades: Real-Life Inspiration for Bloggers with a Business
How Do I Know If My Lead Magnet or Content Upgrade Is Good Enough?
Of course, the surest way to know what kind of lead magnet will get downloaded is to put it out there and watch what happens. But if you've got a certain number of leads or sales you need to make this month or this quarter, your risk tolerance might be a little low for that.
So you might want to test-drive your lead magnet idea first. You could:
Send it out to a small group of trusted customers
Broadcast your opt-in page to a very limited audience with a low-budget Facebook ads campaign
Ask a few friends in (or outside) your industry to give you their thoughts
Post in forums asking whether users would find value in the resource you're considering creating
I hope one or more of the resources in this post will help you create your own phenomenal resource that pulls in leads for you day after day.
Got any more questions on lead magnets? Ask them in the comments.