As our user base grows at LeadPages™, we have the privilege of seeing more and more landing pages created every day.
And as that number of users increases, it becomes clear that more and more businesses and individuals are using landing pages to custom-tailor their marketing messaging to various traffic sources and customer types.
The interesting part? This seems to extend beyond just our user base.
Hiten Shah (co-founder of KISSMetrics and CrazyEgg) recently touched on this in his highly useful weekly newsletter for folks interested in Software-as-a-Service companies, SaaS Weekly:
"I'm noticing a trend with SaaS websites that I love and want to see more of. People are creating landing pages for new feature releases, target audiences and also different ways to describe their product. It's a great tactic for getting incremental sign ups from curation websites like Growth Hackers, Product Hunt, HackerNews and others. It's also good for SEO and paid acquisition."
Hiten then provided links to several of his favorite recent landing pages he'd come across:
While many of these pages were not landing pages in the traditional sense (several are merely pages on the company's website, sharing the same header and footer navigation as all other pages on the site), a few things became clear:
In many cases, the company was using the page like a landing page.
They were applying a lot of the landing page practices we preach here at LeadPages™.
They were using many of the same trends in these pages that we're already seeing in the thousands of landing pages our 25,000+ LeadPages™ users create every month, and in the flood of landing page templates independent designers are creating for our template Marketplace.
In this post, I want to introduce you to 15 of the landing page trends present in these nine pages that we've also noticed in the pages being created by our users and Marketplace designers.
Why? Simple — because it will show you what's working best in landing page design right now, so you can implement these ideas in your own pages.
Let's take a look.
Trend #1: Using the 2-Step Opt-In / Signup Process
The most pleasant surprise about the majority of these landing pages? They were missing the visible signup/opt-in forms that we call a "one-step opt-in form." We've been recommending you not use a one-step opt-in form for some time. These visible forms tip off visitors immediately that the page seeks to take from them (rather than give them something of value).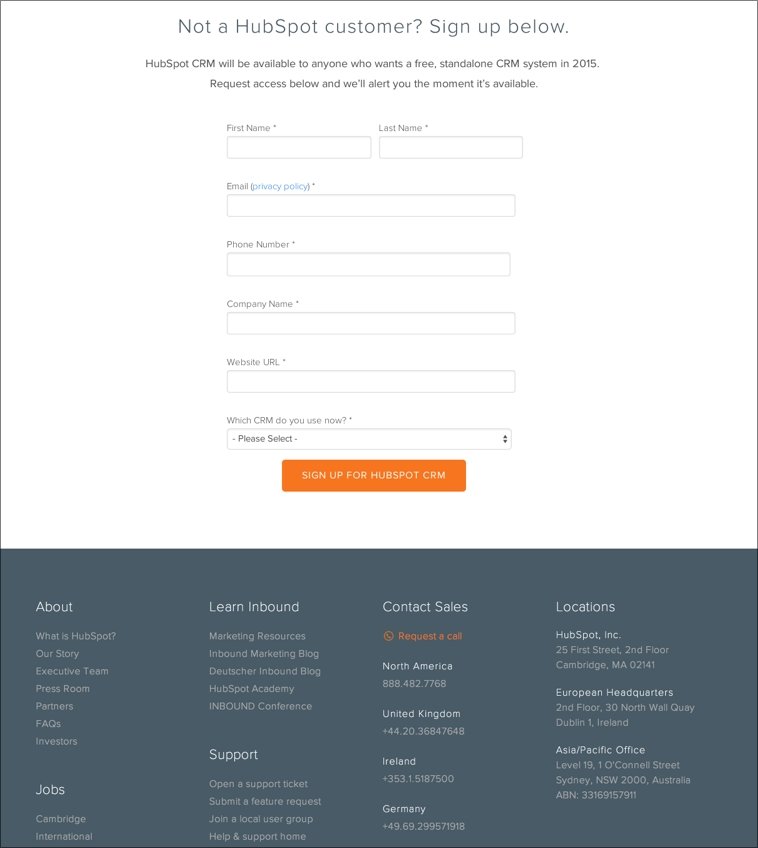 Only HubSpot and Intercom had one-step opt-in forms on their landing pages. All the others featured buttons that either:
a. Caused the signup form to appear when clicked, or
b. took you to a separate signup page when clicked.
This is what we call the two-step opt-in process. We've noticed that, on average, switching from a one-step to a two-step process results in a relative increase of about 30% in conversion rate.
Why is the two-step process typically more effective? Two reasons:
Placing a form directly on a page automatically signals to your visitors that you want to "take" something from them. An inviting button, on the other hand, provides a sense of "giving."
Clicking a button to pull up the form forces visitors to make an actual choice. They have to decide whether or not they will fill out the form, or click the exit button. The two-step process doesn't allow them to simply ignore your form.
The two-step process is something we build into all of our landing page templates at LeadPages™, and the designers submitting templates to our new Marketplace are following suit.
Trend #2: Targeting Specific Business Verticals
In his email, Hiten mentioned that landing pages are being created for different "target audiences." This rising trend is one of the best ways to use landing pages because it allows you to reframe your product, feature, or service in the context of different types of customers or business that may use it.
One type of target audience I immediately noticed in the nine pages he referenced is the business vertical — an audience composed of people in a specific business.
For example, Dropbox's landing page is showcasing Dropbox for Business. Square's landing page is showcasing Square for Food and Beverage. Help Scout's landing page is showcasing Help Scout for Online Retailers.
If you have a product that serves different types of customers, creating a custom landing page for each type adds a valuable conversion tool to your arsenal.
Trend #3: Deploying Retargeting Ads
Just because a visitor leaves your landing page without converting doesn't mean the conversation is over forever. In fact, even when someone doesn't take your desired action, your page can still warm them up for future conversion opportunities.
Perhaps that's why I feel like I'm seeing more and more retargeting ads based on landing pages I've visited.
In fact, just from visiting those nine pages from Hiten's email, I've already seen retargeting ads for two of them: LeadPages™ user Brian Moran, founder of Get10000Fans.com, recently created a landing page he used specifically for retargeting ads. Combined with a clever retargeting strategy, the page ended up lowering his customer acquisition cost by nearly 90%.
While this may not be something you're able to notice on landing pages, it's certainly a viable strategy that's being used in conjunction with them.
Trend #4: Showcasing Customers
While this may not be a new trend, utilizing the halo effect by showcasing customers is still influencing most landing pages you'll find right now.
What is the halo effect? Basically, it's a cognitive bias that influences people to judge a person (or company) based on their overall impression of that person or company.
Many businesses tap into this bias by displaying other notable brands that use their products or services. This action can boost visitors' overall impression of the company, which is precisely why so many of these companies implemented it on their landing pages:

Many of the landing page templates being created for our Marketplace are including this type of social proof section. Here's just one example: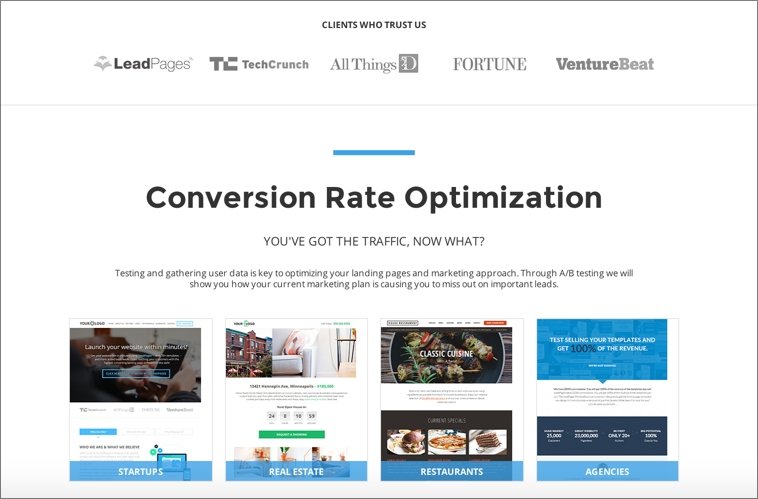 Trend #5: Featuring These Two Types of Testimonials
Sure, we all know testimonials are an effective way to increase conversions, but is there a particular kind of testimonial marketers are using more than others?
After analyzing the testimonials used on Hiten's nine pages, there seemed to be two distinct types of testimonials being featured:
1. Prestige Testimonials: These are testimonials from individuals or companies with name recognition. These play into the halo effect we just discussed.

2. "In the Trenches" Testimonials: These are testimonials from folks who are "in the trenches" actively using the business's product or service at their company. While these testimonials may not always speak directly to the person who ultimately makes the purchasing decision, they do speak to the person most likely to actually be using the product.

After noticing these two types of testimonials on Hiten's nine pages, I actually noticed both of them on one of the landing pages we recently created at LeadPages™: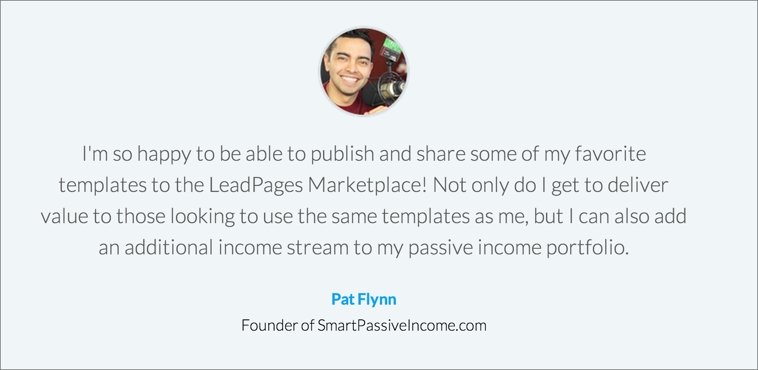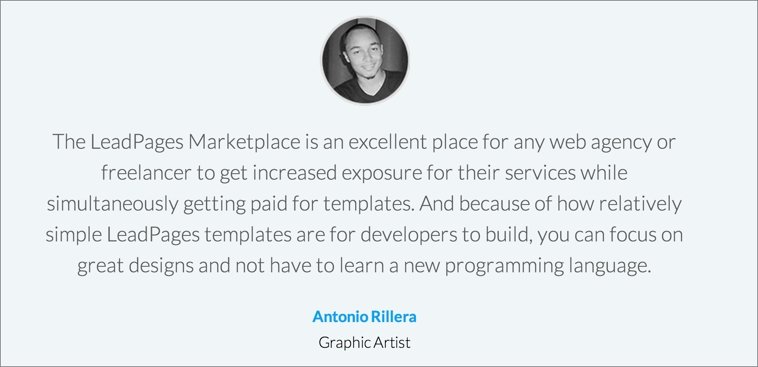 These testimonials combine to increase both credibility and practicality in visitors' minds.
Trend #6: Writing Copy for Decision Makers
It's important to realize, however, that just because folks "in the trenches" might be the ones using your product…doesn't necessarily mean they'll be the ones making the purchasing decision.
That's why you'll notice lots of language like "enables your team to do X" or "makes it easier for your employees to do Z" in landing page copy.
On Dropbox's "Dropbox for Business" page, for example, they say the following:
"Employees will pick up Dropbox for Business in no time."
"Let team members instantly sync and share data on any device, so they can work together from anywhere."
"What can Dropbox for Business do for your team?"
On Segment's Redshift page, they write, "Segment + Redshift lets your data team move faster than ever."
And Slack's page reads, "Slack works with the services that your team already uses!"
It's important to give the folks in the trenches a voice, but it's also important to make sure you're speaking to those with the power to purchase.
Trend #7: Using a Desired Action for Button Copy
There was an interesting difference between the button copy of the pages that featured one-step signup processes versus the pages featuring two-step signup processes.
Both of the pages featuring one-step signup processes (HubSpot and Intercom) used the phrase "Sign Up" in their button copy: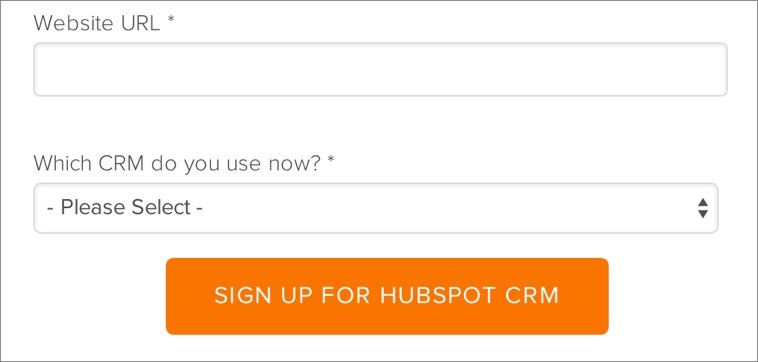 Nearly every page using the two-step process, however, used phrases like "Begin a Free Trial," "Try It for Free," or "Get Started."
This is something we recommend you test on your own pages. Most button copy split tests we've seen result in copy describing an action the visitors want to take beating copy using phrases like "Sign Up" or "Submit."
After all, when a visitor signs up for something, they're not signing up because they want to sign up — they're signing up because they want to "get a free trial," "try it free," or "download the ebook," for example.
Trend #8: Using the WIIWRDIGM Headline Formula
As a copywriter, one of the first trends I noticed among these nine pages was occurring in their headlines. They all seemed to answer one or both of the following two questions:
What is it?
What result does it give me?
Let's take a look at a few examples:



If your landing page's goal is to get visitors to use one specific product or service, you may want to test out the WIIWRDIGM (What Is It? What Result Does It Get Me?) headline formula. After all, it's the only headline formula that's easier to implement than it is to say out loud.
Trend #9: Going Flat
We've been saying design is the new copywriting for a while now here at LeadPages™. Of course, we don't mean that great design allows you to get away with bad copy. What we mean is that design has a bigger impact on conversion rates now than ever before.
We see this impact play out again and again with the landing page templates we create for our users.
When we recently completely updated the design of our highest-converting webinar registration page (based on the average conversion rates our users were getting with the page) to a cleaner, more modern design, the newer design quickly eclipsed the old version's conversion rate.
As of today, the newer template is still our highest converting webinar registration page:
With that in mind, it's easy to see why just about all of these pages more or less follow the principles of what's popular and perceived as "good" right now — flat design.
Windows and Apple have both made shifts toward flat design in the look and feel of their operating systems. Flat design is characterized by "clean, open space, crisp edges, bright colors and two-dimensional/flat illustrations." It doesn't take long to see its influence on these (and many other) landing pages.
Trend #10: Using Contextual Imagery
Using contextual imagery is something that Apple does on their landing pages better than anyone, and it appears that others are taking notice.
What is contextual imagery? Essentially, it's the use of images that place your product or service within the context of your visitors' lives.
The post I just linked to showed how Apple did this on their landing page for iOS 8:
Similar contextual imagery was used throughout the nine pages Hiten linked to. For example:

Contextual imagery isn't just about showing your product or service in a context that's familiar to your visitors. It's also about showing it in a context that's desirable to them.
Notice that in the first example the kitchen features a nice wood countertop and beautiful, fresh ingredients. In the second, the contact is visiting the "Pricing Page" (an action business owners would love to track on an individual basis). And in the third, the communication is clear and streamlined.
Remember that second ingredient and you'll be able to take your contextualized images to the next level.
Trend #11: Having a Floating Nav Bar
Just because a landing page is isolated doesn't necessarily mean it shouldn't be treated as its own ecosystem. If your page is long, or simply contains a lot of information, a floating navigation bar can be a useful addition to the mix.
Basically, it ensures that visitors can navigate the various sections of your page without having to scroll back to the top or hunt for them.
Buffer, Intercom, Segment, Slack, and Square all utilized the floating nav bar on their pages:
The floating nav bar isn't something that's only trending up within these nine pages, though. It's also something we're seeing more and more in the templates people are developing for the LeadPages™ Marketplace:
While this certainly seems like a worthy inclusion from a design/usability standpoint, it would be interesting to see a test that shows how these floating nav bars impact conversions.
Trend #12: Being Mobile Responsive
Seven out of nine pages are mobile responsive, meaning they will adapt to the screen size on which they are viewed. You can tell by simply grabbing a corner of the window and dragging the page to decrease the size:
With the ever-increasing percentage of mobile browsing (mobile devices accounted for 55% of Internet usage in January of 2014), mobile responsiveness is doing more than just trending up — it's become part of our 10 commandments of landing pages. It's a must. That's why all of the landing page templates we create in-house, and the ones being created for the LeadPages™ Marketplace, are all mobile responsive.
And if the increase in mobile browsing isn't convincing enough, consider this — Google is indicating that "mobile-friendly" websites will start receiving a "mobile-friendly" badge in search rankings, and that they're testing mobile friendliness as a ranking signal.
If your landing page isn't mobile-friendly, search engines may quickly be joining the frustrated visitors looking down upon it.
Trend #13: Using Video
Almost half of these landing pages featured some type of video. That echoes the behavior we're seeing from more and more of our customers and many of the new templates we're seeing with built-in video sections in the Marketplace.
The reason video continues to rise is simple — study after study shows that we're watching more video than ever online, and that the medium can have a major impact on purchasing decisions.
Trend #14: A High Call to Action
It may seem obvious, but it's worth pointing out — nearly all nine of these pages featured a high call to action visitors can see without having to scroll: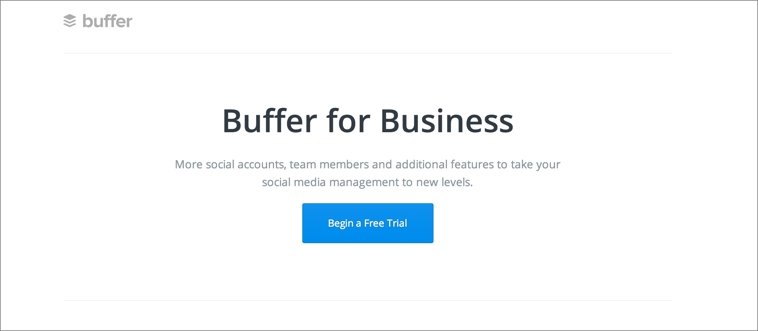 After these sections, these pages go on to provide extensive copy, testimonials, product information, and even videos. So what's the point in having a call to action so soon? Will anyone actually decided to start a free trial based on a headline and subheadline?
In some cases, yes. That's what we've seen again and again, and it's why just about all of the landing page templates we build feature a call to action above the fold.
This is trending up for a reason — it works.
Trend #15: They Make You Think, Wait… Is This a Landing Page?
As I mentioned earlier in this post, the first trend I noticed among these nine pages is that most of them are not 100% landing pages in the traditional sense of the term.

So why had Hiten Shah called them landing pages, and why was I seeing trend after trend on these pages that I also saw among the thousands of landing pages LeadPages users are creating?
Because, more and more, people and companies are treating their web pages like landing pages.
Why? Because potential customers will be landing on them. You may want the conversion-optimized landing page you created for your paid media campaigns to be the first thing that every potential customer sees on your website. But odds are, it won't be.
It might be a blog post. It might be your home page. It might be your "About" page.
And that's why these pages are looking more like landing pages — they're being optimized for conversions.
Now, would some of these pages be more effective if you stripped away the navigation elements that allow visitors to go to other pages? Most likely. That's why creating a separate, dedicated landing page without navigation to other parts of their website might be the right move when pushing paid traffic or social media traffic to these pages.
Regardless of whether companies choose to do that or not, though, one thing is clear — landing pages are having an increasingly large impact on the way we think about design.
What Trends Are You Noticing?
Some of these strategies and techniques are trending up on landing pages because they're best practices marketers have been utilizing in various formats for decades, while others (mobile responsiveness, flat design, retargeting, etc.) are more recent developments.
All of them are trends worth monitoring, and testing on your own pages to see how they work in your respective business.
I'm curious…what trends are you seeing in landing pages right now? Are there any you would add to this list? Leave a comment below and let me know.