10 pages. 10 marketers. 10 success stories.
That's what I have to share with you today.
Or as we call them, the "best of the best" landing pages and LeadBoxes for the past month.
Read on for a look at what makes these LeadBoxes and landing pages stand out.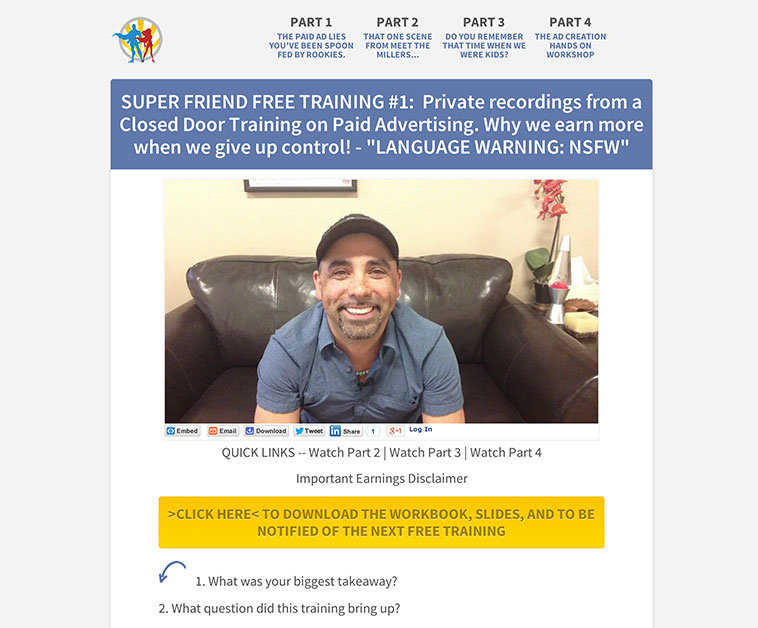 This is a classic example of a four-part video launch from Mike Hill and the Internet Marketing Super Friends.
What stands out here: Generally, when you release a four-part video launch like this, you might spend weeks (or even months) filming and producing the launch videos.
In this case, Mike Hill released four video recordings of a live presentation he gave on paid advertising. These recordings gave his viewers valuable content from this closed door training. Another plus: Releasing these past recordings also likely saved valuable production time in creating this launch series.
Quick tip for your marketing: If you're a speaker or coach who has given a live presentation in the past (and you have the right to use these recordings), you may be able to use the recordings of your live presentation in your own launch.
Looking at this stellar LeadBox above, you can understand why John Haydon recently tweeted that he was seeing conversion rates of 53% to 101% with his LeadBoxes.
What stands out here: This well-placed LeadBox is the first call to action on John's site. You can see this LeadBox when you click on the "click here" link in his homepage's header.
This LeadBox almost looks like it came with John's webpage theme, doesn't it? The colors and copy on this LeadBox seamlessly match the rest of John's homepage.
Quick tip for your own site: If you haven't tried it yet, add a matching LeadBox to your website header. It's an easy way to get opt-ins in the first place potential subscribers see.
For a closer look, check out www.johnhaydon.com, and click on the text that reads: "click here to join for free" to see this LeadBox in action.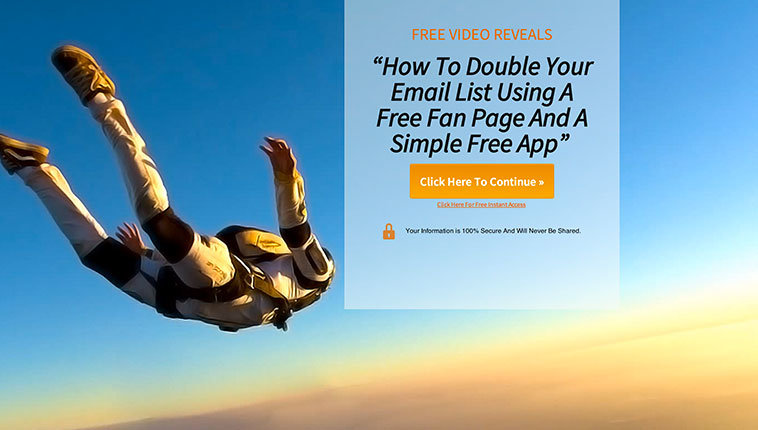 This gorgeous page almost speaks for itself, doesn't it?
Besides being one of the most visually stunning pages this month, this opt-in page also features a killer how-to headline that would inspire most marketers to click.
Quick tip for your own copy: "How to" headlines work in every industry imaginable. But the best "how to" headlines make a specific, unique promise that requires very little effort for your readers to act on. This headline that promises you can double your email list using two free tools is a great example of that.
Also, the image of the skydiver draws your attention exactly where Brian Moran and his team at 5 Minute Marketing wants you to look — at their opt-in box.
For a closer look, you can see this page live and in person here.
4. My Sports Dietitian: "Athlete's Shopping List"
Pretty cool page, right?
The marketers at My Sports Dietitian used the Video Background template to create this dynamic landing page.
A little insider info: When LeadPages first released this Video Background page six months ago — this landing page tripled conversion rates for several marketers we know. It's easy to see why. The moving background makes it tough to ignore this opt-in page.
But in this case, the marketers at My Sports Dietitian managed to make this video background page even more mesmerizing, by using this triple split screen video.
Also, these marketers used video clips of their target audience — athletes — to entice other athletes (or would-be athletes) to opt-in. Did you notice how one athlete stares at you from around the opt-in box, almost daring you to join their email list? Very powerful.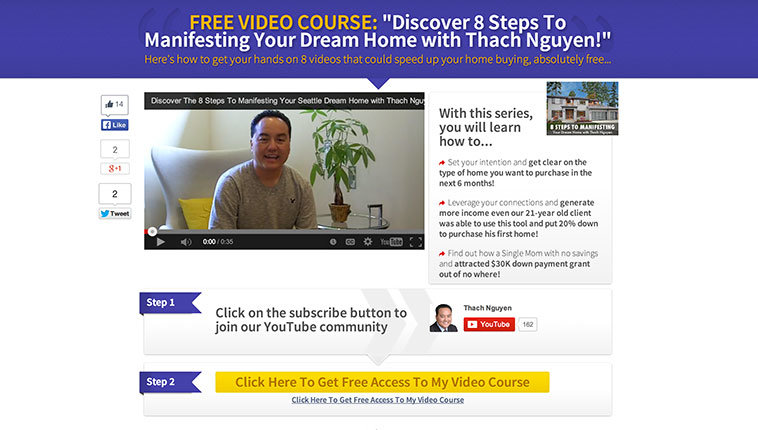 Check out the fantastic YouTube landing page from realtor and developer, Thach Nguyen.
What stands out here: By using this YouTube landing page, this realtor, Thach Nguyen can market his business in three ways. He can build his email list, potentially build his client list, and direct traffic to his YouTube channel all at the same time.
Also, if you opt-in on this page, you get access to Thach's eight-part "manifesting your dream home" video series you see below.
Quick tip for your own site: Creating a follow-up video series is one of the most powerful ways to turn casual new leads into your next best clients. Here at LeadPages, we have used a video series just like this to introduce new subscribers to our business.
If you haven't created a follow-up series before, you may want to check out this eight-part series from Thach Nguyen and his Marketing Director, Stacia Loo below.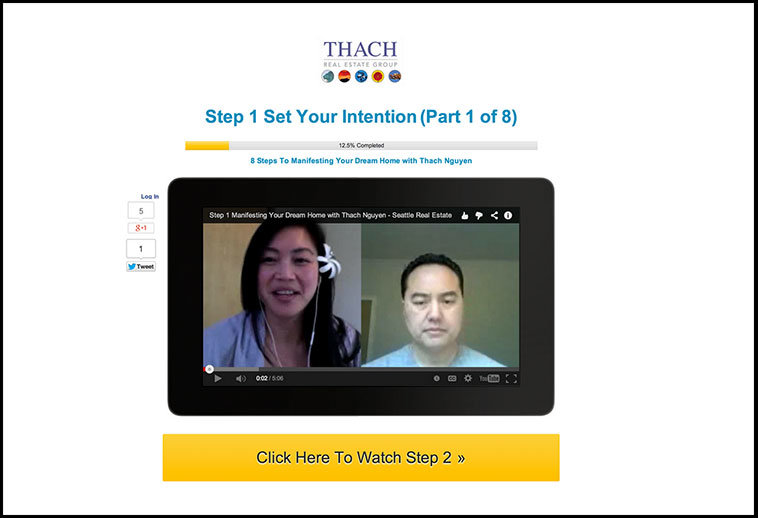 For the full effect you can opt-in to see the whole video series here.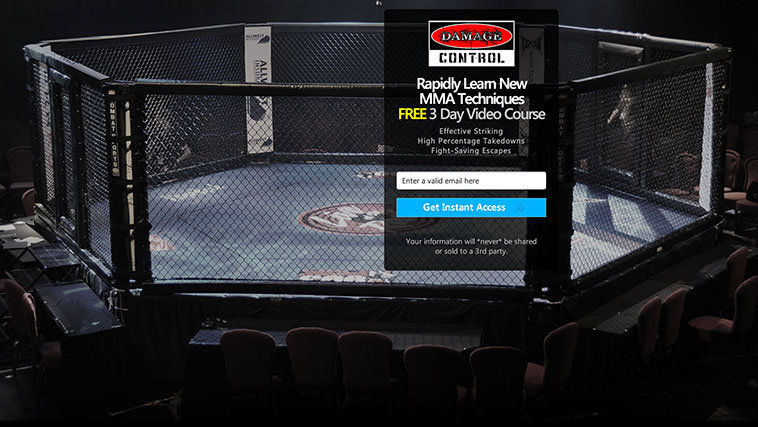 Looking at this dark, foreboding opt-in page, it's impossible not to think about fighting, martial arts, and even getting into the ring and sparring yourself.
In other words, the marketers at Damage Control MMA have engineered a landing page that inspires a non-martial arts person like myself to think about martial arts. That's powerful.
Also, notice how specific their copy is? This video course promises: "effective striking, high-percentage takedowns, and fight saving escapes." This level of specificity implies that these MMA trainers are high-level experts who understand their craft.
Quick tip for your copy: Be as specific as possible as you're describing how subscribers will benefit from your lead magnet (or "opt-in bribe"). Use concrete language that shows exactly how your subscribers' lives will change after consuming the content in your lead magnet.
If you need an example of this "concrete language," I recommend you check out Damage Control MMA's opt-in page here.
7. All Things Career: "5 Biggest Career Mistakes Introverts Make"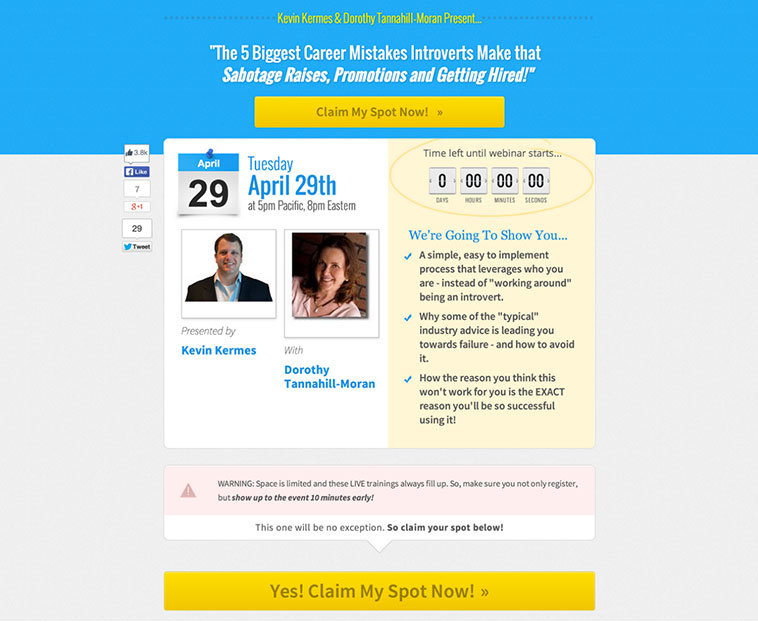 This is an outstanding Webinar 2.0 page from Kevin Kermes, founder of All Things Career.
From the "5 Biggest Career Mistakes" headline to the genuinely fascinating "fascination" bullets, the copy on this page is exceptional. (I recommend you take a closer look here.)
But frankly, that's not why we chose this webinar page to be in the top 10 this month.
No, we chose this page because of the truly ingenious way that Kevin and his team at All Things Career are driving traffic to this webinar page.
A Linkedin First: This is a new one for us. As you can see below, Kevin posted an article inside his Linkedin page to market this webinar. Kevin even dropped an image of his webinar registration page inside the post.
Quick tip for your marketing: If your business has a presence on Linkedin, consider using posts like this to mention any upcoming webinars, launches or other developments coming for your business.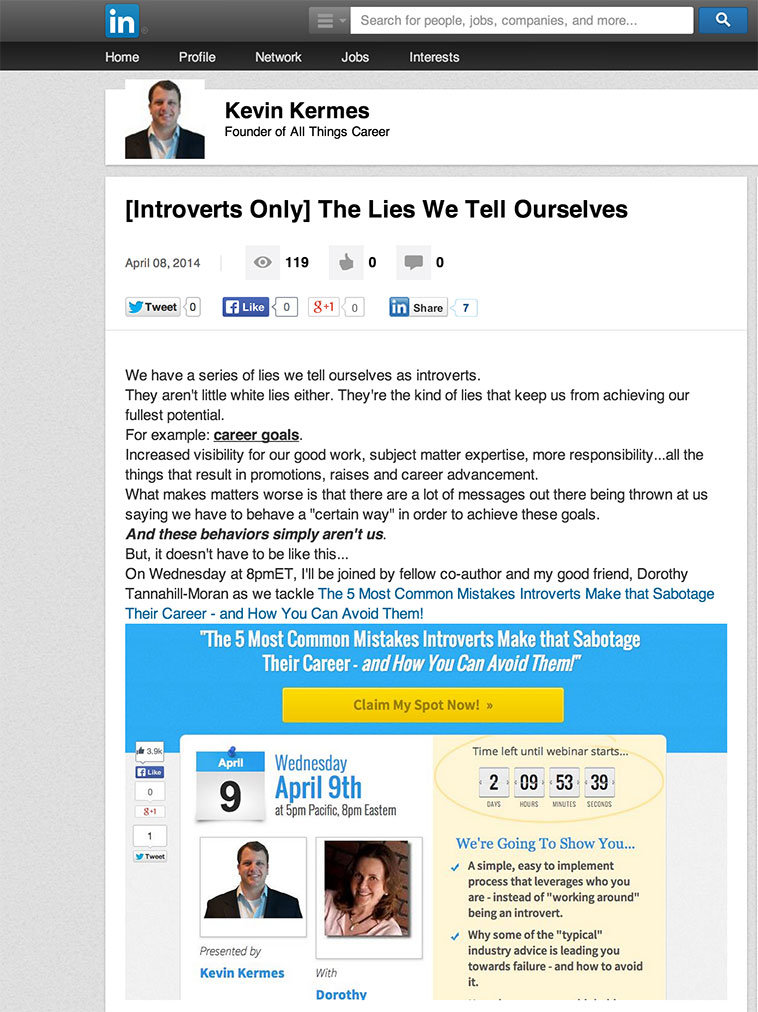 To get the full effect, you can read this entire Linkedin post right here.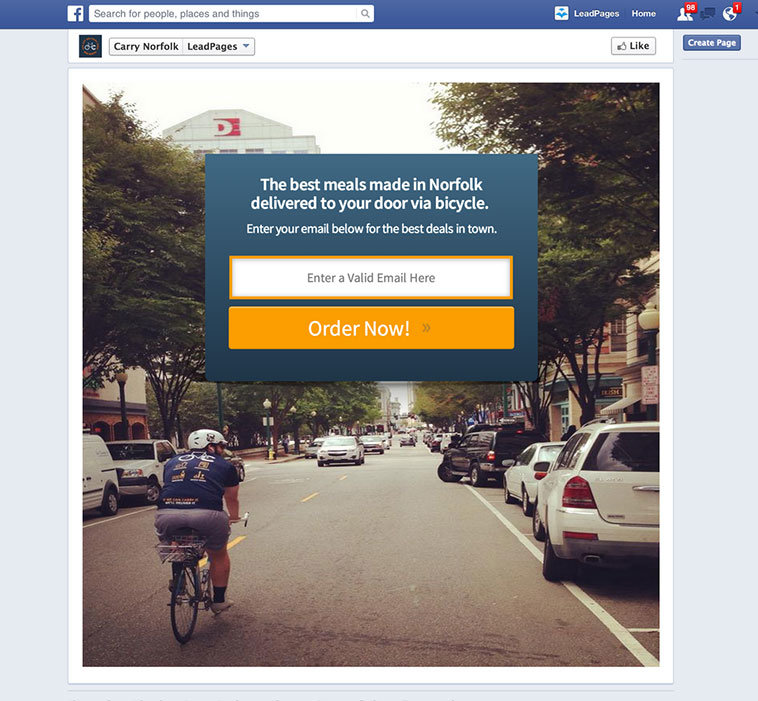 Love this page from Carry Norfolk — a food and errand delivery service in Norfolk, Virginia.
What stands out here: The marketers at Carry Norfolk have taken what looks like an old-fashioned photo and used it to build their list (and get orders for their business) in a modern way — on Facebook.
Quick tip for your site: Lately, we have seen marketers get a higher opt-in rate from publishing the exact same landing pages on Facebook, rather than on their site. If you currently run a restaurant or other local business with a fan page, you should test out publishing a Facebook landing page like this one.
If you need any ideas for how to make your Facebook page more compelling, you can check out this page live and in person on Carry Norfolk's Facebook fanpage here.
This is one of the classiest LeadBoxes I've seen yet.
What stands out here: The marketers at the Luxury Villa Collection are linking an image of their stunning "Little Black Book" lead magnet to a LeadBox on their homepage.
As I've mentioned in the past, this is a brilliant technique because as consumers, we're used to clicking on images of books to get more information.
Quick tip for your own site: If you haven't tested it yet, try linking an image of your lead magnet to a LeadBox to increase your opt-ins.
If you need ideas for your own LeadBoxes, I recommend you check out this stunning example at theluxuryvillacollection.com. Be sure to click on the image of the lead magnet to see this LeadBox.
10. Spiritual Business Formula: "Free Self-Test Reveals…"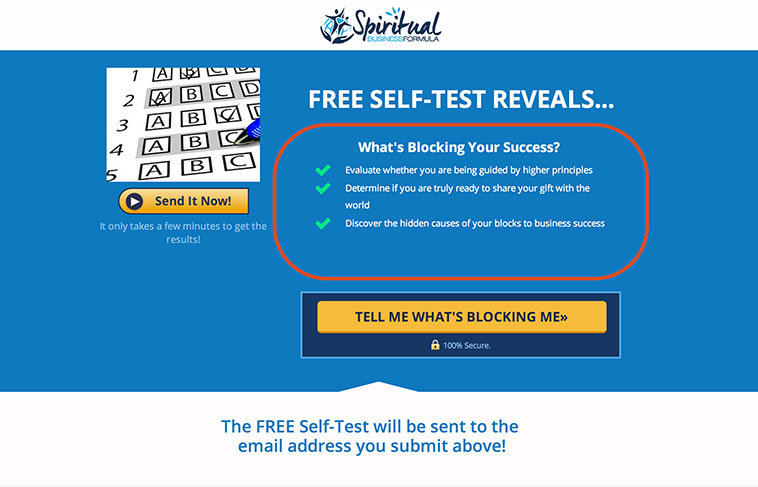 This is a brilliant use of the new perfect squeeze page — from Maggie and Nigel Percy, co-founders of Spiritual Business Formula.
What stands out here: Above all, the lead magnet makes this opt-in page worth noticing.
Rather than receiving a free ebook or video, subscribers get a self-evaluation test that shows what's blocking them in business. This self-evaluation accomplishes two things:
In any industry, potential subscribers love to learn more about themselves, so offering a test is a powerful incentive for subscribers to opt-in.
Taking a test like this one can show subscribers that they are struggling with certain problems that they may not have realized. In this case, "being blocked in business." Once a subscriber realizes they have such a problem, they often become one of your best customers if you offer a solution to that problem.
Also, notice the button copy: "Tell me what's blocking me." That's an enticing call to action that you may want to borrow for your own pages.
Before You Go, Do You Have a Page to Share?
Congratulations to all the marketers featured in today's post. Thanks for sharing your outstanding innovations on these pages.
That's it for today's roundup. But before you go: Do you have a landing page or LeadBox that you'd like to share here in a future landing page roundup?
If so, drop a link to your page in the comments below.