Sometimes the most innovative marketing ideas are also the simplest.
With that in mind, we're sharing 10 of the simplest and most compelling marketing solutions we have seen from our LeadPages users in June.
These 10 favorites include many easy-to-implement ideas you can borrow for your marketing.
So prepare to be inspired, and read on for a look at these 10 favorites…
Love this simple LeadBox and sidebar from the marketers at SamCart.
What stands out here: With a single call-to-action: "Join thousands of conversion fanatics who also get the latest sales hacks weekly" — this LeadBox both identifies SamCart's target audience, and gives you a compelling reason to opt-in.
Also, this LeadBox is a permanent fixture on SamCart's blog sidebar. So this simple, all-encompassing call-to-action allows these marketers to continually build their list on the SamCart blog — without even offering a specific lead magnet.
If you're thinking of adding a LeadBox to your blog sidebar, this is a textbook example. Go check it out right here.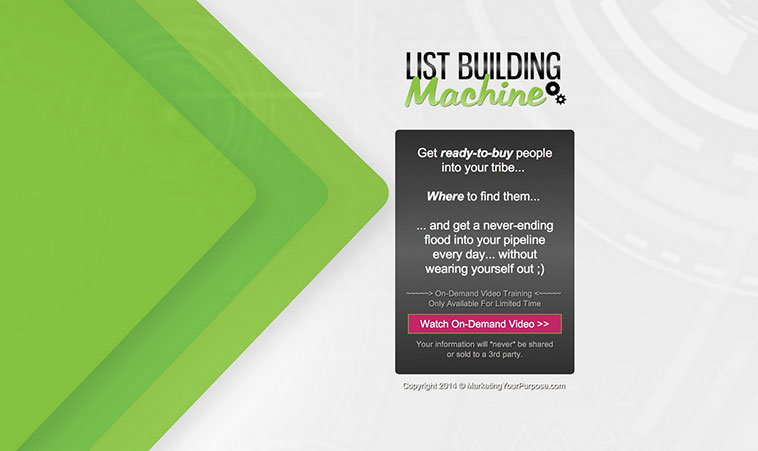 So simple, and yet so brilliant.
What stands out here: The relatively short headline on this Basic Squeeze Page (Aligned to the Right) gives marketers not one, but six different reasons to opt-in. Let's count them out…
1. "Get ready-to-buy people into your tribe:" "Ready to buy" is an important detail here. You're not just building a list, but finding qualified buyers for your business.
2. "Where to find them." They're telling you where these potential customers are.
3. "Never-ending flood into your pipeline every day:" The implication is that you can do something once and your audience will continue to grow.
4. "…Without wearing yourself out:" This is the counterintuitive part of this page. They're saying: "You can do all this, without a lot of effort." (Quick tip: Anytime you can add a counterintuitive section like this to your headlines — do it!)
5. "Watch On-Demand Training Video:" It's not just a video — it's an "on-demand video." This gives it more value.
6. "On Demand Training Video Only Available for a Limited Time:" It's always a good idea to give potential subscribers incentive to make a decision and opt-in right now. In this case, saying this video is only available for a limited time does this.
Also, notice the background? This entire background draws your attention to the opt-in box. The large green arrow leads your eye on a pleasing path toward the headline. Even the design swirls in the background focus your attention to the opt-in box. Nicely done.
Take a closer look at this landing page for yourself right here.
Who says a LeadBox is just for building your list?
LeadPages user Pat Flynn added this LeadBox to his blog post to get instant feedback about his potential app product.
What stands out here: With this simple LeadBox, Pat could gauge how many potential buyers would be interested in this app product he was thinking about creating — and start building an "interest list" of fans to contact when/if he does create this product.
This is a fantastic strategy for finding out if demand exists for your potential product, or even to create demand for a product — before you invest the time and resources to develop it. (If you're thinking of creating a product soon, I recommend you test this.)
You can get a closer look at this blog post here. Be sure to scroll to the bottom and click on the green call-to-action button to see this LeadBox in action.
4. Integrative Cancer Answers: Book Sales Page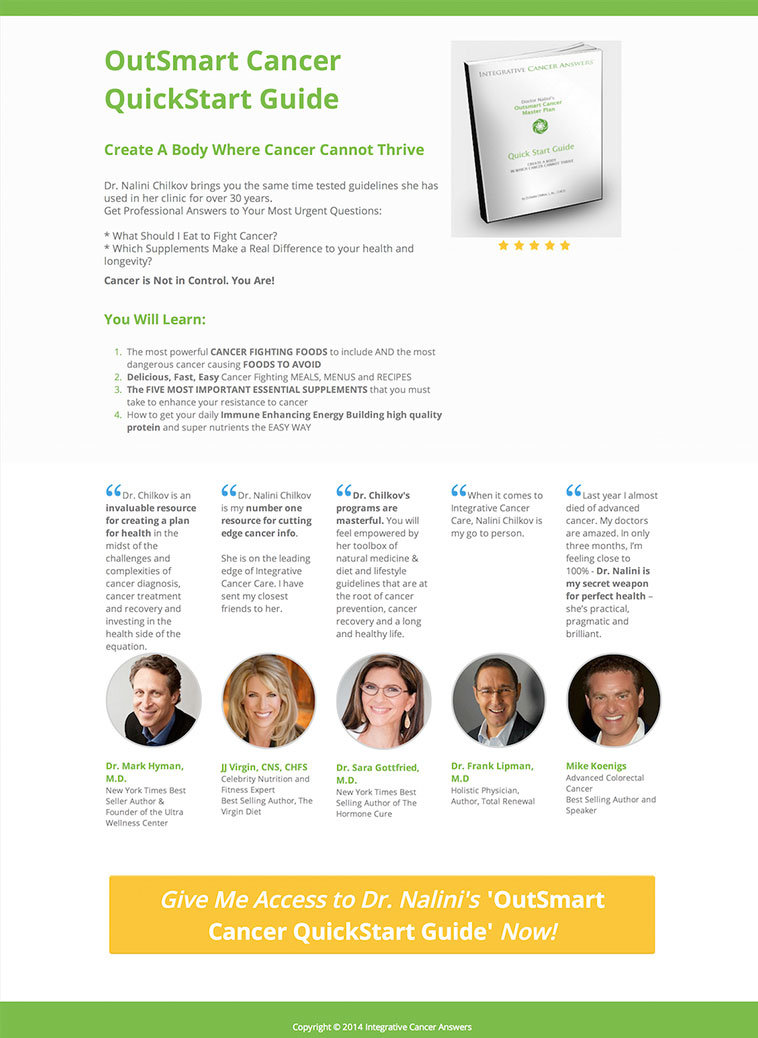 Love the clean lines and simplicity of this Book Sales Page.
What stands out here: LeadPages user Andrea Hale only used the bare minimum elements on this Book Sales Page to sell this "OutSmart Cancer Guide." Everything on this sales page has a purpose — from the powerful fascination bullets to the eye-catching call-to-action button at the bottom of the page.
Also, notice that your eye is immediately drawn to the images of the doctors and expert authors giving testimonials for this book. For a topic as sensitive as this, it's important to have this human element to give the book credibility.
(Quick tip: If you're also marketing a sensitive topic, you may want to use testimonials with images like this.)
Get a closer look at this page for yourself right here.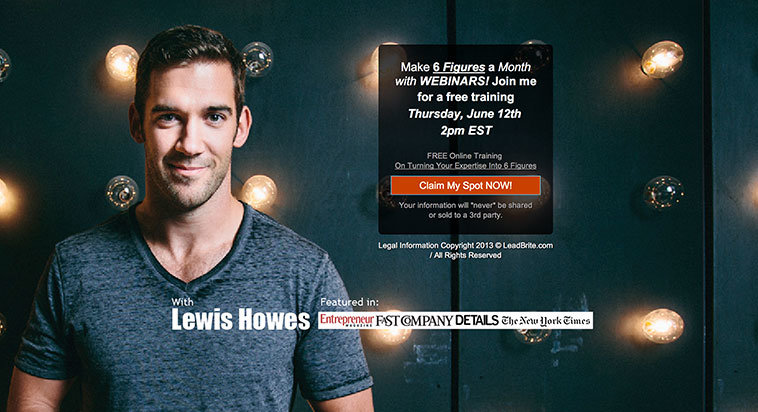 This is about as far away from a standard webinar registration page as you can get.
But as you can see, this simple Basic Squeeze Page (Aligned to the Right) has everything attendees need to know to register for this online event with Lewis Howes.
What stands out here: This background is already striking on its own with the image of Lewis Howes standing against the lights. But these marketers made this background even more compelling by mentioning that Lewis has been "featured in Entrepreneur Magazine, Fast Company Deals, The New York Times."
Mentioning the publications Lewis Howes has appeared in gives this webinar host more credibility. (Quick tip: You may want to add an "as featured in" section to your own webinar pages if you have been mentioned in major publications in the past.)
See for yourself when you check out this webinar page right here.
This is another simple but brilliant LeadBox technique from John Lee Dumas of Entrepreneur On Fire.
What stands out here: As you can see, John is using a LeadBox in the sidebar of his homepage to constantly market his upcoming webinars. This LeadBox also continually builds his list by offering a free "WebinarOnFire" worksheet.
Simply adding a LeadBox to your homepage like this is one of the easiest ways to market your webinars. You don't even need to create a webinar registration page — you just drop a line of code into your sidebar.
As an example, I recommend you check out John's sidebar on his homepage. While you're there, be sure to click around because John has several more LeadBoxes on his homepage building his list.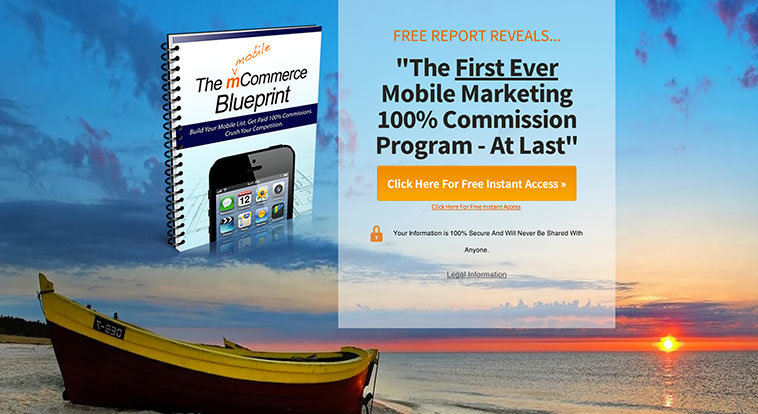 Gorgeous, isn't it?
What stands out here: Beyond the stunning background, this Basic Squeeze Page pulls you in with a headline that promises the "first-ever mobile marketing 100% commission program." The fact that this is the "first ever program" and offers "100% commissions" could easily be enough to get their target audience to click.
Quick tip for your own copy: To get the best results, your lead magnet and copy should convey "first ever" ideas that have never been used anywhere else.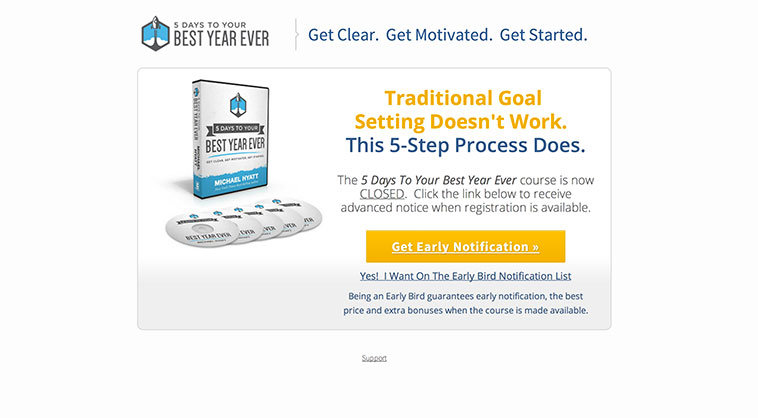 "Get clear. Get motivated. Get started."
Just the first six words on this Giveaway (2-Step) Squeeze Page tell potential customers what they'll get from Michael Hyatt's course. Then the headline just reinforces this point: "Goal Setting Doesn't Work. This 5-Step Process Does." That's great copy.
What else stands out here: Michael Hyatt's 5-Step course is currently closed to new customers. However, his audience can still opt-in on this page to "get early notification" of when this course will be available again.
I'd recommend you allow your list to "get early notification" for any product, service or event that you plan to sell in the future. Like with Pat Flynn's LeadBox above, this is a quick way to build an "interest list" of fans to contact when you start marketing this product once again.
As an example, you can take a closer look at this "closed" page here.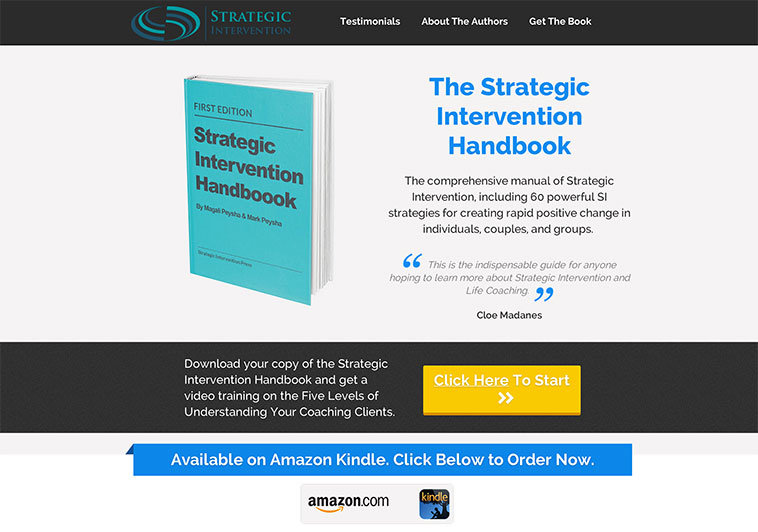 If you're an author or a speaker, I recommend you take a closer look at this eBook Landing Page from life coaches Mark and Magali Peysha.
What stands out here: This entire mini-site has been engineered to both build your list and market your latest book at the same time. As you can see, Mark and Magali are doing just that.
If potential subscribers click their yellow call-to-action button, they can opt-in and receive Mark and Magali's video on the four types of coaching clients. If customers click the "Amazon Kindle" link, they can purchase this entire handbook with 60 different strategies for coaching clients.
(Notice: This video lead magnet perfectly matches the themes in Mark and Magali's "Strategic Intervention" book. By making the video match the book, these authors can pre-sell subscribers on buying the book later. This is something you should always do on pages where you're both selling and building a list.)
Below the fold, the rest of this mini-site is packed with testimonials, author bios and a video to encourage subscribers and customers to take action. To get the full effect, check out the full page here.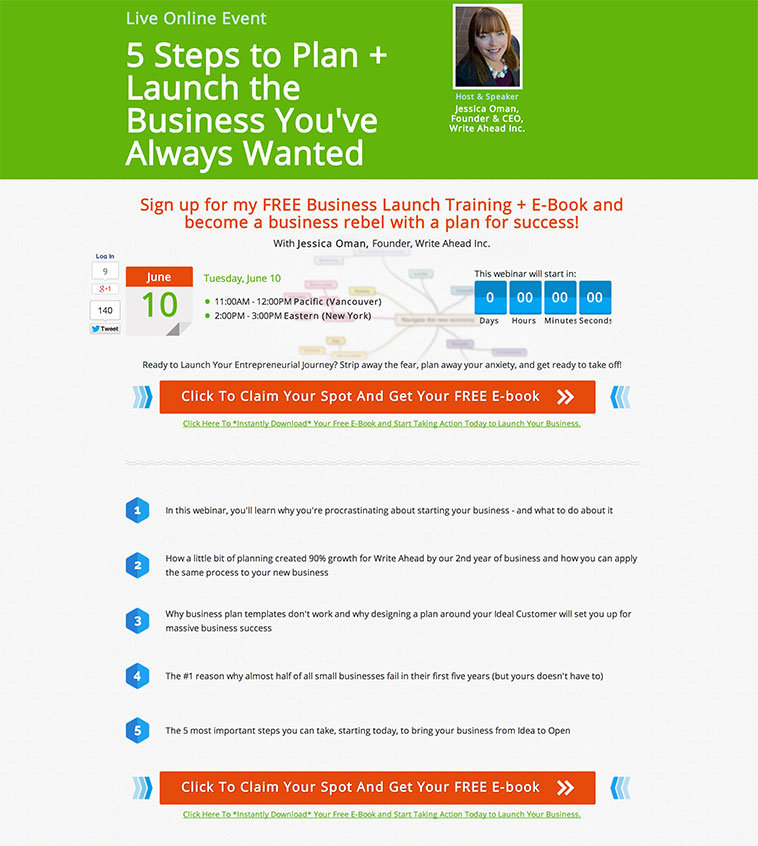 A little insider knowledge…
As of this writing, this Web 3.0 Registration Page is one of the top-converting webinar pages inside LeadPages — according to our sort-by-conversion tool. I love what Jessica Oman, founder of Write Ahead Inc., has done with it.
What stands out here: Everything on this Web 3.0 page is designed to entice your attendees to not just register but show up for your next webinar. As you can see, Jessica is using all these elements to her advantage.
For instance, Jessica included the blurred out mindmap on this registration page to build anticipation for what she will reveal at her webinar. She also is using the countdown timer to build urgency and encourage her attendees to register immediately.
Jessica also used the social share buttons to encourage attendees to share her webinar. (Notice: She got 140 people to share her webinar on Twitter — so this strategy is working.)
On top of that, Jessica has incredible fascination bullets on this page to entice attendees to register immediately. I recommend you take a closer look at her copy right here.
Before You Go…
Congrats to all the marketers in this month's roundup. I appreciate you sharing your ideas and innovations with us.
That's it for this month's roundup. But before you go, I'd love to hear what you think of these monthly landing page roundups.
Would you like to see more of these in the weeks and months to come here on the blog? Let us know in the comments below. Or just click "share" to let us know these are useful to you.