By Kat Von Rohr, Writer for LeadPages
Need ideas on how to create better pages for your business?
Then you need to see what these entrepreneurs below are working on.
Just in the past month, we have seen some incredibly innovative pages, across multiple industries.
Here's a glimpse at some of our favorite pages (in no particular order)…
1. 5 Minute Marketing: "A Fan Page Squeeze That Can Double Your Email."
Just in case this video background page wasn't cool enough — Brian Moran from 5 Minute Marketing has been running split tests on this particular page and testing different video backgrounds.
2. Ontraport: "Free G+ Hangout with Eben Pagan"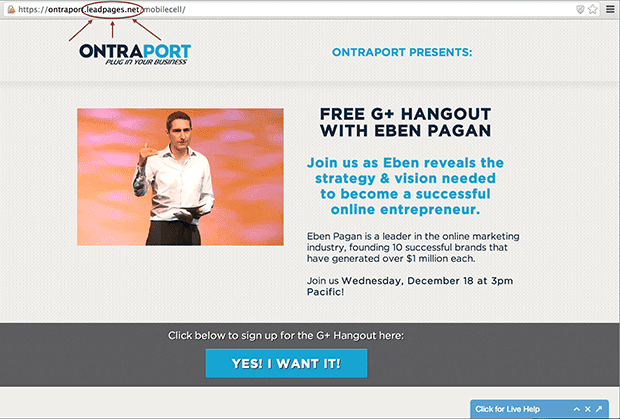 At first glance, this page may not even look like a LeadPages template. But if you look very closely, you'll recognize the "Made for Facebook Giveaway Page" from inside LeadPages. (Also, if you peek at the URL, you'll notice that Ontraport is hosting this page on LeadPages server.)
As you can see, the innovators at Ontraport completely transformed this traditional Facebook page into this sleek, stylish Google+ Hangout registration page.
3. Birth Coach Method: "Five Best Coaching Tools to Lead Birthing Moms"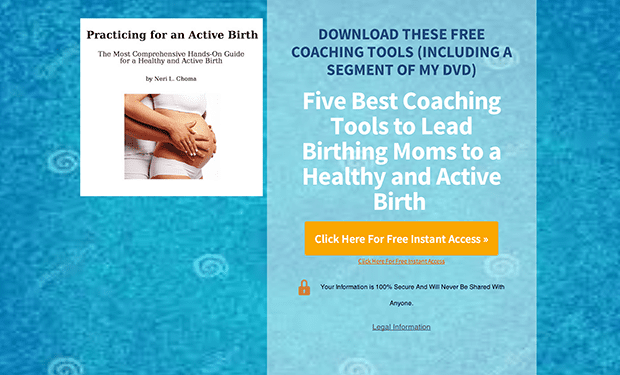 Birth Coach Method created this calm, tranquil page from the Basic Squeeze Page inside LeadPages. You can get an up-close look at this inviting page here.
4. Shortening the Learning Curve: "Your Starting Point to Get a Head Start"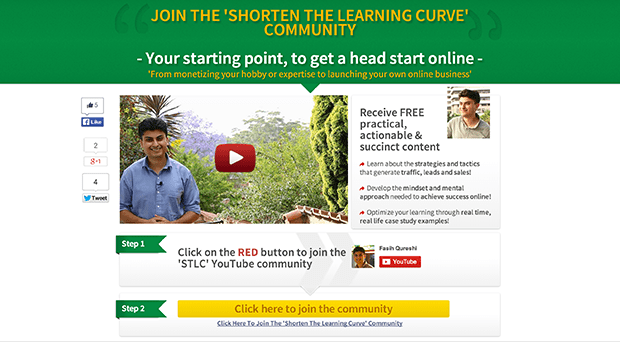 This is a fantastic use of the YouTube Landing Page that we co-created with James Wedmore from inside LeadPages. The no-nonsense copy definitely entices you to follow this entrepreneur, Fasih Qureshi on YouTube.
5. Red Apple Lipstick: "2013 Holiday Gluten Free Makeup Collection Sale"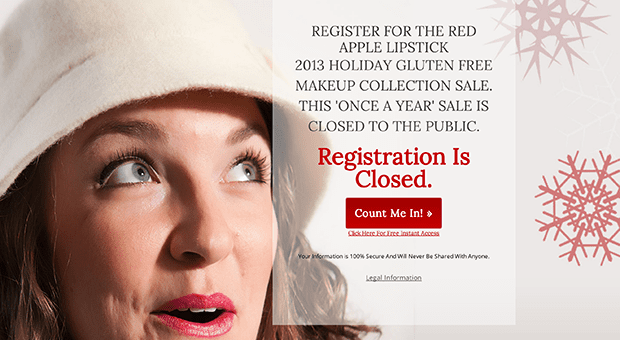 Love this page! Red Apple Lipstick managed to capture the excitement of the holiday season with a single image.
Red Apple Lipstick also used an old-school advertising trick on this Basic Squeeze Page that's worth mentioning. As you can see, their lipstick model is looking exactly where they want you to look — at their opt-in box.
This is a simple but effective marketing strategy that's been used for decades. It's something you can copy for your own pages. But first, check out this page live and in person here.
6.  Christian Mickelsen: "Webinar: How Coaches Get the High-Paying Clients"
This is about as far from your "average" webinar registration page as it gets.
Author and speaking coach, Christian Mickelsen used our Video Background Page to make his webinar seem as attractive as a day at the beach. You can see what I mean right here.
7. Genesis of Genius: "It's Time to Claim the Genius Within You"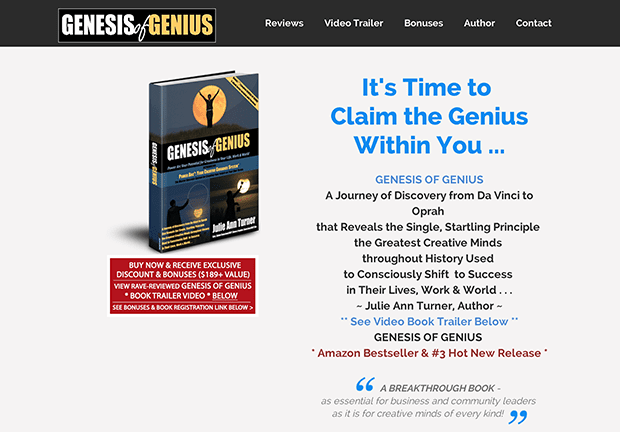 As a writer myself, this eBook Landing Page (from Pat Flynn) is one of my favorite templates inside LeadPages. But in this case, I absolutely love what this author did with it.
This mini-site for Julie Ann Turner's book — the "Genesis of Genius" — features the book's ranking inside Amazon, killer quotes, and a trailer for her book. She even added a discount and bonuses for anyone who buys her book from this page.
For this particular page, you really need to scroll down to get the full experience. See what I mean here.
8. Ed Dale: "Ex-Construction Worker Earns $309 Per Day"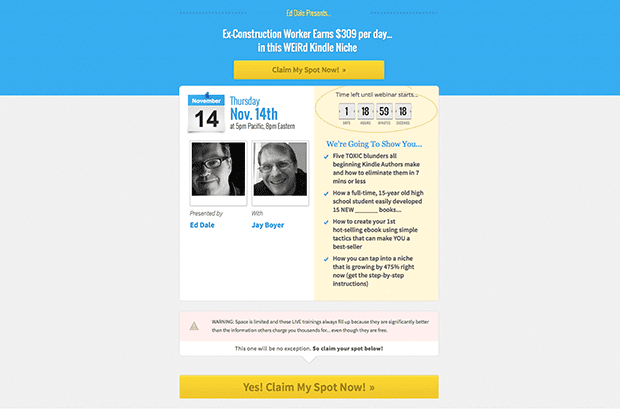 Love the copy on this Webinar 2.0 Page.
The headline alone is intriguing: "Ex-Construction Worker Earns $309 per day… in this Weird Kindle Niche." (Notice: They're taking advantage of the #1 must-click word online — "weird.")
But even more than the headline, the bullets in the sidebar are reminiscent of the great direct response copy from years ago. I highly recommend you take a closer look at this page — and possibly even save the copy for your swipe file for your own pages.
9. James Wedmore: "Discover What Everyone Else Is Doing to Get Results on YouTube"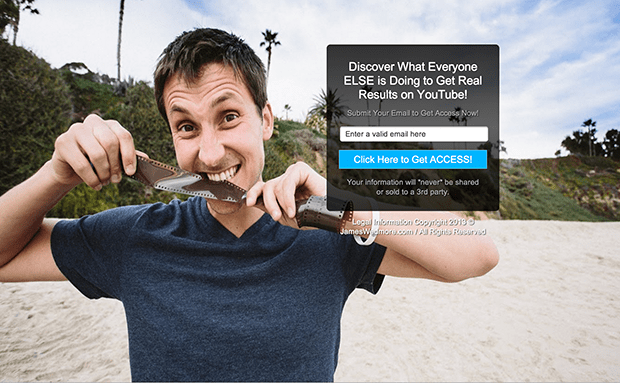 YouTube expert, James Wedmore has actually helped us design a couple templates in the past here at LeadPages.
But on this slightly modified Basic Centered Squeeze Page (Aligned to the right), James is proving that sometimes the simplest ideas can be the most effective with this hilarious photo of himself.
You can take a closer look at this page right here.
 10. Angela Raspass: "The Freedom Kit"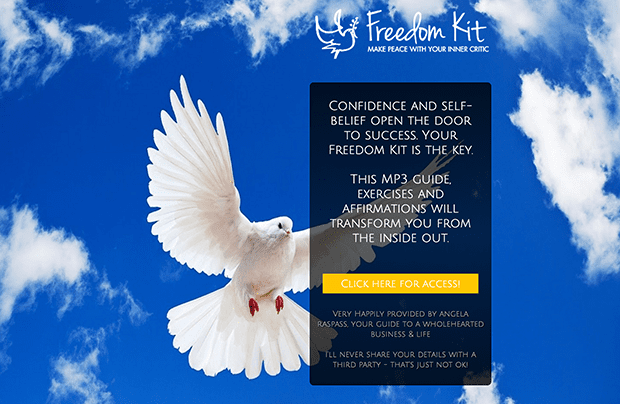 Gorgeous huh? Another team member here at LeadPages flagged this Basic Centered Squeeze Page (Aligned to the Right) for its sheer beauty. I'd have to agree. You can check out this page right here.
A huge congratulations to all the entrepreneurs in this post — and everyone else who is constantly discovering new ways to innovate their businesses like this.
Now it's your turn. Tell us in the comments: Which page is your favorite? And will you use any of the ideas you see here in your own business? If so, I'd appreciate it if you'd let us know below.