What's a funnel?
I couldn't have answered that question with confidence when I started out in the digital-marketing field. A funnel was a household object that, in this context, felt pretty foreign.
Since then, I've heard from a number of entrepreneurs and small business owners—people who come to marketing simply because they have a product they need to sell and there's no one else to do it—who have had similar trouble finding value in that concept.
Now, a sales or marketing funnel is really just the series of steps you set up to turn prospects into customers. The idea behind setting up a funnel is that when you understand exactly what you want potential customers to do next, it's much easier to get them to do it.
A funnel itself can be long and complex, but the concept should make things easier for your marketing—not harder.
Lately, I've been wondering: is it hard to understand funnels because we've been looking at them upside down?
That concept clicked when I heard about one of our support specialists' experience guiding brand new Leadpages users through their first marketing campaigns. Those users were struggling with many different things, but there was one piece of advice he gave that seemed to be uniformly valuable:
To build a funnel, start at the end.
Hearing about that was kind of a lightbulb moment for me, too. In a way, it was so obvious. And yet it's the kind of simple statement that you can forget to make explicit when you're deep in marketing-land.
The typical sales funnel diagram can be accidentally deceiving. (Which is one reason you'll notice our "funnel" diagrams at Leadpages aren't remotely triangular.) When you're looking at one of these, it's only natural to pay the most attention to the biggest, brightest thing on the diagram: the top of the funnel.
But when you're first starting out, that's a big mistake.
Instead, you should start by focusing on something that's often left as blank space at the bottom of funnel diagrams: the end goal.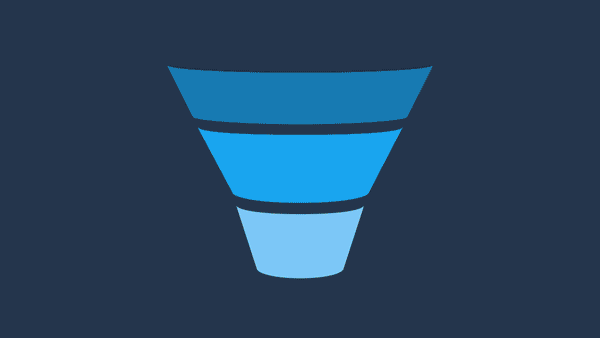 In this post, I'll explain more about what I mean by that. To put the rest of your funnel together, I'd also recommend you download our free pack of 6 campaign-funnel diagrams (with clear explanations, of course) designed to accomplish different goals. You'll also get a video walking you through setting up a Micro Funnel (more on that later). Click below to download them all now:

The Light at the End of the Funnel: Your Business Goal
What do you want your marketing to achieve?
To sell things, probably. But when you're figuring out how to build a sales funnel effectively, you'll need to get a little more specific than that. It's a time-honored if slightly counterintuitive principle of marketing: past certain limits, the broader you make your target, the less likely you are to hit it.
Your specific funnel goal will look different depending on how your business operates.
For instance, maybe you run a service-based business that depends on attracting long-term clients who will regularly use your most profitable services. In that case, your primary goal may be to land contracts from those ideal clients.
Or maybe you sell a variety of products. It may seem hard to find a focus for your first sales funnel when your business covers a lot of territory, but if you've ever thought to yourself, "Man, if I could only sell more of these, I'd be set"—you probably do have at least one key product that's worth marketing more carefully.
Once you know what you want your campaign funnel to achieve, it's time to make that goal measurable. How many of those valuable new clients or high-ticket sales do you need each month in order to turn a profit, or to grow at the rate you desire?
Write that number down. It'll help you make decisions in constructing the rest of your funnel, and it'll let you track your success.
Congratulations! Conceptually, at least, you're at your goal already.
Now, it's time to peer back up into your funnel and determine . . .
The Last Thing Your Leads See . . .
Before they become customers, that is. How do you actually make the sale?
The most obvious last stop before your customers reach their destination is a checkout page. But it doesn't necessarily need to be a web page at all. For instance, if you generally make your sales at the end of a free consultation, the consultation serves this function.
By now, you should be sensing a pattern. You probably know what I'm going to ask next. Say it with me: What do they see before that?
In a well-constructed funnel, there's one overall answer here: they see something that engages them enough to buy.
At this point, your funnel can either stay simple or become rather complex, so let's spend a little time here.
The Middle of the Funnel: Rules of Engagement
Say your goal is to sell an e-book. Now, you could simply give people a link to a web page about your e-book, from which they can click through to your shopping cart and purchase.
That strategy might work for someone who has a huge existing following. But unless you're already a bestselling author, you probably need to give people more context for what you're offering. You need to find ways to engage them.
Often, one of the best ways to engage people is to give them a free sample of what you have to offer. If they like it, many of them will be motivated to make a purchase.
So for your e-book, you may want to take a step back from the product page and create a landing page that lets people opt in for a free download of your first chapter (in exchange for their email address).
Take another step back, and perhaps you decide to write a blog post about your e-book topic, which links to that free-download landing page.
Landing pages and blog posts aren't your only options for engaging people, and in fact they'll rarely stand alone. For instance, if someone opts in for your free-chapter download, you'll want to use the email address they provided to email them with information on how to buy your full book. You may even want to create a series of emails, depending on how much additional engagement you think your audience will require.
With each step you take back from the end goal, your audience should be getting broader (since it's unlikely that any tactic will have a 100% success rate)—even though you're still keeping a narrow focus on the one action you want those people to take.
Ultimately, that brings us all the way back to . . .
The Top of the Funnel: Laws of Attraction
There's one major question we haven't answered yet: who are these people reading your blog posts, viewing your landing pages, and making purchases? Where do they come from?
They come from the top of the funnel—your traffic sources.
A traffic source is anything that attracts people who weren't previously familiar with what you're promoting. It turns strangers into engaged prospects.

Traffic sources can be paid or free, online or offline. They include things like:
Pay-per-click advertising, such as Facebook Ads or Google AdWords
Mastering any one of these traffic sources can be as big a job as you want it to be—there's always room for further learning and fine-tuning. But if you've been working backward from the end goal, you'll know the most important thing: where this traffic should end up.
That alone puts you way ahead of most new marketers. For instance, you'll know that you probably shouldn't be directing traffic to your home page or to a huge product-inventory page, because those kinds of pages don't usually present a clear opportunity for engagement.
Instead, you'll direct traffic to a point of engagement, such as a focused landing page. Which leads people to the next step in your funnel, which leads to the next step . . . right on down to your big goal at the end.
Great, I Mapped out a Funnel. Now How Do I Turn This Thing on?
Once you've figured out the goal, bottom, middle, and top of your sales funnel, it's time to fill in the details. In keeping with our method of starting with the biggest pieces, I'd recommend you first turn your attention to one important (but refreshingly easy to create) building block. We call it the Micro Funnel.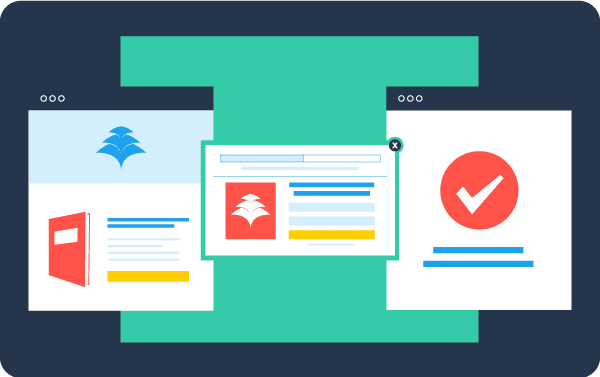 A start-to-finish campaign funnel can have any number of components, but the Micro Funnel always has 3:
A landing page: Whether they arrive from one of your traffic sources or from engaging content, leads wind up here to accomplish one of two things: opting into the next stage of your funnel, or making a purchase.
A Leadbox™ or purchase point: Leadboxes® are generally the best way to actually facilitate that opt-in. They're simple, 2-step opt-in forms that allow your visitors to sign up for whatever you have to offer while passing their contact information on to you. Of course, if you're actually ready to make a sale, you'll want to substitute whatever point of payment you use instead of an opt-in form.
A thank you page: This may seem optional, but you're forgoing a big advantage if you don't present thank-you pages after each key step. We actually like to call these "thanks, and . . ." pages, because they're an excellent opportunity to ask new leads to take the next step right then and there. For instance, you can use a thank you page to link to your product page and bring visitors to the end of your funnel, or create more top-of-the-funnel action by asking your new leads to share your offer on social media.
The nice thing about using Leadpages is that the Micro Funnel is built into every page you create. The default options on each landing page include a Leadbox™ and a thank you page. You'll want to modify them to suit your business, but all the necessary architecture is there.
So when someone arrives from one of your traffic sources to your first landing page, they move swiftly through a Micro Funnel.
When, later, someone clicks through from an email to a product page, they move swiftly through a Micro Funnel.
At every point, whenever you need someone to say "yes" to something online, you present them with a Micro Funnel.
Add in your traffic sources, emails, and any other connecting elements, and you have a funnel that moves people toward your big goal at the end as logically and efficiently as possible.
To explore complete diagrams of 6 different campaign funnels—some of which you may be able to lift completely for your own campaigns—click below to get a free PDF guide:

More Resources on How to Build a Sales Funnel
Free: Funnel Building: The Re-Education—The New Way to Understand and Build Campaign Funnels That Convert
Check out this 8-part post when you're ready to take a closer look at every element of your campaign funnel.
Paid: Sales Funnels Rebuilt Course
For in-depth, hands-on guidance on building sales funnels for your business, consider our new 13-part course. It even comes with free coaching.
Still have questions on how to build a sales funnel for your business? Ask us in the comments!