"It was too much data."
That's a complaint I've heard a from a number of people after they've opened up Google Analytics for the first time . . . and then quickly backed away from the tangle of charts, graphs, and numbers they find inside.
Those people are often relieved when they discover Leadpages and its simple analytics dashboard, which gives you just 3 big landing-page statistics: visitors, opt-ins, and conversion rate. Keep tabs on those, and you'll definitely have enough data to start optimizing (especially if you also use our easy split-testing tool).
That said, once you get past any initial intimidation, Google Analytics can actually be an excellent complement to Leadpages—or any other part of your business site. While much of what it has to offer is aimed at sites with hundreds of pages and hundreds of thousands of visitors, other features can bring real insight even to smaller-scale entrepreneurs and marketers.
How does Google Analytics work? To understand that, first it's helpful to think about the 2 main questions Google Analytics can answer for you:
1. Where are your site visitors coming from?
2. And what are they doing once they get there?
Important questions, right? Let's look at 5 super-simple ways using Google Analytics with Leadpages can help you get some answers.
To get even more comfortable with the fundamentals of what we'll be covering here, download our bonus guide, "10 Metrics That Matter Inside Google Analytics." This will help you understand your dashboard better at a glance and tune out the noise of data that doesn't really apply to you right now. Get the free guide sheet below:
Download "10 Metrics That Matter Inside Google Analytics"
If you have
LeadPages™
, you don't need to download this template – it's already available to you inside your LeadPages account. Just
log in
and you'll see how super easy it is to customize this page in seconds with no technical knowledge or skills, make it mobile responsive, integrate it with your email service provider or CRM, run A/B split tests, and publish it to Facebook, WordPress, or your own server.
1. Seamlessly bring all your page data together . . .
To answer those 2 big questions we mentioned above, Google Analytics needs to see your pages from the inside. And to grant it access, you simply add a snippet of tracking code to the header code of every page you want to track.
When you're first getting started with Google Analytics, you'll also want to set up a Google Tag Manager account. With Google Tag Manager, when you paste your tracking code into a page once, you'll never have to update it again. Any changes you need to make can be made right inside Google Tag Manager.
Here's how you get to the header code field inside Leadpages' standard builder:

And here's where it appears if you're using your early access to our drag-and-drop builder: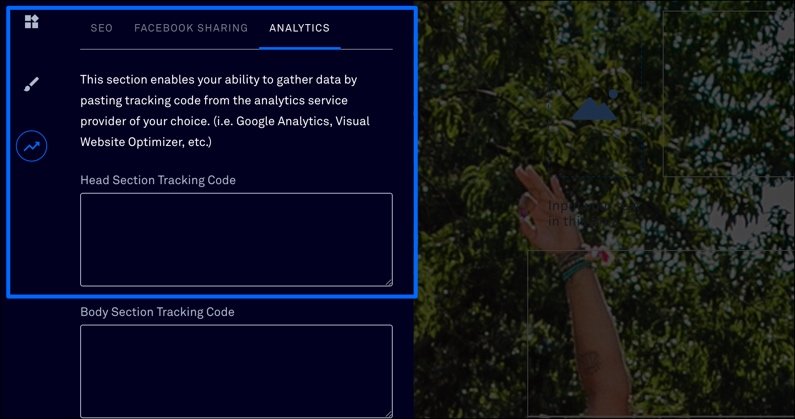 Once you've done this, whenever your landing page loads, Google Analytics registers what happens and sends that data to your dashboard.
Now, if you're like many people, you have your home page, maybe a few other core pages, and then a shifting number of additional, purpose-specific landing pages—likely not all created by the same platform.
That means that when you want to see how you're doing online, you have to go into 2 or more different applications and cobble the different data together.
Using Google Analytics makes things much easier. When you use one tracking code across, say, your Leadpages landing pages and the home page and e-commerce pages you built with Squarespace, you can see big-picture across every page you own. That includes stats like:
Total pageviews and unique visitors: How many people can you expect to reach through your site and landing pages?
Acquisition: How are people finding your site? Find out how many visitors arrive from search-results pages, advertising, social media, and other sources.
Demographics: Where do your visitors live? What language do they speak? What interests do they have? (Yes, you can get that detailed!)
Site speed: On average, how long do people have to wait for your site to load?
These are just a few starting points—grab our free guide sheet below for our suggestions of 10 metrics to start looking at first:
Download "10 Metrics That Matter Inside Google Analytics"
If you have
LeadPages™
, you don't need to download this template – it's already available to you inside your LeadPages account. Just
log in
and you'll see how super easy it is to customize this page in seconds with no technical knowledge or skills, make it mobile responsive, integrate it with your email service provider or CRM, run A/B split tests, and publish it to Facebook, WordPress, or your own server.
2. . . . then break it back down by applying filters.
Once you have an overall picture of the traffic to your site, you have a useful benchmark for assessing individual pages within it. Deviations from average statistics and performance metrics will stand out, and you can see which practices you should implement across your pages and which weak areas you can fix.
As an intermediate step, if you host your landing pages on Leadpages' servers, you can start by applying a filter that pulls in only pages from the "youraccountname.leadpages.com" domain. This will give you a big-picture view of how your Leadpages are performing compared to any other pages you own.
Then, you can dig deeper into individual landing pages by setting a filter for the exact URL of the page you want to examine. Are your landing pages getting organic traffic? Is linking to them on social showing results? How long do people stick around once they land there? Examine the answers to questions like these and optimize accordingly.
Explore a full list of available filters here.
3. Collect knowledge about your visitors with segments, then fine-tune your landing pages or build new ones.
Segmentation is the process of isolating certain subsets of your data to find out what's behind changes to your site's overall performance. Segments can include things like traffic sources, time of visit, device type, geography, and other customer data.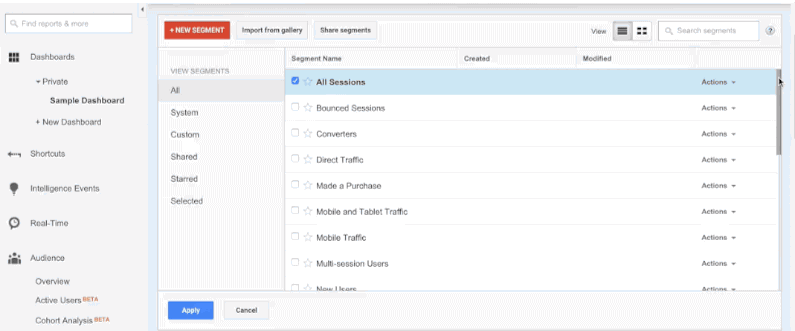 You can use segments in many powerful ways. One easy tactic is to build a segment that pulls in data from sessions that included a visit to one of your landing pages. Click this link to automatically set up a segment for a landing page of your choice. (Make sure you're signed into Google Analytics for this to work, and enter your page URL where it says "replacewithyourURL.")
What do people do once they visit your landing pages? Are they likelier to make a purchase, opt in, or view more content than the average visitor?
Another approach is to build a segment of only visitors who convert (more on setting conversion goals in the next section). By learning more about them, you might decide to create more pages drawing on their characteristics, such as geography, age, gender, and demonstrated interests.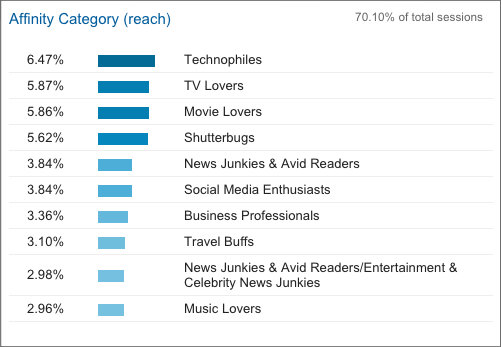 You also might decide to promote your existing landing pages via new channels based on what you learn. A few ideas:
If your highest-converting visitors are news junkies, give your landing-page headlines a topical or time-sensitive spin.
If your highest-converting visitors are heavy social media users, shift more of your promotional efforts onto social platforms.
If your highest-converting visitors are travel buffs, you may be able to frame the benefits of your services as freeing up time or money for travel.
If your highest-converting visitors are TV or movie lovers, consider referencing hit films and shows in your social posts.
Learn more about building segments here.
4. Get more data on who opts in by setting a custom thank you page as your conversion destination.
Google Analytics has a bit of a bias toward e-commerce—which makes sense, given that any business's ultimate metric is revenue. But you can also use it to track other points along the journey to a sales conversion, such as opting into one of your Leadboxes.
The easiest way to do this is by taking advantage of a feature built into the Leadbox builder: the chance to set a custom thank you page for people to see after they've opted in. (Beyond just thanking new leads, you can use your custom thank you page to showcase other resources or products, ask leads to share on social, link to an online scheduler, and more.)
When you set up conversion goals, you can set a "Goal Completion Location." Enter your thank-you page URL in this field.

Because people should only be seeing your thank you page after you've opted in, the people who see it should accurately reflect the demographics of your new leads. That means you could also set up a segment based on views of this page, then use this information to fine-tune everything that comes after the opt-in, too.
Seeing whether people actually follow the "next step" on your thank you page might lead you to try a new approach. Or user information could lead you to adjust your email follow-up sequence.
Learn more about setting up goals here.
5. Use Google Analytics with AdWords to learn about the traffic that didn't convert, and retarget accordingly.
Google Analytics is a worthy addition to your AdWords PPC strategy, especially when it comes to writing retargeting ads.
When you set up a view that excludes people who converted (whether by opting in and arriving at your thank-you page or by making a transaction), you're left with the window shoppers. Looking at this segment of your audience, you can begin to ask questions like:
Do these visitors differ notably from visitors who do convert? Could your messaging be missing the mark for them—or are they simply not your ideal customers?
What do these visitors typically see before they reach your landing pages? Could those ads or pages be improved?
What AdWords keywords bring in the most non-converting visitors? Could those keywords be setting the wrong expectations?
Because it's so easy to spin up new pages with Leadpages, you can easily take what you learn and create new AdWords landing pages designed specifically to give those previous visitors one extra push to convert.
For example, based on what you learn in Google Analytics, you could retarget them with an AdWords ad linking to an opt-in page for an audience-appropriate resource download, rather than just showing them the same product page that wasn't tempting enough the first time.
Find out more about using AdWords with Google Analytics here.
All in all, the best way to get comfortable with Google Analytics is to sign in and go exploring. There may even come a day when you find there's no such thing as too much data anymore.
Have any questions about using Google Analytics with your landing pages? Ask us in the comments!