Every week at LeadPages®, you can find our template designers working hard to create amazing-looking pages engineered for high conversion rates. And most weeks, we celebrate their work by giving you one of their newest creations for free, from basic opt-in pages to more specialized pages for webinars, product sales, and podcasts.
But it's also important that, despite our natural tendency to be drawn toward the shiny new pages, we occasionally stop to assess what's already working—what's been proven to work over months or even years.
That's what we're doing today. If you're not a LeadPages® member, you might not know about one neat tool we use to see how our templates are performing: our template library's Sort by Conversion Rate feature. It harnesses data about how our templates are performing across all users and ranks each template by its average conversion rate.
We've noticed that, almost since we added them to our library, the three opt-in pages we're giving away today have hovered at the top of the heap whenever we've used this sorting tactic. Their exact positions may change from week to week, but they're always there.
You're welcome to download this pack in order to use only the template you like best. But I'd actually recommend you put all three of these high-converting pages to work for you, especially if . . .
1. You're just getting started. If you're new to setting up landing pages, it makes sense to start with simple opt-in pages that are known to convert well. That gives you a major advantage out of the gate. Plus, even if you stick with the default settings, these three templates all use colors and styles that'll work well together if you don't have time to customize them for your brand right away.
2. You're ready to take things to the next level. A study by HubSpot has found that companies with 15 landing pages get an average of 55% more leads than those with just 5 fewer pages. And there's another huge jump when you reach the 40-landing-page threshold. If you want to see these kinds of gains, it makes sense to grab three easy-to-customize templates to build your stable of pages.
3. You have a mad scientist streak. It'd make a lot of sense to use each of these pages for different offers. But it'd also be a lot of fun to try offering the same opt-in bribe on all three pages . . . and test which template is truly the best one to help you achieve total world domination. (Or, you know, build a healthy email list.)
Here's an up-close look at each of these pages: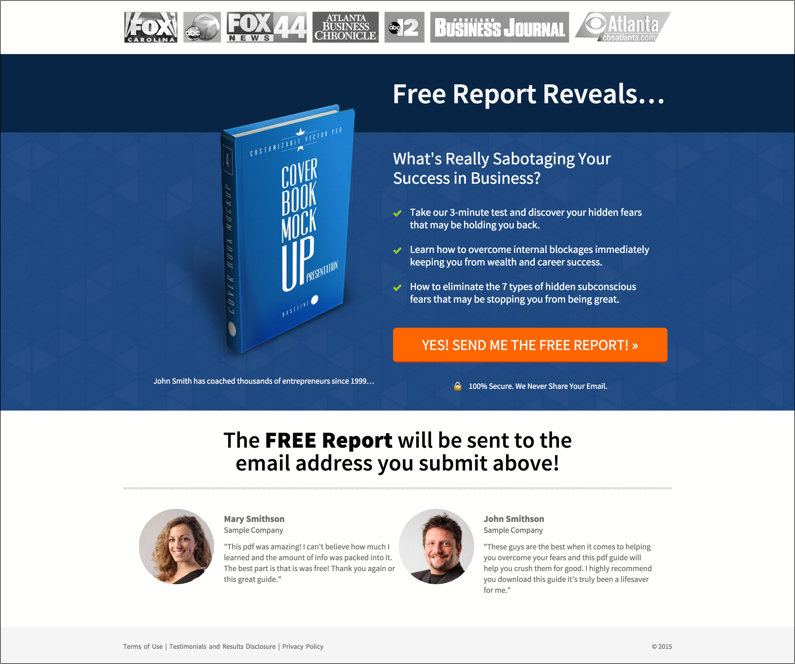 This page gives your visitors something valuable while lending you instant credibility. Has your business ever been mentioned in the press or featured on a blog? Shout it from the rooftops—or, rather, the top bar of this Social Proof Giveaway Page, designed to spotlight media-outlet logos.
Or maybe you don't have much press yet, but you do have some happy customers. Share the great things they've said about your business or your lead magnet itself in the testimonials section and let visitors see the difference you've made in people's lives already.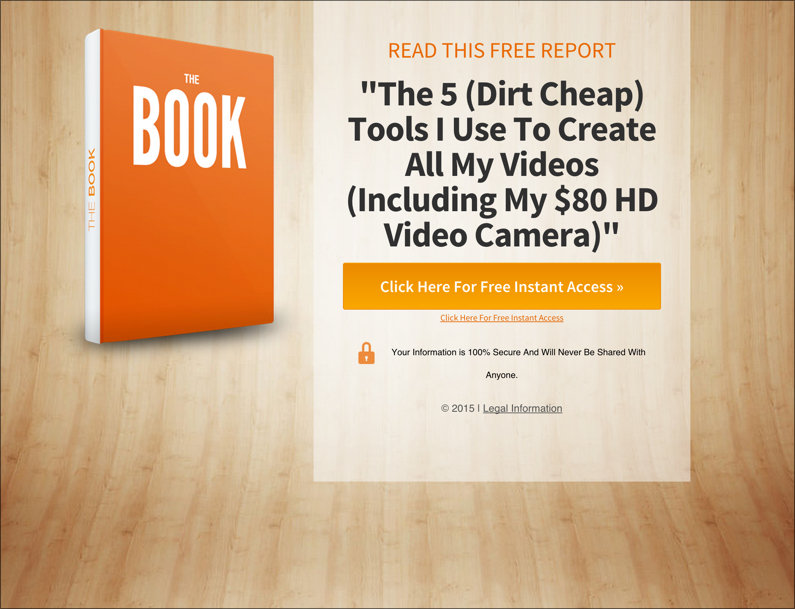 The idea for this template actually came from a customer who was using a similar template outside of LeadPages® and found it was "absolutely crushing it in a number of different markets." They suggested we make something like it available in LeadPages®—and their wish was our command.
It's long become clear that that company's success was no fluke. The Basic Squeeze Page has been scooping up opt-ins wherever it goes. Why? In the words of LeadPages® CEO Clay Collins, "The reason why this template converts so well is simply because it is simple. It's very clear what they're getting; that's on the left-hand side. It's also very clear what they're supposed to do, which is opt in. In addition to that, it also incorporates beautiful design."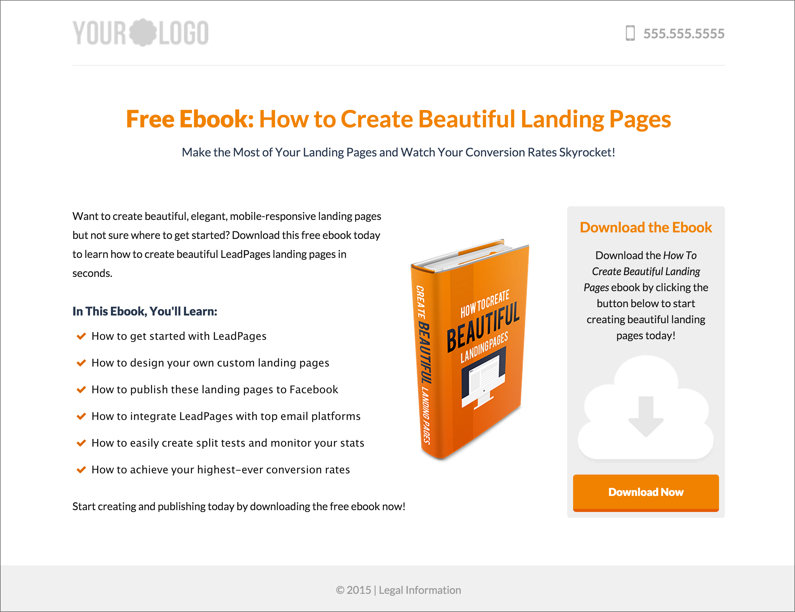 This page was created to fill a gap in what was available to B2B marketers, but it's been used with success across many industries. In fact, I've never seen it used poorly—perhaps because the layout practically forces you to be clear and succinct in your messaging, which it does via the limited number of bullets and a design that centers around a graphic representation of your lead magnet.
And while all our templates are mobile-responsive, the Enterprise Lead Gen Page has one especially mobile-friendly feature I'd like to point out. See the phone icon at the top? You can easily set this page up so that it becomes a click-to-call button when people visit on their smartphones.
If you're already a LeadPages® member, you can find these templates in your account and start using them right away.
If you're not a LeadPages® member, you can download the HTML, CSS, Javascript, and image files for free—no strings attached. You'll just need to be prepared to do some coding in order to customize these templates to use on your site, or give the files to the person who codes your website for you. (And of course, if that sounds like too much work, you can always sign up for a LeadPages® membership.)
Which of these opt-in pages would you guess converts the best of all? Tell us which you'd choose and why in the comments!