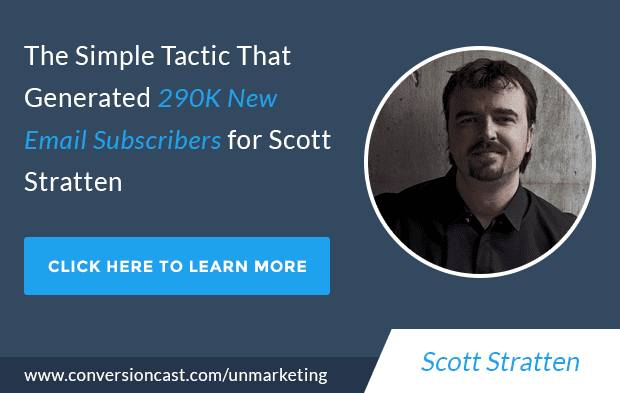 Note: The Exact Strategy Scott Used To Genuinely Increase Subscribers Is Available For Download. 
Click Here To Download
Our Guest:
Scott Stratten has been marketing online for over a decade and is an expert in Viral, Social, and Authentic Marketing, which he has coined, "Unmarketing". Unmarketing refers to his philosophy of positioning content in front of people in a way that will be remembered so when they have a need, they automatically think of you to provide the answer. Unmarketing is not only the name of his company/brand, but everything that is associated with it such as the book, Twitter handle, and Facebook page. Unmarketing as a company started 12 years ago from email newsletters and their unique, core tactic blew up when social media entered the marketing scene. Scott continues to share his knowledge through speaking engagements, writing books, and his podcast "Unpodcast".
A Quick Preview of the Podcast:
Why copywriting is of upmost importance on your landing page
The number one reason why you aren't getting email subscribers
The one tactic that has held true for over a decade online
To See These Tactics In Action:

Click Here To Learn The Tactic That Multiplied Subscribers In The Most Authentic Way Possible
To See The Transcript: 
Listen To Discover How Scott Stratten Developed Unmarketing & Exponentially Increased Subscribers