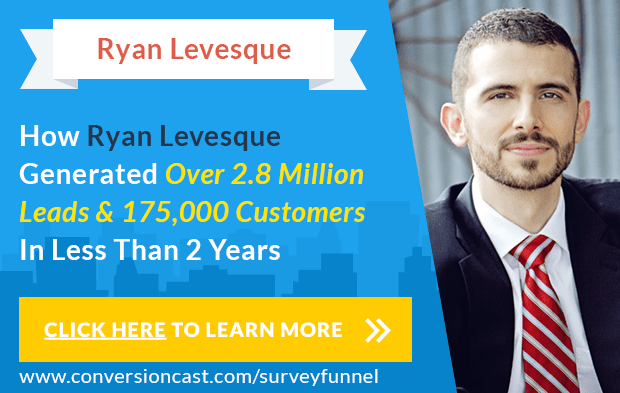 Note: Ryan's Secret Strategy For Generating Over 2.8 Million Leads in 23 Months Is Available For Download. 
Click Here To Download
Our Guest:
Ryan Levesque (
http://www.surveyfunnelformula.com/cc
) studied neuroscience in college, which got him extremely interested in Consumer Psychology. Shortly after graduating, he took a job at Goldman Sachs because he was intrigued by investment psychology. He then worked for AIG Insurance in China and during this time got introduced to ebooks. He hired Dr. Glenn Livingston as his mentor to lean how to effectively write ebooks for the online business space. Ryan then used his secret strategy to launch a 6 Figure business in Jewelry, Gardening, and Memory Improvement. He went full time into internet marketing in 2008 and currently builds survey funnels for client/partner businesses.
A Quick Preview of the Podcast:
The best way to qualify your prospects without capturing their email upfront
Why you should integrate a survey funnel into your conversion process
How to create a process that well help you authentically increase conversions
To See These Tactics In Action: Click Here To Learn How Ryan Levesque Generated Over 2.8 Million Leads

To See The Transcript: 
Listen To Discover How Ryan Levesque Dramatically Increased His Opt-In Rate In 23 Months