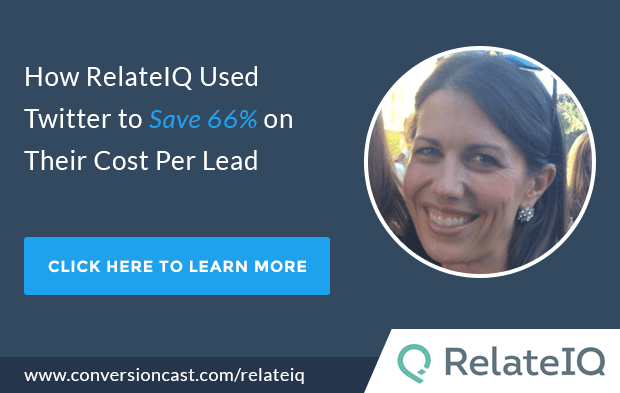 Note: The Exact Strategy RelateIQ Used To Decrease Cost Per Lead Is Available For Download. 
Click Here To Download
Our Guest:
Elise Bergeron is the Vice President of Marketing at RelateIQ where she oversees demand generation, product marketing, and brand awareness. RelateIQ (acquired by Salesforce) is an intelligent CRM focused on helping small businesses sell smarter by capturing all customer data from communication and automatically organizing it. The company alleviates your sales team from manual logging, which saves them time and helps them focus on selling. RelateIQ's CRM is not only intuitive to use, but is different from other CRM's in that it layers intelligence features on top of data, which give you clearer insights to help you close more deals.
A Quick Preview of the Podcast:
How to leverage your community for promotion
The three keys to effective advertising on Twitter
How to market more intelligently with your customer's words
To See These Tactics In Action:

Click Here To Learn The Secret To Improving Your Conversion Rate On Twitter
To See The Transcript: 
Listen To Discover The Strategy RelateIQ Used To Get Cost Effective Results With Twitter Ads