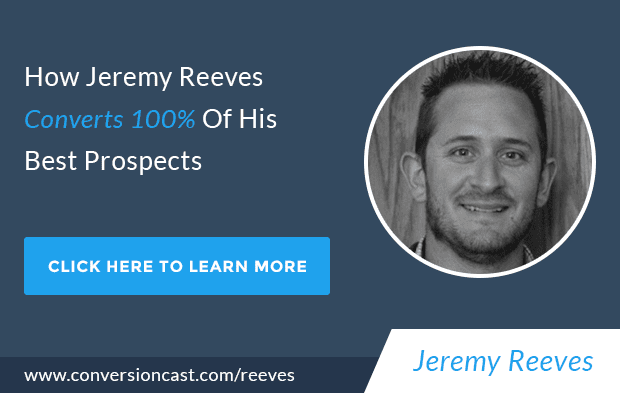 Note: The Unique Tactic That Gets Jeremy A 100% Close Rate With High Paying Clients Is Available For Download. 
Click Here To Download
Our Guest:
Jeremy Reeves is a copywriter that focuses on strategies to help his customers build highly effective sales funnels through world-class copy. He has been featured on top digital marketing websites such as KISSmetrics, Social Triggers, CrazyEgg, BidSketch, and Visual Website Optimizer. He's worked with some of the world's leading entrepreneurs and also runs kinowear.com, which is ranked one of the top 10 sites in the industry.
A Quick Preview of the Podcast:
How to use the 80/20 rule to segment your audience
The most effective marketing channels to attract your desired customer
The unique offer Jeremy uses to get a 100% close rate with top clients
To See These Tactics In Action:

Click Here To Learn The Exact Tactic Jeremy Uses To Close 100% Of Sales With Top Clients
To See The Transcript: 
Listen To Discover The Unique Strategy Jeremy Uses To Get A 100% Close Rate