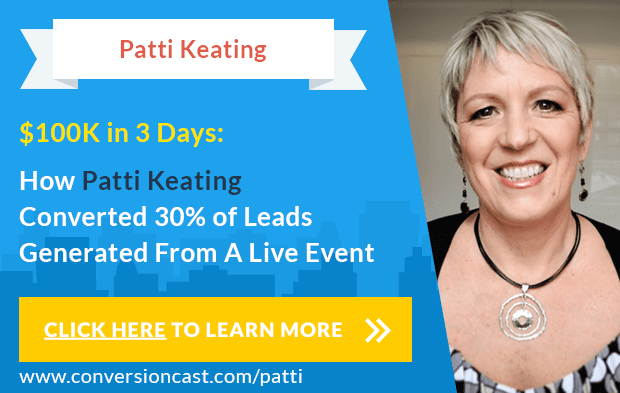 Note: The Exact Funnel Strategy Patti Used To Merge Offline & Online Marketing Is Available For Download. 
Click Here To Download
Our Guest:
Patti Keating has created an online community to coach driven entrepreneurs in business called Entrepreneur Unleashed. Aside from her coaching and programs to help entrepreneurs online, Patti is doing a live event of her own in a couple of weeks (November 2014) that compliments her work titled, Unleashed. Unleashed is going to help people get a strategy in place to make more money than they did last year through automation, how to reach more prospects, stop trading time for money, and creating leverage in their business. This event will emphasize the plan it takes to put all of this together and start reaping results. Her goal is to help people amplify who they are in the market with their message and platform, as well as gain clarity on where to focus their efforts.
A Quick Preview of the Podcast:
How Live Events Can Dramatically Affect Your Income Stream
Why You Need To Integrate Your Offline & Online Marketing Efforts (Without Complicating Your System)
The Winning Marketing Funnel That Patti Uses To Convert Leads
Takeaway Quotes:
"I don't work with whiners" – Patti
"If you're somebody that wants to take action and grow your business, I would love to help you, but you gotta let go of your story" – Patti
To See These Tactics In Action:

Click Here To Learn The Exact Funnel Strategy Patti Used To Convert Over 30% In 3 Days
To See The Transcript: 
Listen To Discover The Exact Funnel Strategy Patti Used To Make $100,000 In 3 Days