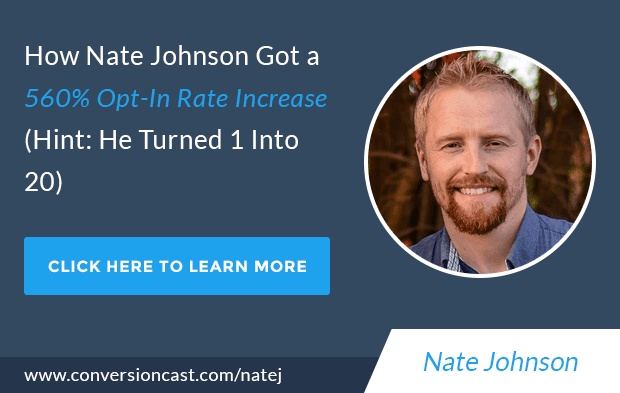 Note: The Exact Strategy Nate Used To Increase Conversions By 560% Is Available For Download. 
Click Here To Download
Our Guest:
Nate Johnson is a marketing automation specialist at LeadPages. He is a data-driven marketer that uses his experience in google analytics, email marketing, and split testing to automate marketing strategies. Before joining LeadPages, he developed expertise in creating automation workflows based on people's behavior for his own clients and continues to do so at automatenate.com.
A Quick Preview of the Podcast:
How to make an effective funnel strategy without spending a lot of time
How to create a duplicatable landing page
Best practices to redesign your landing page
To See These Tactics In Action:

Click Here To Learn How Nate Created 20 Landing Pages From One To Get A 560% Opt-In Increase
To See The Transcript: 
Listen To Discover The Simple Strategy That Got Nate Johnson A 560% Increase In Conversion Rate