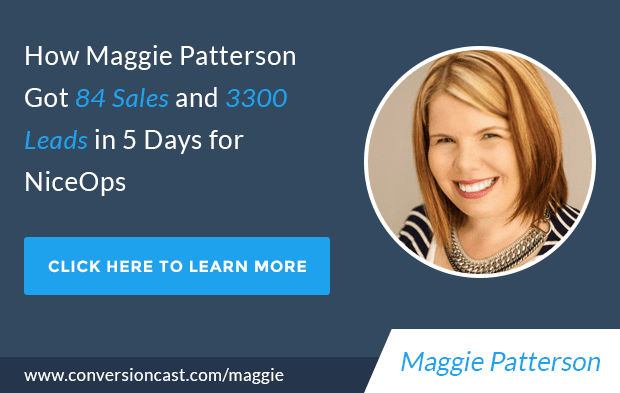 Note: The Exact Strategy Guide Maggie Patterson Used To Achieve 3300 Leads & 84 Sales In 5 Days Is Available For Download. 
Click Here To Download
Our Guest:
Maggie Patterson is a Marketing Consultant and Copywriter in the online space. She is an expert at conversions and loves to dissect data & analytics from online marketing campaigns. Recently, Maggie helped one of her clients, Amber McCue- Founder of NiceOps, market and run a free 5 day challenge to generate leads and sales.
A Quick Preview of the Podcast:
How to position copy in a relevant way
How to improve your marketing in Facebook Ads
The secret to getting people to trust you and your product before buying it
To See These Tactics In Action:

Click Here To See Maggie Patterson's Strategy That Generously Produced Leads & Sales for NiceOps
To See The Transcript: 
Listen To Discover How Maggie Patterson Got 3300 Leads & 84 Sales…in 5 Days