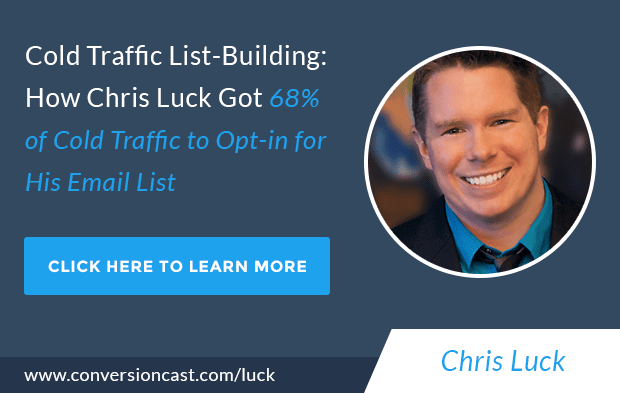 Note: The Exact Strategy Chris Luck Used To Yield A 68% Opt In Rate Is Available For Download. 
Click Here To Download
Our Guest:
Chris started in internet marketing in 1999 and did affiliate marketing until 2007. After much experience in the affiliate marketing field, he got tired of promoting other people's products and decided to start his own. Chris developed his first membership product in 2007 helping people become better affiliate marketers. He built 12 more membership sites in different industries with a total portfolio of 25 million in revenue from 2007-2013. Now, Chris educates entrepreneurs on how to build their own businesses through Luck League (luckleague.com), a membership site to help people make more money online.
A Quick Preview of the Podcast:
What you are missing on your Sales page
How to create an opt in that converts without it being a hassle
Why you should consider removing the CTA button
To See These Tactics In Action:

Click Here To See The Top 3 Step Strategy That Got Chris A 68% Opt In Rate
To See The Transcript: 
Listen To Discover The Exact Strategy Chris Luck Used To Achieve A 68% Conversion Rate