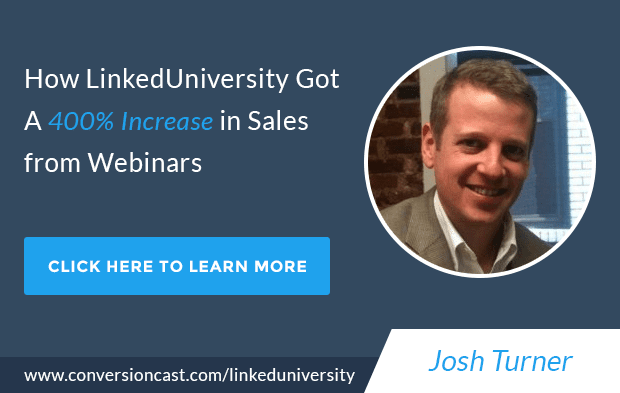 Note: The One Change In Strategy That Increased Revenue By 400% Is Available For Download. 
Click Here To Download
Our Guest:
Josh Turner is the Founder of LinkedSelling that developed from his expertise in marketing on LinkedIn. LinkedSelling attracts B2B clients that need help generating leads through LinkedIn. LinkedSelling also provides an online training course titled, LinkedUniversity, where people can learn the ropes of how to advertise and drive for results on LinkedIn.
A Quick Preview of the Podcast:
How to create an efficient webinar funnel from the get-go
How to target your ads without wasting money
The one tactic you need to use for advertising webinars that will significantly impact your results
To See These Tactics In Action:

Click Here To Learn How LinkedUniversity Increased Sales By 400% By Changing One Tactic In Their Funnel
To See The Transcript: 
Listen To Discover The One Tactic That Astronomically Increased Sales