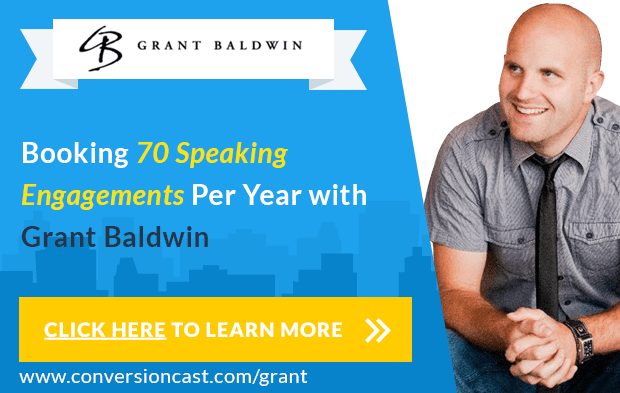 Note: The Exact Strategy Grant Baldwin Uses To Book 70 Engagements Per Year Is Available For Download. 
Click Here To Download
Our Guest:
Grant Baldwin is a full time speaker and runs TheSpeakerLab.com. He primarily books engagements with high schools and colleges. He helps students not only find a career path, but create a life of doing work they love. He uses different strategies to increase his exposure and seeks speaking opportunities to build his audience.
A Quick Preview of the Podcast:
How to book speaking engagements without begging
How to successfully build relationships in the speaking industry
The #1 tactic Grant uses to make his speaking career scalable
To See These Tactics In Action:

Click Here To See The Top 3 Steps Grant Baldwin Uses To Successfully Books 70 Speaking Engagements Per Year
To See The Transcript: 
Listen To Discover The Step By Step Strategy Grant Baldwin Uses To Repeatedly Book Speaking Engagements