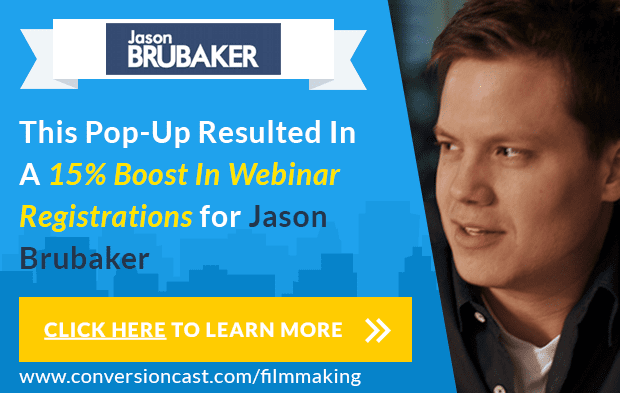 Note: The Exact Strategy Jason Used To Instantly Increase Opt-Ins Is Available For Download. 
Click Here To Download
Our Guest:
Jason Brubaker is a well known independent filmmaker who is an expert in his industry at distributing and marketing independent films. He took his marketing experience for independent films online a few years back when he started a blog (JasonBrubaker.com) to help other independent filmmakers drive traffic and generate revenue using the internet as a resource for distribution. He provides "how-to" marketing tips for filmmakers in the online space.
A Quick Preview of the Podcast:
How to use a pop-up window to increase your conversion rate
The #1 plugin to display the perfect pop-up (without having to code)
Why the quality of your traffic determines your opt-in rate
Takeaway Quotes:
"When you're driving warm traffic…and then you give them something of value, that increases your opt-in rate." – Jason
"When they see the pop-up, it's just the continuation of the conversation I'm having with them." – Jason
To See These Tactics In Action:

Click Here To Learn The Exact Strategy & Tools Jason Used To Achieve A 15% Webinar Opt-In Rate
To See The Transcript: 
Listen To Discover The Exact Strategy Jason Brubaker Used To Increase Webinar Opt-Ins By 15%