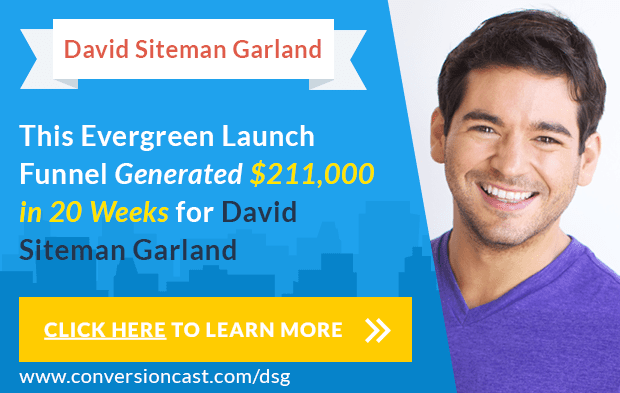 Note: The Exact Funnel Method David Used To Dramatically Increase His Revenue in 20 Weeks Is Available For Download. 
Click Here To Download
Our Guest:
David Siteman Garland is the creator of The Rise To The Top (
www.therisetothetop.com/
), as well as his most recent product,
Create Awesome Online Courses
, where he (you guessed it) teaches people to create and sell online courses. He started in the digital information product space in 2008 and is passionate about online informational courses.
A Quick Preview of the Podcast:
How to create an evergreen marketing funnel that works for you all year round
Why you should stop sending people directly to your sales page
The number one and most critical tool you need to use in your funnel sequence
Takeaway Tweets: "You're doing people a disservice if you're not excited about it or marketing it hard" – @TheRiseToTheTop [Tweet This]
To See These Tactics In Action:

Click Here To Learn The Evergreen Funnel Secret That Helped David Earn Over $211,000 In 20 Weeks
To See The Transcript: 
Listen To Discover The Evergreen Method That Generated Over 211K in 20 Weeks (Hint: It's Automated)