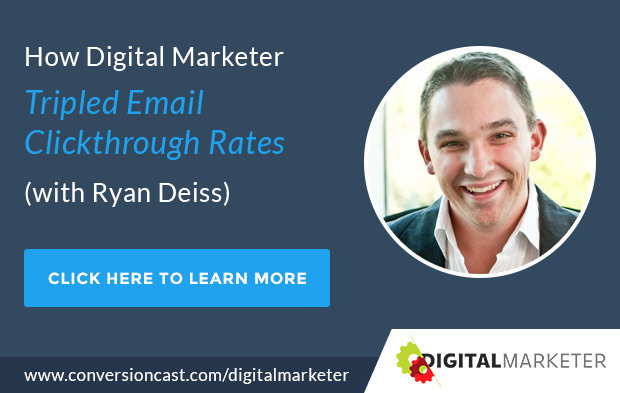 Note: The Exact Email Strategy Digital Marketer Used To Get Their Highest CTR Ever Is Available For Download. 
Click Here To Download
Our Guest:
Ryan Deiss had a knack for starting companies as a hobby and made his first sale from a company he started while in college. This hobby and collection of small companies bloomed into what is now Digital Marketer. Ryan and his team at Digital Marketer run several companies online in the areas of survival and preparedness, beauty, home improvement, men's accessories, gardening, and DYI. Digital Marketer specializes in marketing for media and ecommerce companies and shares what they learn from running these different companies with their audience.
A Quick Preview of the Podcast:
How to use surveys in your email marketing strategy that will prompt clickthroughs
The best copy to use to cause action from your prospects
The number one tactic to use on your landing page after people have clicked through via email
To See These Tactics In Action:

Click Here To Learn How To Apply Digital Marketer's Email Marketing Strategy To Increase Clickthroughs
To See The Transcript: 
Listen To Discover The Exact Email Marketing Template Digital Marketer Used To Triple CTR