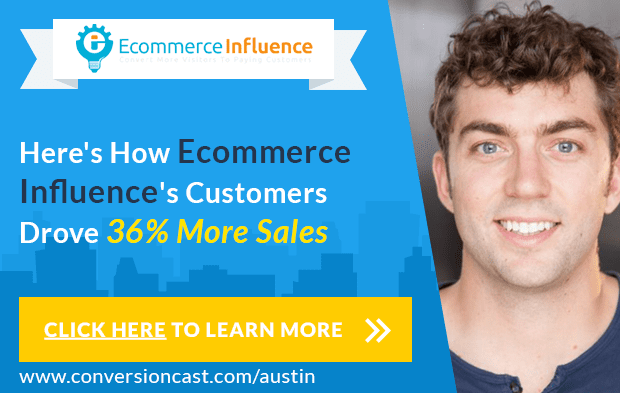 Note: The Exact Strategy Ecommerce Influence Used To Boost Sales By 36% Is Available For Download. 
Click Here To Download
Our Guest:
Austin Brawner is the Chief Fixer at Ecommerce Influence (http://www.ecommerceinfluence.com/), where they  strive to be the world's best resource in helping grow ecommerce businesses from 1 Million to 10 Million plus dollars. Being the Chief Fixer, he loves to improve people's websites and find where revenue can be made. He also hosts the company's very own podcast – Ecommerce Influence. Ecommerce Influence uses marketing strategies to help grow  companies and ultimately take them from 7 figures to 8 figures in profit.
A Quick Preview of the Podcast:
How to implement a standout marketing tool for selling consumer goods online
How to increase sales and exposure for your brand without being pushy
The 4 simple steps of building a customer referral program
Takeaway Tweet:
"Our goal is to convert our best customers into salespeople for the brand"- Austin [Tweet This]
To See These Tactics In Action:

Click Here To Learn The Exact Marketing Campaign Ecommerce Influence Used To Boost Customer Sales By 36%
To See The Transcript: 
Listen To Discover The Exact Strategy Ecommerce Influence Used To Immediately Boost Client Sales By 36%