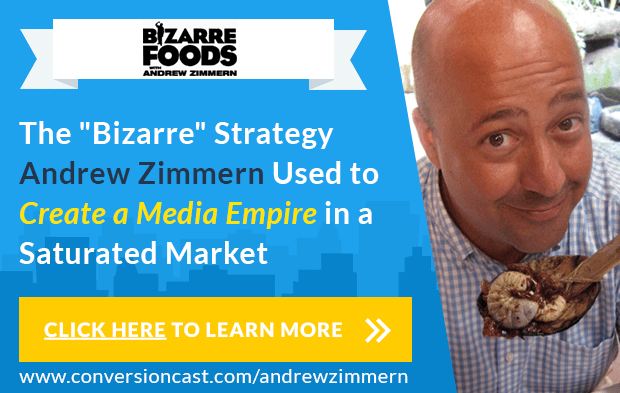 Note: The Exact Strategy Andrew Used To Stand Out Through Media Is Available For Download. 
Click Here To Download
Our Guest:
Andrew Zimmern defines himself as a culinary anthropologist. He hosts the show Bizarre Foods on the Travel Channel as well as the Go Fork Yourself podcast. He has made a name for himself not only in the food industry, but as a branding and positioning expert from his experience in magazine writing, radio, and TV. He is also a Corporate Spokesperson for Target, Toyota, Pepto Bismol, General Mills, and Proctor & Gamble.
A Quick Preview of the Podcast:
Why uniqueness is so important in business and how to market it
How you should engage your audience in order to convert
How Andrew achieved success in the TV industry with just one idea
Takeaway Tweets:
"What comes from the heart, reaches the heart" – @andrewzimmern [Tweet This]
"I don't seek to be the best with every project I do… I can seek to be the only" – @andrewzimmern [Tweet This]
"The concept of uniqueness is everything" – @andrewzimmern [Tweet This]
To See These Tactics In Action:

Click Here To Learn The Exact Strategy Andrew Zimmern Uses To Market His Top Ranked TV Show
To See The Transcript: 
Listen To Discover The Strategy Andrew Used To Take His Show To The Top