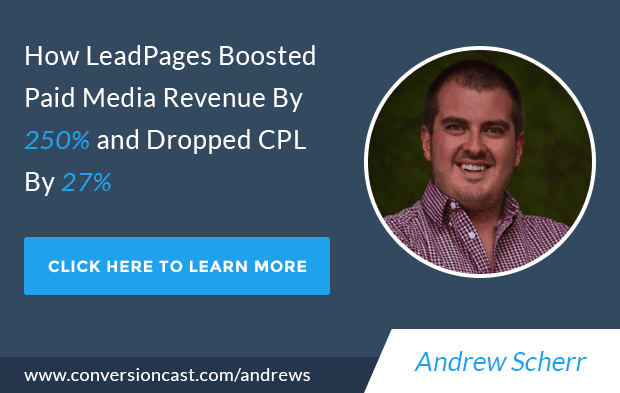 Note: The Exact Tactic Andrew Used To Significantly Increase Revenue & Decrease Cost Per Lead Is Available For Download. 
Click Here To Download
Our Guest:
Andrew Scherr is the Paid Media Manager at LeadPages where he oversees the advertising budget and works closely with the Design, Content, and Marketing Team on a daily basis. He determines ad spend and analyzes LeadPages efforts through ROI, Cost per Lead, CPM, and other metrics.
A Quick Preview of the Podcast:
How to use a common paid media platform to improve results
How to target ads even when you don't have an audience
How to more effectively market to your audience without wasting money
To See These Tactics In Action:

Click Here To Learn How Andrew Used One Feature On A Paid Media Platform To Boost Revenue & Reduce CPL
To See The Transcript: 
Listen To Discover How Andrew Dramatically Boosted Revenue & Decreased CPL Through One Tool