You don't need me to tell you that the next 4-6 weeks present one of the biggest opportunities of the year to get more online sales.
Black Friday. Cyber Monday. Christmas.
It's no secret that these days offer businesses a huge opportunity to boost their 2014 sales.
But here's what I do want to tell you — you don't have to be Amazon or Best Buy to take advantage of this time of year.
According to Bloomberg, Black Friday online spending increased 15% to a record $1.2 billion in 2013, while total e-commerce sales increased about 3.1% to $20.6 billion in the first 29 days of November.
Here's another tasty figure — in 2012, consumers spent $423 on average during Thanksgiving weekend.
Translation: people are actively looking to spend more money than usual online over the next few weeks. And if they're going to spend it, wouldn't you rather it be on your product(s) than a $30 DVD player?
If so, this post will show you 10 ways you can boost your sales and/or grow your business using landing pages over the upcoming several weeks.
For each example, I've created a landing page for a make-believe business called GuitarFingers (which you may have seen before in our videos). Though the business may be make-believe, the strategies and landing pages certainly are not.
If you see a page or strategy you like, simply click the link at the end of the example and you'll be able to customize your own version of the landing page in just a few minutes using LeadPages™.
NOTE: It's important to be responsible with discounts. The fire-sale tactics that work so well with massive retailers like Amazon may not directly translate to your business. That's perfectly fine, and that's why I've included several strategies in this post that allow you to take advantage of the e-commerce frenzy without offering discounts.

1. Pre-Black Friday Welcome Gate
On November 12, if you went to Amazon's home page, you would see this:
With Black Friday a few weeks away, they're already plastering it all over their home page.
Most likely, your business is not like Amazon. So it wouldn't make much sense for you to completely redesign your home page weeks in advance of Black Friday.
But that doesn't mean you can't borrow a little something from their strategy. After all, if you do plan on offering Black Friday and/or Cyber Monday deals, it's good to get them on your visitors' radar in advance.
So how do you do that without completely redesigning your home page?
Try putting a simple "welcome gate" landing page on your website like the one below: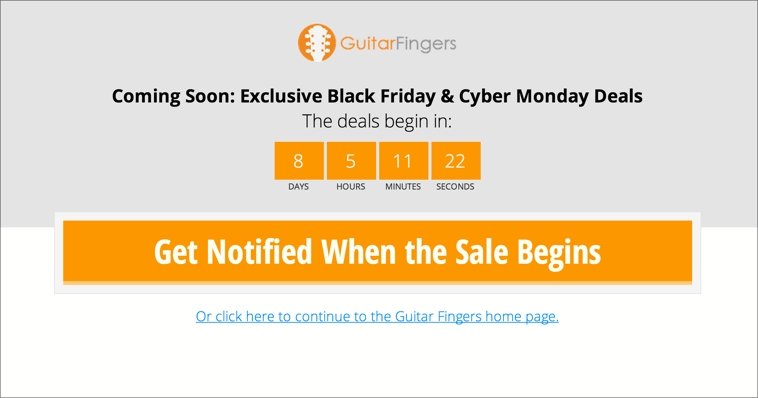 You can use LeadPages' WordPress plugin to set a landing page like this as a "welcome gate" on your site. When visitors go to your home page, they will see this page instead.
On this page, visitors can either click the big orange button and opt-in to get notified when the sale begins, or they can click the link below the button to continue to your regular home page.
This page will help you accomplish two important things:
It will help you add warm prospects to your email list before your sale even starts.
It will let people who are already familiar with your business (and possibly already on your email list) know in advance that you're going to be offering Black Friday deals. This will give them time to factor you into their planned purchases.
This type of welcome gate landing page allows you to turn the traffic you're already getting to your home page into warm leads for your upcoming sale.
Click Here to Customize This Page for Your Own Business.
2. The Video Sales Page Welcome Gate
Are you offering a particularly amazing deal on Black Friday or Cyber Monday? If so, you may want to try this idea.
Like the Pre-Black Friday Welcome Gate, you could also use this page as a welcome gate. After all, if your top goal during that 24-hour period is to sell as much of a particular product as possible, why not point your organic home page traffic straight there?
In the video section, you can place a compelling video about your time-sensitive offer. Then, you can link the button below the video to a more expansive sales page.
Below the button, visitors have an option to click a text link to bypass your welcome gate and go straight to your site if they're not interested in the offer.
Click Here to Customize This Page for Your Own Business.
3. The Black Friday Sales Page
Last year, many marketers offered one great deal on one of their flagship products for their Black Friday/Cyber Monday special, rather than offering storewide discounts.
For example, take a look at this deal that Michael Hyatt offered for Black Friday 2013:
If you have a product you plan on discounting, you can do the very same thing by creating a sales page specifically for your Black Friday offer.
Check out the example we created using the sales page Pat Flynn of Smart Passive Income designed for the LeadPages™ Marketplace:
In this example, we offer an exclusive deal on the Video Guitar Lessons course, as well as two bonus package levels.
If you're planning on offering a deal on one product in particular, sending traffic to a sales page like this (that's built from the ground-up with conversion in mind) can be a better option than sending that traffic to a traditional e-commerce product page. You can then link the "Buy" buttons on this page directly to your shopping cart.
Click Here to Customize This Page for Your Own Business.
4. The Social Share Thank You Page
We've talked extensively in the past about why the thank you page is one of the most overlooked opportunities in marketing, and the holidays are no exception to the rule.
Your thank you pages give you an excellent opportunity to both prime visitors for your sales, and enlist them to spread the word about your sales.
The Social Share Thank You Page is all about the latter. This is the page visitors will see after they either opt-in to get email updates about your sale, or purchase a product while your sale is actually happening: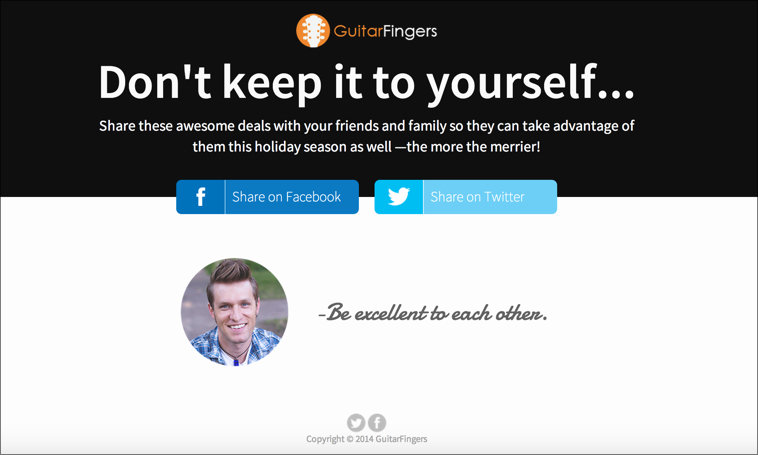 As you can see, this simple yet powerful little page turns subscribers and/or purchasers into walking advertisements for your holiday sales or specials by encouraging them to share the deal with their friends.
This page will build on the momentum your visitor has already built up by either opting in to your email list or purchasing your products.
Rather than ending the conversation, this page allows you to take advantage of that momentum and suggest one more valuable action for your visitor to take — sharing your deals with their friends.
Click Here to Customize This Page for Your Own Business.
Pretty cool strategy, right? That's why this isn't the only thank you page idea we're giving you…
5. The "Check Out the Sale" Thank You Page
While the previous thank you page greets visitors AFTER they learn about your sale, this thank you page communicates your current or upcoming sale to visitors who may not know about it yet:
Set a landing page like this as the thank you page that visitors see after they opt in for your email list. That way, you can take advantage of your visitors' momentum and direct them to a page that features your current or upcoming sale/special.
Click Here to Customize This Page for Your Own Business.
6. The Black Friday Upsell Page
This is one of the coolest and most useful templates inside the LeadPages™ Marketplace right now.
It allows you to offer prospects a discounted upsell after they have clicked your "Buy" button, but before they have reached your shopping cart. Check out the example, where prospects who have clicked to purchase the "Video Guitar Lessons" course are taken to this page before reaching the shopping cart:
When the box on this page is checked, the "Place Order" button links to a checkout page in your shopping cart with the original item plus the upsell offer. When the box isn't checked, the "Place Order" button links to a checkout page with just the original item.
The page also adjusts dynamically when the box is checked or unchecked:
This type of upsell page can be highly effective. In fact, a few years ago when we sold a product called LeadPlayer, over 90% of people chose to take an upsell we offered on a page just like this.
If you want to give this upsell page strategy a try, click here to customize this page for your own business.
7. The Facebook Holiday Giveaway
Discounts are not a fit for every business, and sometimes they can actually be harmful.
But that doesn't mean you can't leverage the excitement of the season into more subscribers on your email list.
This idea was inspired by LeadPages™ user Marina De Giovanni, who recently added 17,800 subscribers to her email list in six weeks by promoting giveaways with Facebook ads.
As you can see, rather than offering people a discount or promotion, this page gives them the chance to enter a giveaway in exchange for their email address:
You could promote this page via social media or through Facebook ads like Marina did (we detailed her exact strategy here). This page lends itself well to Facebook ads, as its design matches the look and feel of Facebook. You can even publish it as a Facebook tab in as little as four clicks inside LeadPages™, which can often lead to lower cost-per-click on your ads.
When properly executed, this strategy can increase your email list dramatically, a valuable alternative if you don't plan on offering Black Friday, Cyber Monday, or holiday special offers.
Click Here to Customize This Page for Your Own Business.
8. The Epic Free Course Page
If you're not offering discounts or special offers, this is another landing page that might be right up your alley.
Like the Facebook Holiday Giveaway page, the Epic Free Course Page is designed to build your email list rather than offer discounts.
On this page, you offer an entire video course (which people would normally pay for) completely free of charge. You then give visitors multiple opportunities to opt-in to receive extras like downloadable versions of the videos, PDF transcripts, MP3 files, and more.
Check out the example:
Not only is this a great way to build your email list, it's also a great way to simply offer something highly valuable that will help your audience.
If you're interested in seeing a real example of this strategy in action, our very own Bob "The Teacher" Jenkins (Marketing Educator here at LeadPages™) just released his complete Webinar Funnel Course using this same template.
Click Here to Customize This Page for Your Own Business.
9. The Bonus Stacking Holiday Sales Page
When I first heard about Brian Moran's "bonus stacking" strategy, I knew I had to work it into this post.
To sum it up quickly, here's how it works.
First, you would send traffic to this page containing your special offer (note the bonuses section on the page):
Then, you would use a retargeting service (like AdRoll or Perfect Audience) to deliver ads to people who visited your page but didn't buy.
The ads would tell those prospects that new bonuses have been added to the offer, and send them to a version of the same page with extra bonuses added:
When Brian Moran implemented this "bonus stacking" strategy using this page, he actually lowered his customer acquisition cost by 90% (it went from around $37 per customer to around $4 per customer).
To get a complete video walkthrough of this "bonus stacking" strategy, check out the video we created about it here.
If you have products or services you can easily offer as bonuses, this is definitely a strategy worth trying.
If you want to customize this page for your own business, click here.
10. The Small Gift Giveaway Page
Want to give something valuable away in order to build your email list, but don't have time to create an entire epic video course?
Give the strategy taking place on the landing page below a shot, and give away a small (but valuable) part of one of your most popular products.
Not only will this help you build your email list, it will also give you a built-in segment of people who you know are interested in the particular product your giveaway content came from. You can then create an offer centered around that product specifically for that segment of people.
Click Here to Customize This Page for Your Own Business.
What's Your Holiday Sales Strategy?
There you have it. Whether you're planning on creating special offers for Black Friday, Cyber Monday, or the rest of the holidays, OR you'd just like to use this time to build your email list, there's a strategy (and a landing page) in this post for you. 
So tell me, do you plan on trying any of these landing pages or strategies? If so, leave a comment below and let us know which ones.