Editor's Note: Welcome to the latest installment of our Build My Business series, in which our in-house experts, hobbyists, and insatiably curious marketers show you how they would use LeadPages® to launch a campaign for a very specific—though hypothetical—business purpose. In this week's post, marketing automation specialist Nate Johnson builds a campaign for a certified public accountant trying to create more year-round business.
* * *
I have a friend who owns an accounting firm. While accounting doesn't have a reputation as the most action-packed field in the world, I've learned from my friend that it can actually be a little bit bumpy.
That comes from 2 main factors:
1. Business is seasonal. CPAs get a huge rush of business around tax season, but things can be dry during the rest of the year. That can make staffing difficult.
2. Business is transactional. Most of my friend's clients come see him for tax-return preparation or another one-time service, so it's hard to develop the kind of long-term customer relationships that can create a steadier stream of revenue.
Now, accountants like my friend could shrug, sigh, and say, "That's just the way the business is." But I think there's a way to mitigate some of these challenges—through marketing.
This campaign is designed to drive more year-round business and build stronger relationships with customers who generally only come in at tax time. To build it, I imagined a fairly common accounting scenario for myself: a CPA serving high-revenue local professionals such as doctors, dentists, contractors, and small businesses owners.
The problem for firms like these isn't necessarily a lack of customers. In fact, it's hard to force more customers into a business that's already overstressed at tax time. There is ample extra time throughout the year where more services could be rendered to existing customers, however—and that's the goal of my campaign.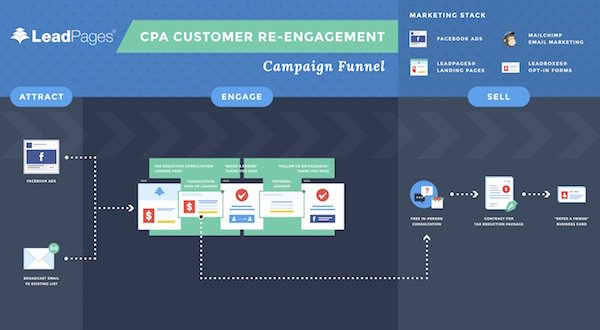 Read more "Build My Business: How a CPA Can Increase Customer Value (and Stay Busy Outside Tax Season)"