Editor's Note: Everyone at LeadPages is an expert in some area of marketing, but most of us also have expertise in other fields—or know and care about people who do. Today we're kicking off a new series in which our in-house experts, hobbyists, and insatiably curious marketers show you how they would use LeadPages to launch a campaign for a very specific—though hypothetical—business purpose. This week, Brandon Lytle will tell us what he'd do to get a self-published e-book onto Kindles everywhere.
As the Business Development Manager here at LeadPages, I've spoken to quite a few independent authors. The first question they tend to ask is: "Now that I've decided to purchase LeadPages, what's next? How do I create an audience? And more importantly, how do I sell my book?"
One of those independent authors is my dad—or at least, with any luck, he will be soon. He's recently decided to write his first book collecting his insights from a career spent in banking. It's included some interesting ups and downs, and he expects his story will be be an opportunity to share useful insights with people in his corner of the field.
After speaking to my dad about the content and the assets he currently has, I decided to create a campaign for him made to produce a successful, if modest, book launch. This isn't the only way you could build an audience for a newly published book, but it should be easy enough for just about anyone to follow.
In this post, I'm going to cover the most important tools and tactics I'd use to make my dad's book a hit. If you've launched an e-book or are about to, tell me about any discoveries you've made in the comments!
Step 1: Create an e-book landing page with LeadPages®.
This page is the fulcrum of my campaign strategy. I used the E-Book Landing Page Template from Pat Flynn to create a basic page where visitors would be able to opt into my email list (more on that in the next steps). Here's a draft of that page: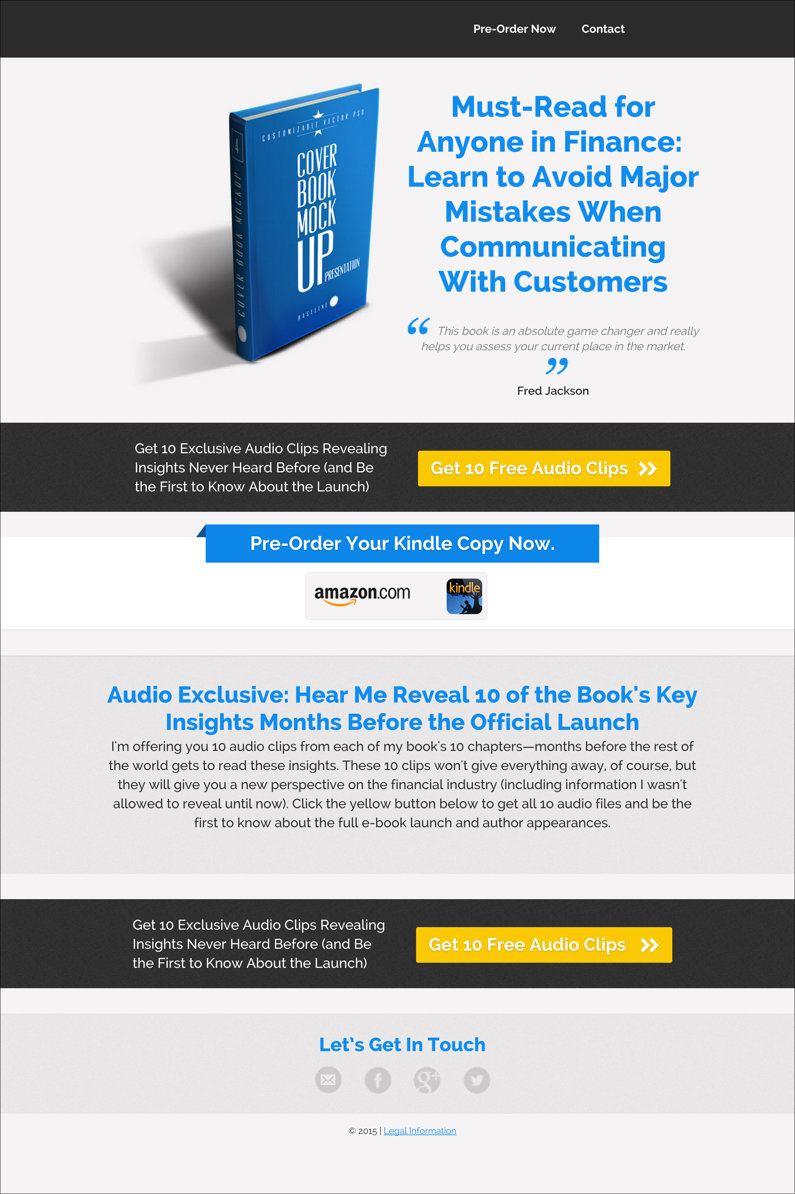 If you'd like to use this template for your own e-book (or any other kind of digital product), we'd like to give it to you free. Download all the files here:
Click Here to Download the E-Book Template
If you have
LeadPages
, you don't need to download this template – it's already available to you inside your LeadPages account. Otherwise, you'll need to do a little coding to customize the files and host the page on your server.
Read more

"Build My Business: Launch an E-Book (in Just 5 Steps)"