In our last A/B test post, we explored a test that resulted in a monstrous 317% conversion-rate increase:.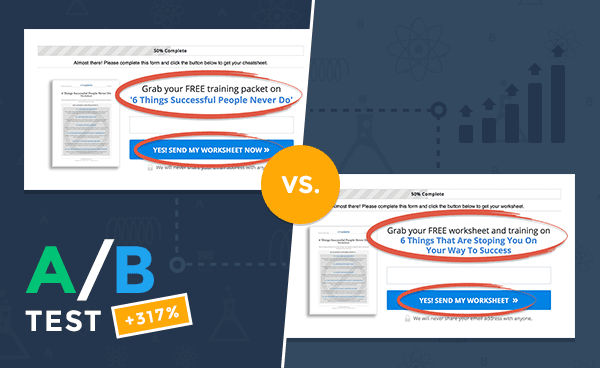 I had a few theories about why Version A (the LeadBox™ on the left) might have won. Its copy was shorter. It added "Now" to the button text. And its headline used the same title for the lead magnet that was visible in the illustration of that lead magnet.
When multiple changes are made between A/B test variations, it's not always easy to tell which change was responsible for a win. But, as luck would have it, the LeadPages user who created the previous test ran a second, similar test that could clear things up.
Version A borrowed some elements from the previous test's winning variation: it added an extra action word ("Yes!") to the button and used a shorter headline. Version B's headline was longer, primarily because it repeated the lead-magnet title visible in the illustration. Version A summed up the lead magnet differently ("7 Quick Tips to Boost Your Confidence").
Which version do you think increased opt-ins for this LeadBox™ by 332.96%?
Go down to the comments and tell us which one you'd choose and why—then vote below to see if you were right!
Vote to reveal the winning A/B-tested LeadBox™ and our analysis.
Vote: Which Page Won This Split Test?
Free Download: See Results from 20 of the Best Split Tests We've Featured on Our Podcast, ConversionCast
(Called "The Split Testing Encyclopedia of Results").
It Contains Dozens of More Split Test Ideas, Results, and Insights.)
Click Here

to Download my Free Guide
PRIVACY POLICY: We hate SPAM and promise to keep your email address safe.
YES! Nice call!
Nope! Try Again Next Time!
Winner:
Version B
created an overall increase of 332.96%
How People Voted
Click here to see our take on these results
If you chose Version B you are correct!
Version B, with a 100% probability of outperforming Version A, increased opt-ins by 332.96%.
Although we can't say with total certainty why this change caused the increase, these results combined with the previous test suggest that visitors are far more likely to opt in when the lead-magnet title in the copy matches the title shown in the image. Inconsistencies like those in Version B may seriously harm your perceived credibility.
Why do you think Version B outperformed Version A? Let us know in the comments!
Not all visitors are the same, but A/B testing your copy may be something to consider for your own LeadBoxes®.


What Do You Think?
Did this test's results surprise you? Why do you think Version B increased conversions so dramatically? Leave a comment below and let us know your thoughts.
If you're new to LeadPages, you should know that all Pro and Advanced users can run any A/B test inside LeadPages in just five clicks.
Do you have a LeadBox™ like this one that you would like to test? If so, you can set up the exact same type of test in under a minute. You can also A/B test your form fields, calls-to-action, images, and just about any other change you can think of.
Watch the quick video below for an introduction to enabling split testing on your LeadPages account.
https://youtube.com/watch?v=3h3pQKLagng%3Fshowinfo%3D0
More About A/B Testing LeadBoxes®
A/B Test: Which Branding Strategy Increased LeadBox™ Opt-Ins by 152%? For another example of the power of A/B testing LeadBoxes®, check out this strategy test.
4 Ways to Optimize Your Split Testing Strategy for Better Results and Crystal Clear Insights A/B testing has become one of the easiest ways to increase conversions. Learn how to optimize your A/B testing strategy for better results and insights with these 4 simple tips.