If you are familiar with our A/B tests posts here at LeadPages®, you may notice that they usually resemble a game of Spot the Difference. The two variants differ just by one often-subtle element.
Tests like these are easy to set up, and because they're so simple, the takeaways are often crystal clear.
However, there is another style of A/B testing. This kind of test makes large-scale changes to several elements at once, using totally different messaging, templates, or design schemes.
A test like this is less like a footrace and more like a dance contest. It assesses which overall feel and style connects with the audience best, even if it makes it harder to tie your metrics to any given element.
I'd consider this a sort of pre-optimization test. When you don't know where to begin, it can make a lot of sense to test two very different approaches to an offer. Then, you can take the winner and begin to run single-variable tests from there.
Let's take a look at an example.

In this A/B test, Female Entrepreneur Association International customized the Basic Squeeze Page in two very different ways. Here's a closer look at each one:
In Version A, a headline about "reaching your goal" and an image of someone happily kicking back emphasize the pleasure that comes after achieving something.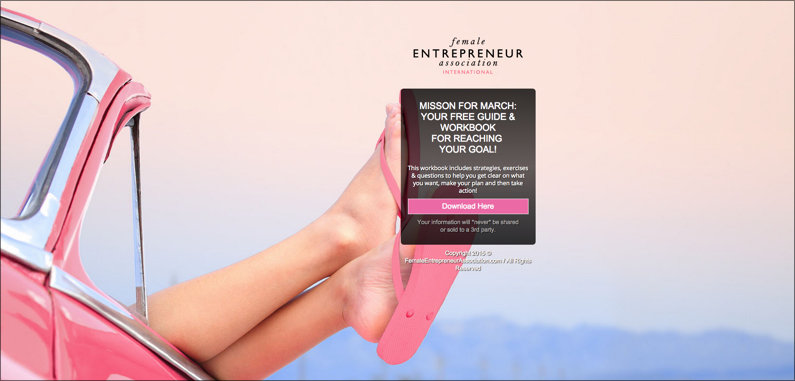 Version B focuses on the actual process of getting things done. It urges visitors to "achieve something incredible this month" and keeps the focus on the workbook it offers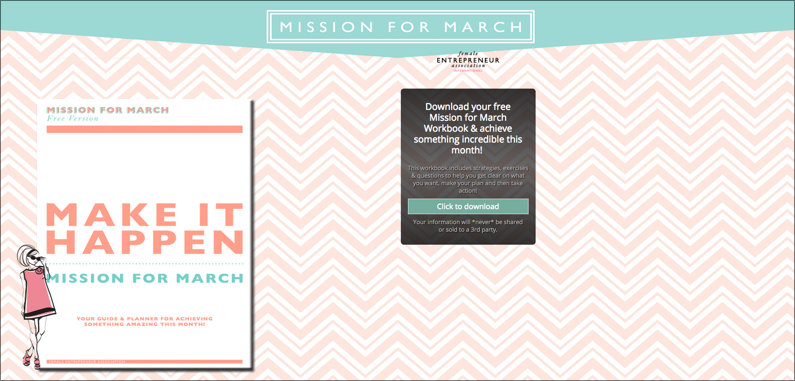 Which version do you think increased opt-ins for this LeadPage® by 25.62%?
Go down to the comments and tell us which one you'd choose and why—then vote below to see if you were right!
Vote to reveal the winning A/B-tested LeadPage® and our analysis.
Vote: Which Page Won This Split Test?
Free Download: See Results from 20 of the Best Split Tests We've Featured on Our Podcast, ConversionCast
(Called "The Split Testing Encyclopedia of Results").
It Contains Dozens of More Split Test Ideas, Results, and Insights.)
Click Here

to Download my Free Guide
PRIVACY POLICY: We hate SPAM and promise to keep your email address safe.
YES! Nice call!
Nope! Try Again Next Time!
Winner:
Version B
created an overall increase of 25.62%
How People Voted
Click here to see our take on these results
If you chose Version B you are correct!
Version B, with a 100% probability of outperforming Version A, increased opt-ins by 25.62%.
Although we can't say with total certainty why this change caused the increase, here are a few of my speculations:
This page's visitors were more motivated by achieving something quickly than by kicking back after achieving something.
With its strong branding, Version B may have communicated more authority to visitors.
Version B displays an image of the the lead magnet on the page, adding value and clarity to the offer.
As you can see, there are quite a few differences between the 2 pages that could have had an impact on this test's results. What changes do you think had the biggest impact on this test? Let us know in the comments!
Not all visitors are the same, but A/B testing the focus of your LeadPages® may be something to consider for your own business.
What Do You Think?
Did this test's results surprise you? Why do you think Version B increased conversions so dramatically? Leave a comment below and let us know your thoughts.
If you're new to LeadPages, you should know that all Pro and Advanced users can run any A/B test inside LeadPages in just five clicks.
Do you have a LeadPage® like this one that you would like to test? If so, you can set up the exact same type of test in under a minute. You can also A/B test your body copy, images, calls-to-action, and just about any other change you can think of.
Watch the quick video below for an introduction to enabling A/B testing on your LeadPages account.
https://youtube.com/watch?v=3h3pQKLagng%3Fshowinfo%3D0
Another Multi-Variable A/B Test
A/B Test: Which Landing Page Copy Increased Opt-ins by 50.83%?
For another example of the power of Multi-Variable A/B Testing, check out this LeadPage® test.