With over 48 million customers who watch a combined 1 billion+ hours of movies and TV shows every month, one thing's for sure:
We're all spending a ton of time on Netflix.
Perhaps even more revealing is that 61% of 1,500 surveyed Netflix customers admitted to binge-watching (defined here as watching 2-6 episodes of a show in a sitting) at least every few weeks.
But I'm not about to rant on why we should all get off the couch and go find inspiration outside in the real world. Instead, I'm going to use this post to show you how to turn your next Netflix binge-watching session into a mini marketing education.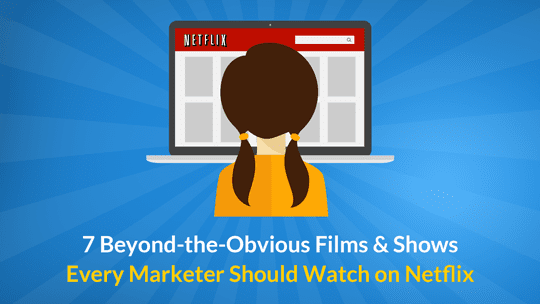 If you think you've seen all of the Bloomberg profiles of business magnates and entrepreneurial TED talks, don't worry — this post will be featuring strictly beyond-the-obvious films and shows.
Read on to see shows and films that are interesting in their own right, but are also packed with marketing insights.
If you're having trouble deciding what to watch first, be sure to check out our handy flowchart at the end of this post. It will show you exactly where to start based on your interests.
Category:
Documentary
What It's About: This documentary profiles sushi chef Jiro Ono, an 85-year-old master whose 10-seat, $300-a-plate restaurant is legendary among Tokyo foodies.
Length: 1hr 22m
How It Will Make You a Better Marketer:
How does a small sushi restaurant located in the basement of Tokyo's Ginza subway station that serves no appetizers and no dessert earn three stars from the most prestigious restaurant guide in the world?
The chef and owner creates an unforgettable experience.
According to Yamagata, a respected Japanese food critic, "For fast eaters a meal there might last only 15 minutes. In that sense it's the most expensive restaurant in the world. But people who eat there are convinced it's worth the price."
Why are Jiro's customers so convinced a 15-minute meal in his restaurant is worth $300? Obviously, taste is a big factor. But the experience is right there with it.
In an article for CNN, customer Dan Shapiro recounted his experience upon arrival:
"I am escorted to one of 10 seats at this shrine to Japanese sushi, offered a warm towel to cleanse my hands and face, a cup of tea and even a small rubber pad so that my camera doesn't make direct contact with the altar-like counter top."
Jiro then assembles each of the approximately 20 pieces of sushi by hand one at a time before setting each down in front of the customer. According to many sushi connoisseurs, a piece of sushi is best when consumed in the first few seconds after it is made. Jiro adheres to this.
Customers leave the restaurant talking about much more than just the sushi — they talk about the experience.
What kind of experience are you offering your customers? Is it memorable? Is it worth talking about? These are the questions Jiro Dreams of Sushi will challenge you to answer.
Memorable Quote: "Once you decide on your occupation, you must immerse yourself in your work. You have to fall in love with your work. Never complain about your job. You must dedicate your life to mastering your skill. That's the secret of success…and is the key to being regarded honorably." – Jiro Ono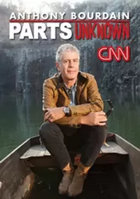 Category: Television Series
What It's About: This series follows chef, author, and TV personality Anthony Bourdain as he delves into the culture of often-untravelled destinations around the world, such as Myanmar, Congo, and Detroit, just to name a few.
Episode Length: 42m
How It Will Make You a Better Marketer:
Parts Unknown will, as the title suggests, take you places you've never experienced. While that may seem like an odd way to become a better marketer, I've found that it helps stretch your creative mind — and I'm not the only one who thinks so.
In his classic book on copywriting, Advertising Secrets of the Written Word, legendary copywriter David Sugarman wrote:
"The best copywriters in the world are those who are curious about life, read a great deal, have many hobbies, like to travel, have a variety of skills, get bored and then look for other skills to master. They hunger for experience and knowledge and find other people interesting."
While watching someone else chase down life's curiosities, travel the world, and meet people from different cultures is certainly no replacement for doing those things yourself, it can, at the very least, open your mind to new ideas and perspectives.
Where to Start: Episode 1: "Myanmar" – Dive into a culture that has just recently become more accessible to the western world.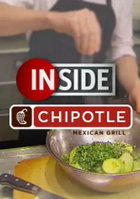 Category: Television Series Episode
What It's About: How Chipotle became your favorite place to stuff your face with a burrito — without compromising core values of serving "slow" food in a fast casual environment.
Episode Length: 21m
How It Will Make You a Better Marketer:
There are many factors that have contributed to Chipotle's rise to a $12 billion company — their food tastes great, their restaurants are run smoothly and efficiently, and they deliver outstanding customer service.
But one quote in this short feature stood out to me above all others: "They've been able to brand themselves as a company that you can actually identify with based on your values."
Those values, of course, are utilizing naturally raised (and, when possible, locally sourced) ingredients in every Chipotle restaurant. In fact, Chipotle buys more naturally raised meat than any other restaurant company in the entire world. They use organically grown cilantro and buy many of their vegetables from local farms.
But this episode of Inside highlights the most important aspect of their obsession with integrity — how Chipotle has been able to use that obsession as a key marketing tool to make customers identify with their brand.
Key Quote: "We really broke all the fast food rules. We ordered fresh, whole ingredients. We prepared everything in the restaurant according to classic cooking techniques, and then we served all the food in this interactive format, so the customers get to pick and choose exactly what they want." – Chipotle CEO Steve Ells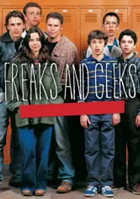 Category: Television Series
What It's About: Two different groups of teenagers in the early '80s navigating the social challenges and hilarities of high school.
Episode Length: 44m
How It Will Make You a Better Marketer:
There are two big marketing lessons this much-beloved cult television show can teach you.
Lesson #1: You Can Go out of Business Selling an Amazing Product
You need more than just an amazing product to stay in business. You also need the right platform and the right timing.
Freaks and Geeks, doomed to toil amidst a shuffling air time on NBC's Saturday night lineup, had neither. According to series co-creator Judd Apatow, NBC wouldn't even let them promote the show's website because NBC didn't want to lose viewers to the Internet (this was 1999).
Ultimately, the show was cancelled after only 18 episodes. Since then, the evidence that it was a television masterpiece has only mounted:
Exhibit A: Almost half of the show's actors — James Franco, Seth Rogen, Jason Segel — went on to become household names.
Exhibit B: The show's rating of 4.4 out of 5 stars on Netflix, where over one million viewers have rated it.
Exhibit C: Series Executive Producer Judd Apatow has gone on to produce comedy blockbusters like Anchorman, Knocked Up, and Bridesmaids, to name a few.
Lesson #2: How to Connect with Your Audience
Talk to any Freaks and Geeks fan about why they like the show and you'll most likely hear about how relatable it is. The show was masterful at tapping into the frustrations of youth just about every middle class American kid experienced growing up.
The writers understood the motivations that make people tick — the need to belong, the desire to do something meaningful, what other people think about us — and they tapped into those with almost every episode.
As a marketer, it's important to understand these motivations in order to show customers how your product fits within the context of their lives.
Where to Start: Episode 1, the pilot episode that started it all.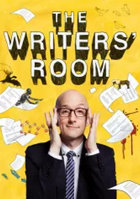 Category: Television Series
What It's About: The journey of a successful television show, told from the perspective of the writers and creators.
Episode Length: 22m
How It Will Make You a Better Marketer:
At the beginning of each episode of The Writers' Room, Academy Award winning writer and host Jim Rash characterizes the writers' room as a place of "outrageous success, horrible mistakes, last minute changes."
The first time I heard that I couldn't help but think… Man, sounds like an average week in the life of a marketer.
But that's not where the similarities end.
I'd never thought about the fact that nearly every television show has multiple writers, and thus, multiple creative minds having to reconcile their differing opinions to determine what's best for the show.
If you've ever been involved in a large scale marketing campaign, you know a lot of people can be involved — copywriters, designers, operations managers, project managers…the list could go on.
Inevitably, there are disagreements.
But if the writers of Breaking Bad can come to a consensus on how complicit Walter White should be in another character's death (as detailed in episode one), maybe you and the project manager can figure out a way to agree on which subject line to use.
More than anything else, though, The Writers' Room is a show that attempts to understand the process of creating a great product. And that's something every marketer can benefit from understanding better.
Where to Start: Episode 1: "Breaking Bad" – Several writers (including show creator Vince Gilligan) and lead actor Bryan Cranston describe the struggle of balancing so many creative minds to create the best product possible.
What It's About: The world of modern music's most talented backup singers and the stars they sing for.
Episode Length: 1 hr 30m
How It Will Make You a Better Marketer:
If there's one thing I've learned about marketers over the years, it's this — we're a creative bunch.
Most marketers I know have a ton of different interests and a connection to some type of creative discipline like music, painting, writing, etc. Sometimes, it can be a struggle to know when to unleash that creativity and when to keep it in check.
Should I try something different with this headline…or play it safe?
Should this video about our product be simple and straightforward…or tell an emotional story?
Should this Facebook ad be clever and funny…or clear and to-the-point?
Enter the life of a backup singer — a delicate balance between controlled synchronicity and freewheeling energy.
It's fascinating to watch these incredibly talented singers walk the line between remaining in the background and being stars. And just like good marketing, good background singing ties everything together and completes a human connection.
Memorable Quote: "Backup singers just bring so much more life to the situation. When a voice opens up, there comes the life.That's when it's a person-to-person connection." – Lynn Mabry, Backup singer for Talking Heads and many more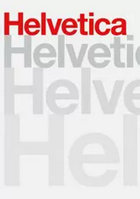 Category: Documentary
What It's About: How Helvetica has become the most popular font in the world.
Episode Length: 1 hr 21m
How It Will Make You a Better Marketer:
You'll learn a lot about the history of Helvetica and what makes it special (and why some designers think it's NOT so special), but you'll learn even more about three things that are very important to marketers:
1. How designers think — If you're in marketing, it's beneficial both to better understand how designers think (this greatly helps with communication), and also how to occasionally think like a designer. After all, it was David Ogilvy who wrote "the ability to think visually" when he listed the hallmarks of a potentially successful copywriter in his classic Ogilvy on Advertising.
2. The role of typography and how to utilize it effectively — The interesting thing about typography is that it's present in nearly every marketing medium: email, direct mail, online ads, television ads, the list goes on. You don't have to be an expert, but it pays to have a basic understanding of how it should be used. Helvetica will show you.
3. The journey to ubiquity — Helvetica isn't just popular; it's everywhere. You have most likely not experienced many days on earth in which it hasn't touched your life in some way. So what goes into creating something that becomes such an integral part of daily life? Helvetica proposes some answers.
Key Quote: "The designer has an enormous responsibility. Those are the people putting the wires into our heads." – Massimo Vignelli
What Did We Leave Out?
Ah, the question that's captured an entire generation's minds — What should I watch on Netflix?
If you need a little help picking which of these films or shows to start with, click below to grab a copy of our handy flowchart. It will help you get started based on your interests: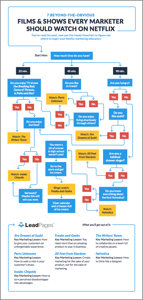 What about you? What movies and shows on Netflix have inspired your inner marketer? Leave a comment below and let us know.