Confession: As much as I love technology, I'm not what you'd call a tech expert.
I'm one of those people who actually reads the FAQs before updating websites, or quickly skims the tutorial videos before I dive into new apps. (Perhaps you can relate.)
So when it comes to creating lead magnets, I often ask: "What's the simplest non-technical way I can create the most valuable, high-converting content possible?"
Given those constraints, I've collected a list of 15 high-value lead magnets that you can create and give away to grow your email list. You can use any one of these lead magnets to grow your email list on your blog, on your podcast, or through your landing pages.
You can create any of these 15 lead magnets in 30 minutes or less with little to no tech or design skills, and start using them to grow your email list. 
What to Give Away to Grow Your Email List
1. Turn Your Best Blog Post into a PDF Download or Report
Is your most valuable content already sitting on your blog?
If so, then you're just a quick copy, paste, and export away from turning your best blog post into a valuable PDF document you can use to grow your email list.
Estimated production time: 10 minutes
Recommended tool: Try Beacon to easily create professional lead magnets.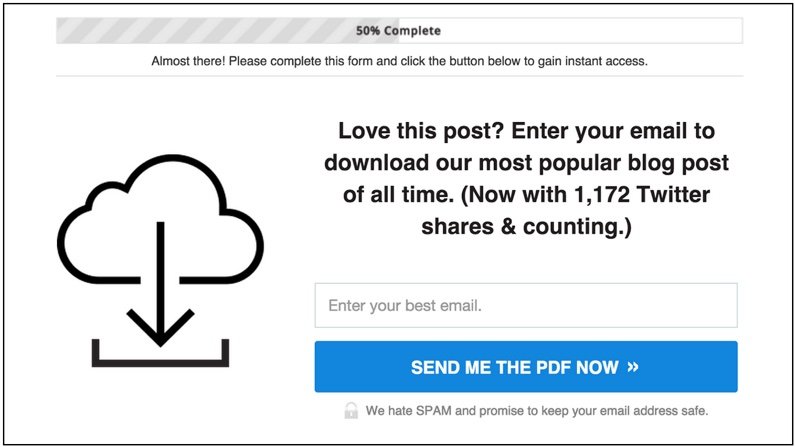 2. Got Transcripts? Give Them Away
If you're podcasting or filming YouTube videos for your business, you should already be creating transcripts for each episode or video. 
Once you have a transcript in PDF format, you simply have to proofread it before you can give it away as a lead magnet.
Estimated time: 15 minutes
Recommended tools: Try one of many online transcription services, such as Rev, Trint, or Datalyst.
3. Call An Audible—Literally. Read Your Blog Posts Out Loud
If you're already creating valuable blog post content, you can add to that value by simply recording yourself reading your blog post out loud. Then you can give away a download audio file as a lead magnet.
Estimated time: 15 minutes
Recommended tools: To create this audio file, you can use a free service like Audacity. Or you can use a paid service like GarageBand, Adobe Audition, or Twisted Wave to record this file.
4. Create a Quick PDF Checklist to Match Your Blog Post
This is one of my personal favorites. You can turn just about any kind of existing content into a quick checklist guide to offer your potential clients additional value.
Here are a couple ideas for your checklists…
Checklist of itemized steps for a how-to blog post or podcast.

Checklist of materials for a do-it-yourself project.

Checklist of ideas that you came up with in a recent brainstorm.

Checklist of mental steps to think through a particular project.

Checklist of "must-have" apps or programs that you're currently using.

Once you have the idea, it's as simple as typing up your checklist, and then turning the document into a quick PDF that you can give away as a lead magnet.
Add a link to your website to the bottom of your PDF checklist, so your clients can  locate your website again. Or even better: Add a specific call to action that links to a sales page or other blog post where your new subscribers can learn more on this checklist's topic. 
Estimated time: 30 minutes
Recommended tool: Use whatever word processing or desktop publishing tool you have access to—such as Pages for Mac, Microsoft Word, or Google Docs—and choose Save as PDF when you're finished.
5. Swipe File of Your Best Work
For copywriters, a "swipe file" is a compilation of your best sales letters, emails, blog posts, or other copy that you might want to literally "swipe" and refer back to later. (Sometimes it's your own copy, sometimes it's others' copy.)
No matter what industry you're in, you can create a "swipe file" of your best work to give away as a lead magnet.
That might be a compilation of your past best marketing materials, best exercises you've given your clients, best real estate properties you've sold, best quotes from your books, best blog posts—or really any "best of" work that your clients would find useful.
Keep in mind: To create this swipe file, you should compile documents you already have so you can pull this together quickly.
Estimated time: 30 minutes.
6. Numbers, Numbers, Numbers
Everyone loves numbers. Sharing real-world results, or even sharing how you compile your numbers can give your clients extra value in a lead magnet.
Naturally, you should not share confidential numbers or company data. However, if you have numbers that you're free to share, you can give away excel documents, graphs, marketing results, split test numbers, results from experiments, schedules, etc.
You can also give your subscribers tools to track their own numbers. For example, when our Marketing Educator, Bob Jenkins created his free Facebook Advertising Course, he gave away a sample Profit Tracking dashboard that gave you an example of how to track your ROI for your Facebook campaigns.
Estimated Time: 30 minutes.
7. Give Away a Piece of Product (Hint: Chapter of Your Book)
Whenever you give away a lead magnet to grow your email list, it's important to remember that your goal is to eventually sell your product or service.
Ideally, your lead magnet should help pre-sell whatever product or service you will eventually ask your subscriber to buy. So what better way to lead your subscribers to the sale than by giving away a piece of your product?
For an author, that might be a chapter of your book. For a graphic designer, it might be a website template. For a business consultant, that might be the first module of your online course. For a real estate agent, that might be a quick list of properties.
The point: If you give away a piece of your product, you're giving your subscribers a free sample so your subscribers can experience firsthand what you have to offer.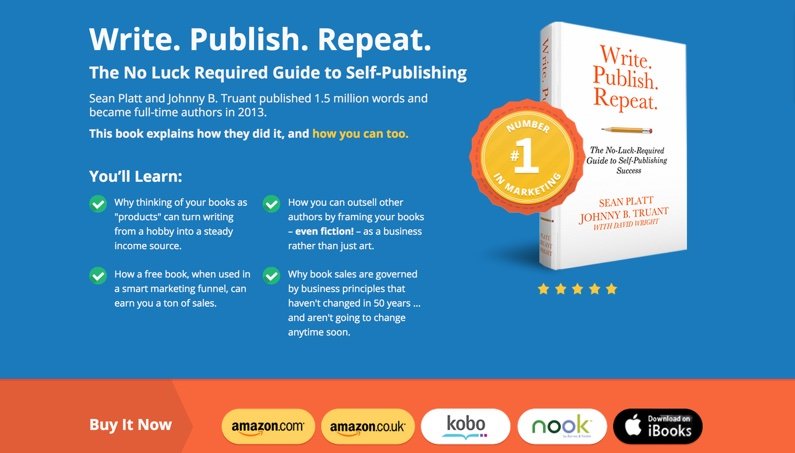 Pro Tip: When you give away a piece of your product (like a chapter of your book), be sure to add a call-to-action link to your lead magnet that directs to where your subscribers can either 1) buy your product, or 2) buy your other products. 
Estimated time: 10 minutes.
8. Jot Down a List
This entire blog post is an example of a list. However, it doesn't have to be this involved. You can pull together a list of just about anything.
Here's a quick list of potential lists you can create…
Email subject lines

Best (and worst) Headlines

Must-read books

Favorite podcasts

Inspirational sayings

Best or worst activities

Best and worst words to use

Pro tips for your industry

Symptoms that show you're doing something wrong.

Uses for your product or service.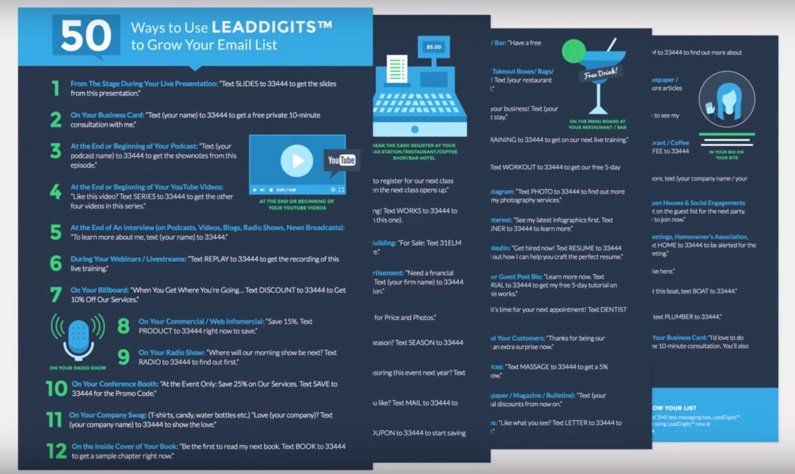 You can give away a PDF document of just about any list as a lead magnet. 
Estimated time: 20 – 30 minutes, depending on how long your list.
Recommended tool: Try Canva to easily create a well put together document.
9. Give Away Recipes (Hint: Not Just for Cooking.)
If you happen to be a chef, restaurateur, trainer, yoga instructor, gym owner, food blogger, health writer, dietitian, dentist or any other kind of health professional, you might give away an actual food recipe as your lead magnet. That's as simple as giving away a PDF of your best recipe or several recipes.
However, keep in mind, a "recipe" can be for more than just food. No matter what industry you're in, you can write out a "recipe" for any result that your clients would want.
For example: You can give away your personal recipe for keeping clients happy, your recipe for success in your specific industry, your recipe for finding your next big project, etc.
(Estimated time: Range 10 – 30 minutes.)
10. Give Away Your Own Personal Routine
We all have routines. If you find a routine that your potential customers will find valuable, you can give it away as a PDF document of your routine as a lead magnet.
These "routines" might include your eating habits, your exercise regimen, your sleeping schedule, your productivity habits, your best plays from your business playbook, your marketing schedule, your blogging routine, your vacation habits, and even your own personal shortcuts.
For example, if you were a mechanic your personal shortcut might include the "fastest way to change your own oil" or "fastest way to check your engine" etc. 
Estimated time: 30 minutes.
11. Turn Your Best Content Into Infographics
People love infographics. Here at LeadPages, we often give away infographics as lead magnets. Now we're a bit spoiled with our in-house designers who create our gorgeous infographics.
However, even if you're not a designer, you can still turn your best content into infographics with the right apps. Recently, Best Infographics published the list of best free and paid tools to create your infographics. Y
Estimated time: 30 minutes, assuming your content is finished.
Recommended tool: Try Venngage to quickly create free infographics from pre-made templates.
12. Give Away Your Slide Decks of Your Past Presentation
If you're a speaker or you have given presentations in the past, then odds are you have a couple slide decks, PowerPoints, or Keynote presentations lurking on your hard drive.
Now assuming you have the rights to your particular presentation, you can easily give away that slide deck as a lead magnet. (Note: If you hosted the event yourself, you likely have the rights to use it. If you sponsored an event or were a guest speaker, you may need to ask permission.)
(Estimated time: 10 minutes to find it on your hard drive.)
13. Your Top 10 FAQs (Hint: Respond to Objections)
As a business owner, you likely know what questions your clients will ask. Simply pull together your list of top 10 frequently asked questions and turn it into a PDF with your answers.
Pro Tip: The best FAQs handle all the objections that your clients may have when they're considering buying your particular product or service. Make sure you address these objections in your FAQ, so you can respond to these concerns.
Estimated time: 20 minutes.
14. Give Away a Valuable Video Clip
If you have created any videos in the past, you can give away your "best of" video content as a lead magnet.
That could include 10-minute or 20-minute clips from your past recorded webinars, a clip from a past conference presentation, or your best blog video content.
You can either give away the downloadable videos itself or you can give away links to your videos clips. If you do decide to give away a video link, it's best to post the video on a S3 server where you can share the link publicly.
If you already know how to edit videos, you can cut a clip out of an existing video fairly quickly. If you're not a video editor, you may want to hire an editor on a freelance site like Fivverr.
Estimated time: 30 minutes.
Recommended tool: Try Screenflow where you can easily edit existing video footage and record new videos from your laptop screen or camera.
15. Resource Guide: Your Top Resources or Tools
Our Conversion Educator, Tim Paige calls the resource guide "the perfect lead magnet."
A resource guide is simply a list of your favorite tools, apps, or resources that you'd like to recommend to your clients.
To create this lead magnet, write out a list of your top websites, tools, or apps you use in your business. Make sure to include links to all these sites. Then PDF the document.
Pro Tip: This list of resources should guide your customers to want your product or service. So ideally, your final recommended resource should be your company or business website.
For example, if I was creating a list of my "Top 5 marketing tools for copywriters," I would make LeadPages as my #5. You can do the same for your business.
You can get more ideas for how to create the perfect lead magnet for your own business in our 4-step tutorial below.
Which Lead Magnet Is Your Favorite? 
If you're using Leadpages, you can use our lead magnet delivery system to easily send any of these lead magnets to a new subscriber when a new person opts in for your list. That cuts out the need for additional technology.
Before you go, I'd love to hear: Which of these lead magnet ideas is your favorite? Which are you looking to test out first? Vote now in the comments.